Dustin Johnson still loves Pebble Beach

By Bob Harig
ESPN.com
Archive
The crashing waves, the beautiful scenery, the incredible views … none of that seemed all that special to Dustin Johnson last June on the final day of the U.S. Open.
[+] Enlarge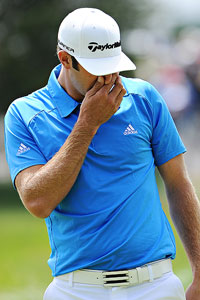 Robyn Beck/AFP/Getty ImagesDustin Johnson stuggled to a final-round 82 at the U.S. Open last June. But the 26-year-old also has great memories of winning at Pebble Beach each of the last two years.
His 3-shot lead turned into a deficit in what seemed like minutes, a shot at winning a major championship gone with a final-round 82.
Perhaps, in hindsight, it is helpful now to know that Pebble played the part of a beast that day, that a score of 76 would have been good enough to win, that a lot of people -- including Tiger Woods, Phil Mickelson and Ernie Els -- struggled that day.
Or maybe it is the ability to grasp the idea that the game of golf is going to dole out its share of disappointment, even to the very best of players.
Whatever the reasons, Johnson returns to the site of that disappointment this week for the AT&T Pebble Beach National Pro-Am without so much as a disparaging word about the place or his plight.
"I have no hard feelings at all," Johnson said recently during the event's media day. "It's beautiful here and I've always enjoyed coming back. Even at the Open, I played really well for three days. I just struggled a little bit on the last day. It was a great learning experience, and I take a lot from that week. I'll always enjoy coming back here."
After all, Johnson is the two-time defending champion of the event. And after his disappointing finish at the U.S. Open -- he still tied for eighth -- Johnson bounced back to tie for 14th at the British Open and tied for fifth at the PGA Championship, denied a spot in a playoff by the infamous bunker rules violation that led to a 2-stroke penalty.
That was another blow to overcome, but a month later, Johnson, 26, captured his fourth PGA Tour event when he won the BMW Championship. And then he routed Martin Kaymer -- who won the PGA Championship -- in a singles match at the Ryder Cup.
All of that led to a positive offseason in which he put in some hard work on his game.
"This year my goal is to get to the top five in the world," said Johnson, who is currently ranked 14th. ''I just want to give myself as many chances to win as possible."
To that end, Johnson said he has spent considerable time on his short game, especially hitting wedge shot approaches.
With his length off the tee -- Johnson averaged 308.5 yards to rank third in driving distance in 2010 -- it follows that he will have some short approaches to greens. But from 50 to 125 yards, Johnson was just 168th on the tour in proximity to the pin.
Bob Harig's mailbag
Who will get off to a fast start to the 2012 PGA Tour season? Should the tour change how it opens the season? Drop ESPN.com golf writer Bob Harig a line, and he'll respond to some of the best questions. Ask Harig a question
"I need to be more consistent with my wedges," he said. "I spent a lot of time working on my wedges. I focused on 150 yards and in, so my 9-iron and wedges."
It is interesting to note that it was a 9-iron from about 150 yards on the second hole at Pebble during the final round of the U.S. Open that led to his downfall. Johnson hit the shot poorly, fanning it to the right. The ball was buried in the rough and Johnson misplayed a chip shot, leading to a triple-bogey.
Just like that, his advantage was gone.
And yet, Johnson is clearly looking ahead. He's off to a good start this year, with two top-10s in three starts, including a tie for third at the Famers Insurance Open.
And now he's back at one of his favorite places, where despite the slip-up in the final round of the U.S. Open, Johnson has the good memories of two victories at Pebble Beach.
Changing Criteria
Jose Maria Olazabal said he preferred to have just two captain's picks for his 2012 European Ryder Cup team, and he quickly went to work on getting the qualifying process changed -- despite not a single point up for grabs until September.
Olazabal had his at-large selections reduced from three to two while the 10 qualifying spots will come from two lists that have been reversed -- the European points list top five coming before the World points list, also consisting of five players to fill out the 10 automatic qualifiers.
Had this system been in place last year, Colin Montgomerie might have had a bit of an easier time sleeping. Instead of having to leave Justin Rose and Paul Casey off the team, while choosing to take Padraig Harrington, Luke Donald and Edoardo Molinari, he would have seen Harrington, Donald, Molinari and Rose make it on their own.
Of course, that would have meant just two picks for the likes of Casey, Miguel Angel Jimenez, Peter Hanson and Francesco Molinari.
The bottom line is this: With the emerging depth in Europe, the decision is not going to be easy next year.
Perhaps, however, the new system will result in European Tour players who are also members of the PGA Tour making more of an effort to play the European Tour in order to earn their way onto the team.
Arm-chair rules officials
Despite the pleas of many, golf fans sitting at home will still be allowed to call in rules infractions. PGA Tour commissioner Tim Finchem made that clear, and while an argument can be made that the rules officials, players and caddies should be the sole protectors of the field, golf has always welcomed input from all sources.
But did Finchem need to welcome it?
"We like the fact that people call in. We like the fact people who watch the telecasts get excited about something they see," Finchem said.
Really?
The bet here is that those fielding the calls don't much care for it. Nor do they like the idea of possibly having to research misguided queries. Let's face it, if players don't know all of the rules, doesn't it follow that a guy sitting at home could be wrong, too?
Just wondering ...
… if the PGA Tour should have shortened the Waste Management Phoenix Open in order to have a Sunday finish.
It was a shame to see the vast acreage at the TPC Scottsdale all but uninhabited for Monday morning's conclusion to the tournament that was destined to run over when frigid conditions forced late starts every day.
Where thousands upon thousands roamed on Saturday and Sunday, it was virtually desolate for the remaining holes and then the playoff.
And it has understandably led to chatter about how these matters should be handled.
Should the PGA Tour have shortened the event to 54 holes for a Sunday conclusion?
Should it have let the third round finish on Sunday and not start the fourth round, in order to have a full day of golf on Monday?
And what about the MDF rule that is used at tournaments where more than 78 players make the cut? Could the tour not have instituted that stipulation in Scottsdale, giving credit and money (MDF) for a player who made the top-70-and-ties but cutting down the field to make it more manageable for Sunday? After all, they did that in Hawaii this year when bad weather wiped out the first round.
All are viable points because nobody likes a Monday finish. And it seemed like a tough deal to make players start the fourth round late Sunday afternoon as fans headed for the exits -- knowing the tournament would not conclude, but also wanting to get in front of their televisions for the Super Bowl.
So what to do?
The feeling here is that the PGA Tour did the only thing it could do: Make every effort to play 72 holes, while making every effort to make Monday as painless as possible for those involved.
Cutting to 54 holes is the easy way out, and not the proper way to handle the situation from a competitive standpoint. And, after all, this is a competitive endeavor, right? And while the entertainment aspect of PGA Tour golf should certainly be considered, isn't the competition the thing?
The idea of simply ending Sunday's play when the third round ended has some merit. With a favorable forecast for Monday, it could have been a full round that day.
Then again, the tour is looking out for the players, many of whom were headed to Pebble Beach this week. A tough call, but ultimately a good one.
Bob Harig covers golf for ESPN.com. He can be reached at BobHarig@gmail.com.
History doesn't hold same value
Birdies And Bogeys
BIRDIES

Wilson
1. Mark Wilson. Nobody, even Wilson, could have seen this coming: two victories in the first five events of the PGA Tour season.
2. Thomas Bjorn. A few weeks after giving some thought to giving up the game, the Dane won against a strong field in Qatar, his 11th European Tour title.
3. Vijay Singh. His tie for third at Phoenix was his best since a tie for fourth at last year's Honda Classic. He hasn't finished this well since winning the 2008 Deutsche Bank Championship.
BOGEYS

Westwood
1. Lee Westwood. The world No. 1 looked out of sorts in Qatar, where he missed the cut.
2. Steve Stricker. The tie for 44th in Qatar didn't smart nearly as badly as the fact that Stricker -- a Cheesehead -- had to miss the Packers' Super Bowl victory while traveling.
3. Tommy Gainey. That late triple-bogey at TPC Scottsdale not only cost him a chance at victory, but it was a huge squandering of cash for a guy who is not a lock to keep his tour card. A par-par finish would have meant an extra $246,000.
Notable
• It has been some start to the season for Mark Wilson. He is the first player to win twice this year on the PGA Tour and he has moved from No. 237 in the world prior to the Sony Open to 51st, meaning he will likely get starts in all of the majors and World Golf Championship events.
• Davis Love, a two-time winner at Pebble Beach, has played the event every year dating to 1986.

Mickelson
• Pebble also has Phil Mickelson, Jim Furyk, Hunter Mahan and Padraig Harrington in addition to defending champion Dustin Johnson in this week's field.
• Camilo Villegas is off to a tough start in 2011. He was disqualified from his first event, missed the cut at the Sony Open and then withdrew last week with a back injury: DQ, MC, WD. Villegas will attempt to defend his title at the Honda Classic next month.
• The European Tour concludes its four-tournament Desert Swing with the Dubai Desert Classic at Emirates Golf Club. For the first time since 1994, the European Tour has Nos. 1, 2 and 3 in the same field outside of a major or WGC event. That would be Lee Westwood, Martin Kaymer and Tiger Woods -- who will play the first two rounds together.
• Woods last played the tournament when he won in 2008. It was his second victory at the tournament, and in his last five appearances, he has no finish worse than a tie for fifth.
• England's David Howell, once ranked as high as No. 9 in the world and a top player in Europe's 2006 Ryder Cup victory, posted his first top-five finish on the European Tour since 2008 in Qatar. Howell, 35, had fallen to 352nd in the world.
• The Allianz Championship is the first full-field event of the year on the Champions Tour. Bernhard Langer is the defending champion of the event played in Boca Raton, Fla.
Quotable

Kaymer
"He's the best player in the game. At the moment, Lee [Westwood] and me, we are No. 1 and 2. But in every golfer's mind, he is the best player in the world. And it would be fantastic if he can get back to where he was and then we challenge him." -- Germany's Martin Kaymer, ranked second in the world, on No. 3 Tiger Woods -- whom he is playing with along with Westwood during the first two rounds of the Dubai Desert Classic.