Can Kim continue to rise in 2011?

By Bob Harig
ESPN.com
Archive
It is easy to forget that Anthony Kim is just 25, a kid quickly thrust into a grown-up world with fame and fortune.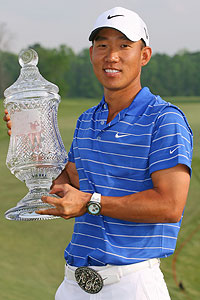 Hunter Martin/Getty ImagesAt just 25 years old, Anthony Kim won his third PGA Tour title at the Shell Houston Open just prior to the Masters last year.
That is certainly not meant to condone any of the various incidents that may or may not have been overblown in his somewhat rocky golf career. It is simply a reminder that he is a young guy with money in his pocket who likes to enjoy life.
Sometimes that doesn't fit with golf.
Perhaps that is why the results over the weekend at Torrey Pines were encouraging.
For the first time since finishing sixth at last year's Quail Hollow Championship, Kim posted a top-10 when he tied for sixth at the Farmers Insurance Open.
The result at Quail Hollow was followed by thumb surgery, three months off, and then a futile attempt to regain the form that saw him playing quite well early last year.
It made for a frustrating season that was not helped when Kim was spotted in a Las Vegas casino during the week of the Justin Timberlake tournament, only to withdraw before the pro-am.
Kim has said the incident was overblown, and that he withdrew due to his lingering thumb issues.
Whatever the case, there is no doubt the thumb injury took its toll on what had been a promising season.
"It's been very difficult," Kim said at Torrey Pines. "Not to be able to perform at my best, even when I am trying to work has been a hard pill to swallow. But I'm finally healthy. I've got no excuses. I'm just ready to practice, grind out my game and try to contend for some tournaments."
Although he managed just a 72 on Sunday at Torrey Pines, the tournament results were encouraging.
Kim, who gave the U.S. Ryder Cup team a spark in 2008 and has been considered one of America's top young golfers since posting four top-10s in 2007, was seemingly on his way to an excellent 2010 season when he had four top-10s in five starts, highlighted by a victory at the Houston Open and followed by a final-round 65 to finish third at the Masters.
Bob Harig's mailbag
Who will get off to a fast start to the 2012 PGA Tour season? Should the tour change how it opens the season? Drop ESPN.com golf writer Bob Harig a line, and he'll respond to some of the best questions. Ask Harig a question
A month later, however, the thumb problems were painful enough to force surgery after Quail Hollow. Kim hoped to get back in time to solidify his spot on the U.S. Ryder Cup team, but instead struggled, missing four cuts in a row while never fully recovering.
The thumb problems also led to bad habits in his golf swing, all of which contributed to a difficult end to last year.
Now, as Kim tees off in his fourth tournament of the year this week at the Waste Management Phoenix Open, he says the injury woes are behind him.
He's also made some changes in his personal life, if for no other reason than to stop any unnecessary conjecture.
"So many things get blown out of proportion and regardless of what happens I've got to do a better job of being more private about my life," he said. "I'm a pretty free spirit, and I think that gets me in trouble just because I don't mind if somebody sees me out with my friends.
"But it's like playing a game of telephone. One story leads to another and another, and all of a sudden, you know, I'm in a different country. So I just try to limit the places I go now and just try to be more discreet about it."
Once ranked as high as sixth in the world rankings, Kim had fallen to 31st at the start of this year. He is now 29th, and it seems, on his way back up.
Tournament Troubles
The LPGA Tour keeps getting attention for the wrong reasons. First is the issue of playing a tournament in which none of the players will be paid, all of the proceeds going to charity. The second is a tournament in Mexico that was canceled for good reason, due to safety concerns.
While commissioner Michael Whan made the tough but proper call in postponing this April's Tres Marias tournament in Mexico due to violence in the area and the fear that players and their families would not be safe, his decision to stage a tournament next month with a "mock" purse continues to endure harsh scrutiny.
Several LPGA players, including Suzann Pettersen, Cristie Kerr, Juli Inkster and Morgan Pressel, have expressed various opinions questioning the wisdom of such an invent.
Whan's intentions are certainly admirable with the inaugural LPGA Founders Cup next month, in which the idea was to have all of the tournament purse go to charity, with the players being given hotel rooms and transportation stipends.
Unfortunately, the LPGA is hurting for tournaments, as the Mexico example illustrates. And only a few dozen players actually make a nice living. Most struggle to meet expenses, and to ask them to play for free seems tough in this climate.
And then came word last week that not all of the $1.3 million purse is actually going to charity, but just $500,000.
So the LPGA will play its first domestic tournament of the year and none of the players will get paid. Then, after the first major, the Kraft Nabisco, the tour will take a three-week break due to the Mexico tournament cancellation.
Just wondering ...
... if Tiger Woods is going to add any tournaments to his schedule before the Masters. Indications appear to be no. When Woods was asked Sunday -- twice -- about his schedule following next week's Dubai Desert Classic in the Middle East, he made reference to playing "in the future" -- his way of dodging the question.
It was futile, anyway, because Woods very rarely is on record with any future commitments. Dubai has been scheduled for months, and so we are left to guess that he will return to play the WGC-Accenture Match Play, the WGC-Cadillac Championship at Doral, and the Arnold Palmer Invitational.
Those have been staples on his schedule for years, but that means just four more tournaments -- and five total -- before the Masters.
If there is one thing that is clear as Woods begins the 2011 season, it is that he can use more tournament golf. He all but admitted so at Torrey Pines, where he had a disappointing tie for 44th.
"It's always easy to do it at home on the range," he said. "Then you have to do it on the golf course at home, and then once you're able do it there, now you have to do it out here. Then once you do it out here, you have to do it in contention. Then once you do it in contention, you have to do it in major championships. And then you have to do it on the back nine of a major and be successful. … So it is a process, a building process."
It would seem that process would include perhaps adding another tournament to get more comfortable, although that doesn't appear to be something that will happen.
Bob Harig covers golf for ESPN.com. He can be reached at BobHarig@gmail.com.
Birdies And Bogeys
BIRDIES

Watson
1. Bubba Watson. He kept his cool, and made some huge putts on the last two holes, to hold off Phil Mickelson and win at Torrey Pines for his second PGA Tour title.
2. Paul Casey. The Englishman got back on track with his first victory in 20 months at the European Tour's new event in Bahrain.
3. Jack Nicklaus and Tom Watson. The old adversaries did it again, capturing the Champions Skins Game with some timely shots.
BOGEYS

Woods
1. Tiger Woods. There is no good way to spin it when he shoots 74-75 over the weekend at a place he owned for most of his career.
2. John Daly. Hard to believe he would ever criticize sponsors for denying him spots when he is lucky to get the ones he gets, but Big John did it anyway, then faded again on the weekend at Torrey Pines.
3. Phil Mickelson. It's hard to knock Lefty for finishing second at Torrey Pines, where you wonder how he'd have fared if he had hit even 40 percent of the fairways, including the last, where missing was costly and prevented him from going for the green in 2.
Notable
• Phil Mickelson elected to lay up on the 18th hole Sunday before seeing Bubba Watson hole a birdie putt up ahead -- which meant Mickelson had to make an eagle to tie. Should he have waited and gone for the green? "On 18, the grain to the grass was in. I had 227 to carry. If I hit a hybrid, the ball would have come out dead. … I couldn't have made it over the water," Mickelson said. "But the way my 3-wood is, the ball would have come out hot and it would have went screaming over. I felt like I had a better chance to make a 3 from the fairway trying to use that bank and bringing the ball back or flying it in."
• Mickelson headlines the field at this week's Waste Management Phoenix Open, where he is playing the second of what is expected to be at least four in a row on the PGA Tour. Mickelson is still undecided about the Match Play Championship in three weeks.
• The third leg of the European Tour's Desert Swing is in Qatar this week, where Nos. 1 and 2 Lee Westwood and Martin Kaymer are in the field. So is American Steve Stricker, making his first visit to the region.
• This is the first time since 1993 that Nos. 1 and 2 square off in a regular European Tour event.
• John Daly is also sandwiching in a trip to Qatar after playing in San Diego last week with Pebble Beach on the schedule next week. Going across 12 time zones twice in a week ought to be interesting.

Daly
• With his victory in San Diego, Bubba Watson climbed to No. 18 in the Official World Golf Ranking. Jhonattan Vegas, after tying for third, is now 69th in the rankings and needs to move up five spots by the end of next week to make the WGC-Accenture Match Play field.
• The PGA Tour is no longer making a secret of the fact that it will have some highlighted pairings each week. This week, Angel Cabrera, Camilo Villegas and Jhonattan Vegas are playing together during the first two rounds at TPC Scottsdale. On Wednesday, they conducted a joint news conference in Spanish, mostly for the benefit of South American media.
Quotable
"I still think I'm goofy Bubba Watson from Bagdad, Florida, that hits a ball every once in a while with a pink shaft real far. I don't see myself as a rock star, fan favorite. I see myself as Bubba Watson from Bagdad that loves to play the game of golf." -- Bubba Watson after his victory at the Farmers Insurance Open.
Catching up with last year's champ
Hunter Mahan's victory at last year's Waste Management Phoenix Open propelled him to the best season of his seven-year career. He later won the WGC-Bridgestone Invitational for his third career PGA Tour title and earned more than $3.5 million in 2011. He finished 10th in the final FedEx Cup standings. He was a member of the U.S. Ryder Cup team and his match against Graeme McDowell decided it.
This year, Mahan has played just twice. After a tie for 25th at the season-opening Hyundai Tournament of Champions, he got married and went on a honeymoon. He returned last week at Torrey Pines, where he tied for sixth after a final-round 73.