Does Sergio Garcia still have the fire?

By Bob Harig
ESPN.com
Archive
PALM HARBOR, Fla. -- Sergio Garcia talks like he is fired up to be back to the business of playing golf. He just doesn't sound like it.
The words say so, but whether or not he really means it is a matter to be determined.
[+] Enlarge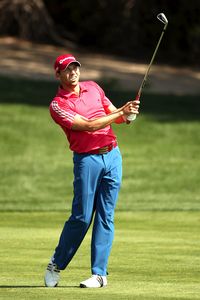 Ian Walton/Getty ImagesSergio Garcia makes his 2011 PGA Tour debut this week at the Transitions Championship. He did not qualify for the WGC-Match Play Championship or the WGC-Cadillac Championship earlier this season.
Garcia is making his season debut on the PGA Tour this week at the Transitions Championship, and he shrugged off the notion that it's any big deal.
Of course, one reason he is just starting the season is he wasn't eligible for the WGC-Accenture Match Play or the WGC-Cadillac Championship. That is due, in part, to his drastic slide down the world rankings and a leave of absence he took after last year's PGA Championship.
Garcia clearly had lost some enthusiasm for the game -- and a return to that eagerness at this point is debatable.
"To tell you the truth, I just want to be out there and just want to enjoy playing," said Garcia, 31, who captured the last of his seven PGA Tour titles (he also has seven in Europe) three years ago at the Players Championship. "Hopefully just play better as I get on. Whatever happens, happens. I know what I'm capable of doing."
Garcia has not played in the United States since missing the cut at the PGA Championship last August. At that point, he took a two-month break from the game and didn't return until after the Ryder Cup, during which he served as one of European captain Colin Montgomerie's assistants.
If the atmosphere in Wales didn't help restore some of Garcia's lost motivation, it is difficult to imagine what could. He played his first Ryder Cup as a 19-year-old in 1999 and played on five straight teams, earning a reputation as one of Europe's most passionate players.
Although he had a heartbreaking playoff defeat at the 2007 British Open to Padraig Harrington, Garcia bounced back to claim his biggest victory in 2008 at the Players Championship, defeating Paul Goydos in a playoff. Although he again had a tough loss later that year at the PGA Championship, Garcia had climbed to No. 2 in the world by the spring of 2009.
He has now dropped to 85th and is only in next month's Masters because of the three-year exemption given for his 2008 Players win. Garcia has acknowledged that a breakup with his girlfriend (Greg Norman's daughter, Morgan Leigh) contributed to some of his woes.
"I think it was a mix of things," he said. "Obviously a couple of things off the golf course didn't help. And then I just started playing not great and ... knowing how I can play and what I'm capable of doing, I don't like to settle for less. ... When you've been pretty much in the top 10 of the world rankings, it's a little bit tougher to swallow I guess.
"So I guess a mix of those things kind of pulled me down a little bit. But we are looking forward to it now."
Bob Harig's mailbag
Who will get off to a fast start to the 2012 PGA Tour season? Should the tour change how it opens the season? Drop ESPN.com golf writer Bob Harig a line, and he'll respond to some of the best questions. Ask Harig a question
Garcia has played just three times this year, all in the Middle East on the European Tour. He tied for 30th at the Volvo Golf Championship Bahrain, tied for ninth at the Qatar Masters and tied for 20th in his latest start at the Dubai Desert Classic. That was a month ago.
"I've always been a fan," said Italian Matteo Manassero, just 17 but already a winner on the European Tour, who is grouped with Garcia for the first two rounds. "He's a great guy and he's a fantastic golf player. And he's had a bad moment, but definitely you can see he's coming out of this moment."
Garcia denied seeing much of himself in Manassero, although the comparisons are inevitable. Garcia won the British Amateur and turned pro as a teenager -- same as Manassero, who became the youngest winner in European Tour history when he captured the Castello Masters. Garcia's first European title came at the 1999 Irish Open.
"The game feels good, but it's a work in progress," Garcia said. "I'm not rushing it. I'm just trying to have a good time out there and enjoy what I do and let it happen."
The Tavistock Cup
You could understand why the title sponsor of a PGA Tour event might be a little upset to see the Tavistock Cup two-day exhibition fall on the Monday and Tuesday of his event. David Cole, an executive with Transitions Optical, took the high road when asked.
"It hasn't impacted us that much," Cole said of the made-for-TV extravaganza played at Isleworth on Monday and Tuesday. "We've talked about it in the past, but this year we haven't had much discussion about it. We continue to get great fields and rave reviews for our golf course."
Fair enough. If the title sponsor isn't concerned, perhaps it is no big deal.
Then again, maybe the title sponsor should have some issue with the tournament played 100 miles down the road, offering a minimum of $50,000 of guaranteed money to players who clearly make scheduling one of their biggest priorities, and who then might feel less inclined to play that week's tour event a few days later.
Ian Poulter, J.B. Holmes and Adam Scott played the Transitions Championship last year -- when it preceded the Tavistock Cup -- and none are in the field this year.
Then again, Justin Rose, Retief Goosen and Peter Hanson played the Tavistock and are still in the Transitions field -- and played at Doral last week. A total of eight players are in the Transitions field who played the Tavistock. The others are Stuart Appleby, Arjun Atwal, Brian Davis, Sean O'Hair and Trevor Immelman.
And yet, it's a big ask for someone to play in the WGC event at Doral, where there is guaranteed money and no cut, then play two days at Isleworth, the pro-am at Innisbrook and a four-round tournament. That's 11 straight days of golf, and if you were inclined to add next week's Arnold Palmer Invitational, something has to give.
There's nothing wrong with the Tavistock Cup event. It's a friendly exhibition, it raises money for charity and it puts a bunch of the top players together in a relaxed setting, albeit one that rewards them quite nicely. The PGA Tour gets a licensing fee and the golf live exposure on television. Nothing wrong with any of that.
But if you were a player and had a guaranteed paycheck last weekend at Doral and again Monday and Tuesday in Orlando, would you be as inclined to play this week at Innisbrook?
And would the tour allow the Tavistock Cup to be played the week of its hallowed Players Championship or even the Monday and Tuesday of the WGC-Cadillac Championship?
The Founders Cup
While PGA Tour players were taking helicopters to the Tavistock Cup, LPGA Tour players were readying for their first domestic event of 2011 -- one where they will not be paid.
The RR Donnelly Founders Cup has garnered plenty of attention because of commissioner Mike Whan's controversial move to have all players donate their earnings to charity. After making some adjustments, the $1 million purse will be donated, with $500,000 going to the LPGA's charities and the other $500,000 going to charities of the top 10 players.
While the "money" will count on the LPGA Tour money list, the players will not actually see it.
And for a tour that has struggled in a tough economy and lost events, it is particularly painful -- especially for the tour's rank and file -- to have to play for free. Although expenses are being picked up, players will not get paid. And for a tour whose last exempt player in 2010 made in the $80,000 range, passing up a big paycheck smarts.
That is why there has been considerable conversation about the merits of such a tournament, although you have to give Whan credit for a noble idea and for one that brought plenty of attention.
Just wondering …
… if there will ever be a move to make the WGCs more inclusive. You can't do it at the Match Play Championship -- not with a 64-player bracket -- but at Doral and Bridgestone, why not expand the field and let more players in?
Last week's Cadillac Championship started with just 69 players qualifying, reduced to 66 after three players withdrew. True, one of the appealing things about the tournaments to those who qualify is the small field and no cut, of course. It makes it easier to win, and a nice, big payday is on offer just for showing up.
It doesn't seem that difficult to expand the field to 120 players and have a 36-hole cut. And go ahead and pay everyone for being in the field. Anyone who misses the cut gets $20,000. The tour can surely figure out a way to make that work. Fans get more players to watch and a better competitive environment. And those players then have to work a little bit harder to get paid well.
Bob Harig covers golf for ESPN.com. He can be reached at BobHarig@gmail.com.
Birdies And Bogeys
BIRDIES

Watney
1. Nick Watney. His third PGA Tour victory came on one of golf's bigger stages -- and with an impressive birdie on Doral's vaunted 18th to seal it.
2. Nick Price. A week after playing in his first PGA Tour event in three years, the Hall of Famer opened the Toshiba Classic with a 60 and went on to win his fourth Champions Tour title.
3. Tiger Woods. One good round does not make for a turnaround, but his 66 on Sunday at Doral can't hurt.
BOGEYS

Mickelson
1. Phil Mickelson. Lefty found 14 bunkers and only 4 greens on Sunday at Doral while shooting 76. He is adding next week's event at Bay Hill because he's not happy with his game.
2. Dustin Johnson. He just didn't have it Sunday, making only two birdies and perhaps a tactical error at the drivable par-4 16th, where he made a bogey, costing himself a shot at a fifth PGA Tour title.
3. Jeff Overton. So close to victory on several occasions last season, the U.S. Ryder Cup team member finished dead last at Doral, never matching par and 26 strokes behind winner Watney.
Notable
• Watney became the seventh player in his 20s with at least three PGA Tour victories after winning at Doral. He joined Johnson (4), Sean O'Hair (3), Camilo Villegas (3), Anthony Kim (3), Aaron Baddeley (3) and Hunter Mahan (3). Baddeley leaves that club on Thursday when he turns 30.
• Michael Bradley's victory at the Puerto Rico Open gave him the distinction of winning PGA Tour events in three different decades. He won the 1996 Buick Challenge, 1998 Doral Ryder Open, 2009 Puerto Rico Open and again in 2011. Davis Love was the last player to accomplish that feat.
• Lee Trevino, 71, bettered his age for the first time on the Champions Tour, shooting an opening round 70 at the Toshiba Classic last week. He also shot 71 in the final round.
• With five South African players atop the Presidents Cup International team standings, the event's conflict in November with the South African Open remains an issue. The tournament is co-sanctioned by the European and Sunshine tour. "The European Tour certainly has an interest in seeing a very successful Presidents Cup," European Tour CEO George O'Grady said. "There are different alternatives, and I would hope we can get it sorted out quite quickly."
Quotable
"Top-10 finishes are nice but winning is what counts here, and that's how you're measured. To win this tournament against this field it's a huge honor. I'm very excited. I'm very proud." -- WGC-Cadillac Championship winner Nick Watney, who is on a run of five straight top-10 finishes to start this season.
Catching up with 2010's champ

Furyk
Jim Furyk is off to a bit off a slow start this year, but the reigning FedEx Cup champion was in a similar spot when he arrived at Innisbrook a year ago -- not having won in two-and-a-half years. He had not posted a top-10 finish in four starts and yet went on to win the Transitions Championship, Heritage and Tour Championship -- the only player on the PGA Tour to win three times.
So far this year, Furyk has just one top-10, a tie for ninth at the season-opening Hyundai Tournament of Champions. In six starts, Furyk has missed two cuts, with his next-best finish a first-round defeat at the Match Play Championship.