Jim Furyk not hitting panic button just yet

By Bob Harig
ESPN.com
Archive
If Jim Furyk is off to a rather mundane start in his 18th season on the PGA Tour, the reigning FedEx Cup champion is hardly about to fret.
[+] Enlarge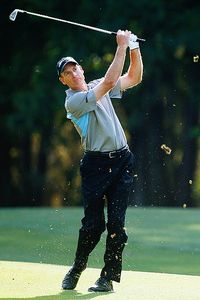 Scott Halleran/Getty ImagesJim Furyk's victory at Hilton Head last year was the second in a 3-win season that led to the FedEx Cup title.
He might change putters a few more times -- Furyk has been known to do that when things are going well -- and might spend some extra time analyzing why things have yet to go his way in 2011 after such an exceptional 2010.
But we're talking about a man of consistency, a guy who has won 16 times on the PGA Tour (including the 2003 U.S. Open), a player who has been part of every U.S. Ryder Cup and Presidents Cup team since 1997.
So if the results are not quite there this year ... well, there's still plenty of time.
"It's still obviously disappointing that I have not been playing that well and scoring that well," Furyk said recently. "I'm a little bit baffled by it myself.
"Some of it was putting out on the West Coast. Other parts was not hitting the ball well. Some of it has been mental errors, bad mistakes, short game, whatever it may be. A lot of it is just not scoring and getting the ball in the hole and pressing.
"When you win tournaments, it's all about making a key putt when you need to keep a round going. It's about getting a ball up and down after a poor shot. It's about making the smart play when you're in jail. … I haven't been stringing those together.
"The only thing to do is keep plugging away and work hard, which I have been doing."
If good vibes mean anything, then this is a good week for Furyk, 40, to get his season back to where he expects. He is the defending champion at the Heritage, where he won his second tournament of the year in 2010 on the way to a three-victory season and FedEx Cup title.
It's not that Furyk is playing poorly. He surprisingly missed two cuts early in the year, then had three lackluster events before a tie for 13th at the Transitions Championship -- where he also won last year -- and a tie for ninth at the Arnold Palmer Invitational.
This will be Furyk's first start since tying for 24th at the Masters.
He has slipped from sixth in the world rankings at the start of the year to 13th and is 51st in the FedEx Cup standings.
Furyk has some added pressure this week: It is the first tournament of his Miracle Birdies program in which he hopes to raise money for Children's Miracle Network hospitals across the country.
The program solicits pledges from around the country for every birdie or eagle Furyk makes the rest of this year. The pledges can be as small as 10 cents per birdie (miraclebirdies.com) and the money will go to the local Children's Miracle Network hospital.
Masters qualifications
It was only a week after the Masters, and one of the first things mentioned when Brendan Steele won the Valero Texas Open on Sunday was that he … qualified for the Masters.
Bob Harig's mailbag
Who will get off to a fast start to the 2012 PGA Tour season? Should the tour change how it opens the season? Drop ESPN.com golf writer Bob Harig a line, and he'll respond to some of the best questions. Ask Harig a question
The win-and-you're-in invitation for those who don't otherwise get on the list of competitors remains one of the truly neat aspects of winning a tournament on the PGA Tour.
For many, it is the realization of a dream, and it still remains an awesome reward for victory. While you can certainly make the argument that the money list or the world ranking offer a full examination of a player's qualifications, there is nothing quite like coming down the stretch of a PGA Tour event and having the lowest score for the week.
You do not necessarily have to win to reach those other criteria, but what is the ultimate goal?
The Masters scrapped the winners provision back in 1999 and didn't put it back in until four years ago, to overwhelming approval.
The problem is the tournament's field size. This year there were 99 players, a number Masters officials believe is too high.
"It is borderline to be able to present the kind of competition that we want to," said Masters chairman Billy Payne the day before the tournament began. "It is more than we normally have; the most we have had in some 40-something years.
"We say every year in response to that question that we look and we study the qualifications, which we do. But we are really going to look at it this year, because there is a maximum number of competitors for which we can give the experience that we want them to have and do it in a way that's manageable. [This year's field size] pushes that limit quite significantly."
Payne did not say the Masters will rescind that winners invitation, but if you are looking to cut back the size of the field, which invitation category do you cut back? There are not a lot of choices.
Let's assume the Masters is not going to mess with its longstanding history of inviting past champions and a group of amateurs (now six). Or the usual five-year perks granted to winners of the other major championships.
Maybe they cut back on the invitations to top finishers at majors, including 16 at the Masters, eight at the U.S. Open and four at the British Open. Since it relies so heavily on the top 50 in the world ranking, perhaps you trim back the previous year's money leaders from 30 to 25.
And a big one: Eliminate the top 30 in the FedEx Cup category. Getting into that group can be much more of a fluke than winning a tournament.
But as we've already seen one week out from the Masters, it is to the tournament's benefit that the win-and-your-in invitation remains. Just ask Brendan Steele.
Manassero's future
Matteo Manassero now has two European Tour victories -- which is one more than Rory McIlroy -- after the Italian's win at the Maybank Malaysian Masters on Sunday. It came two days before his 18th birthday and not only is he the youngest winner in European Tour history, but also the second youngest.
When Manassero was in Florida last month playing two PGA Tour events, he disclosed that not only did he not have a driver's license, but he did not yet even possess a permit.
"You can't start anything before 18 years old in Italy. So you actually start all of the process at 18 years old to then get it, the license, probably nearly 19.
"I'm trying to drive at the moment. I'm doing driving … practice. I'm doing some practice instead. You can't get it immediately. So that's what I try to do."
With his newfound riches as a professional golfer, Manassero said he plans to buy a BMW. What, not a Ferrari?
"There are some restrictions in Italy, the first year you get a license," he said. "There's some law that says you can't buy such a big car."
While he's looking around for that new car, Manassero can feel good about the fact that he's in good shape to make both the U.S. Open and British Open fields. He is 33rd in the Official World Golf Ranking and needs to be among the top 50 by the end of May to get exemptions into both tournaments.
Just wondering …
… if Peter Dawson's suggestion that the tours should be forthcoming with their fines will hold any sway. Dawson, the chief executive of the Royal & Ancient Golf Club of St. Andrews, said Monday at Royal St. George's -- site of this year's Open Championship -- that it would not be a bad idea to disclose disciplinary policies and that "if you look at the wider world of sport, that has become norm.
"I think keeping it quiet, whilst there are many good reasons for doing that at tour level, is probably something that tours should look at changing because I do think that keeping these things in the public domain has a lot of benefit in keeping our standards of behavior high."
The PGA Tour has long had a policy of not disclosing disciplinary measures, including fines.
Where such disclosure could really help would be on the issue of slow play. A fine structure is in place, and the amount is obviously not enough to deter the chronic activity.
Perhaps if those fines for slow play were announced, the public attention to the issue would get players moving.
But don't count on it happening.
Bob Harig covers golf for ESPN.com. He can be reached at BobHarig@gmail.com.
End of the road for Hilton Head?
Birdies And Bogeys
BIRDIES
Manassero
1. Matteo Manassero. What can you say about a guy who has two victories before his 18th birthday? The Italian, who turned 18 on Tuesday, two days after winning the Malaysian Open, is now all but assured of spots in the U.S. Open and British Open.
2. Brendan Steele. Winning is never easy, as Rory McIlroy will attest. So to get his first PGA Tour title in just his 11th start at the Valero Texas Open is an impressive feat.
3. The Bob Hope Classic. After several years of conjecture, the longtime PGA Tour event has a new title sponsor in Humana and the backing of former President Bill Clinton.
BOGEYS

McIlroy
1. Rory McIlroy. Give him credit for bouncing back after the Masters disappointment, but he was outplayed by Matteo Manassero by 6 strokes over the weekend in Malaysia, then missed a chance to tie on the last hole with a poor tee shot.
2. Heritage sponsorship woes. Could this be the 43rd and final tournament at Habour Town? The tournament is in need of a title sponsor.
3. Stewart Cink. The 2009 British Open champion opened with a 67 at the Texas Open, then went 78-75-74 to finish tied for 59th.
Notable
• Rookies (Charl Schwartzel and Brendan Steele) have won back-to-back events on the PGA Tour for the first time since 2002.
• Steele's win at the Valero Texas Open means there have been five first-time winners this year. He joined Jhonattan Vegas, D.A. Points, Gary Woodland and Scwartzel.
• Five-time tournament winner Davis Love III returns to the Heritage for the 26th straight year, a streak that dates to a tie for 41st finish in 1986.
• This is the first time since 1982 that the Heritage has not been played the week following the Masters. That year, Tom Watson won two weeks prior to the year's first major.
• Kenny Perry is back with caddie Freddie Sanders, who was on his bag for several stretches of good play but was replaced by Perry's son, Justin. "He's 25 and finally found what he wants to do with his life," Perry said. "I got on the horn with Freddie. This is our fourth marriage. He's been on and off the bag four times and we've won nine times together, so we've had some good success."
• Due to the scheduling issues this year that put the Heritage a week later, it is being played at the same time as the Champions Tour's Liberty Mutual Legends of Golf less than an hour away.
• In his return to the Champions Tour following 10 months in prison due to tax issues, Jim Thorpe tied for 59th.
• It wasn't that long ago that Daniel Chopra was victorious in a playoff at the season-opening winners-only event in Hawaii. Chopra is on the Nationwide Tour this year and flirted with a 59 at the Fresh Express Classic before settling for a third-round 61, which proved to be enough for victory when the final round was wiped out due to fog.
• Hall of Fame receiver Jerry Rice shot 81-82 at the Nationwide Tour event last week to miss the cut. Next week, former pitcher John Smoltz gets his crack at a Nationwide event in Georgia.
Quotable
"I didn't expect to win this fast. I thought I had the game to win. I thought I proved it to myself after the Nationwide Tour Championship last year … I can play just as well as I played today and the whole week and somebody could shoot a better score than me. … I didn't see it coming this fast but I thought that I did have the game for it." -- Brendan Steele, winner of last year's Nationwide Tour Championship, on winning his first PGA Tour event in just his 12th start.