Geoff Ogilvy poised for strong finish to playoffs

By Bob Harig
Archive
ATLANTA -- The typical debate about the FedEx Cup and the event that finishes the competition -- this week's Tour Championship -- centers on volatility.
The frequently confusing points configuration that is used to determine the FedEx Cup champion gives far greater weight to the four playoff events, often at the expense of a player who had a very good year.
[+] Enlarge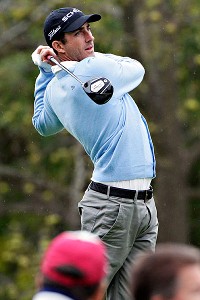 AP Photo/Nam Y. HuhDespite previously sitting on the cusp of not reaching the final event of the FedEx Cup playoffs, Geoff Ogilvy looks upon this week's Tour Championship as an opportunity to turn a down season into a great one.
For example, winning the Barclays, Deutsche Bank Championship or BMW Championship earns a player more than four times as many points as a major championship does. That is often viewed as a flaw.
But to not have volatility renders these four tournaments nothing more than money grabs. The top players would advance with virtually no chance of anyone well back in the pack making a move.
And so we come to Geoff Ogilvy, who had a lackluster season by his standards but has come up with two clutch performances to make it to the Tour Championship, which begins Thursday at East Lake.
He began last week's BMW Championship in 69th position. He needed to finish no worse than third to advance. And that's exactly what he did, jumping into the top 30 at No. 24 and giving himself a remote but still possible chance of winning the FedEx Cup.
"It's been a bit of a rough year, so to get to Atlanta with a rough year is kind of nice," Ogilvy said.
No doubt Ogilvy, the 2006 U.S. Open champion, has endured some hardship. He missed time after suffering a cut on his finger in Hawaii, which caused him to withdraw from the season-opening Hyundai Tournament of Champions. A shoulder injury and then an intestinal virus also contributed to his woes.
Then he missed the cut at the playoff-opening Barclays, meaning he headed into the Deutsche Bank in 91st position. And when his drive at the 71st hole came to rest behind a rock, Ogilvy's PGA Tour season appeared over.
"At that point, I didn't think I was going to be playing in Chicago," said Ogilvy, who had to take a penalty drop but still managed to par the hole. He then birdied the 18th to advance by the slimmest of margins.
And then he did it again, jumping 45 positions to get here.
Ogilvy needs a lot to happen to win the FedEx Cup -- it starts with a win, and the players in the top five need some lackluster finishes in a 30-player field -- but he wouldn't be here if the rules did not allow for some big jumps by players who have good tournaments in the playoffs.
"I think what they've done with the playoffs in golf is kind of a happy medium between giving the guy that's played well all year an advantage and also knowing that this time of year is what they're really putting emphasis on," said Matt Kuchar, who finished second last year -- earning a $3 million bonus -- and is fifth in the standings this year. "Having some movement, having five times the amount of points, yet there's still some weight toward having a good, consistent year. So I think overall, the system is really a good system."
It is one Ogilvy took advantage of this year, and it sounds as if he won't be too disappointed if he manages to win the tournament but falls short of the FedEx Cup.
"People are forgetting this is one of the tour's special golf courses, special tournaments," Ogilvy said. "At the end of your career, it would still be pretty special to have a Tour Championship on your mantel. I guess I'll view it like that, and, if the right things happen, that would be great."
Aussies and the Presidents Cup
Ogilvy qualified for the Presidents Cup International team by finishing third at the BMW, and he will join fellow Aussies Jason Day and Adam Scott on the team that will take on the U.S. in November in Melbourne, Australia. Captain Greg Norman will make two at-large picks next week, and nobody would be surprised if he simply named countrymen Robert Allenby and Aaron Baddeley. They followed Louis Oosthuizen and Tim Clark in points, but Oosthuizen has not performed well and Clark is injured. Easy call, right? Not necessarily.
Follow On Twitter

Want great insight into the game of golf in 140 characters or less? Follow @BobHarig.
In a conference call this week, Norman seemed to suggest that Baddeley was not a slam dunk. Also in the picture is Vijay Singh, who has played on every Presidents Cup team dating to the event's inception in 1994.
"He's in the mix, no question about it," Norman said of Baddeley. "His playability, ball flight … is very suited to that golf course. And he putts well. Royal Melbourne, the greens are going to be extremely fast, I know that. So putting well from inside 6 feet is huge.
"I feel for Aaron because he's one of those guys who really wants it. Sometimes when you want it, you've got to be careful how you get it. Sometimes that's putting a little less strain on yourself that allows you to build up the ladder a little bit. … I like the way he is, I like the way he is in the locker room. So he's obviously a focal point of those top two picks, as well."
One thing Baddeley has going for him is that he is playing in the Tour Championship. He has another chance to audition. So does Singh. Allenby and Oosthuizen are not here, and neither is Camilo Villegas, another possibility.
Just wondering …
…what the future of the FedEx Cup holds. This is Year 5 of a six-year deal with the packaging company, and there seems to be an assumption that everything will remain the same after the deal expires next year.
The PGA Tour has signed new television contracts that run through 2021, and three of the four playoff events have been extended past 2012. That would suggest that those contracts have some provision for a playoff scenario, including the big $8 million purses that are being offered at each event.
But should we assume that FedEx is on board for another go? The company is paying a whopping $35 million a year, with $10 million of that going to the winner of the competition. Second place gets $3 million, and payouts -- believe it or not -- go all the way to 150th place. Players who don't even make the playoffs get a $32,000 bonus.
Bob Harig's mailbag
How will Tiger Woods fare for the rest of 2011? Can the Americans prove their mettle vs. the Europeans? Drop ESPN.com golf writer Bob Harig a line, and every Thursday, he'll respond to some of the best questions. Ask Harig a question
"We are absolutely committed to it going forward because it worked," PGA Tour commissioner Tim Finchem said. "It's accomplished more than we had anticipated by this point in time, and we think it's just going to grow from here, no question about that.
"We delayed talking to FedEx until after television [contracts were signed] because so much of their involvement is television, so we have begun those conversations. We fully expect to continue down that road, and continue to have these levels of funding."
Of course, what is Finchem supposed to say? That he fears FedEx won't renew? That he expects a decrease in the playoff payoff?
That would not be his style, even though you could easily make the argument that someone paying out that kind of money would not be a slam dunk.
Then again, Finchem got the television contracts done in a poor economic climate, a surprise to many. The PGA Tour continues to renew title sponsors or find new ones. The FedEx Cup continuing beyond next year would be the next logical step.
Bob Harig covers golf for ESPN.com. He can be reached at BobHarig@gmail.com.
Birdies And Bogeys
BIRDIES

Rose
1. Justin Rose.
His victory at the BMW Championship was the third of his PGA Tour career and gives the Englishman a shot at winning the FedEx Cup, as he moved to third in the standings.
2. Geoff Ogilvy. He needed to finish third at the BMW to advance and did exactly that, also locking up a spot on the Presidents Cup International team.
3. Alexis Thompson. At 16, she became the youngest player to win on the LPGA Tour with her victory Sunday at the Navistar Classic. The way she plays the game is impressive.
BOGEYS

Haas
1. Bill Haas. With a back-nine 42 at Cog Hill, a golden opportunity slipped away to make the Presidents Cup team on points. Now he needs to rely on a captain's pick, and with dad Jay an assistant, that gets messy.
2. Jim Furyk. He isn't defending his Tour Championship title because he didn't make the field, even though he was in perfect position to do so, after shooting a 76 on Sunday.
3. The LPGA's Thompson stance. Commissioner Mike Whan understandably is leery of letting teenagers be members, but Thompson is a special case, a rare instance when someone so young is so ready.
• Webb Simpson enters the Tour Championship at No. 1 in the FedEx Cup standings and with three top-10s in the playoffs, including a victory at the Deutsche Bank. A victory gives him the FedEx Cup, and a finish in the top five still allows for a good possibility. There are mathematical scenarios that allow him to win the whole thing by finishing as low as 29th.
• Simpson is trying to join Rory Sabbatini (2007) and Padraig Harrington (2009) as the only players to finish in the top 10 in all four playoff events.

Donald
• Luke Donald is fourth in the FedEx Cup, second on the PGA Tour money list, first on the European money list, No. 1 in scoring average and No. 2 in Sunday scoring average.
• PGA champion Keegan Bradley is the only rookie on the PGA Tour who made it to the Tour Championship.
• There are six players with two victories this year on the PGA Tour -- Nick Watney, Bubba Watson, Steve Stricker, Webb Simpson, Mark Wilson and Keegan Bradley. A victory by any of them at the Tour Championship would go a long way toward that player being PGA Tour player of the year. Same for Luke Donald, who has just one PGA Tour title but has been a consistent performer and is ranked No. 1 in the world.
• The Tour Championship has just three past champions in the field -- Vijay Singh, Adam Scott and Phil Mickelson.
• The U.S. appears to have a tough task in keeping the Solheim Cup against a determined European team in Ireland. The Americans are on a three-match winning streak.

Simpson
"That's part of the appeal of the FedEx Cup is that carrot dangling at the end, whether we need the money or not." -- Geoff Ogilvy on the $10 million bonus that goes to the winner of the FedEx Cup
Catching up with '10 champ
Jim Furyk capped his best overall season on the PGA Tour with a victory at last year's Tour Championship, edging Luke Donald by a stroke. In the process, he was the FedEx Cup champion and was voted PGA Tour player of the year.

Jim Furyk
This year did not go as well for Furyk, who failed to qualify for the Tour Championship when he shot a final-round 76 at the BMW Championship and did not move into the top 30. Furyk was positioned to do so through three rounds but had a stretch of four straight bogeys Sunday that doomed him to a tie for 22nd.
Furyk, who still qualified for the Presidents Cup team, ended up 36th in FedEx Cup points. It is the first time since the inception of the FedEx Cup that he failed to qualify for the Tour Championship. His previous worst finish was 11th in 2007.