Rocco Mediate continues his outspoken ways

By Bob Harig
Archive
ST. MARTIN, Calif. -- Give Rocco Mediate a microphone and you might not get it back. And if the subject turns to Tiger Woods, you might as well just sit back and listen.
[+] Enlarge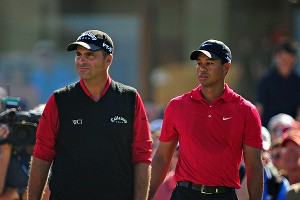 Mark J. Rebilas/US PresswireRocco Mediate will forever be intertwined with Tiger Woods after their epic duel at the 2008 U.S. Open. Since then, Mediate has just two top-10s, including his victory at the 2010 Frys.com Open, where he defends his title this week.
Mediate is forever linked to Woods due to their epic playoff at the 2008 U.S. Open, where Woods prevailed for his 14th major championship. Woods has not won a major since, has not won a tournament of any kind since 2009, and is the subject of considerable debate from all corners.
For his part, Mediate, 48, a few weeks ago questioned the direction Woods was going with his golf swing, and called out Woods' former teacher Hank Haney and current one Sean Foley. And he didn't back off Tuesday at the CordeValle Golf Club, where Mediate this week defends his Frys.com Open title -- and very likely will run into Woods, who is playing for the first time since the PGA Championship.
"Nobody wants him to get back on top more than I do," said Mediate, who has struggled since his brush with major stardom at Torrey Pines in 2008, posting just two top-10s, including his victory here a year ago. "No one is holding the bar where it needs to be. And they have the opportunity more than they ever have.
"If he gets the golf swing back, it's over. If he figures out where the ball is going, it's over …
"If he would have stayed with what he used to do, he'd have 30 [majors] by now. But he's the kind of guy who doesn't sit still. He wants to change and try to get better."
Mediate has had his own struggles with injuries over the years. The six-time tour winner for years has had back problems, but the most recent is a tendon issue in his left arm that first surfaced a week before last year's Fry's tournament.
Four times during the event he holed out shots from the fairway for eagle, then made a 5-footer on the final hole to win his first tournament in eight years. It turned out to be fortunate timing, because the injury prevented Mediate from playing much after the Frys, and he would have had to skip the PGA Tour Qualifying Tournament. The win got him a two-year exemption.
"A life-saving win," said Mediate, who this year has made just six cuts in 20 tournaments as he still deals with the tendon issues. "I was kind of screwed if I didn't pull that thing off. That's why I'm sitting here."
And why, inevitably, the subject turned to Woods.
Mediate is convinced that Woods' issues are almost exclusively due to swing issues, not any mental fallout from his personal problems, including his divorce.
"This is the strongest, most brutal mental person in the entire history of this game," Mediate said. "So I don't think that's really bothered him … if the club is in the wrong place, the ball won't go where you're looking. Once that comes back, he'll be better than he was before. Because he's smarter."
Lexi and LPGA membership
What seemed like a simple decision for LPGA Tour commissioner Mike Whan was a bit more complicated than simply allowing Lexi Thompson to play the tour next year after she recently won the Navistar Classic.
Thompson, who is just 16 years old, has seemingly been around forever, playing in the U.S. Women's Open at age 12 and already competing in numerous LPGA events as a teenager. When she won her first LPGA Tour title in dominating fashion a few weeks ago, it seemed only natural that she be allowed to play.
Follow On Twitter

Want great insight into the game of golf in 140 characters or less? Follow @BobHarig.
But the LPGA Tour -- as well as the PGA Tour -- has an age minimum. You must be 18 years old to be a member, and while some believe that is age discrimination, both tours are trying to protect players and parents from themselves. Some have an inflated view of their abilities. Some might be tempted to drop out of school early to pursue professional aspirations. And both tours want very much to avoid that.
At the least, they don't want to encourage every teenager with a dream to quit school and turn pro. Hence the age-18 minimum.
In the case of Thompson, Whan had granted her wish to enter Q-school, with the stipulation that if she made it through, she could become a member next year, even though she would be only 17. When she won a tournament, having to endure Q-school would have been a needless exercise; if she can win against the best, why be forced to play qualifiers against those not at that level?
Yet Whan did not want to set any precedents. While it might appear to be a double standard to have an age minimum but to let Thompson play, it was smart to make her go through the petition process. It is a message to others that you'd better have a pretty solid résumé if you want to become a member of the tour before age 18. And there's nothing wrong with that.
Just wondering …
… whether there is anything to the murmurings in Northern California about the Frys.com Open taking a big step up in stature by moving from CordeValle to The Institute, a private club owned by Frys founder John Fry.
Several of the players in this week's field gave the course a trial run Tuesday, but what is really intriguing is the idea of upgrading this tournament. Short of moving into the FedEx Cup schedule, how would that be possible?
Maybe it happens by making Fall Series events part of the FedEx Cup but having it count toward the following year. The idea is one that has been around since the inception of the FedEx Cup in 2007, but never seemingly given much value by the PGA Tour, which prefers to keep its schedule to the calendar year.
The idea that has been making the rounds would have the Frys tournament kick off the following season. So a 2013 tournament would actually be the first tournament of the 2014 schedule, offer a big purse and also FedEx Cup points.
At issue would be playing opportunities for those who are still trying to keep their PGA Tour cards. These four Fall Series tournaments now count on the 2011 money list, and while they don't offer FedEx Cup points, players can still achieve many goals, including a top-30 money-list finish, which gets a Masters invitation.
The way to look at it is this: Players would simply have more playing opportunities at the "beginning" of the season rather than the end. It would also make things cleaner, as the Wyndham Championship -- as the schedule is now constituted -- would be the final regular-season event and the tour season would end at the Tour Championship.
Fall Series events then become the start of the new year, and they suddenly have more importance. At least in theory. It is an interesting concept, and one of many ideas broached in the FedEx Cup era. FedEx's sponsorship ends after the 2012 season, although tour officials maintain they expect to keep the status quo.
Bob Harig covers golf for ESPN.com. He can be reached at BobHarig@gmail.com.
Top Players Make Frys Appearance
Birdies And Bogeys
BIRDIES

Na
1. Kevin Na. Say what you want about Na's turtle-like pace, but give him credit for persevering to get his first PGA Tour victory in Las Vegas -- making three birdies in the final four holes, too.
2. Kenny Perry. He got his first Champions Tour victory Sunday and did it with a heavy heart, playing despite the death of his sister due to breast cancer a day earlier.
3. Michael Hoey. That's another victory for Northern Ireland -- at the Dunhill Links in Scotland -- with a couple of countrymen in Rory McIlroy and Graeme McDowell close behind.
BOGEYS
1. Kevin Na. Despite his victory, he once again called attention to his horrendous pace of play. He backs off shots (even whiffing once, on purpose), has his caddie line him up and has his caddie plumb-bob putts. It's excruciating to watch.

McIlroy
2. Rory McIlroy. It is hard to knock a closing 65 at St. Andrews, but he parred the final seven holes as his countryman -- who was ranked outside the top 200 in the world -- made the birdies necessary to win. Hoey now has one more European Tour title (3) than McIlroy (2).
3. Nick Watney. At his hometown Vegas event, he had a share of the final-round lead and could have been the only player this year to win three times on the PGA Tour had he been able to hang on.
• The Frys.com Open has a rather notable extra bounce because of Tiger Woods. The Fall Series event, won last year by Rocco Mediate, has three of the top 50 players in the world, led by No. 20 Paul Casey -- who didn't qualify for the FedEx Cup and needs to play tournaments to meet his tour minimum-requirement of 15.
• Woods is making just his ninth start of the year on the PGA Tour and only the third since the Masters, where he tied for fourth. Since then he withdrew after just nine holes at the Players Championship due to injury, then didn't play again until the WGC-Bridgestone Invitational, where he tied for 37th. His last tournament was the PGA Championship, where he missed the cut.
• Amateur Patrick Cantlay is in the Frys field. The sophomore at UCLA did not finish outside of the top 25 in any of his four PGA Tour starts this year. He'll play with Woods during the first two rounds.
• Ernie Els (ranked 45th) and Louis Oosthuizen (49th) made the journey to California after having played in the European Tour's Dunhill Links Championship in Scotland.
• An amazing streak came to an end at the Dunhill Links for No. 1 Luke Donald -- he had his first three-putt green in 449 holes. It ended on the seventh hole at Kingsbarns during the first round of the tournament.
• Dustin Johnson missed the 54-hole cut at the Dunhill, but with his amateur partner, brother Austin, they made the cut in the pro-am portion and finished second. So Dustin Johnson didn't have a place in the tournament proper Sunday and played for no prize money -- although the pros of the top teams do receive funds ranging from $5,000 to $50,000.
• The LPGA Tour begins a four-tournament Asian swing in South Korea, followed by events in Malaysia, Taiwan and Japan. Lexi Thompson was not eligible for any of the events regardless of her LPGA membership status.
• Hideki Matsyuma, 19, is headed back to the Masters. He was low amateur this year at Augusta, but was not among the top 16, which guarantees an invite back. But by defending his title at the Asian Amateur, he earns a spot in the Masters field.
"I told everybody, once I get my first win, the wins are going to start rolling in. And I think it's like that for a lot of the guys. You look at a lot of the guys that have struggled, that have been good players that have struggled for their first win, and once they get that first win, it seems like a lot of guys go on and win a bunch of tournaments." -- Kevin Na, who at age 28 got his first PGA Tour victory in his ninth year on the PGA Tour on Sunday at the Justin Timberlake Shriners tournament.