PGA Tour money race catching players' interest

By Bob Harig
Archive
How much does the PGA Tour money title matter?
In recent years, depending on who was going after it, it seemingly had little effect on those chasing it.
[+] Enlarge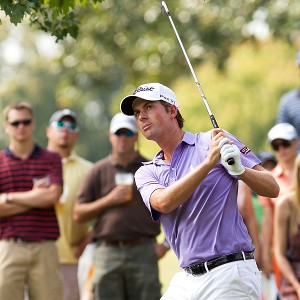 Allan Henry/US PresswireWebb Simpson trails Luke Donald by less than $70,000 for the PGA Tour money list lead. If he can surpass the Englishman and finish in the top spot, Simpson will also earn a five-year exemption on the PGA Tour.
Tiger Woods had a chance to win it in 2003 and didn't add events to try to catch Vijay Singh late in the season. Been there, done that. (Woods has won the money title nine times.)
Even last year, when Jim Furyk was the FedEx Cup champion, he didn't go after the money title, which was snatched away by Matt Kuchar, who played a Fall Series event while Furyk did not.
That's no knock on anybody. The PGA Tour itself has done all it can to render the Arnold Palmer Award -- given to the year's money title winner -- virtually meaningless.
It has put all of the attention on the FedEx Cup and a points system that crowns the champion at the Tour Championship. Money means nothing, except for the big bonuses paid to the top finishers.
And then ... money does matter. At least it does during the Fall Series, which is all about money and keeping a tour card and finishing in the top 30 for other perks the following year.
And now it is suddenly about the money title, too. Who would have ever dreamed that?
Webb Simpson has entered this week's McGladrey Classic, and he makes no secret of his desire to win the money title. He trails money leader Luke Donald by $68,971. A 15th-place finish or better would help Simpson pass Donald this week.
Either way, things will remain interesting heading into next week's season-ending PGA Tour event, the Children's Miracle Network Classic at Walt Disney World.
Here is why the money title is important to both players, when it would normally appear to be just another nice achievement:
A little-known perk of winning the money title is the five-year PGA Tour exemption that comes with it. Nobody thought much of that when players such as Woods and Singh were winning the money title.
But to Simpson, that is huge. He won for the first time on tour this year at the Wyndham Championship, then added another title a few weeks later at the Deutsche Bank. That means a three-year exemption. But for a guy who didn't wrap up his card for this year until last year's FedEx Cup playoffs, knowing you've got five more years is pretty significant.
And then there is Donald, the No. 1-ranked player in the world, clearly the most consistent of any performer. He's won once on the PGA Tour, twice on the European Tour and could be the player of the year on both. He also leads both money lists, and no player has ever officially won both titles. (Woods has done so six times, but he was never a member of the European Tour, so his earnings did not count.)
Donald has talked about adding Disney if Simpson passes him, but he has to commit by this Friday and his wife his expecting their second child in early November. He's already played a grueling schedule that saw him compete in eight of the last 10 weeks, including four in a row in Chicago, Atlanta, St. Andrews, Scotland, and Madrid.
Does he want to add Disney to win the money title? Will he need to?
"Maybe I'll be tempted,'' Donald said recently at the Dunhill Links. "I could play Disney. Take my daughter to Disney World. I don't know how important it is to Webb, but for someone who this time last year was struggling to keep his card that might be very appealing.''
Rickie's first victory
For Rickie Fowler, his victory on Sunday at the Kolon Korea Open certainly can be nit-picked, if you want to go that route in deciphering whether the win portends future greatness or means little.
The 2010 PGA Tour rookie of the year was playing in an obscure event on the OneAsia Tour -- they actually have two competing tours -- that saw him defeat only a handful of big-name players.
Follow On Twitter

Want great insight into the game of golf in 140 characters or less? Follow @BobHarig.
And yet among those he beat were major champions Rory McIlroy and Y.E. Yang.
He won by six strokes, shot 8-under-par 63 during the third round and was one of just six players under par for the tournament, with a total of 16 under.
So while the tournament might not have been high caliber, his golf certainly seemed to be pretty good. He separated himself from McIlroy with that 63 and then closed out the tournament -- something he's so far been unable to do as a pro.
And if that is what he needs to push him toward his first PGA Tour victory, then the Korea Open will be one that Fowler looks back on as far more than his first professional win (and a like hefty appearance fee).
Fowler will attempt to claim his first PGA Tour title his week as he traveled back through 13 time zones to play in this week's McGladrey Classic, the third of four Fall Series events.
He comes into the tournament with some confidence, if he otherwise might not know what day it is.
Fowler has played 55 events on the PGA Tour, and some of his best success came two years ago during Fall Series events, one of which he lost in a playoff. That was the Frys.com Open, just his second event as a pro.
Last year he finished second twice, but in the 2011 season, Fowler rarely contended. He was tied for second at the WGC-Bridgestone Invitational, his best finish of the year, but he was never a threat to win the tournament. Other than the AT&T National, Fowler was never really a contender on the final day of any tournament in the second part of the year.
And for the season, he finished 43rd in FedEx Cup points, missing out on the Tour Championship for the second straight year.
His biggest highlight before Sunday was likely his comeback in singles at the Ryder Cup last year, where he managed to forge a tie against Edoardo Molinari by birdieing his last three holes. That was impressive stuff, and he figured to build on it.
Perhaps this victory in a faraway place will serve him in that fashion.
The philosophical view
A few days after the hot dog incident at the Frys.com Open, Tiger Woods noted the intimacy associated with golf and spectators at tournaments.
"Part of the lure of our sport is our access," Woods said Tuesday at a news conference to promote his Chevron World Challenge, where he announced the field for the Dec. 1-4 tournament. "Fans can literally reach out and touch you. You don't ever touch football players unless they jump in the stands. That personal interaction is what makes golf so special. We've been very fortunate over the years to have everything turn out positively.
"This guy was just trying to gain attention for himself, which he did. I've had another fan throw an orange in Phoenix one year. Unfortunately, people have a few of their libations of choice, and do things that they probably don't normally do."

Get all of ESPN.com's latest news, highlights and commentary about the world's most talked-about golfer. Tiger Tracker
"The guy'' has been identified as Brandon Kelly, 31, by the Santa Rosa Press-Democrat. Kelly was charged with disturbing the peace, a misdemeanor, hence his name was not released by law enforcement. But he admitted to the paper that he was the hot dog thrower.
"I threw the hot dog toward Tiger Woods because I was inspired by the movie 'Drive,'" Kelly said. "As soon as the movie ended, I thought to myself, 'I have to do something courageous and epic. I have to throw a hot dog on the green in front of Tiger.'"
He also said: "I honestly wish Tiger the best. One day I hope he breaks Jack Nicklaus' record.''
Bob Harig covers golf for ESPN.com. He can be reached at BobHarig@gmail.com.
Birdies And Bogeys
BIRDIES

Molder
1. Bryce Molder. The former Georgia Tech star finally broke through for his first PGA Tour victory with a playoff win at the Frys.com Open.
2. Rickie Fowler. It occurred far away in Korea, but Fowler did beat Rory McIlroy by six strokes and was one of the few players under par in the tournament.
3. Yani Tseng. It's tough to keep track of all of her wins this season. She has won nine times this year, including six on the LPGA Tour.
BOGEYS

Baird
1. Briny Baird. He's won more money than any PGA Tour player ($12 million plus) without a victory, and he suffered a tough-luck loss Sunday, going six extra holes in a playoff before falling to Bryce Molder.
2. Tiger Woods. His tie for 30th -- 10 strokes back of the winner -- at the Frys.com Open was viewed as a step forward, but he actually lost a spot in the world rankings, dropping to 52nd.
3. The hot dog thrower. The guy got nowhere close to Woods, and his name was not even released, leading to a lot of jokes and punch lines. But it also points out a rather serious truth about spectators and their proximity to golfers.
• With Bryce Molder's six-hole playoff victory over Briny Baird on Sunday, the PGA Tour has now had 17 playoffs this year, a record.
• Paul Casey was two shots out of the lead when the final round began at the Frys but dropped to a tie for seventh, which still moved him from 135th on the money list to 127th. The Englishman is currently in the odd spot of being eligible for all of the majors and World Golf Championship events, but not all PGA Tour events in 2012.
• Matt Jones is now on the bubble at No. 125 on the money list with two events to go. He leads Steve Flesch and Casey.
• Briny Baird now has five runner-up finishes in his PGA Tour career and at $12.4 million has won the most of any player without a victory. The good news is he climbed the money list from 148th to 93rd with the $540,000 he earned to secure his card for next year.
• Ernie Els tied for fourth to notch his first top-10 of the year, giving him at least one top-10 every year dating to 1993.
• Luke Donald had a rare finish outside of the top 10 in his defense at the Madrid Masters. He tied for 11th and continues to lead the money list on both the PGA and European Tours.
• With his third-place finish at the Frys.com Open, Bud Cauley got a spot at this week's McGladery Classic and is looking to wrap up his tour card without going to Q-School. As a non-member, he needs to earn more than the 125th-place finisher, and right now would be 114th on the money list. The last player to leave college and make it to the tour without going to Q-School was Ryan Moore in 2005.
• This is also a big week for Canada's Adam Hadwin. He tied for seventh last week at the Frys and has earned more than $430,000 in just four PGA Tour starts. If he can earn another $130,977, he would become a special temporary member and thus get to the final stage of Q-School. Like Cauley, if he can win more than the 125th finisher, he'll get his 2012 tour card outright.
"As long as it's legal, I'll keep cheating like the rest of them.'' -- Ernie Els, on using the belly putter.
Catch up with the '10 champ
Heath Slocum's 60-foot birdie putt on the 16th hole at the Sea Island Club's Seaside course helped him secure his fourth career win on the PGA Tour last year as he captured the inaugural McGladrey Classic by a stroke over Bill Haas.
The victory helped Slocum finish in the top 30 on the money list, earning a spot in the Masters and U.S. Open this year.
But Slocum did not fully take advantage. He missed the cut at both the Masters and PGA Championship, with no top-10 finishes on tour. His best was a tie for 11th at the U.S. Open. He comes into the McGladrey after a tie for 42nd at the Frys.com Open. He missed 12 cuts in 27 starts so far this year and qualified for only the Barclays in the FedEx Cup playoffs.
Slocum ended up 117th in FedEx Cup points and is 119th on the money list -- although he does not have to worry about exempt status due to his victory last year.