Erik Compton begins 2012 as unlikely rookie

By Bob Harig
Archive
Golfers deal with their share of nagging injuries, some more serious, some keeping them from playing, practicing or competing for weeks and months at a time.
[+] Enlarge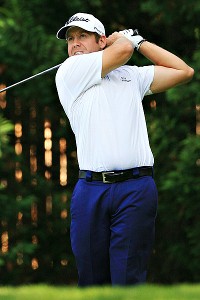 Hunter Martin/Getty ImagesErik Compton, who as a two-time heart transplant recipient makes his rookie debut on the PGA Tour this week, won on the Nationwide Tour in 2011.
Erik Compton has an amazing perspective when it comes to stuff like that. Late last year he had a nagging foot problem -- which was no big deal when you consider that he had a heart scare last summer related to his second transplant.
If you don't know the story, that might seem a bit jarring.
Compton, 32, is on his third heart as he takes his first shot at the PGA Tour. Twice he had transplants and lived to thrive on the golf course, through an excellent amateur and collegiate career and into the pro ranks, and now he is finally chasing his dream as a card-carrying member of the PGA Tour.
His rookie year begins this week at the Sony Open in Hawaii, but nothing is ever easy for Compton, who all but stamped his ticket to the big leagues last summer with a victory on the Nationwide Tour -- but then had a setback.
Compton had a procedure done where "they go in and check to see if there are any blockages, and then they take little pieces and biopsy those pieces,'' he said. "When they did that, I was in moderate rejection. It was severe enough that they had to treat me with 100 milligrams of steroids for almost three months.
"That's why I blew up in the middle of the season. I put on like 15 or 20 pounds of water weight. And then I couldn't play for the first month because my hands were [shaking]. And then I had an issue with my foot. Had to get that taken care of.''
Compton understandably struggled for much of the remainder of the season, not posting another top-20 finish until he tied for 18th at the season-ending Nationwide Tour Championship.
By then, it was clear he was going to finish among the top 25 money winners to earn his card. He ended up 13th and will get a good number of chances in the early going to earn enough money to finish among the top 125 on the PGA Tour.
Compton first needed a heart transplant at age 12, and despite the complications, he went on to be an All-American at the University of Georgia and one of the top juniors in the country. He turned pro but was never able to make it through Q-school.
Then, in September 2007, Compton had a heart attack. It was clear he would need another transplant, and a donor match was found, with surgery taking place the following May. Amazingly, that fall, Compton competed at Q-school, advancing through the first stage.
Compton needs a therapeutic-use exemption from the PGA Tour in order to take some of the drugs necessary to deal with his condition, including a beta blocker. "I'm trying to get off of them, they make me so sleepy,'' he said. "They put me on a lot of those about a year after the transplant. Once they put me on those steroids, I stopped having palpitations, so it's hard for me to play golf without them. My nerves are all whacked-out.''
And yet, here he is, a member of the 2012 rookie class.
"Erik has reached the ultimate level in his sport through hard work and determination despite the hurdles life has thrown at him,'' said Peter Malik, Compton's agent at MVP Inc. "The real goal in 2012 is to allow Erik to focus on competing effectively on the tour. He is the biggest proponent of living a healthy and fit life ... partly because this is a necessity given his unique medical history. His story is truly remarkable, and hopefully 2012 will prove to be yet another positive step towards his goal of winning on the PGA Tour.''
Follow On Twitter

Want great insight into the game of golf in 140 characters or fewer? Follow @BobHarig.
Being on tour gives Compton a bigger stage to tell his story. In addition to endorsements with Titleist and Hugo Boss, Compton is also partnering with Donate Life America and the drug company Genentech to help raise awareness about organ donation and transplantation.
Compton has also promised to be more active on Twitter (@ErikCompton3), although his main focus obviously is to play good golf.
"It's no different, really, from the Nationwide and PGA Tour; I don't want to sound like a jerk saying that, I don't mean it like that,'' Compton said. "It's just a different feeling when I'm 20 and look over my shoulder and see guys like Freddie [Couples] or [Steve] Elkington or guys I used to look up to as a kid.
"Now I see guys [who] I used to give them grief all the time in college golf. A lot of my peers. Four years ago I was with Keegan Bradley at Q-school. Now he's won a major and he's in the top 50 in the world. It's just golf. I'm trying not to compete against those guys, but the golf course. I'm looking forward to the opportunity to play a lot of golf.''
Tiger's schedule
There have been numerous calls in recent years for
Tiger Woods
to change his schedule, add tournaments, play tournaments he has not played. Well, Woods is so far obliging in 2012.

Get all of ESPN.com's latest news, highlights and commentary about the world's most talked-about golfer. Tiger Tracker
For the first time, he is playing the Abu Dhabi HSBC Championship -- albeit at the expense of the Torrey Pines PGA Tour event he has won six times -- and this week he added the AT&T Pebble Beach National Pro-Am, his first domestic event of the year.
It is also true that there are clearly ulterior motives in playing both events. Woods acknowledged as much, saying that HSBC and now AT&T have been longtime supporters of his foundation. And there is the matter of a seven-figure appearance fee for playing in the Middle East.
And while AT&T dropped Woods as a personal endorser, it is the title sponsor of the AT&T National tournament.
With Woods' foundation now in need of a new title sponsor for his other event after the loss of Chevron, this is a good time to keep relations strong with the other company that puts its name on a tournament that benefits his foundation.
Bob Harig's mailbag
Who will get off to a fast start to the 2012 PGA Tour season? Should the tour change how it opens the season? Drop ESPN.com golf writer Bob Harig a line, and he'll respond to some of the best questions. Ask Harig a question
From a scheduling standpoint, AT&T also makes sense in that it comes two weeks after Abu Dhabi and is two weeks prior to the WGC Match Play. Woods hasn't played the tournament near San Francisco for 10 years -- after playing it six straight -- but two of his more famous wins occurred there, at the 2000 AT&T and later that year at the U.S. Open, where he won by 15 strokes.
If, as expected, Woods then plays the WGC-Match Play, it sets up the possibility that he could play the Honda Classic -- located near his new home -- followed by the WGC-Cadillac at Doral. If he also plays Bay Hill, that would give him six official events prior to the Masters.
Bob Harig covers golf for ESPN.com. He can be reached at BobHarig@gmail.com.
Birdies And Bogeys
BIRDIES

Stricker
1. Steve Stricker. His victory at the Hyundai is the 12th of his career and ninth since turning 40.
2. Louis Oosthuizen. The South African defended his title at the Africa Open, and the 2010 Open champ is on a nice run, with no finish worse than eighth going back to the Dunhill Links in Scotland.
3. Phil Mickelson. Lefty is making a surprise start at next week's Humana Challenge, giving the old Hope some hope.
BOGEYS

Casey
1. Paul Casey. A snowboarding accident led to a shoulder injury, keeping the Englishman out of action for about two months -- in a Ryder Cup year.
2. Lucas Glover. In Hawaii for the start of the season, Glover suffered a knee injury while paddleboarding and had to withdraw from the Hyundai Tournament of Champions.
3. Slow play. One week into the new season, and the old problem is still apparent. There is no excuse for the slow play in a small field featuring twosomes at Kapalua. And yet, with no meaningful deterrent, the slow guys will continue to be slow.
The U.S. Open is changing its qualification criteria as it relates to the Official World Golf Rankings, expanding from the top 50 to the top 60 those who are exempt into the championship as of two dates in the spring. There are numerous ways to get into the Open without qualifying, including by finishing among the top 30 in FedEx Cup points or the top 30 in PGA Tour money the prior year.
Last year, the Open for the first time went with two spring dates for the top 50 in the world, including the final ranking prior to the tournament. It is now simply expanding that number to 60, which means a few more players who aren't otherwise exempt will get into the field.
The USGA had previously said that the winner of the European Tour's flagship event, the BMW PGA Championship, would be exempt into the Open. Last year Luke Donald won that title. The British Amateur champion is now also getting a spot in the field.
Typically 60 to 70 players are exempt for the Open, with the remaining spots in the 156-player field getting in through sectional qualifying.
This week's Sony Open field marks the start of the 2012 season for 23 of the 25 Nationwide Tour graduates. The tournament will also have 24 of 26 rookies. . .. But the Sony field has just three of the top 25 in the world ... Steve Stricker now has victories in four straight seasons to join Dustin Johnson. Phil Mickelson leads with wins in eight straight years ... Stricker is the only player with multiple victories in each of the last three seasons and would get to four with another win this year ... Stricker has set himself up for a great season, if history is a guide. In the past 20 years, only one player -- Daniel Chopra, who defeated Stricker in a playoff -- failed to advance to the Tour Championship after winning at Kapalua & The European Tour moves to Week 2 and the Joburg Open, where Charl Schwartzel attempts to defend his title in Johannesburg ... Stewart Cink begins his season at the Sony. A year ago, the 2009 British Open champ was ranked 16th in the world. He is now 147th -- four spots behind Angel Cabrera, the 2009 Masters champion who began last year 23rd ... In addition to Mickelson, next week's Humana Challenge has received commitments from Matt Kuchar, Trevor Immelman and U.S. Ryder Cup team captain Davis Love III.
"I think there are a lot of things that people are going to find interesting.'' -- Hank Haney, Tiger Woods' former swing coach in an interview with the Associated Press, about the book he has written on their relationship.