The winning learning curve can be painful

By Bob Harig
Archive
PEBBLE BEACH, Calif. -- If there was ever any question about how difficult it is to win a professional golf tournament, the past two weeks on the PGA Tour certainly offered up some compelling evidence.
Kyle Stanley and Spencer Levin seemingly had their respective tournaments won in San Diego and Phoenix, a solid final round away from victory. Both had commanding leads. In fact, Levin's 6-shot advantage had been squandered after 54 holes just five previous times.
[+] Enlarge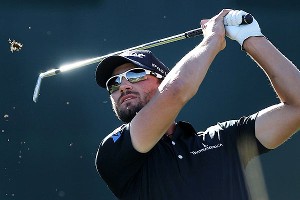 Christian Petersen/Getty ImagesKyle Stanley stumbled hard on the final hole at Torrey Pines, only to rise up a week later to secure his first PGA Tour victory at the Waste Management Phoenix Open.
But neither was able to close the deal.
Stanley's 5-shot lead at Torrey Pines swelled to seven and was three when he played the par-5 18th hole, needing only to hit the green with a wedge and 4-putt to win. Of course, he hit it in the water, 3-putted, then lost a playoff to Brandt Snedeker.
A week later, Stanley got redemption by shooting a final-round 65 to win the Waste Management Phoenix Open. Of course, he needed Levin to implode, a 4-over-par 75 allowing Stanley to come from 8 strokes back and win.
Both players were nearly inconsolable after their defeats, and both showed just how difficult it is to close the deal.
"You can't really teach somebody the experience aspect of it, and I think being in contention last week, I think the more times you get there, the more comfortable you get," Stanley said. "My caddie, Brett [Waldman], did a great job of keeping me in the present there on the back nine. I don't know what I'd do without that guy. We just played golf, stuck to our game plan, and here we are."
All of which provides some perspective and perhaps reminds that what players such as Tiger Woods and Phil Mickelson have accomplished tends to be taken for granted.
Woods owns 71 PGA Tour titles and has a remarkable record of closing out tournaments, especially with a 54-hole lead. But worldwide, he has now failed to win three of his past five events when in that position, the latest at the Abu Dhabi Championship two weeks ago.
All kinds of consternation ensued, and obviously Woods is trying to regain his form, not trying to win for the first time. The fact a little-known player named Robert Rock beat him suggests again that the task is never easy.
Woods makes his PGA Tour debut this week at the AT&T Pebble Beach National Pro-Am, where the focus will again be on his 26-tournament winless streak in official events.
[+] Enlarge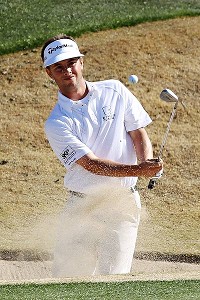 Christian Petersen/Getty ImagesCould Spencer Levin repeat the heartbreaking loss one week and triumphant victory the next? Well, he did finish T-4 last year at the AT&T Pebble Beach National Pro-Am.
But there was a time when Woods failed to close out his first tournament victory. Way back in 1996 at the Quad City Classic, just weeks after he turned pro, Woods held a 54-hole lead but was defeated by veteran Ed Fiori. It remains one of just four times in 52 tries that he failed to convert a 54-hole lead on the PGA Tour.
"I think overall it really helped me," said Woods, who noted at the time he had no status on the PGA Tour. "If I didn't go through that experience, just like what Kyle went through at Torrey, he probably doesn't come back and win. What that allowed me to do is understand and feel the heat at this level.
"That helped a lot going through that one tournament. It showed me that one, I could get there, and two, where I needed to improve."
Mickelson, meanwhile, has gotten off to a lackluster start in 2012, with a missed cut at Torrey Pines and a poor finish Sunday in Phoenix. The winner of 39 PGA Tour events, Mickelson hasn't won since the Houston Open the week prior to the Masters.
Levin can't relate. Chirping about not winning enough is much different than for someone who has never won, period.
"I gave it away, simple as that," Levin said. "You have a 6-shot lead and lose, you gave it away. My hat's off to Kyle; he played a great round. He went and got it. But if you've got a 6-shot lead and don't win, then I think it's on the player with the lead for sure."
Levin gets another chance this week at Pebble Beach, where he can only hope that things go as well for him as they did for Stanley in Arizona.
The future of long/belly putters
The feeling for years among golf rules gurus is that the belly putters and long putters that have become so popular are here to stay, that rules to ban their use needed to be put in place long ago. Well, maybe not.
Follow On Twitter

Want great insight into the game of golf in 140 characters or fewer? Follow @BobHarig.
At the United States Golf Association's annual meeting on Saturday in Houston, it became clear that the rules making body -- along with the R&A in the rest of the world -- are not done with the debate.
USGA executive director Mike Davis said that a "fresh look" would be taken toward the issue.
But the notion of banning such putters is not in play. Instead, Davis discussed "anchoring" as the root of the issue. That refers to any putting method in which the putter is secured against the body. In the case of the belly putter, the handle of the club is anchored against the stomach. With a long putter, the club is secured on the chest.
Writing such a rule would be tricky, and nothing appears imminent, but it does seem that issue is not going away.
"All of a sudden … this has become a much bigger topic," Davis said at the meeting, according to Golfweek. "The USGA and R&A have been talking about this at length. We are looking at it from a perspective that … what we should look at for everything: What is good for the game, for all golfers, long term?
"It is something we have taken a fresh look at. More players are using it, both on the elite level and the recreational level. We want to be sure that we are looking at all the angles and thinking about what is in the best interests both of the traditions of the game, the history of the game, and what we think would be good for the game."
Bob Harig covers golf for ESPN.com. He can be reached at BobHarig@gmail.com.
Birdies And Bogeys
BIRDIES

Stanley
1. Kyle Stanley. From gory to glory. What a week for Stanley, who came from 8 shots back on Sunday to win in Phoenix seven days after blowing a big lead in San Diego.
2. John Huh. Despite a couple of late double-bogeys in Phoenix, the PGA Tour rookie is off to a terrific start. He's already earned nearly $350,000 and has two top-15 finishes.
3. Paul Lawrie. Out of nowhere, the '99 British Open champ has put himself in the mix for a European Tour Ryder Cup spot after his victory in Qatar.
BOGEYS

Levin
1. Spencer Levin. It was a slow meltdown on Sunday for Levin, who squandered a 6-stroke advantage at the Phoenix Open.
2. Stewart Cink. What has happened to the 2009 British Open champ? He shot an opening-round 83 last week, withdrew and is ranked 143rd in the world.
3. Phil Mickelson. The only thing consistent about Lefty is his inconsistency. His line so far: T49, MC, T26.
A week after blowing his ticket to the Masters, Kyle Stanley punched it with his victory at the Waste Management Phoenix Open. Stanley has never played in the year's first major but is now in by virtue of his victory -- while at the same time Spencer Levin saw a great opportunity go by in blowing a 6-stroke lead.
Paul Lawrie's win at the Qatar Masters did not assure him a spot in the Masters, but did move him to 47th in the world, which puts him in position to earn an invitation. Lawrie, 43, who won the 1999 British Open, was 243rd a year ago. He would need to stay in the top 50 as of March 26 to get into the Masters. Perhaps more important in the short term is that Lawrie will make it into the WGC-Accenture Match Play in two weeks.
Tiger Woods is making his first PGA Tour start of 2012 at the Pebble Beach tour event, where he has won once in six tries … This will be Phil Mickelson's 16th consecutive appearance in an event he has won three times … The LPGA season gets under way at the Women's Australian Open, which is being played at Royal Melbourne, site of last year's Presidents Cup. Lexi Thompson makes her debut as an LPGA Tour member … The European Tour's Middle East swing continues in Dubai, where Rory McIlroy, Lee Westwood and Martin Kaymer are entered … The Champions Tour resumes its schedule in Boca Raton, Fla., this week at the Allianz Championship … Keegan Bradley, a noted Patriots fan, said via Twitter that he is soothing his pain by playing practice rounds this week at Augusta National … The PGA Tour has extended its sponsorship deal with Valero for the Texas Open through 2018 … Jim Furyk is making his season debut at Pebble Beach.
"I was just so in my own way. I think everybody is like that to an extent starting off, but it was a weird feeling. I just wasn't having any fun. It was just like I was so stressful on myself. It's all 100 percent myself, the way I went about it, the way I thought to everything I did. It was on me, and I blew it basically." -- Spencer Levin after blowing a 6-stroke at the Waste Management Phoenix Open, matching a PGA Tour record.