Putting debate swings into golf's cross hairs

By Bob Harig
Archive
There is bound to be plenty of debate and conjecture now that the United States Golf Association -- and its rules-making counterpart, the R&A -- has said it will study the idea of "anchoring" a putter against the body.
For years, the practice has been allowed as more and more players have gone to some form of a long putter. And while some decried the use of such putters, it was often viewed as a crutch or a last resort for those who struggled to putt conventionally.
More and more, however, players are learning to putt with long putters or belly putters simply because they work better.
So when the USGA said at its recent annual meeting that a "fresh look" at the issue would be taken, naturally all kinds of reaction has been forthcoming from all sides of the issue.
While the USGA seemed to suggest it was more interested in the idea of anchoring as opposed to the type of putter being used, Tiger Woods made it clear he is "not a fan" of long putters and would like a rule that limits the length to no longer than the shortest club in a player's bag.
Then there is Phil Mickelson -- who last year experimented with a belly putter -- who wonders about the length of time such putters have been allowed.
"It's been legal for however many decades, and to change that I think is really unfair to those that have been using it," he said.
[+] Enlarge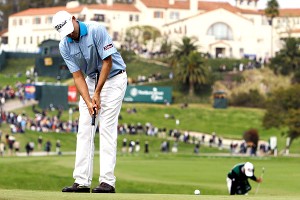 AP Photo/Reed SaxonBill Haas won the Northern Trust Open on Sunday with a birdie putt on the second playoff hole using a long putter.
And therein lies the big problem with making any sort of rules change of this nature.
How do you legislate against putters that players have been using for years?
One reason such putters were likely allowed to exist is because they were seen as a last resort, a way to stay in the game. But that is not so much the case anymore. Junior players, college players … they are cropping up everywhere using these putters, even among players who simply like using them better than a conventional model.
Keegan Bradley, who became the first player to win a major championship using a belly putter when he captured the PGA Championship in August, is seen as an excellent example. He has been using one since college.
Bill Haas, the reigning FedEx Cup champion who uses a long putter, captured his fourth career title on Sunday at the Northern Trust Open, defeating Bradley and Mickelson in a playoff. Haas is coming up on his 30th birthday, hardly the age for which a long putter is associated.
"My thought is they've picked the wrong thing to fight against and they've done it about 15 years too late," said Tom Lehman at a Champions Tour event last week. "To make an issue about this when they should have made an issue about the balls or clubs 15, 20 years ago is ridiculous.
"I think it's just fine. If there were this method of putting where it was foolproof and you couldn't miss and it just turned this whole game into a joke because it was so simple and so foolproof, I would say that's probably worth looking at," he said.
"The long putter, the belly putter have helped guys who have struggled to keep their careers intact or bring them back from the depths. But it's not a foolproof way."
Lehman has a point. Players do not start magically making putts with belly putters. In fact, there is a considerable learning curve that is necessary to putt with long putters. And the ball does not automatically go in.
Adam Scott is among those who gained much more confidence on the greens since switching to a long putter at last year's WGC-Match Play Championship. But while Scott has been better on the greens, he only improved marginally in the strokes gained putting statistic on the tour.
"It's not going to ruin me if they ban a long putter one day because I putted good some weeks with the short putter," Scott said last week. "I won a lot of tournaments. I'll just have to work a bit harder with it."
Where it might really be an issue is with players who went to it due to back issues, such as Fred Couples and Rocco Mediate. By using a longer putter, they could practice longer, as they would not have to bend from the waist as much and put a strain on their backs.
Ernie Els has long been against a putter that you can anchor, but nonetheless joined the brigade last year as he sought a remedy for his putting woes.
"I feel the same as most of the traditionalists," he said. "I feel that no club should be anchored to your body. I don't know how they're going to go around it, maybe use a putter as long as you want as long as it's not anchored to your body. You see a lot of the guys use it in their armpits now.
"Nothing should be anchored to your body, and I still believe that. I was in such a state that I felt that I needed to change something, which I did. I went to the belly. It hasn't really helped me that much, but it has helped me," he said.
"But I'm for it. Ban it. It's fine."
It won't be with everyone, which means plenty of debate is forthcoming as the process plays out.
Charl's Augusta plan
What will long be remembered about Charl Schwartzel's Masters victory a year ago is his four-birdie finish at holes 15 through 18 at Augusta National to win by two strokes over Adam Scott and Jason Day. Perhaps not remembered is it was just the second Masters for the South African.
Follow On Twitter

Want great insight into the game of golf in 140 characters or fewer? Follow @BobHarig.
It typically takes some time to learn the nuances of the course, and especially the greens. That became clear to Schwartzel after tying for 30th in 2010.
So he decided he had to do something different to prepare for Augusta's greens. At every tournament he played, for six or seven weeks leading up to the Masters, Schwartzel would seek out the fastest spot he could find on the putting green, especially downhill.
"The biggest thing I learned was to try and make a small stroke," said Schwartzel, who shot a final-round 66 in 2011. "I think that's what helped me. I felt very comfortable making a little, small stroke. It worked out for me. I felt very comfortable, even when I had very fast putts."
Bob Harig covers golf for ESPN.com. He can be reached at BobHarig@gmail.com.
Birdies And Bogeys
BIRDIES

Haas
1. Bill Haas. He made a clutch par-save on the 18th in regulation at Riviera, then came up big in the playoff after Phil Mickelson and Keegan Bradley made dramatic birdie putts to tie him.
2. Phil Mickelson. He probably should have closed the deal in regulation at Riviera, but Phil gave golf a nice boost the past two weeks with his win at Pebble and near-miss in L.A.
3. Yani Tseng. The reigning LPGA player of the year -- by a mile -- already has her first victory of 2012 with a win in Thailand.
BOGEYS

Donald
1. Luke Donald. The world No. 1 shot 78 on Sunday and had his worst finish in a PGA Tour event in a year.
2. Anthony Kim. That's four PGA Tour starts, and four missed cuts for A.K. (the last was technically a DQ, but he was nowhere close to making the cut).
3. Dustin Johnson. How many times did he fail to hit it close with a wedge? D.J. must be kicking himself for failing to make the Riviera playoff.
Numerous players are on the top 50 in the world "bubble" with five tournament weeks to go before Masters invitations are decided based on the world ranking. That will continue to be interesting to watch through the
Arnold Palmer
Invitational for those not already in the year's first major.
For those with an invitation, unlimited visits to Augusta National are allowed, and Keegan Bradley took advantage the week prior to the Northern Trust Open, visiting the course for two days with his father.
"It was one of the most special couple days I've ever had in my life," Bradley said. "It was really, really a great time, and I look forward to going there in April."
Bradley will head to the Masters 1-for-1 in major championships, having captured the PGA Championship last August in a playoff over Jason Dufner. That was his first appearance in a major.
As for his first visit to Augusta, Bradley said: "Just everything about Augusta is pretty unbelievable, driving down Magnolia Lane with my dad for the first time.
"When I was on the Hooters Tour, I had an event in McCormick, South Carolina, which is 10 minutes away. I drove and I had an early tee time and I decided to drive up and see Augusta. I remember going to Subway and parking my car down Magnolia Lane on the other side and just eating and staring down Magnolia Lane and ready to rip my hair out of my head. That was the last time I had been there."
Luke Donald defends his WGC-Accenture Match Play title coming off a tie for 56th at the Northern Trust Open, where he shot a final-round 78 … Americans have won the first seven events on the PGA Tour, the most since they captured the first eight in 2001 … Tiger Woods is a three-time winner of the WGC-Match Play and holds records for most matches played (40) and most victories (32). He has won 16 WGC titles … Keegan Bradley took to Twitter on Monday after a flurry of comments came his way from golf fans who watched the Northern Trust Open and saw him spitting throughout the final round. He called it a "longtime habit" and "something I've got to conquer." … J.B. Holmes had his best tournament since his 2011 season was cut short due to brain surgery. Holmes, whose previous top 10 came at the Players Championship, tied for eighth at Riviera … Phil Mickelson is skipping the Match Play but he will play in two weeks at the WGC-Cadillac Championship at Doral. He hinted he would also play at the Arnold Palmer Invitational before defending his title at the Shell Houston Open the week prior to the Masters … With his victory at Riviera, Bill Haas ($13.4 million) is just about $1 million behind his dad Jay's career total ($14.4 million) in official earnings … The Mayakoba Golf Classic in Mexico is the year's first opposite event on the PGA Tour schedule -- for those players not eligible for the Match Play. Among those in the field are defending champion Johnson Wagner, Charles Howell III, Spencer Levin, Brian Gay and Rory Sabbatini … Charl Schwartzel is awaiting word from Augusta National officials on whether or not he'll be allowed to have a cookout for the Champions Dinner on Tuesday night of tournament week. Schwartzel requested being able to grill meat himself for his fellow Masters champions.
"Honestly, 'Phil' sounds really similar to 'Bill,' so you just kind of pretend that maybe they're for you. If I'm at home, I'm cheering for Phil, too."
-- Northern Trust Open winner Bill Haas on the crowd being in favor of Phil Mickelson during the sudden-death playoff he won Sunday.