Tiger's 62 hardly without burden of pressure

By Bob Harig
Archive
DORAL, Fla. -- The idea has been floated in the aftermath of Tiger Woods' 62 on Sunday at the Honda Classic, and it is one that has some merit -- or it would if it were anyone else.
He had no pressure on him, hence the 62 was not all that special.
[+] Enlarge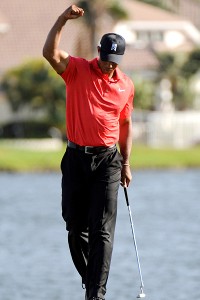 Jim Rassol/Getty ImagesTiger Woods pulled off a career final-round best 62 on Sunday at the Honda Classic. But no matter what he shoots, Woods faces scrutiny like no other golfer today, or ever.
Ha! Woods probably wouldn't laugh if you suggested that to him, but it is a pretty easy argument to refute.
Certainly there are players every week in all walks of professional golf who tee it up on Sunday with a feeling that they have nothing to lose. They can fire at flags, take on some risk. The tournament outcome is not on the line, so why not relax and have a go at it? If they shoot a low score, great. If they don't, it gets little notice.
That is never the case with Woods.
Despite the wildly popular victory by Rory McIlroy on Sunday at PGA National, Woods had three times as many spectators following him. Every tournament, every round, every shot is analyzed.
We report the number of fairways hit, the greens in regulation, the number of putts. We look for clues about his swing: Is he straining; is it effortless? How close is he hitting it to the hole? If he misses a green, does he get it up and down?
The scrutiny of his game is incomparable, especially since he returned from a self-imposed break in 2010. And it's stayed that way as his game has suffered through swing changes and injury and failed to add to his 71 PGA Tour victories, 14 major championships.
You think Woods is not under pressure, regardless of the circumstances? You think his game won't get similar reviews this week at the WGC-Cadillac Championship at Doral, where play begins Thursday?
Perhaps it is all normal to him, but he is aware of the relentless attention on his game, especially when he is not successful -- and even when he is. And every so often, he acknowledges that it wears on him. How could it not? Woods is judged by the unrealistic standards he set in his career, not against what is average or even excellent among his peers.
Think back to his Sunday round, where he shot his lowest final-round score ever and pulled to within one stroke of McIlroy when he made the dramatic eagle at the 18th hole.

Get all of ESPN.com's latest news, highlights and commentary about the world's most talked-about golfer. Tiger Tracker
What if Woods hadn't pulled off the shot to the 18th and it went in the water? What if he'd shot 66 -- a very good score on a day when the scoring average was 72.1 -- and finished six back of McIlroy instead of two? You know there would be more conjecture today about when he is going to win again, why he didn't come closer at Honda.
"I know that a lot of players don't get the same analysis with their games that I do," Woods said. "But it's been like that since I turned pro."
It's been worse in the past two years, as plenty of amateur golf experts -- and plenty of highly regarded ones, too -- have weighed in on his game, his swing, his short game, his putting.
Woods is still chided for leaving coach Butch Harmon, and he did so 10 years ago! To suggest that Woods go back to Harmon at this point -- especially given the fact that the change was more complicated than simply switching coaches -- is ludicrous. And to think that he would win at 2000 levels or even 2006 levels is fairly absurd, too. What athlete in any sport is held to the standards of 10, 12 years ago?
And Woods is questioned about messing with his swing when he's done so three times previously with very good results.
So the view here is that the score he shot Sunday was hardly pressure-free.
And when was a 62, anywhere, anyplace, shot without feeling pressure?
Rory's putting
Soon after Tiger Woods rolled in his eagle putt to pull within one stroke of Rory McIlroy on Sunday, the Northern Irishman made his own putt from 8 feet for a birdie to re-establish a two-stroke advantage. And then McIlroy made impressive par saves at the 14th, 15th and 17th holes after missing those greens.
Follow On Twitter

Want great insight into the game of golf in 140 characters or fewer? Follow @BobHarig.
It was not the greatest of ball-striking rounds for McIlroy, but he made up for it with a nice putting display. He had eight one-putt greens.
And therein lies the difference between the McIlroy who is now No. 1 in the world and the one who blew a four-shot lead 11 months ago at the Masters.
"A couple years ago, he was probably a little question mark from inside 6 feet," said friend and countryman Graeme McDowell. "His stroke was a little bit kind of lifty and across the line.
"The work he did with Dave Stockton pre-Congressional [the site of McIlroy's U.S. Open victory] last year has made a huge amount of difference, and now he believes he's a great putter. That was the missing link, because the rest of his game is all there.
"He's the best player I've ever seen tee to green, period. I didn't have a chance to play with Tiger [in the] early to mid-2000s when Tiger was the man, but Rory McIlroy is the best … he's the best player I've ever seen. Like I say, as soon as he learned how to putt, he was going to be a dominating force, and you're starting to see that now. "
Bob Harig covers golf for ESPN.com. He can be reached at BobHarig@gmail.com.
Birdies And Bogeys
BIRDIES

McIlroy
1. Rory McIlroy. He won his fifth worldwide title, held off Tiger Woods and went to No. 1 in the world with his victory at the Honda Classic.
2. Tiger Woods. A final-round 62 at Honda energized the tournament like almost nothing else could.
3. Tom Gillis. He's never won on the PGA Tour, but finishing second at Honda earned the longtime pro $501,600 and will get him into several of the year's invitational events.
BOGEYS

Els
1. Ernie Els. Two years ago, he won the WGC event at Doral. This year he's not eligible for the tournament, having fallen out of the top 50 in the world.
2. Jim Furyk. Two years ago, he won the FedEx Cup and three PGA Tour events. This year, he's not eligible for Doral.
3. The Bear Trap. It produced plenty of bogeys during the Honda Classic, to be sure. But that three-hole stretch has always seemed a bit contrived -- and it is certainly discussed far too much.
A few weeks ago,
Keegan Bradley
made his first visit to play Augusta National in preparation for his first Masters. Players who are eligible for the year's first major championship are starting to make plans to get to Georgia for a look at the course.
Phil Mickelson
was there Tuesday, along with
Dustin Johnson
and Bradley. And players are taking different approaches to their schedules. Mickelson will play Doral, the
Arnold Palmer
Invitational and Houston before the Masters. Rory McIlroy won't play again after this week until the Masters. Tiger Woods has added the Arnold Palmer as well.
Among those who have yet to qualify for a Masters invitation via the world rankings are Retief Goosen (52nd), Robert Rock (57), Greg Chalmers (59), Robert Allenby (62) and Ernie Els (65). They need to move into the top 50 following the Arnold Palmer Invitational -- or in three weeks.
The WGC-Cadillac Championship will feature the top 50 players from the Official World Golf Ranking, as well as all 30 from the final 2011 FedEx Cup standings and the top 20 from the final 2011 Race to Dubai standings. … This is just the ninth tournament since the start of 2005 that will have all 50 from the world rankings competing. … Rory McIlroy's victory at the Honda Classic halted a nine-tournament stretch to start the year in which all the winners were Americans. …The WGC-Cadillac Championship has yet to have a European winner in its 12-year history. … McIlroy's victory at the Honda was the fifth this year on the PGA Tour by a player in his 20s. …
David Duval
missed the cut at the Honda Classic. Duval, 40, has missed all four cuts this year and seven in a row. … It's no surprise, but attendance at the Honda Classic was up 45 percent over a year ago, 60 percent over 2010. TV ratings were the highest in 10 years. … Opposite the WGC event is the Puerto Rico Open for players not eligible for the Doral field. … Tiger Woods, as expected, committed to the Arnold Palmer Invitational at Bay Hill, where he has won six times. Phil Mickelson is also in the field. …
Luke Donald
, who skipped the Honda Classic, is expected to play at next week's Transitions Championship.
"It was always a dream of mine to become the world No. 1 and the best player in the world or whatever you want to call it. But I didn't know that I would be able to get here this quickly. This is my fifth full year on tour. So it's not like it's just been right away. It's taken a little bit of time, but it's fantastic to be here at the minute and hopefully I can hold on to it for a little longer."
-- Rory McIlroy on being ranked No. 1 in the world.