With Ernie Els, it's an 'easy' decision for Augusta

By Bob Harig
Archive
ORLANDO -- It was nearly as painful to witness as it must have been for Ernie Els to endure. His play down the stretch at the Transitions Championship was cringe-inducing, the kind of stuff that leads to as much compassion as you can feel for someone who is so decorated.
Els doesn't need the money, doesn't need the adulation. He's 42 and is in the World Golf Hall of Fame. He needs to apologize to no one.
Yet there he was for all to see Sunday, struggling like a guy who had never been there before, nerves getting the best of him when the tournament was on the line. That a Masters invitation was at stake made it all the more heartbreaking.
Which leads to the question: Why has Augusta National not extended the Big Easy one of its special invites?
[+] Enlarge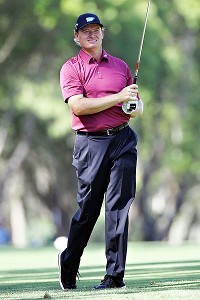 Sam Greenwood/Getty ImagesUnless he wins this week at Bay Hill or next week in Houston, Ernie Els will not be in the Masters field.
The club already has issued one to Japan's Ryo Ishikawa, 20, an excellent young player who might have qualified on his own. Ishikawa's invite was not too difficult to see coming. It was done for commercial reasons, as many of Augusta's invites have been in recent years. Ishikawa is hugely popular in Japan; Augusta National sells television rights there. Don't underestimate how big that is to international television partners.
The special exemption goes only to international players, and, for years, the Masters used it to give a chance to some non-American whose access to the tournament was otherwise not very good.
But as the club sought to include the world -- especially by virtue of the world rankings -- international players found other ways to qualify. A top-50 player, no matter where he is from, gets in. The special exemption remains for international players, but the last non-Asian to get one was Greg Norman in 2002 -- who was also a year removed from going into the Hall.
At the time, Norman was 47. He was barely a full-time player and not considered a contender. Yet Augusta National rewarded him with a spot in the field, one that hurt nobody else. It's not as if another player is denied a spot by his presence. The Masters has the smallest field of all the majors, typically under 100 players. Although tournament officials would prefer the number not get that high, they can still accommodate.
So why not Els? He's 42, and, although he hasn't won in two years on the PGA Tour, the way he hit the ball Sunday showed he's still got game. He led the field in greens in regulation. He rifled a drive on the par-4 16th at Innisbrook that was the longest of the day. He hit a beautiful iron shot to less than 5 feet. Then he agonizingly missed the putt.
Sure, Els has had every opportunity to try to qualify on his own. (As has Ishikawa). For the first time in 20 years, he slipped out of the top 50 at the end of last season, dropping to 52nd after the Barclays Singapore Open in November. Had Els done anything in his remaining tournaments, the South African Open or the Dubai World Championship, he would have easily moved back into the top 50 by the end of the year, assuring his 19th trip to the Masters.
But Els struggled in both, then lost in a playoff at the Volvo Champions in January. A victory there might have pushed him into the top 50, but he had slumped back to 68th entering the Transitions. His tie for fifth moved him to 62nd, meaning he needs to win this week or next to get to the Masters.
So, yes, Els could have got there on his own. Augusta National is obligated to do nothing. But it is hard to believe an invite would bother anyone. Els has won three majors -- one more than Norman. His 18 PGA Tour titles is only two behind Norman's total. And they have a similar number of worldwide victories, well beyond 50.
To Els' credit, he has not lobbied for such an invite. He is more interested in finding the formula for success.
"I want to win a golf tournament," he said. "If I play like this at Augusta, I'm going to be disappointed again. I'd like to have my game back."
Furman Bisher
If you are even a casual sports fan, check out the various tributes to Furman Bisher, the iconic Atlanta columnist who passed away at age 93 on Sunday. (
There is a good one here
.) Bisher was a legendary sports columnist who spanned the generations. It is amazing to think he interviewed Ty Cobb and Shoeless Joe Jackson as well as
Tiger Woods
.
Bisher was big into all sports; he attended numerous Super Bowls, bowl games, Triple Crown races, boxing matches, baseball games. He was there when Hank Aaron broke Babe Ruth's career home run record, for example. He scored a rare interview with Jackson, who was banned from baseball after the 1919 Black Sox scandal. Bisher got his scoop 30 years later, in 1949.
Follow On Twitter

Want great insight into the game of golf in 140 characters or fewer? Follow @BobHarig.
And last week, if you called him up, he'd have told you details from that day more than 60 years ago.
But among Bisher's true loves was golf. As a young writer, he coined the phrase "Iron Byron," -- one that stuck with Byron Nelson his entire career. He played golf with Bobby Jones and Gene Sarazen, and every great player through the years afterward -- from Gary Player to Arnold Palmer to Jack Nicklaus to Tom Watson -- knew him by name.
The Masters begins in two weeks, and it will be strange not seeing Bisher there -- because he was always there. And he would walk the course, too, following the golfers even as he got into his 90s, traversing the hills and getting a close-up view.
Bisher first started covering the tournament in 1950, before a press building was even constructed, when writers used to arrive to a makeshift tent outfitted with typewriters and bottles of whiskey at every desk. And he came back every year, through last year's victory by Charl Schwartzel, a run of 62 tournaments that boggles the mind.
Although he had "retired" from The Atlanta Journal-Constitution in 2009, Bisher still wrote occasional pieces for the newspaper and still showed up at the Masters, where everyone expected him to be when the 76th edition begins April 5. (Think about that: Bisher missed just 13 of the 75 Masters played.) But he had been enduring back problems of late.
On Sunday, he planned to watch the PGA Tour event on television, then became ill before passing away.
Jack Nicklaus put it nicely when pgatour.com reached him to comment on Bisher's death:
"Over the past five decades that I have been going to Augusta National, there have been certain staples and traditions that have always reminded me that I am at the Masters. One of those has been Furman Bisher," Nicklaus said. "Furman has been an institution in journalism, to sports not only in the Southeast but globally -- and, of course, the Masters. Barbara and I have considered Furman as much a friend as a terrific writer.
"We always cherished his sense of humor and down-to-earth wit that made such an easy transition from his every-day personality to his writing. We appreciated Furman's professionalism and integrity, and his ability to do his job -- well, I should emphasize -- without sacrificing fairness. Furman recognized what was important in the sports he covered and what was important to the readers who for decades embraced him."
Bob Harig covers golf for ESPN.com. He can be reached at BobHarig@gmail.com.
Birdies And Bogeys
BIRDIES

Donald
1. Luke Donald.
After a slow start this year, Donald bounced back with a flourish at the Transitions Championship, where his playoff victory pushed him back to No. 1 in the world.
2. Yani Tseng. If an LPGA Tour event is being played, Tseng is probably winning it. Her run continued Sunday at the Founders Cup.
3. Jim Furyk. He didn't win Sunday, but Furyk put himself in the mix and showed the form that has been lacking.
BOGEYS

Els
1. Ernie Els.
It was an excruciating finish at Transitions for Els, who bogeyed the last two holes to miss a playoff by a stroke -- and missed clinching an invitation to the Masters.
2. Padraig Harrington. After an opening-round 61, Harrington couldn't break par at the Transitions and was not even in contention come the final round.
3. Tiger Woods. All appears well with the Achilles, but why take a chance by playing in a two-day exhibition?
The Arnold Palmer Invitational is the last week for players to qualify for the Masters based on the Official World Golf Ranking, where being in the top 50 as of Sunday night means an invitation to Augusta National. And it appears at this point as if only Paul Lawrie will make it in through this category. Robert Rock, Matteo Manassero and Ernie Els appear to be too far back to move into the top 50, short of winning their respective events this week. Retief Goosen is 53rd in the world but has withdrawn from the Arnold Palmer because of a back injury that needs treatment.
For all his recent success, Luke Donald's victory at the Transitions Championship was just his fifth on the PGA Tour. He has three since the start of 2011 and, of course, won the tour money title as well as the European Tour's Race to Dubai, also winning twice last year on that tour. … The four-man playoff at the Transitions was the first on the PGA Tour since
Mark Wilson
won the 2007 Honda Classic. … Rookie Sang-Moon Bae posted his best PGA Tour finish when he lost in the Transitions playoff. Bae also was a quarterfinalist at the WGC-Accenture Match Play, where he lost to
Rory McIlroy
. … The third-round leader or co-leader has gone on to victory just four of 12 times this year on the PGA Tour. … Japan's
Ryo Ishikawa
has taken up special temporary membership on the PGA Tour, which he was allowed to do when he surpassed the earnings of the 150th finisher on last year's money list. As a nonmember, he was limited to 12 starts, but he can now take unlimited sponsor exemptions. Plus, if he earns more than the 125th finisher on the money list, he will be fully exempt in 2013.
"I think people … thought that my last year was maybe a little bit more of a -- not a fluke, but I don't think many people thought I could do that all over again this year. Hopefully, I can prove them wrong."
-- Luke Donald after his Transitions Championship victory moved him back to No. 1 in the world.