Despite victories, Donald often overshadowed

By Bob Harig
Archive
AUGUSTA, Ga. -- With all that was happening on the final day of the 2011 Masters -- Charl Schwartzel's victory, Tiger Woods' charge, the near misses for Aussies Adam Scott, Jason Day and Geoff Ogilvy -- it's easy to forget about Luke Donald.
He hit the flagstick with his approach to the 18th green, seeing it roll off the putting surface -- then chipped it in for a dramatic birdie. Donald celebrated with a couple of fist pumps, and the fans in the gallery caused the ground to shake.
It eventually was lost in the hysteria of Schwartzel's birdie-birdie-birdie-birdie finish and the commotion of a remarkable final round.
[+] Enlarge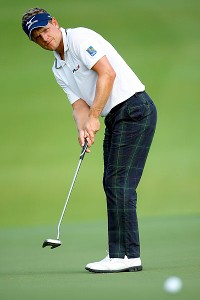 Kevin Liles/US PresswireIs it possible for the No. 1 player in the world to be a little under the radar? Somehow, that always seems to be the case with Luke Donald, even heading into the year's first major.
And yet, isn't that sort of how it goes for Donald?
He is ranked No. 1 in the world, remember, after a remarkable 2011 season that saw him win twice apiece on the PGA and European tours, capturing both money titles.
His spot atop the PGA Tour money list was not secured until the last event, at Disney World, where he had to win. He did, holding off Webb Simpson to claim the money title.
But after an offseason -- such as it was -- in which his father died and shortly thereafter his wife, Diane, gave birth to the couple's second child, Donald's 2012 got started a bit slowly. There were lackluster finishes in Abu Dhabi and Los Angeles, followed by a first-round defeat at the WGC-Accenture Match Play.
Meanwhile, Phil Mickelson was winning at Pebble Beach and Hunter Mahan at the Match Play and Rory McIlroy at Honda -- to supplant Donald as No. 1. It wasn't until the WGC-Cadillac Championship that Donald posted a top-10 finish, and there all the news was about Tiger Woods withdrawing and another Englishman, Justin Rose, winning.
It was easy for Donald to feel overlooked.
"Absolutely," he said. "I don't pay too much attention to it, but I certainly wasn't in the media at all. I think people saw my last year, or thought that my last year was maybe a little more … not a fluke … but I don't think many people thought I could do that all over again this year. Hopefully, I can prove them wrong."
Donald simply seems to be overshadowed. McIlroy's Honda victory came with Woods shooting a final-round 62 and Donald not in the field. Two weeks later, Donald won a playoff at the Transitions Championship to reclaim the top spot in the world, setting up an even more intriguing Masters this week at Augusta National -- made even more so when Woods won last week at the Arnold Palmer Invitational.
SportsNation: The Masters Chat!

All attention is on The Masters and the year's first major. Bob Harig is on site and wants your questions.
• Chat: Tue. 3 ET
"I think golf is in a good spot right now," Donald said. "There's a lot of excitement going on. The good players are playing well, and it's nice to have a little back and forth like that."
A major championship is the next big step for Donald. He has not had a huge amount of success in them overall, but he does have two top-5s at Augusta National, including his tie for fourth a year ago. He was third in 2005.
The win at the Transitions was a big boost. It sent him into a two-week run of practice in a good frame of mind and with plenty of confidence.
"It's a funny game," he said. "It does come and go. Obviously, after the slow start, there are some doubts. They do creep [in] sometimes. You can certainly fall into the trap of looking at last year and how I played and kind of comparing that. But I knew that, if I kept working, and I saw my swing on video, it was getting better and better. And I knew that hard work would pay off.
"Obviously, that is starting to show these last couple of weeks."
The little miss
I.K. Kim's reaction after missing a short putt Sunday that would have won the Kraft Nabisco Championship said it all. She covered her mouth with her hand. She then put her hands over her head. She walked off the green, shocked. Another example of a cruel game.
Kim was unable to recover, her bogey at the final hole leading to a sudden-death playoff with Sun Young Yoo. Given Kim's state of mind, a victory at that point seemed remote, and, sure enough, Yoo won with a birdie on the first extra hole.
"It was kind of hard to focus on the playoff after what happened,'' Kim said.
Understandable.
The putt was only a foot, a mere tap-in. But somehow Kim missed it, even though she seemed to study the putt and go through her normal routine. Scott Hoch's missed putt at the 1989 Masters comes to mind, but his botched attempt came from 2½ feet.
This was so close it was as much a formality as any putt could be, especially one to win the tournament.
Here's the amazing thing: Kim was putting together one of the all-time great rounds in a major championship. She had hit all 18 greens in regulation, had not made a bogey.
"Coming up to it, I tried to take time,and, you know, same routine,'' she said. "But I played straight, and actually just broke to the right, even that short putt.''
Bob Harig covers golf for ESPN.com. He can be reached at BobHarig@gmail.com.
Birdies And Bogeys
BIRDIES

Mahan
1. Hunter Mahan.
He became the first player to win twice this year on the PGA Tour and is now the highest-ranked American in the world at No. 4.
2. Keegan Bradley. He's 1-for-1 in majors and enters his second major championship coming off a tie for fourth in Houston.
3. The Masters. It's finally, almost, here.
BOGEYS

Kim
1. I.K. Kim.
After a brilliant final round at the Kraft Nabisco -- where she hit all 18 greens in regulation, Kim went to sleep on the final green, missing a 1-foot par putt that would have won the tournament. She then lost in a playoff.
2. Yani Tseng. She can't win them all, but Tseng was shockingly average in the final round of the Kraft Nabisco and ended up missing a playoff by 1 stroke.
3. Ernie Els. Seems strange that the Big Easy is not at the Masters. After an 18-year run, and despite a recent stretch of success, Els did not qualify.
After Dustin Johnson withdrew with an unknown injury Tuesday, the Masters field is set at 96 players. The tournament does not have an alternate list. The last chance for anyone to gain entry to the field was at the Shell Houston Open, where Hunter Mahan, who was already qualified, won the tournament. Only a victory by a player not otherwise invited would have changed the field.
Among those missing this week will be South Africans Ernie Els and Retief Goosen. Els had played in 18 straight. Goosen is not playing for the first time since 1999. The tournament features the top 50 players in the world and six amateurs. There are 10 pros who are first-time participants.
When
Charl Schwartzel
birdied the final four holes to win the Masters last year, he became the first champion to go 4 under over those closing holes since
Jack Nicklaus
(eagle-birdie-birdie-par) when he won in 1986. … For Schwartzel, by coming from 4 back, it was the largest comeback since
Nick Faldo
was 6 behind
Greg Norman
in 1986. … There are 18 past champions in the field, and
Ben Crenshaw
is making his 41st consecutive start dating to 1972. … Hunter Mahan's win at the Shell Houston Open was his fifth career PGA Tour title and second this year. He has risen to a career-best fourth in the world and is the highest-ranked American. …
Fred Couples
was playing in his 600th PGA Tour event when he tied for 47th in Houston. … Since 1960, only six players have won an event in the two weeks before the Masters and gone on to win the green jacket. The last was
Phil Mickelson
in 2006 when he captured the BellSouth Classic in Atlanta.
Tiger Woods
did it in 2001 when he won the Players Championship two weeks before winning the Masters. …
Sergio Garcia
enters the Masters with the longest streak of consecutive majors at 50.
Adam Scott
is next with 42. … The first major championship of the year is also the first to offer double Ryder Cup points for U.S. players. Mahan leads the standings, followed by Keegan Bradley, Mickelson and Woods. The top eight through the PGA Championship automatically make the team that plays in Chicago at the end of September.
"Shoot, I'd be lying to you if I said it doesn't feel awesome to be ranked No. 4 in the world. That's a pretty surreal thing to think about. You know, I felt like I could be a good player in this game, but to win twice this year and be fourth, it feels great, really does. It shows me what I can do, shows me what I'm capable of.''
-- Hunter Mahan, after his victory at the Shell Houston Open.