Promising potential to Fowler-McIlroy rivalry

By Bob Harig
Archive
PONTE VEDRA BEACH, Fla. -- Rivalries are tough to come by in golf, try as we might to declare them, push them, wish for them.
Whether Rickie Fowler and Rory McIlroy go on to be rivals remains to be seen. One tournament victory for Fowler does not instantly make a rivalry. But the possibilities are intriguing.
Their playoff duel on Sunday at the Wells Fargo Championship -- with 35-year-old D.A. Points a very real spoiler possibility -- was the kind of stuff that leads to such talk.
So does the fact both players are just 23, have played in the Ryder Cup -- for opposite sides (and the Walker Cup, for that matter) -- and are highly regarded, with lofty world rankings and plenty of promise.
McIlroy, of course, is the far more accomplished player. He's got a U.S. Open to his name and a couple of other near-misses in majors. He's been forecast as a star ever since taking low amateur honors at the 2007 British Open. Despite losing to Fowler in a playoff, McIlroy ascended to No. 1 in the world, having traded places with Luke Donald five times since early March.
Fowler also came to the game with plenty of promise, although it's taken him a bit longer to enjoy success. He was a star at Oklahoma State, left after just two years, lost in a playoff as an amateur in a Nationwide Tour event then nearly won in his second PGA Tour event, the Frys.com Open in 2009. He went on to earn his tour card at Q-school, was picked to the U.S. Ryder Cup team in 2010, and beat out McIlroy for rookie of the year on the PGA Tour.
"We've always had a great camaraderie, been good buddies," said Fowler, whose South Florida home is now near McIlroy's Florida base. "I definitely respect him as a player, and I feel like he respects me as well. Or at least I hope so.
"But I've had a lot of fun playing against him. We first played against each other at the Walker Cup in '07 and I look forward to playing against him and hopefully having plenty more tournaments like this where we're battling back and forth and there's going to be times where he's going to come out on top and times where I come out on top. I look forward to possibly doing that for a long time."
While McIlroy has five official worldwide victories, Fowler didn't have any until last October, when he captured the obscure Kolon Korean Open. It's a tournament on the OneAsia Tour, several rungs down from the PGA Tour and European Tour.
But in the field was McIlroy, and Fowler shot a final-round 69 to win by six strokes. That victory carries a bit more weight now.
[+] Enlarge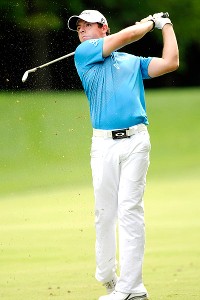 John D. Simmons/Getty ImagesRory McIlroy might have lost the Quail Hollow playoff to Rickie Fowler, but the Northern Irishman did take over the No. 1 ranking in the world. Fowler jumped up to No. 24 with his Wells Fargo Championship win.
Not that McIlroy has anything to be ashamed of. After a tie for 40th at the Masters -- his only finish outside of the top 11 going back to the PGA Championship -- he shot a final-round 70 to put himself in a playoff. And he was absolutely killing the ball off the tee, routinely hitting drives more than 300 yards.
McIlroy knows a fair bit about expectations and living up to them, so he can relate to Fowler's struggles and success.
"It's great to see," McIlroy said. "He probably has gone through a bit of scrutiny and a lot of pressure trying to get that first win, but now that win is out of the way. Hopefully that'll ease the pressure a little bit. But great to see, especially the way he played that playoff hole. He played to win. He deserved it after that birdie."
As far as rivalries go, there are numerous great young players in the game. There still is just one two-time winner (Hunter Mahan) on the PGA Tour this year, suggesting a parity that is also borne out by 14 consecutive different major championship winners.
But a month ago, we wondered if there might not be a rivalry between Tiger Woods and McIlroy, who are separated by 13 years.
Imagine, then, if Fowler and McIlroy, the same age, with so much time to make history in the game, were to keep this going?
Bubba's Players snub
Bubba Watson is understandably receiving plenty of praise for putting his family first and skipping this week's Players Championship at the TPC Sawgrass. Watson cited the desire to spend time with his wife, Angie, and their newborn adopted son, Caleb, as the reason for skipping the PGA Tour's signature event.
The decision is yet another example of how the Players -- while one of the top tournaments -- is not put in the same category as major championships. Watson had just adopted his son when he went off to the Masters. The emotion and the desire to be with his family didn't keep him away from Augusta National. But five weeks later, all of that is the reason for skipping what otherwise is considered one of the best events of the year.
Follow On Twitter

Want great insight into the game of golf in 140 characters or fewer? Follow @BobHarig.
Welcome to the scrutiny that a major champion endures.
Watson has repeatedly cited fatigue since winning the Masters and only grudgingly defended his title in New Orleans because, well, among other things, he has an endorsement deal with tournament sponsor Zurich. That fatigue, however, is mostly of his own doing, as Watson didn't miss a media opportunity in the week following his Masters victory, barely giving himself time to relax and let it soak in.
He might be putting his family first -- and he is enduring a huge, life-changing situation with an adopted child -- but it is hard to envision a player skipping such a big tournament unless he was injured or there was a family illness or emergency. Neither appears to be the case here. Watson has said that rules pertaining to the adoption require that the baby not leave Florida for a period of time -- which is why Angie did not travel to the Masters.
But the TPC Sawgrass is just a short drive from Orlando, with a really nice resort on the property. Mom and baby could have had a great time while dad played in one of the biggest tournaments of the year.
Then again, if Bubba's head isn't into the game right now, perhaps it is best for him to take the time he needs. He knows he's opened plenty of doors for himself with the Masters win. He plans to return at the Memorial Tournament in three weeks, giving himself one more tournament before the U.S. Open.
Bob Harig covers golf for ESPN.com. He can be reached at BobHarig@gmail.com.
Birdies And Bogeys
BIRDIES

Fowler
1. Rickie Fowler. His first PGA Tour victory came at one of the best tournaments, Wells Fargo, against one of the best players, Rory McIlroy, in a playoff.
2. Rory McIlroy. He didn't win, but Wells Fargo was a nice bounce-back from the Masters and he moved back to No. 1 in the world.
3. Phil Mickelson. He's now a Hall of Famer -- but has every intention of making them keep changing his credentials with more victories.
BOGEYS

Woods
1. Tiger Woods. It was only the eighth missed cut of his professional career, but it came after a poor Masters. What happened from Bay Hill through now?
2. Bubba Watson. He understandably wants to spend time with his family, but in doing so is also skipping one of the year's best tournaments.
3. Webb Simpson. Nice guy, great player, seemingly great future. He failed to win Sunday at his hometown event in Charlotte, but what's worse is his pace of play. Webb needs to get moving.
Local qualifying for the U.S. Open is in full force around the country. The 18-hole qualifiers are taking place with those who advance eligible for one of the 36-hole sectionals on June 4.
Sam Saunders, the grandson of Arnold Palmer, was medalist at a local qualifier in Orlando on Monday, shooting 66. University of Oregon golf coach Casey Martin, who played in the 1998 U.S. Open at the Olympic Club -- where this year's Open will be played -- made it through a local qualifier by shooting 70. University of Illinois golf coach Mike Small also made it by shooting 70 at a suburban Chicago course.
NBC golf analyst Gary Koch, a six-time PGA Tour winner, failed to advance out of a local qualifier in Palm Harbor, Fla. Josh Scobee, Jacksonville Jaguars kicker, also failed to advance out of a Jacksonville area qualifier.
The local qualifiers, 109 in all, will take place through May 17. There are 11 sectional qualifying sites along with two international qualifying venues in Japan and England.
The Players Championship is generally regarded as one of the top tournaments, if not the top tournament, outside of the major championships. But the numbers are a bit down this year. While 44 of the top 50 in the world are competing, the Players has just 67 of the top 100. Bubba Watson is a notable no-show, as is last year's Masters champion, Charl Schwartzel … Dustin Johnson is still out due to a back injury suffered before the Masters. Other top 50 players skipping the Players are Thomas Bjorn, Paul Lawrie and Anders Hansen … Steve Stricker enters the Players Championship with the longest made cut streak on the PGA Tour at 49. No player has reached 50 since Tiger Woods' streak of 142 in a row ended in 2005 … Stricker has the most victories on tour since the start of the 2010 season with five. Hunter Mahan, Bill Haas, Bubba Watson and Justin Rose each have four during that period … No. 3 Lee Westwood returns to the Players after skipping last year. Westwood was the 54-hole leader in 2010 before tying for fourth … Since winning the Players in 2001 -- a year after finishing second -- Tiger Woods has posted just one top-10 at the Players, a solo eighth in 2009. He has withdrawn in each of the past two years.
"I knew it was going to be tough. Taking the step from junior golf to college golf and then from there to the PGA Tour … it's the biggest step you take, and these are the best players in the world. It's not easy to win out here, so it's nice to have the first one out of the way." -- Rickie Fowler on his first PGA Tour victory.