Slow play a big problem long before Kevin Na

By Bob Harig
Archive
The biggest story at the PGA Tour's most prestigious tournament turned out to be one that's been an underlying theme in professional golf for years. Slow play remains the topic that the sport's leaders refuse to touch.
Kevin Na only heightened the debate, waggling his way to the final group on Sunday, somehow managing to take the 54-hole lead despite what can only be described as an excruciating preshot routine that left you gasping.
To be fair, Na is traumatized by his struggles to pull the trigger, a relatively new development as he has tried to get comfortable with a swing change. But previous to these troubles, Na had a reputation as a slow player.
He has improved other parts of his game, especially a maddeningly slow routine on the greens, but remains among the turtles on tour. And he's not alone.
Pace of play is often glacial, and while circumstances sometimes can't prevent such possibilities, it can be painful to watch players who are never ready when it is their turn, who incessantly talk to their caddie before every shot, who turn hitting a golf shot into such an ordeal.
Na is certainly not alone. Fast players find that it serves them no purpose to be fast. Slow play rules. And it's not getting any better.
"Worse," said Tiger Woods at the Players. "Last week [at the Wells Fargo], we were playing in 4:40 and there's no wind. That's hard to believe. We've gotten slower on tour. College [golf] has gotten incredibly slow. It's so bad that now we are giving the guys the ability to use lasers [for yardages] to try to speed up play, and they are still 5:45, six hours-plus."
[+] Enlarge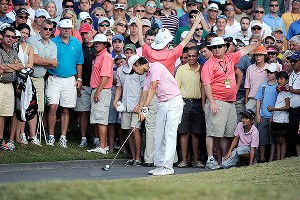 Stan Badz/PGA/Getty ImagesKevin Na was heckled by fans and realizes he must change his slow-playing ways. Perhaps the PGA Tour should give him more incentive to do so.
Was it irony or coincidence that PGA Tour commissioner Tim Finchem was asked about the chronic slow-play problems on the eve of the tournament?
Finchem acknowledged that he doesn't like to wait behind slow players when he plays his friendly game, but that it is a difficult issue to change at the professional tournament level.
"I actually think we might want to experiment with penalty shots," he said. "But I don't think penalty shots make a difference, to be honest with you."
How would he know? The tour has not issued a penalty stroke for slow play in 20 years, before Finchem became commissioner. It has a fine structure in place that includes being out of position (put on the clock) or actual bad times. If a player is on the clock then timed for taking too long (generally more than 40 seconds when it is his turn), he gets a warning. The next time there is a $5,000 fine, and this continues throughout the year, not just the same tournament.
A one-stroke penalty is supposed to be applied for the second bad time in a round, but it never happens.
Woods suggested no warning, a straight one-shot penalty for the first occasion you get a bad time. Obviously, the players know they are on the clock at this point. Why the tour isn't vigilant about this remains a mystery.
There are a few ways the tour could handle slow play:
• Reduce field sizes. The Players had a 144-player field with 12 threesomes teeing off the front and back nine in the morning and afternoon. The first tee time was at 7:15 a.m. on No. 1 and No. 10, with the last tee time on each side at 9:11 a.m. In theory, if you get around in two hours, those teeing off on No. 1 will get to the 10th tee as the last group is in the fairway.
But it never works out that way. Par-5s, with players going for the green in two shots, inevitably cause a wait. Playing nine holes generally takes about 2 hours, 40 minutes. And that means the rounds will lumber on, with players stacked up when they make the turn, waiting for those who have just teed off.
If you cut out one group per side per session -- a total of 12 players -- the field size would be down to 132. Much more manageable, but a place the tour would never want to go.
"We elect not to do that, because as much as we like to see a stronger pace of play, the playing opportunities for the number of players we have had are more important, and we'll generate the playing opportunities first and take our lumps second," Finchem said. "It's as simple as that."
• Impose stroke-play penalties. "People don't realize how valuable one shot out here is," Woods said, explaining that the difference in prize money would result in a far harsher fine -- and the potential loss of a tournament -- and would be a far greater deterrent.
• Announce fines. The PGA Tour does not disclose discipline, except in the case of a failed drug test for performance enhancers. It won't acknowledge if a player was suspended for using recreational drugs, and it won't say if a player has racked up fines for one bad time or 20.
Perhaps this would help. If it announces who the chronic slow-play offenders are, there is bound to be some backlash. These players would be there for all to see. Media would ask them questions about it. There would be true incentive to improve, at least on a public relations front. Nobody wants to be labeled a slow player -- even though almost all of the players, officials and caddies know who they are.
Na's issues are unfortunate, and he seems determined to fix the problem. And yet, many, many times, he is taking more than 40 seconds to play a shot. Is that fair to spectators who are frozen as he stands over the ball? To playing competitors who get thrown out of their rhythm?
"It's not that hard, be ready when it's your turn," Luke Donald tweeted earlier this year while watching a tournament on TV. "Slow play is killing our sport."
Butch Harmon's instructional video
Butch Harmon, who has a lengthy list of top players he has coached over the years, said he has seen just about every significant golfer in person in his life, except for Bob Jones and Walter Hagen. His father, Claude Harmon Sr., won the Masters in 1948 and was friends with many of the game's elite, including Ben Hogan.
Butch Harmon got to see a lot of great golf in his time. His brothers Craig, Billy and Dick (who passed away in 2006) all went on to be instructors as well.
Harmon, 68, said he is finally slowing down. Once his son goes off to college, he's not sure how much he'll be out on tour instructing players anymore, in addition to all of his other interests, which include doing commentary for Sky Sports.
Follow On Twitter

Want great insight into the game of golf in 140 characters or fewer? Follow @BobHarig.
To that end, Harmon put together an instructional DVD called "Butch Harmon About Golf." The nearly four-hour video is "probably the last big thing I'm going to do," he said.
In addition to all of the instructional tips in the video -- and it runs the gamut for beginners and every level of player -- are a number of impressive testimonials.
Harmon said every big-time player he has worked with, except for two-time Masters champion Jose Maria Olazabal -- whose schedule could never be coordinated with the taping process -- participated. That lists includes Tiger Woods, Phil Mickelson, Greg Norman, Adam Scott, Fred Couples and Ernie Els.
Harmon seemed particularly touched that Woods participated, given that their arrangement ended 10 years ago and not in the best of circumstances. Still, it was Harmon who helped take Woods from a teenager to major champion and was Woods' coach for his first eight major wins.
Bob Harig covers golf for ESPN.com. He can be reached at BobHarig@gmail.com.
Birdies And Bogeys
BIRDIES

Kuchar
1. Matt Kuchar. A cash machine over the past four years, Kuchar broke through for his biggest victory at the Players Championship and moved to No. 5 in the world.
2. Rickie Fowler. He made it interesting Sunday at the Players, a week after winning for the first time on the PGA Tour. At 23, you can see that the tour would love nothing better than for him to become a prolific winner.
3. Ben Curtis. What's gotten into the 2003 British Open champion? Playing with virtually no status this year, he had gotten into three tournaments this year prior to winning the Valero Texas Open. Since then, he's gone T-13, T-5, T-2 and won about $2.1 million in four tournaments.
BOGEYS

Woods
1. Tiger Woods. He tied for 40th at the Masters, missed the cut at the Wells Fargo and tied for 40th at the Players. That's the first time in his pro career he has gone three straight tournaments without finishing better than 40th.
2. Heckling fans. Kevin Na's problems pulling the club back are brutal enough without getting jeered for it while standing over the ball, as was the case Sunday at the Players Championship. That certainly didn't help.
3. Rory McIlroy. The TPC Sawgrass stumps him. Three appearances, three missed cuts. The world No. 1 returns to action next week at the European Tour's BMW Championship.
Give PGA Tour commissioner Tim Finchem credit for his honesty, if nothing else. His comments last week about the tour's relationship with the Masters were shocking in that he all but admitted that if it suits him and the tour, they'll look the other way in regards to their own policies.
Finchem made it clear that the Masters' policy of not having a woman as a member didn't square with the tour's policy of not taking its events to venues that discriminate. But because the Masters is "too important" a tournament, the tour would stand by.
What could Finchem do? It would only be symbolic, and perhaps he feels it is not worth the fallout. But the PGA Tour does not have to count money earned from the Masters or the tournament as an official victory in its records if it really wants to send a message.
Nobody expects that to change much. The Masters would still be the Masters, and it would be considered a major championship, and it is crazy to think that would change. But it would be some gesture.
It is important to note that the PGA Tour has a far different relationship with the major championships than it does with regular events each week. While the tour "sanctions" those tournaments and extracts a licensing fee for the use of players on television, it is not involved in finding sponsors or putting on the tournament like it is every other week on tour.
Perhaps that was the tack for Finchem to take. That the PGA Tour has no control over how the major championships are run. That it only sanctions the event for the benefit of its members and does not sanction the membership policy.
This week's HP Byron Nelson Championship has four of the top 15 players in the world and nine of the top 50. The headliners are Phil Mickelson, Players champion Matt Kuchar, defending champion Keegan Bradley and Adam Scott. … Tiger Woods is making good on his promise to add more tournaments he has not played. While there is likely some incentive being tossed in for his appearance in July at The Greenbrier Classic, it is the third such tournament he has added. Woods had never played the Frys.com Open before last October, and he also played at the Honda Classic this year, his first appearance as a pro. Woods is committing early, which tournament directors love. … The Nelson was the first tournament to be named in honor of a player. It dates to 1944, when namesake Byron Nelson won by 10 strokes over Jud McSpaden. Nelson's name went on the tournament in 1968. … There are two match-play events this week on different tours. The Sybase Championship is straight match play with 64 players on the LPGA Tour. The European Tour's Volvo Match Play Championship has a hybrid format that assures everyone plays at least two matches. The 32 players are divided into eight groups of three, with the first- and second-place finishers from each group advancing to the weekend. Ian Poulter is the defending champion.
"To walk down that Tunnel of Champions and know that I'm part of that, it's just an incredible feeling. I'd love to have that feeling every week." -- Matt Kuchar after his Players Championship victory.