For Casey Martin, it's been quite a ride

By Bob Harig
Archive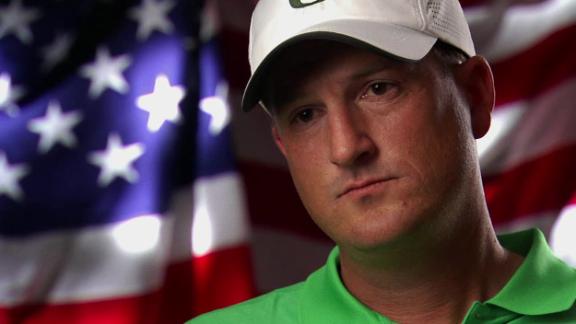 Defying The Odds
Casey Martin has defied all the doubters by qualifying for the US Open, all while dealing with a circulatory defect in his lower right leg.
Defying The Odds
SAN FRANCISCO -- As the reports trickled in from the sectional qualifier last week that
Casey Martin
was on the verge of qualifying for the U.S. Open, you'd have been hard-pressed to find anyone rooting against the University of Oregon golf coach.
Those who have followed his story back to its beginning in 1997 are fully aware that a birth defect makes it very painful for him to walk and realize that a golf cart was hardly going to even the playing field for Martin. And they realize that his fight to use the cart in competition has not come close to altering the game in any meaningful way.
[+] Enlarge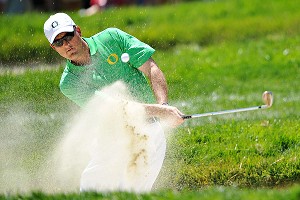 Stuart Franklin/Getty ImagesCasey Martin got in a practice round Monday at the Olympic Club, site of the 2012 U.S. Open. Martin will likely play a practice round with Tiger Woods before the tournament begins Thursday.
But a good part of that is due to Martin himself. He's a good guy, a fighter, and an excellent golfer. He handled the attention and backlash that came with his lawsuit against the PGA Tour with grace. People watched him play -- and some saw his swollen, shriveled lower leg and pronounced limp -- and realized that this guy deserved what he was asking for.
Of course, it was impossible to know all of that when Martin first emerged and attempted to go through the PGA Tour's Qualifying Tournament. Golf purists were outraged. Walking is an integral part of the game, they argued quite reasonably. Martin was granted an injunction to ride in competition, but the PGA Tour fought two lower-court victories for Martin, with the case going to the Supreme Court.
In retrospect, the tour had obvious concerns about the game being altered if the ruling went a certain way. And in retrospect, the tour doesn't look too good. It took a major public relations hit because it solicited golf legends Jack Nicklaus and Arnold Palmer to testify against Martin.
"Someone else along the line will use this, I promise you," Nicklaus said at the time. "It will happen. There will be another mess someplace.''
To be fair, Nicklaus became a fan of Martin's, just like to many others in the game who were fighting for an ideal but not realizing the person they were going up against specifically was never going to gain an advantage by riding a cart.
Two-time U.S. Open champion Curtis Strange was among those who sided with the tour back then. He came around after getting to know Martin.
"He didn't break his leg in football,'' Strange said of Martin, who suffers from Klippel-Trenaunay-Weber syndrome, a rare circulatory disorder that restricts the flow of blood. "He didn't sprain his leg during a tournament and ask for a cart. He was born with this disability.''
And that is what Martin believed all along, that he would be a rare case. He wasn't asking for a cart because his back hurt or he tired easily. He wanted one because he knew he could play golf at a high level, but walking was too debilitating. The Supreme Court ruled 7-2 in Martin's favor in 2001.
U.S. Open tee times
Get the complete list of tee times for the fourth round of the 112th U.S. Open. Tee times
"Given the way the opinion was written, I must say that I'm pleased," PGA Tour commissioner Tim Finchem said at the time. "Casey's [part] is finished, and yet we still have a reasonably good chance to maintain the sport as we know it. … Hopefully, the way this opinion is written, we can have our cake and eat it, too.''
Martin's attorney, Roy Reardon, agreed with Finchem that the ruling would not favor golfers with ailments who simply want to ride a cart in competition. But, Reardon said, there will be individual instances, especially in golf.
"For everyone who applies for an exemption, that person will have to prove disability and what that person wants to use, in Casey's case a cart, will be a reasonable accommodation. And that it won't fundamentally alter the game," Reardon said.
That appears to be the case. Erik Compton, who has had two heart transplants, is the only player of note who has asked for and been granted use of a cart, and he did so for just six months in 2008 -- not long after his heart transplant procedure.
According to PGA Tour vice president Ty Votaw, not more than a handful of people have applied to use a cart, all at various qualifying levels.
The last time Martin played in the U.S. Open at Olympic, he was just trying to find his way as a golfer. Things have changed a good bit since then. He never did stick on the PGA Tour, and played his last tournament on the Nationwide Tour in 2006 before becoming a golf coach.
Now, basically on a whim, he decided to try to qualify and get back to the place where he played his only U.S. Open 14 years ago. And he made it, with the golf world cheering for him.
And his words from after the trial victory have meaning today.
"I hope five to 10 years from now, if I'm still able to play golf, the PGA will lean back and scratch their heads and say, 'Why did we fight this guy?'" Martin said.
West Coast weather
When you enjoy the kind of weather on display at the Olympic Club -- and look at the tournament forecast and see no rain is predicted -- it makes you wonder why the two governing bodies of major championships in the United States do not come this way more often.
U.S. Open GolfCast

Join ESPN.com's Michael Collins during Rounds 3 and 4 of the 112th U.S. Open for his unique brand of analysis and insight.
The United Golf Association, which runs the U.S. Open, is in California for the third time in five years starting with Torrey Pines in San Diego in 2008 and Pebble Beach in 2010. But the U.S. Open will not return west until 2015 when it is played at Chambers Bay, near Tacoma, Wash. And it goes back to Pebble Beach in 2019.
The PGA of America is a bit more mystifying. It seems willing to put up with 100-degree heat in Tulsa, Okla., a steam bath this summer at Kiawah Island and numerous East and Midwest venues that bring humidity and thunderstorms into play.
The PGA of America does not have a West Coast venue scheduled. After this year, it goes to Oak Hill in Rochester, N.Y., followed by Valhalla (Louisville), Whistling Straits (Wisconsin), Baltusrol (New Jersey), Quail Hollow (Charlotte) and Bellerive (St. Louis). The last time the PGA went west was to the 1998 PGA Championship at Sahalee in Washington.
Bob Harig covers golf for ESPN.com. He can be reached at BobHarig@gmail.com.
Birdies And Bogeys
BIRDIES

Johnson
1. Dustin Johnson. A seemingly lost year is suddenly alive again for Johnson, who has had two strong performances since returning from a back issue, including a win on Sunday at the FedEx St. Jude Classic.
2. Shanshan Feng. Winning on the LPGA Tour is big enough, but Feng did it at the LPGA Championship -- a major -- becoming the first player from mainland China to claim a title on tour.
3. Davis Love III. Not only did the U.S. Ryder Cup captain qualify for the U.S. Open, but he contended in Memphis, missing a playoff by a shot and setting a good example for his Ryder Cup team.
BOGEYS
Tseng
1. Yani Tseng. We're just so used to her dominating. It was shocking to see her have such a poor performance at the LPGA Championship.
2. Rory McIlroy. Ultimately being in contention at the FedEx St. Jude Classic was a good thing, but a double bogey on the last hole when you have a share of the lead is not something to get excited about.
3. Michelle Wie. She's missed seven consecutive cuts on the LPGA Tour and lost in the first round of the Sybase Match Play. What happened to the one-time phenom?
The U.S. Open made some changes this year, most notably taking the top 60 from the Official World Golf Ranking at two different cut-off points, up from the top 50. That meant that South Africa's Branden Grace and Spencer Levin made it into the field as the final fully exempt players, bringing the total to 78. Grace appeared to be safe inside the top 60 last week but Levin was a surprise. The 54-hole leader at the Memorial was 61st in the world and missed the cut at the FedEx St. Jude Classic. And yet, due to the way the points process works and the two-year points cycle, he moved ahead of Japan's Ryo Ishikawa and gets a spot in the Open.
Because the USGA was holding openings for others who might make it in that way, it awarded three spots to alternates from sectional qualifying to Justin Hicks, Kyle Thompson and Colt Knost. Knost won the U.S. Amateur at the Olympic Club in 2007.
An alternate list will be maintained through the start of the tournament on Thursday, but it depends on who withdraws. If an exempt player withdraws, the next player on an overall alternate list gets a spot in the U.S. Open. But if a qualifier withdraws, he would be replaced by the next alternate from his specific qualifier.
With his victory in Memphis, Dustin Johnson is the first player since Tiger Woods in 1996-2000 to win in each of his first five years since leaving college. ... With six victories, Johnson, 27, also has the most of any player on the PGA Tour under the age of 30. ... And Johnson is the seventh player in his 20s to win a PGA Tour event this year. ... History is not on Johnson's side at the U.S. Open. No player who has won the week prior to the U.S. Open has gone on to win the major championship. ... Tiger Woods was the last player to win the week before winning a major: the 2007 WGC-Bridgestone followed by the PGA Championship. ... Lee Westwood's victory on Saturday in Sweden was his 22nd on the European Tour. ... Sergio Garcia tied for third in Sweden. ... The Olympic Club has been stretched to just over 7,000 yards and is now par-70 instead of 71, as it was in 1998 when Lee Janzen won the tournament. The biggest difference is the par-4 first, which used to be a par-5. It measures 520 yards and will be played as a par-4.
"Winning feels really good, especially having so much time off.'' -- Dustin Johnson, who won in just his second start after returning from a three-month break due to injury.