McDowell learns from runner-up finish

By Bob Harig
Archive
SAN FRANCISCO --
Graeme McDowell
spent the day after his disappointing defeat at the U.S. Open visiting vineyards in Napa Valley, tweeting about the experience with some good humor after falling a shot short at the Olympic Club in his quest to win a second U.S. Open.
Certainly there are plenty of players who might have joined McDowell in taking to the bottle or drowning their sorrows or simply wondering what might have been.
That is the nature of coming close in a major championship.
[+] Enlarge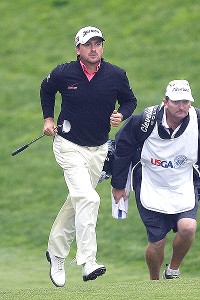 AP Photo/Eric RisbergAfter winning the 2010 U.S. Open, Graeme McDowell settled for a second-place tie this year.
For McDowell, who won the 2010 U.S. Open at Pebble Beach despite shooting a final-round 74, it was the same kind of Sunday at the Olympic Club. Brutal conditions. Misty, cloudy skies. A tough day for scoring.
Playing in the final twosome with Jim Furyk, McDowell seemingly fell out of contention with a poor front nine, then rallied to make it interesting, birdieing the 17th hole to pull within 1 stroke of Webb Simpson, setting up one final chance to tie at the 18th.
But as had been the case throughout the round, McDowell couldn't find the fairway. He hit just three during the final round, and it says something that he was able to score as he did while unable to control his ball from the rough. He managed to get his approach to 25 feet, but his tying birdie putt never had a chance.
"This is sort of a new experience for me, I suppose, finishing second at a major championship," McDowell said. "I would rather have tried and failed than have never tried at all. I think someone fairly familiar must have said that."
True, McDowell, 32, is better for having gotten into the fight again.
Since his player of the year season in 2010 when he won four times around the world and was the hero for the European Ryder Cup team in Wales, McDowell has not won again.
He had difficulty living up to his own expectations in 2011, failing to win again and struggling on a couple of occasions when near the lead.
This year has been similar. He had a runner-up finish in Abu Dhabi, a final-match loss in the European Tour's Volvo Match Play. But he missed the cut at the Players Championship and the European Tour's BMW PGA Championship as well as the week before the Open at the St. Jude Classic.
But his U.S. Open result is his third top-10 finish of the year on the PGA Tour, including a runner-up finish to Tiger Woods at the Arnold Palmer Invitational. He also moved up from 21st to 11th in the world. A victory would have given Northern Ireland its third straight U.S. Open title and four of the past nine major championships.
"It's like a really fast, scary roller coaster that you get on at the time and you're not sure if you like it and it's kind of scary," said McDowell, who will make his next start at the Irish Open near his home of Portrush, Northern Ireland. "But once it's done and you look back, you realize that you had a lot of fun and you would like to do it again, and that kind of sums up what it's like to compete on the big stage at a major championship.
"So it hurts. You want it really badly, you practice so hard to be there and it hurts when you're there. But when it's all done you think back and you think, I would like to do that again."
Another close call for Ernie
Ernie Els was lamenting what could have been at Olympic after a tie for ninth that saw him finish 3 strokes back of Webb Simpson. Els played the fourth hole in 4 over par, as well as the par-5 16th, where he made a crushing bogey on Sunday. And yet he played the rest of the holes in 4 under par.
Unlike two years ago, when Els' close call at Pebble Beach sent him into a funk, the Big Easy seems poised to build on the performance.
"I thought I was a lot calmer,'' he said. "I felt in control. So that's a good sign. So we got two majors left, and I'm going to take a nice break now and try and regroup and come back. I feel that where I was last year and where I am now, it's a huge change. I'm contending now, I feel I have a chance, and if I eliminate those mistakes, I could win one of these things again. So I got the belief back.''
One thing Els did not accomplish was assure himself of a place in the Masters. The top eight and ties at the U.S. Open get a Masters invite; Els tied for ninth. However, he is now ranked 39th in the world, and being in the top 50 at the end of the year is one of the numerous ways he can qualify for the 2013 Masters.
Bob Harig covers golf for ESPN.com. He can be reached at BobHarig@gmail.com.
Birdies And Bogeys
BIRDIES

Simpson
1. Webb Simpson. Not too many people had Simpson winning the U.S. Open, but his 68 was the best of anyone in the final nine groups.
2. Michael Thompson. He opened the U.S. Open with a 66 and closed it with a 67. It was almost enough to get him in a playoff.
3. Beau Hossler. You have to love the moxie of a high school kid at the U.S. Open, even if he ultimately failed to finish as low amateur.
BOGEYS

Furyk
1. Jim Furyk. He was tied for the lead on the 16th when he hit a horrible drive, leading to a bogey. He also bogeyed the 18th and didn't make a birdie during the final round.
2. Phil Mickelson. Lefty talked about being stoked for the grouping with Tiger Woods during the first two rounds, but he barely made the cut and had his worst four-round total since 1996.
3. Rory McIlroy. It was a poor defense of his U.S. Open title, as he missed the cut for the fourth time in four tournaments.
The Open Championship at Royal Lytham & St. Anne's in England is a month away, but there is a good chance reigning U.S. Open champion Webb Simpson will not be there. And that is rare for a major winner to not play in the next one.
Simpson's wife, Dowd, is due with the couple's second child and the birth is expected around Aug. 3. But Dowd Simpson said their first child, James, arrived early, and "I think Webb would be too nervous to be so far away from home."
If Simpson does decide to skip the Open, it would be the first time since Tiger Woods won the U.S. Open in 2008 that a player who won a major did not compete in the next one. Woods had knee surgery a week after winning at Torrey Pines and missed both the British Open and PGA Championship (both won by Padraig Harrington) in 2008.
Before Woods, the last time a player did not compete in the next major was in 1994, when Paul Azinger did not play in the Masters after having won the '93 PGA Championship. Azinger was diagnosed with lymphoma, a form of cancer, in the fall of '93 and did not compete again in a major until attempting to defend his PGA title in 1994.
The Travelers Championship can brag about having the last three major winners in its field: Keegan Bradley, Bubba Watson and Webb Simpson. … Top-ranked amateur Patrick Cantlay has turned pro and is making his debut at the Travelers, where last year he shot 60. Cantlay plans to play the next three weeks on sponsor exemptions and will attempt to earn his PGA Tour card by earning enough money to avoid Q-School. … Simpson became the first player to win the U.S. Open in just his second try since Jerry Pate in 1976. … Simpson was tied for 29th after 36 holes, the worst ever for an eventual champion of the U.S. Open. … It was also the second-largest 54-hole comeback at the Open since 1980. He also became the third straight American to win a major, following Keegan Bradley and Bubba Watson. … Jim Furyk tied for fourth, his 12th top-five finish in a major championship and sixth at the U.S. Open. … Padraig Harrington's tie for fourth was his best finish in a major since winning the 2008 PGA Championship. … Phil Mickelson's total of 296 was his worst at the U.S. Open since 1996. … Only Darren Clarke at last year's Open Championship has been older than 33 among the past nine major champions. … Simpson joined Rory McIlroy (2011), Ernie Els (1997), Steve Jones (1996) and Lee Janzen (1993) as the only champions in the past 25 years to shoot both weekend rounds in the 60s. … Another example of the Official World Golf Ranking oddities: John Peterson tied for fourth at the U.S. Open -- and jumped 560 places in the rankings.
"One of my thoughts on the back nine was I don't know how Tiger has won 14 of these things, because the pressure. I couldn't feel my legs most of the back nine. It grew my respect for Tiger all the more.'' -- Webb Simpson on winning the U.S. Open and his first major title in his fifth attempt.