Answering the Tiger question

By Bob Harig
Archive
The debate is often comical, if not delusional. And yet it continues, the question raised every time Tiger Woods does something of note, the correct response impossible to find, and in some corners, never to be answered positively.
"Is Tiger back?''
The query could be heard again after his third victory of the year at the AT&T National on Sunday.
A month earlier, Woods answered the question himself after claiming his second title of the year at the Memorial: "What is back?''
[+] Enlarge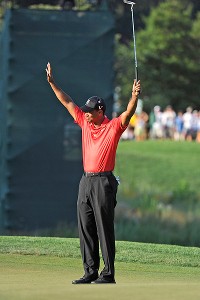 Stan Badz/PGA TourTiger Woods could surpass $100 million in career earnings this week at The Greenbrier Classic.
That is the true question, and really, it is an unfair one when posed in the context of Woods' career. What athlete in any sport at age 36 do we expect to perform at a level, say, 10 years prior?
And yet there are those who constantly wonder why Woods can't excel as he did from 2000 to 2001, when he captured four consecutive major championships and piled up 14 PGA Tour victories. Think about that: four majors, 14 wins -- or basically what all about a handful of players would aspire to over their careers.
It's absurd to think that Woods would return to such heights, regardless of what has transpired in his life and with his game.
OK, so let's go back five years, a more realistic timeframe. In 2007, Woods won seven times on the PGA Tour, including the PGA Championship. He also won the WGC-Bridgestone, two playoff events, including the Tour Championship, and the first FedEx Cup.
That's pretty strong -- and a lot to ask. Consider that world No. 1 Luke Donald has yet to win seven PGA Tour events in his career. Or that Rory McIlroy has just three. And yet we expect Woods to win that many times in a single season?
Woods now has as many victories since his 2010 return at the Masters as Phil Mickelson in the same period. It also matches Donald's PGA Tour victories during that time (Donald has four more victories on the European Tour.)
Understandably on Sunday, there seemed be a bit of an edge to Woods' answers about such subjects. Of course, he is never going to admit that he is satisfied. Of course, he would love to attain the heights of 2000-01 or 2007 or even 2009, when he won seven times worldwide. He would never admit that he can't do it.
Now he's won three of his last seven tournaments. He's the only player on the PGA Tour and the first since Jim Furyk in 2010 to win three times in a season. He leads the FedEx Cup standings, and those pesky questions about the Ryder Cup and Presidents Cup that were so prevalent the last two years are a memory. He's risen to fourth in the Official World Golf Ranking, and if the system's funky divisor didn't include a minimum number of tournaments, he'd be No. 1.
"It was just a matter of time," Woods said. "I could see the pieces coming together. I had basically a year away because I was hurt. I couldn't practice. And changing systems (with his swing) ... Give me a little bit of time, and I feel like this is what I can do.''
Fair enough -- although it could be argued that Woods himself has not exercised that same patience publicly. He typically states he is there to win, while perhaps it is more prudent to take the tack he took Sunday, that this process was going to take some time.
Woods is coming up on a year since his return to the game following a frustrating bout with injuries in 2011. It was unrealistic to expect immediate results. He showed excellent form last fall and into the early part of 2012. But like every professional golfer, he has had his ups and downs, his struggles. It happens. Now, Woods is right where he was three years ago, when he had also won the Arnold Palmer Invitational, the Memorial and the AT&T National. Those were his three victories, then as now.
This week, he plays a new event for him, the Greenbrier Classic, where the weather, golf course and conditions will in no way approximate what he'll face in two weeks at Royal Lytham for the Open Championship. It will be interesting to see how he approaches the tournament with a far bigger prize in his sights across the Atlantic.
Undoubtedly, the major missing piece for Woods is a major championship. It's been four years since he captured No. 14 at Torrey Pines. In the span, 16 majors have been played, and we've had 15 straight different winners. Woods missed four of them.
If he wins the Open Championship, is he then "back?''
The Portrush issue
Ever since a quartet of Northern Irish golfers emerged to win three major championships, the idea of returning the Open Championship to Northern Ireland for the second time has been broached -- repeatedly. Those cries will not die in the aftermath of what, by all accounts, was a highly successful Irish Open staged at the famous links of Royal Portrush.
"I don't think we've ever played a better course on the European Tour,'' said winner Jamie Donaldson, of Wales. "It's that good. The course is incredible. The crowds are unbelievable.''
If it were only about the course, a return of the Open for the first time since 1951 -- the only time it has been staged outside of Great Britain -- would have occurred long ago. Royal Portrush has been long held in high esteem.
Of course, it is not that simple. The R&A, which runs the Open, has far bigger concerns, the biggest being logistics. Belfast is the nearest big city, about an hour away. You need to house players and spectators, have places for them to eat and get them to the venue.
Then there are the commercial aspects. Much like the United States Golf Association and the U.S. Open, the R&A reaps a majority of its funds from the Open Championship. While the Irish Open was a sellout, it is unclear if an Open could reap the kind of financial windfall the R&A is seeking. Graeme McDowell, Rory McIlroy and Darren Clarke hail from Northern Ireland. Padraig Harrington makes a foursome of Irishmen, and while he hails from south of the border, when it comes to golf they are all in this together.
One aspect that should not be an issue is scoring. Donaldson won at 18-under par, in unusually soft conditions because of considerable rain. But the R&A typically seems fine with that. Scoring has been low at several venues, including St. Andrews. Imagine Portrush with firm, fast conditions. It would be incredible.
Unlike the USGA, which has awarded U.S. Opens through 2019, the R&A is committed through 2016, having just announced Royal Troon for that year. Undoubtedly there will be more debate, more studying of the situation. But there is a model now to follow and time to work out logistics, say if the R&A wanted to put an Open at Portrush in 2017 and beyond.
The idea was once viewed as an impossible dream. Now despite the formidable hurdles, it appears to at least have a chance.
Bob Harig covers golf for ESPN.com. He can be reached at BobHarig@gmail.com.
Birdies And Bogeys
BIRDIES

1. Tiger Woods. Three victories this year and he tops the FedEx Cup points. Is he comeback player of the year, player of the year or both?
2. Royal Portrush. The venue in Northern Ireland proved to be every bit as impressive as advertised. Is an Open Championship on the horizon?
3. Silent Saturday. The events that caused it were obviously not a good thing. But having no spectators and pure golf during the third round of the AT&T National was kind of neat -- especially with no crazy "in the hole'' comments.
BOGEYS
1. Keegan Bradley. The PGA champion is in a bit of a slump, with no top-10 finishes since the Shell Houston Open and coming off a missed cut at the Irish Open.
2. Bo Van Pelt. He hung in there quite nicely playing alongside Tiger Woods for 36 holes. But tied with three holes to play and Woods having to lay up on a par-5, Van Pelt was in position to take the lead but ended up making a bogey -- then followed it with two more.
3. Yani Tseng. The top women's player is in a slump, having missed the cut in Arkansas and gone seven straight rounds without breaking 70 heading into the U.S. Women's Open.
The Open Championship watch
It is a recurring lament: The fact that the Open Championship two years ago moved up its Local Final Qualifying to this week -- two weeks before the tournament begins. On Tuesday, 12 spots were available across four sites in England near the tournament venue, Royal Lytham & St. Annes.
Local Final Qualifying is similar to the U.S. Open's sectional qualifying in that it is one of the last ways into the field for players not exempt. There is a regional qualifying system as well.
But the big names are mostly absent because they now have so many other ways to make the field, including International Final Qualifying venues in the United States, Asia, Australia, South Africa and United Kingdom. Those largely have taken the place of Local Final Qualifying, which used to admit far more players in the field.
As recently as 2005, Brad Faxon flew across the Atlantic to take part in the 36-hole qualifier that was held on the weekend prior to the tournament. In 1999, both Paul Lawrie and Jean Van de Velde advanced into the field just days before the tournament began. Lawrie remains the last winner to advance to the field through Local Final Qualifying, and it was a dramatic, unique way of rounding out the field. Now the format all but assures that top-name players will not try to qualify in this manner. It's not convenient time-wise, and too few spots are available. And if you are a tour player, you have so many avenues into the field.
It's interesting that years ago, everyone had to qualify for the Open, including the defending champion. When Arnold Palmer won his two Opens in 1961 and 1962, he was not assured a place in the field until he made it through 36-hole qualifying.
Now the Open has gone nearly completely the opposite way, catering to tour players and relegating Local Final Qualifying to almost an afterthought. It will change again in 2014.
Instead of rotating the qualifying venues in proximity to the Open, the R&A is going to four permanent sites: Glasgow Gailes in Scotland and Woburn, Hillside and Royal Cinque Ports in England. The idea is to make the qualifying venues more accessible via travel for regional qualifiers.
For the third time this year and second on the PGA Tour, Tiger Woods is playing a new event -- having played the Abu Dhabi Championship (tie for third) and Honda Classic (second) -- when he plays at the Greenbrier Classic. Phil Mickelson, who missed the cut last year, is also in the field.
U.S. Open champion Webb Simpson is also in the field, along with PGA champion Keegan Bradley, Dustin Johnson, Jim Furyk and Bill Haas.
The Old White TPC course at the Greenbrier sustained substantial damage last week after a brutal storm hit the area Friday night.
Tom Watson is making his second regular tour event start since 2007. He is the golf pro emeritus at the Greenbrier and missed the cut last year.
This is the third year of the event, and because of a scheduling quirk, it was moved prior to the Open Championship. Last year, it was two weeks after.
South Korea's Se Ri Pak, who inspired a nation when she won the 1998 U.S. Open, returns to the site of her victory at Blackwolf Run.
The European Tour's schedule continues with the French Open, followed by next week's Scottish Open prior to the Open Championship at Royal Lytham in England.
"It feels great to get to 74 wins and obviously pass Jack. I did it at 36 years old, and it's something I'm very proud of.''
-- Tiger Woods, on winning the AT&T National to move one victory ahead of Jack Nicklaus and eight behind Sam Sneed on the all-time PGA Tour victories list.