Answers aplenty on major preparations

By Bob Harig
Archive
There is all manner of ways in which to prepare for a major championship -- players experiment with various approaches -- and there isn't necessarily a right or wrong answer.
Jack Nicklaus believed in taking off the week prior to practice at the championship venue. Tiger Woods has been a big proponent of not playing a tournament, choosing to practice at home. Phil Mickelson typically prefers to compete going into a major.
This week, however, brings other factors into play as the Open Championship looms at Royal Lytham & St. Annes.
For PGA Tour players who choose to compete at the John Deere Classic, they are six time zones away from the northwest coast of England, site of next week's Open. And they are playing a venue at the TPC Deere Run that is in no way, shape or fashion anything like the links golf they will encounter beginning on July 19.
[+] Enlarge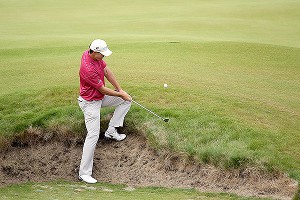 Warren Little/Getty ImagesPadraig Harrington is a firm believer in playing a links course the week prior to the Open Championship. He did so in both 2007 and 2008 and then went on to win golf's oldest major each time.
That makes the John Deere's date on the schedule a challenge, although the tournament nonetheless always seems to attract a nice field, no doubt aided by a charter the tournament sets up to whisk players across the Atlantic on Sunday night following the tournament, so they can arrive in England on Monday morning.
Still, they are missing acclimation time. And practice time on a unique golf course, a style that few play regularly.
Which is why two-time Open champion Padraig Harrington is firm in his belief that there is only one way to prepare: by competing in this week's Aberdeen Asset Management Scottish Open.
"I know some people don't like playing the week before a major, but there's no substitute for playing links golf,'' said Harrington, who is playing the Scottish Open at Castle Stuart. "You cannot compare how far the ball goes on a soft parkland course to how it goes off links turf …
"There's so many things, and yes, you can go and play links rounds of golf, and that is a help. But being competitive, and making mistakes as you will, which are clubbing, just getting used to hitting wedges off tight lies and chip shots and the way the ball pitch and runs, to react so differently on a links golf course … you can practice it, yes, and that helps. But it's only when you have one go at it and a card in your hand that you really do pick up what the difference is.''
Harrington is not just talking here. He put his philosophy into practice for years. Prior to 2011, when the Scottish Open moved to Castle Stuart, a links-style course, it was for years played at Loch Lomond, an American-style parkland course near Glasgow.
The Irishman routinely skipped the event and before both of his Open victories, he turned up at the Irish PGA Championship, basically a club pro tournament at the European Club, a links course. (Harrington won both the PGA and Open in 2007 and 2008.)
"This year, if you played the Irish Open [at Royal Portrush] and now you're going to play the Scottish Open, you have two great chances, up to eight rounds of golf, competitive rounds, pro-ams and everything, where you're going to pick up the differences,'' Harrington said. "I think that's the best preparation that you can get for playing the Open. Look, links golf is just not the same thing as what we normally play.''
Not everyone feels that way. Stewart Cink, who won the Open in 2009, is playing this week at the John Deere. Mickelson is playing the Scottish Open. Woods is taking the week off but will arrive at Royal Lytham over the weekend. There are clearly different ways to prepare.
Then there is Steve Stricker, who plays the John Deere nearly every year and is going for his fourth straight victory in the event. He loves the tournament and deals with the hassle of getting to the U.K. on Monday morning and having to adjust to the time zone.
And his record in the Open is decent, with three top-12 finishes and a single missed cut in the past five years.
"The experience over there is always a good one,'' Stricker said. "Different style of golf. Guys playing [at the John Deere] have to go over there and get acclimated pretty quickly and learn the course. It's tough to do in a three-day period, but it's part of the fun, too … going over there and trying to learn that type of golf.
"It's one of the best tournaments in the world. The fans over there are great, and it's fun to play over there.''
Phil and the Scottish Open
Phil Mickelson is in the midst of his worst slump on the PGA Tour, at least in terms of scoring. He has gone seven consecutive rounds without matching par or better. Some of that is skewed because of four rounds at the U.S. Open. Lots of players failed to match par at the Olympic Club. Still, Mickelson shot 79 at the Memorial and withdrew, was never a factor at the U.S. Open, where he seemed psyched to play with Tiger Woods for two rounds, and then he missed the cut at the Greenbrier.
Late on Friday, Mickelson decided to enter this week's Aberdeen Asset Management Scottish Open, a frequent spot on his schedule when the event was sponsored by Barclays -- one of his big sponsors. But Barclays dropped its sponsorship after last year's tournament, and Mickelson -- even after missing the cut Friday -- made no mention of playing this week at Castle Stuart.
And to get in the field required a bit of scrambling. The commitment deadline on the European Tour closes on Thursday the week prior to an event, but Mickelson is fortunate that sponsor invites are held back and he was not required to have entered previously.
The Scottish Open folks were more than giddy about being able to extend one of their invites to Mickelson, still one of the game's biggest draws. Instead of practicing at Royal Lytham this weekend, he'll be playing a tournament on a links-like course, hoping to sharpen his game through competition.
Bob Harig covers golf for ESPN.com. He can be reached at BobHarig@gmail.com.
Birdies And Bogeys
BIRDIES

1. Ted Potter Jr. From five consecutive missed cuts to Greenbrier winner and earning Open Championship and Masters spots. You can't even dream that.
2. Na Yeon Choi. Just one of two players under par for the U.S. Women's Open, she somehow shot 65 during the third round to give herself a big cushion on her way to victory.
3. Troy Kelly. He came out of nowhere before losing in a playoff to Ted Potter Jr. at the Greenbrier Classic, but he got a pretty good consolation prize: His finish was good enough to assure him a trip to the Open Championship, where he will play in a major for just the second time.
BOGEYS

1. Webb Simpson. Just when it looked like the U.S. Open champion was going to add another victory at the Greenbrier, he fell apart on the back nine, making four bogeys -- when he had made none for more than two rounds.
2. Phil Mickelson. Lefty is in the midst of his worst stretch on the PGA Tour, having gone seven straight rounds without at least matching par.
3. American women golfers. It is clearly a world game now, but just one American in the top 10 at the U.S. Women's Open (Paula Creamer) is no fluke.
Four players earned spots in the Open Championship field over the weekend. The easy ones: Marcel Siem at the French Open and Troy Kelly at the Greenbrier Classic. They were the highest-finishing players in their respective tournaments among the top five who were not otherwise exempt.
It gets a little more complicated with a cumulative money list that began at The Players Championship and included five other tour events through the Greenbrier. The top two money earners in those tournaments not otherwise exempt earned a spot in the Open: Marc Leishman and Ted Potter Jr.
Now there are just two ways into the Open, other than players who get in via withdrawals: the top finisher, among the top five, at the John Deere Classic and the Scottish Open.
Na Yeon Choi became the 10th Korean to win a women's major championship when she captured the U.S. Women's Open, but only Se Ri Pak with five has won multiple majors to this point. … Dottie Pepper was moved to tears last week when she was named an assistant captain to Meg Mallon for the 2013 U.S. Solheim Cup team. She got herself in trouble with comments uttered on the air during the 2007 Solheim Cup, words that were not meant to go out to the public. Good that everyone has moved on from the pettiness. Pepper should be a lock to be a U.S. captain someday. … Ted Potter Jr. was 218th in the world entering the Greenbrier. Now he's in the next three major championships. … Heading into this week's U.S. Senior Open, Hale Irwin, 67, is coming off a tie for sixth on the Champions Tour and has three top-10s this year. … Steve Stricker headlines the field at the John Deere Classic, where he is attempting to win the tournament for the fourth straight year. … Former Open Championship winners Stewart Cink, David Duval, Todd Hamilton and John Daly are also in the field.
"My dreams come true. It's an amazing day today. I really appreciate what Se Ri [Pak] did and all the Korean players, they did. There's really no way I can be here without them.'' -- Na Yeon Choi after her U.S. Women's Open victory.