Ernie Els wins with unusual caddie platoon

By Bob Harig
LYTHAM ST. ANNES, England -- For most of the past 20 years, Ricci Roberts has been there with Ernie Els through the ups and downs of a Hall of Fame career.
All four major championships. A number of close calls, too. A total of 58 worldwide wins, including Sunday's stunning Open Championship victory.
That is why you could see a tear in Roberts' eye as he stood on the putting green while Els was addressing spectators and being awarded the Claret Jug on the 18th green at Royal Lytham & St Annes.
And that's why when Els plays this week in the RBC Canadian Open, Roberts will be … in England watching cricket.
Huh?
[+] Enlarge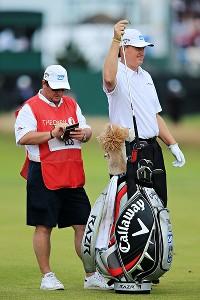 David Cannon/Getty ImagesErnie Els took The Open with a hand from caddie Ricci Roberts. For his next tournament, Els will employ Dan Quinn.
Yes, it's a bit strange, this arrangement that Els has with his caddies. Yes, it's plural, because despite all their success together, despite referring to Roberts as "like a brother," Els does not always use him.
This week it will be Dan Quinn, a former hockey player in the NHL who will work for Els at Hamilton Golf Club in Canada, as well as the WGC-Bridgestone Invitational, the PGA Championship and the first two FedEx Cup playoff events.
It is an arrangement that began in late 2009, extended into all of 2010, had its up and downs in 2011, and now continues again. But during that stretch, Roberts has been on Els' bag for all of his wins, which include two in Florida in 2010.
"Am I making that guy a lot of money or what?" Roberts joked on Sunday, although you can tell there is an edge of uneasiness about the deal.
Specifics of the system are a bit sketchy, but basically the players split the commissions earned on prize money. Els earned just more than $1.4 million for his victory, and the usual caddie take for a win is 10 percent, or in this case $140,000.
That means Quinn would get about $70,000 despite not caddieing at the Open. But he did play golf, and won the American Century Championship, an annual celebrity golf event in Stateline, Nev. (Quinn received $125,000 for his victory over Dallas Cowboys quarterback Tony Romo.) Of course, while Roberts is at home in England for the next several weeks, he will get a cut while not working.
Quinn, 46, is clearly a good golfer, but nowhere near Roberts, 48, as a caddie. In addition to Els, Roberts has worked for the likes of Nick Price, Mark McNulty, Charl Schwartzel and Trevor Immelman.
"But obviously all of my success has been with Ernie," Roberts said. "I thrive on it. … He knows me and understands me and I know him and understand him. We feed off each other. That's 58 for me with him. Something must be good."
Roberts concedes that they "have been on and off. We've had more divorces than Liz Taylor and Richard Burton."
Els, for all of his Big Easy persona, is not necessarily so easy when it comes to working for him.
And yet it is clear that Els and Roberts have something. They hooked up late last year when Els made a run at the Frys.com Open. Roberts then suffered an ankle injury that kept him out for a good part of this spring.
After the U.S. Open, where Els tied for ninth after bogeying two of his last three holes, he kept his spirits up instead of getting down on himself. He took some time off to recharge for a hectic run that has him on a five-tournament stretch. Roberts came over to the United Kingdom early, walked the Royal Lytham course -- where Els had been third in 2001 and second in 1996 -- and immediately texted his boss: "You'll love it."
And he did.
Major Collapses
Adam Scott's finish at the Open will long be compared to some of the game's biggest collapses. He had a four-shot lead with four holes to play and ended up bogeying the last four holes to lose to Ernie Els by a single stroke. Els had played two groups ahead of Scott, shot 68 including a birdie at the last hole that appeared would not be enough. But it didn't even warrant a playoff, Scott's faltering being that bad.
So how does it compare to others?
It is more along the lines of Arnold Palmer's U.S. Open issues in 1966, when he squandered a seven-stroke lead with nine holes to play at the Olympic Club. He eventually lost to Billy Casper in a playoff, but at least he was in a playoff.
Ed Sneed bogeyed the final three holes at the Masters in 1979, then lost a sudden-death playoff to Fuzzy Zoeller.
Greg Norman had a six-stroke lead heading into the final round of the 1996 Masters and lost by five shots to Nick Faldo. Rory McIlroy had a four-shot lead after 54 holes at the 2011 Masters and shot 80.
Other major meltdowns include Jean Van de Velde's epic collapse at the 1999 Open Championship, in which he led by three on the 72nd hole and made a triple to fall into a playoff, won by Paul Lawrie.
But is a one-hole collapse better or worse than the four-hole suffering of Scott?
It will certainly be part of the discussion.
Bob Harig covers golf for ESPN.com. He can be reached at BobHarig@gmail.com.
Birdies And Bogeys
BIRDIES

Els
1. Ernie Els: He became an unlikely four-time major winner, posting the best score of anyone in the last five groups, then getting the benefit of Adam Scott's collapse at the Open.
2. Brandt Snedeker: The American had never made a cut at the Open, but played the first 36 holes without a bogey, tied for third with Tiger Woods, and put himself in the U.S. Ryder Cup team discussion.
3. Luke Donald: Give the No. 1-ranked player in the world some kudos for perseverance. He managed to find a way to a back-door top five at the Open.
BOGEYS

Scott
1. Adam Scott: There's no getting around what happened at Royal Lytham. Scott had the tournament and gave it away.
2. Rory Mcllroy: It has been a strange stretch for Rory of late, with a spell of missed cuts and indifferent play. After getting to 3 under par on Thursday, he was never the same.
3. Phil Mickleson: Just his third missed cut in a major since 2000, this one was ugly. He missed by eight shots.

Watson
After making the cut at the Open, Tom Watson heads to Scotland for the Senior Open Championship at Turnberry, which is obviously a special place for him despite what happened there three years ago.
Watson, then 59, lost in a playoff to Stewart Cink after failing to par the final hole, which would have made him the oldest major winner by 11 years. It was an amazing tournament, one that makes Turnberry a bit bittersweet.
That is where Watson defeated Jack Nicklaus in the famous "Duel in Sun" Open in 1977, shooting 65-65 on the weekend to Nicklaus' 65-66. He also won the Senior Open there in 2003.
"There's a lot of comfort there and some disappointment," Watson said. "But there's some comfort there. I've had two nice wins and an almost win. The beauty of the place is the first thing I think about. I think about the Ailsa Craig and the lighthouse and that beautiful sunset that occurred on Wednesday, the night before The Open in 2009. It was the most gorgeous thing, it was orange red for an hour and a half. It was absolutely spectacular.
"And the golf course, you know, there's kind of tricks to play it. How do you drive the ball at 9 and get the ball in the fairway? I still haven't figured that out. I really haven't. But there are others, there are other holes there that I know how to play and I just hope my game is good enough to play it."
The streak of different major winners continues, as now Ernie Els became the 16th different player to win a major dating to Padraig Harrington at the 2008 PGA Championship. Els, who has won four majors, did stop a streak of nine first-time major winners. … Els' span of 10 years between Open titles is the second longest. Henry Cotton won in 1937 and 1948. … Els' win was the sixth time this year that a player came from six shots back or more to win on the PGA Tour. … Els became the first male player to win a major after being inducted into the Hall of Fame since Lee Trevino won the PGA Championship in 1984. Jack Nicklaus and Gary Player are the only others to accomplish the feat. … Despite all the long putter talk, Els was tied for 71st with 122 putts. … After this week's Canadian Open, Els will play the WGC-Bridgestone Invitational. The PGA Championship at Kiawah follows. … For the American team, only three weeks remain to earn Ryder Cup points, concluding at the PGA Championship. Davis Love will make his four at-large selections on Sept. 5.

McDowell
"He hit a great drive down the middle of 17, and half of England right of that pin, and he missed it left." -- Graeme McDowell explaining a crucial mistake made by Adam Scott on the 17th hole, leading to a bogey and dropping him into a tie with Ernie Els. Scott would bogey the last to lose by one.