Ryder Cup roster questions

By Bob Harig
Archive
The good news for U.S. Ryder Cup team captain
Davis Love III
now that the automatic qualifiers are set: Eight are ranked among the top 20 in the world; all eight have won a tournament this year.
The bad news: It doesn't really mean all that much once the Ryder Cup begins at the end of next month.
Certainly having players who are highly ranked and have performed under pressure is not a bad thing. It beats the alternative, and there have been numerous years in which U.S. Ryder Cup teams have been littered with players who seemingly have not done much.
On paper, the U.S. seemingly has an advantage over Europe, which boasts just five of the top 20 golfers at the moment and one just outside -- Martin Kaymer -- who is not playing well at the moment.
[+] Enlarge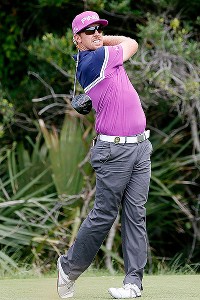 Sam Greenwood/Getty ImagesHunter Mahan has two wins this year but may not make the Ryder Cup team.
But Ryder Cup followers know all too well that paper rankings and form mean little once the Ryder Cup begins. Such attributes rarely make putts, which is why Love would not be doing himself any disservice by strongly considering
Steve Stricker
and
Brandt Snedeker
for two of his at-large selections when he makes his four picks on Sept. 4.
In his comments Monday after the eight automatic qualifiers became official, it seemed obvious that Stricker, who is 10th in the standings, is going to be a pick. Jim Furyk, who is 11th, also seems to be high on Love's list.
"It's great to have the youth,'' Love said. "Now we need some experience to go with it.''
The eight automatic qualifiers and their world rankings: Tiger Woods (3), Bubba Watson (8), Jason Dufner (9), Keegan Bradley (12), Webb Simpson (5), Zach Johnson (14), Matt Kuchar (11) and Phil Mickelson (19).
That encompasses the winners of two major championships, the Players Championship and a World Golf Championship event. Woods has won three times and Dufner and Johnson twice. The lineup is strong enough that Hunter Mahan, who has won twice this year, including the WGC-Match Play Championship, could not earn an automatic spot.
Dufner, Bradley and Simpson will be making their Ryder Cup debuts, which is something not to be understated. Simpson at least played in last year's Presidents Cup, but the intensity is not quite the same, even if the format is very similar.
Then again, Love's lineup so far has just two players who have played in more than two Ryder Cups: Woods and Mickelson. Perhaps that is why Furyk might be considered a strong pick, despite some recent woes. Furyk has been on every Ryder Cup and Presidents Cup team since 1997. "We need to have some experience,'' Love said. "You're not going to pick four guys who have never played in the Ryder Cup before.''
But would he pick one? If so, Snedeker might be a good choice. He putted lights-out at the Open Championship, although he missed the cut at the PGA. Putting always has been the U.S.'s sore spot, and it's so important in match play, as it can build or thwart momentum.
Although he's been in poor form lately, it would be tough to leave Mahan off the team after he won twice this year. Rickie Fowler was strong in Wales two years ago as a pick but failed to make last year's Presidents Cup team or this year's Ryder Cup team on his own. What about big-hitting Dustin Johnson, who missed several months because of injury?
"I think it's going to end up coming down to just a gut decision,'' said Love, who played on six U.S. teams. "We'll all know how they are playing by their scores and what they tell us. ... Nobody's out of it. If you get hot in the next three weeks, we're going to want you on the team.''
The only player on the outside playing in this week's Wyndam Championship is Snedeker. Then the FedEx Cup playoffs begin, and Love will have two more events to evaluate before making his picks on Sept. 4. The European team will be decided at the conclusion of the Johnny Walker Classic next week, with captain Jose Maria Olazabal announcing his two at-large picks on Aug. 27.
Europe uses two lists, starting with the European team points list based on play on the European Tour, choosing the top five from that list. Then it goes to a world points list, which is based on the world rankings. Excluding the players who made it through the European list, another five are selected.
Here are the 10 to this point. From the European Tour list: Rory McIlroy, Justin Rose, Graeme McDowell, Paul Lawrie and Franceso Molinari. From the world points list: Luke Donald, Lee Westwood, Peter Hanson, Martin Kaymer and Ian Poulter.
All have Ryder Cup experience, although Lawrie's one and only Ryder Cup was in 1999. But that might allow Olazabal to choose rookies, although it is tough to envision him passing up countryman Sergio Garcia, who was just bumped out by Poulter. Nicolas Colsaerts is another possibility, a long-hitting player from Belgium who won the World Match Play Championship in a final victory over McDowell.
Rory vs. Tiger
The comparisons were inevitable well before he won the PGA Championship, but now that Rory McIlroy has a second major championship at virtually the same age, such talk will become even more prevalent.
McIlroy joined a small group of players in the history of the game to win a second major title by age 23.
The others are Tom Morris Jr. (2), John McDermott (2), Gene Sarazen (3), Seve Ballesteros (2), Jack Nicklaus (3) and Tiger Woods (2).
McIlroy was a few months younger than Woods in getting to his second major, but a better gauge might be the number of majors. Woods won his second, the '99 PGA, in his 12th professional start in a major. For McIlroy, this year's PGA was his 16th start in a major as a pro.
If you add all the majors played -- McIlroy played in just one as an amateur -- McIlroy got to No. 2 in his 17th attempt. Adding in his appearances in majors as an amateur, it took Woods 18 tries to get No. 2. McIlroy missed three cuts during that span, Woods just one.
However you fall on the issue, it will be very interesting to see how McIlroy compares over the coming three years. In the 12 majors following his second major win at the '99 PGA, Woods won six of them.
Bob Harig covers golf for ESPN.com. He can be reached at BobHarig@gmail.com.
Birdies And Bogeys
BIRDIES

McIlroy
1. Rory McIlroy.
Argue about what's more impressive: winning the PGA by eight shots or not making a bogey over the final round?
2. David Lynn? The English journeyman was playing in just his second major and earned a trip to next year's Masters with a runner-up finish at the PGA.
3. John Daly. You have to give Big John some credit. He has been playing nicely of late, and his finish at the PGA, a tie for 18th, was his best since winning the tournament in 1991. Now can he qualify for the FedEx Cup and finish among the top 25 in money?
BOGEYS

Woods
1. Tiger Woods. A share of the 36-hole lead and a tie for 11th is never going to please Woods, especially since he failed to break par in any weekend round of a major this year.
2. Luke Donald. He was deposed by McIlroy as the No. 1 player in the world after another frustrating major championship in which he tied for 32nd at the PGA. Donald never contended on Sunday this year, his best finish being a tie for fifth at the Open Championship.
3. Lee Westwood. Considered the best player without a major, Westwood, too, has had a frustrating run in the majors and has since fired his coach, Pete Cowen.
It's a long eight months until the Masters, but it's never too early to start looking ahead. David Lynn sure will. The Englishman earned a spot in the year's first major by finishing second to Rory McIlroy at the PGA Championship. The top four players and ties automatically qualify for the Masters, but Lynn is the only player who will need the exemption.
A veteran of the European Tour, Lynn, 38, never had played a tournament in the United States and had competed in just one major championship previously, the Open Championship in 2003. "I've never been exempt to play in anything in America, so that's the reason why I've never been over here,'' he said. "This is a good start.''
Lynn was ranked 98th in the world but jumped up to 40th after finishing second in the PGA. That, along with the prize money he won, puts him in good position to qualify for both the U.S. Open and Open Championship next year. The world rankings and finishes on the European Tour's Race to Dubai could both be avenues to those majors. And his second already qualifies him for next year's PGA Championship.
Rory McIlroy's PGA Championship win was his fourth on the PGA Tour in his 50th start. It also counts as his fourth on the European Tour. ... The victory moved him to No. 2 in the FedEx Cup standings behind Tiger Woods, which means they are likely to play together during the first two rounds of next week's Barclays, the first of four FedEx Cup playoff events. ... It was also McIlroy's sixth top-10 in a major. ... Players from Northern Ireland have now won four of the past 11 majors: Graeme McDowell (2010 U.S. Open), McIlroy (2011 U.S. Open, 2012 PGA), Darren Clarke (2011 Open Championship). ... The PGA Championship had long been a struggle for European players. After Tommy Armour, no European won the event until Padraig Harrington in 2008 -- the first to do so in stroke play -- and Martin Kaymer (2010) has also done so. ... McIlroy also became the 12th player since 1950 to win majors in back-to-back seasons. Harrington was the last in 2007-08. ... Players in their 20s have now won seven of the past 10 majors. Clarke, Bubba Watson and Ernie Els are the exceptions. ... Reigning U.S. Open champion Webb Simpson defends his title this week at the Wyndham Championship, where he captured his first PGA Tour title a year ago. ... The Wyndham is the final event of the PGA Tour's regular season, with the top 125 in points qualifying for the first playoff event at the Barclays. From there, the top 100 advance to the Deutsche Bank Championship, then the top 70 to the BMW Championship and the top 30 to the Tour Championship. ... Some notable players outside the top 125 in FedEx Cup points heading into the Wyndam: Y.E. Yang (129), Gary Woodland (130), John Daly (137), Camilo Villegas (146), Justin Leonard (157). No player outside the top 125 entering this tournament has ever made it to the Tour Championship since the FedEx Cup began in 2007.
"Rory is proving that when he plays well it is like when Tiger played well. Tiger turned up for a few years and if he brought his A-game the rest of us struggled to compete. Rory is showing the same thing and there's only going to be less weight on his shoulders after this second major win. The frightening thing for the rest of us is he's only going to get better.'' -- Three-time major winner Padraig Harrington after Rory McIlroy's eight-shot victory at the PGA Championship.