For Tiger, playoffs offer shot at third FedEx title

By Bob Harig
Archive
By his own set of lofty standards, Tiger Woods has already lowered the bar on this season. Without a major championship on his résumé in 2012, it cannot be a great year, he said. But it can still be a successful one.
And to this point, as the PGA Tour's playoff events are set to begin at the Barclays, it would be difficult to argue.
[+] Enlarge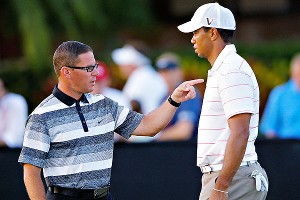 Mike Ehrmann/Getty ImagesTiger Woods' swing coach, Sean Foley, pointed out this week that the fact Woods hasn't had a recurrence of injuries despite his busy schedule bodes well for the future.
Sure, the tournaments he wants the most came and went without a victory, a frustrating occurrence for a 14-time major winner, especially the last three tries, where a win seemed within grasp as the weekend commenced.
His struggles at the U.S. Open, Open Championship and PGA Championship have been picked apart, a range of reasons analyzed and scrutinized.
But Woods heads into the last four official PGA Tour events on his schedule with three victories, six top-10 finishes (including a tie for third at the Open Championship), the lowest scoring average on the PGA Tour, along with the FedEx Cup points lead and atop the money list.
And if you take the long-range view, Woods has come quite a long way in a year.
"Last year at this time, he did his interviews with you guys on the Friday of the PGA Championship, and went home; I'm sure he was frustrated," said Woods' swing coach, Sean Foley, who spent Monday working with Woods in South Florida. "He had just come off of sitting on the couch for three months. So yes, when you consider that, he's done very well."
Woods returned from injury last year at the WGC-Bridgestone, where he tied for 37th, breaking par in just one round. The following week at the PGA Championship, he shot 77-73 to miss the cut -- and the FedEx Cup playoffs.
Think about that: a year ago, Woods -- who has won the FedEx Cup overall title twice since its inception in 2007 -- wasn't even eligible for the first event. He didn't play again until October at the Frys.com Open, where he tied for 30th.
Before he would play again in Australia, Woods had slipped to 58th in the world rankings.
He heads into the playoffs at No. 3 in the world after getting as high as No. 2. Only Rory McIlroy, who at the moment is the only legitimate argument versus Woods for PGA Tour player of the year, has earned more world rankings points this year.
Eyes often roll when Woods cites his health as a reason for finding more success this year, but it's a fair point. A year ago, he was coming off an injury that kept him from walking, let alone practicing or playing tournaments, for several months. And when he returned, he had to again go through the growing pains of working on a new swing with Foley.
Aside from a scare in March at Doral, where Woods withdrew during the final round because of pain in his Achilles, he's not had any health issues; he returned two weeks later to win his first PGA Tour title in more than two years.

Get all of ESPN.com's latest news, highlights and commentary about the world's most talked-about golfer. Tiger Tracker
"He's playing a lot of tournaments and practicing, and that's extremely good," Foley said. "To have no recurrence on injury with a pretty busy schedule is a good sign. More than anything else, the most important part is to learn the pattern that is less evasive and doesn't break down the body so he can play golf for 15 more years if he chooses to."
There continue to be issues in Woods' game, problems that have kept him from more success. His putting has been streaky. While Woods is fourth on the PGA Tour in total driving and a respectable 25th in greens in regulation, he's struggled with short irons.
Too many times, Woods has a 9-iron or wedge in his hands and can't hit it close enough for a reasonable birdie opportunity. None of the various distance numbers are good, but from 75 to 100 yards he ranks 175th on tour, hitting it to an average of 20 feet.
Woods has said many times that as his career has progressed, his practice time has dwindled. And Foley suggested that more priority has been put on getting his long game settled.
"There were some logical things that needed to be done," Foley said. "Hitting wedges wasn't really going to be the thing that was going to continue to injure him. Hitting drivers and 3-irons, the clubs that you are swinging faster, they create more energy and power. Those are the things to handle and take care of first, and now he's hitting the ball further again and he's hitting it hard. And yet, even when he hits it hard, it looks a lot smoother."
The focus of the offseason is likely to be the short game, but there is plenty of golf to be played this year for Woods: the four FedEx playoff events, the Ryder Cup, an exhibition match play event in Turkey, the CIMB Classic in Malaysia and Woods' World Challenge in California.
That's a lot of chances to build on an already strong season, even if the ultimate goal was not achieved.
FedEx points vs. money list
This is the last year the PGA Tour will be using the money list to determine status for a player the following year -- sort of.
FedEx Cup Profile

ESPN.com Topics has you covered on the history, format and news about the FedEx Cup, the PGA Tour's annual playoff. FedEx Cup » Tour Championship »
The plan next year is to go off the FedEx Cup points list to determine the top 125 players who will qualify for the playoffs and be fully exempt for the following season. Because the tour is going to a wrap-around season in 2013, there will be no Fall Series events -- as is still the case this year -- for players to try and retain their cards.
They either make it by this point in the season, following the Wyndham Championship, or they are headed to the three-tournament series of events with Web.com Tour players -- in place of Q-school -- in order to try and earn their playing privileges back. The top 50 players -- with the top 25 from the Web.com already decided -- in the three-tournament series will have the same status that current Q-school/Web.com grads have now.
But for next year, the tour is allowing a loophole as it transitions into the new system. There are typically a few players at this point who are outside of the top 125 in points but are among the top 125 money winners. This can happen due to disparity in purses, while all regular tour events offer the same number of FedEx points.
Because there will be fewer playing opportunities in 2013, the tour is going to exempt any player who finished in the top 125 in money -- but outside of the top 125 in points -- into the 2013-2014 season for open events. Players who finish 126th to 150th in both points and money will have conditional status on the tour -- but of course can try to improve their position through the three-tournament Web.com series.
This is likely to affect just a few players, but they will be thankful for the fallback position.
Bob Harig covers golf for ESPN.com. He can be reached at BobHarig@gmail.com.
Birdies And Bogeys
BIRDIES

Garcia
1. Sergio Garcia.
His victory at the Wyndham Championship was his first on the PGA Tour in four years and follows two European Tour titles in 2011, locking up a spot on the European Ryder Cup team.
2. Steven Fox. The U.S. Amateur champ gets spots in the Masters, U.S. Open and Open Championship next year if he remains an amateur.
3. Augusta National. The home of the Masters moved past the women's membership issue this week, an important step for one of the top organizations in the game.
BOGEYS

Glover
1. Lucas Glover. It's been a tough year for the 2009 U.S. Open champion, who won't return to the Barclays after finishing far out of the top 125 due to a season filled with injury.
2. Major champions in 2009. Glover is not alone. Angel Cabrera (Masters), Stewart Cink (Open Championship) and Y.E. Yang (PGA) all failed to make the FedEx Cup playoffs.
3. Martin Kaymer. His spot on the European Ryder Cup team is in peril after a poor summer, but Kaymer chose not to play the final European Tour qualifying event this week in Scotland.
There are still two more tournaments for U.S. Ryder Cup team captain Davis Love III to evaluate players before deciding on his four at-large picks to join the eight players who have qualified for the team: Tiger Woods, Bubba Watson, Jason Dufner, Keegan Bradley, Matt Kuchar, Zach Johnson and Phil Mickelson.
For European captain Jose Maria Olazabal, it all comes to a conclusion this weekend at the Johnnie Walker Championship in Scotland. It is the final qualifying event, and then Olazabal makes his two picks on Monday.
And it really comes down to two players: Martin Kaymer and Nicolas Colsaerts. Kaymer is holding onto the last position but is not playing. Colsaerts can steal the last qualifying spot through the European points list with a win or a second-place tie with no more than two other players.
Either way, Colsaerts looks to be a good bet for a captain's pick if he doesn't make it. Kaymer not so much after a subpar summer during which he missed the cut at the last two majors and went without a top-10 since the Malaysian Open the week following the Masters.
Sergio Garcia claimed an automatic spot through the world rankings with his win at the Wyndham Championship, knocking Ian Poulter out. But Poulter would also appear to be a good bet for a captain's pick. If Colsaerts makes the team on his own, Olazabal might choose Padraig Harrington over Kaymer.
The PGA Tour playoffs begin this week at the Barclays, the first of four FedEx Cup events that will crown a season-long champion and pay a $10 million bonus to the winner. … The top 100 after the Barclays advance to the Deutsche Bank Championship, with the top 70 then moving onto the BMW Championship. After a week off, the Tour Championship with the top 30 players will take place in Atlanta. … With his tie for 31st at the Wyndham Championship, Heath Slocum was the only player who moved into the top 125. No player has ever gone from outside of the top 125 prior to the last event before the playoffs on to the top 30 and the Tour Championship. … Sergio Garcia was No. 102 but jumped to 33rd after his Wyndham win, just his second top-10 this year on the PGA Tour. … Any player in the Barclays field can mathematically move inside the top 5 with a victory or runner-up finish. … Steve Stricker and Hunter Mahan are the only players to have competed in all 20 of the previous FedEx Cup events dating to the 2007 inception.
"This is a joyous occasion." -- Masters and Augusta National chairman Billy Payne after announcing the names of the first women members of the storied club.