Paul Lawrie returns to Ryder Cup

By Bob Harig
Archive
Paul Lawrie
is an easy golfer to overlook, especially for Americans not accustomed to seeing him play. Their memory very well may be of the guy who was the beneficiary of
Jean Van de Velde
's historic meltdown at Carnoustie in 1999, and as a member of the European Ryder Cup team that fall at Brookline.
Lawrie never did play in another Ryder Cup, and his career has been average at best.
But Lawrie, 43, has seen a resurgence of late. His victory Sunday at the Johnnie Walker Championship in Scotland was the third of his career on home soil and gave the European team an added boost heading into the Ryder Cup, which begins Sept. 28 at Medinah.
And yes, Lawrie will be there, making the team 13 years after his first and only appearance -- one that brings fond memories, despite the defeat, and the burning desire to return to such an important event.
[+] Enlarge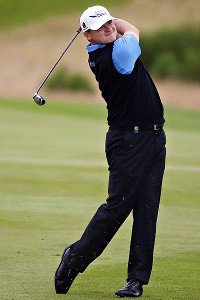 Andrew Redington/Getty ImagesPaul Lawrie is back on Europe's Ryder Cup team after a 13-year absence.
"I would have said that the first tee shot that I hit in Brookline was the most nervous I've ever been on a golf course," Lawrie said at the Johnnie Walker, having wrapped up a spot on this year's team before winning the Johnnie Walker. "There's no question. I don't think anything even comes close to that.
"I felt in control at the playoff at the Open (where he defeated Van de Velde and Justin Leonard after shooting 66 in the final round) and I certainly wasn't in control of anything I was doing on that first tee. It was a weird experience. But once you hit it and hit a decent shot, you feel all right. But that's the most nervous I've ever been. Maybe I would like to hit it again, it would be cool."
Lawrie's first shot was in foursomes, and it was the first match of the competition. Paired with countryman Colin Montgomerie, they would defeat Phil Mickelson and David Duval.
That was what Lawrie remembers most about the Ryder Cup.
"I would have to admit that yeah, miss it, and I'll take it," he said. "You have no idea the feeling. All of the team is on the tee. All of the captains are on the tee. All of the wives are on the tee. There's unbelievable amounts of press there, and, man, you just know ... I don't get like that. I see people in the crowd; I'm pretty focused. I don't get too excited when I do well, and I don't get too down when I'm not and I focus on that on the golf course. But that tee, that was pretty different."
Lawrie went on to have an outstanding Ryder Cup, overshadowed by the team loss and his partnership with Montgomerie, one of Europe's all-time best. They went 2-1-1 together, earning a half-point in the afternoon of the first day against Davis Love III and Leonard and winning again Saturday afternoon in a four-ball match against Tiger Woods and Steve Pate. Their only defeat was against Jeff Maggert and Hal Sutton.
Still, Lawrie and Montgomerie had helped Europe take what appeared to be an overwhelming lead into the final-day singles, when the Americans staged the biggest rally in Ryder Cup history. The Europeans led by 4 points and needed only a combination of 4 points to force a tie and retain the Cup. They would get just 3 ½.
The U.S. won eight matches and halved another to regain the Cup in a thrilling and controversial conclusion. The only European victories that day were by Lawrie over Maggert, Padraig Harrington over Mark O'Meara and by Montgomerie over Payne Stewart in a match that was conceded by Stewart on the final hole after the U.S. had clinched the Cup.
To get back to that arena, Lawrie has had a career year, with two victories on the European Tour and seven top-10 finishes. He also won in 2011 after having posted no victories since 2002. He now has a total of eight European Tour titles.
"It's been 13 years," he said of the Ryder Cup. "I don't think it's unfinished business for me. We were ahead 10-6 as a team playing Sunday and the Americans played some phenomenal golf in the first five or six games (of singles). I think all of them were probably 5- and 6-under. It's just massive golf in that environment with that pressure, so they won, and rightly so.
"I'm going into this one looking as confident as I was the last time. Looking forward to it, can't wait. Obviously Chicago is going to be quite busy and quite loud. I think all of the teams are playing well. So it will be good."
Notable
Nick Watney
moved into the top 10 in FedEx Cup points for the first time this year with his victory at The Barclays. He had been in 49th position heading into the tournament. Last year, Watney led the FedEx heading into the playoffs and ended up finishing ninth ... Watney is a good example of the volatility of the playoffs and what winning can do. He had just three top-10s this year, his best a tie for eighth. Now he leads the standings ...
Brandt Snedeker
, with his runner-up finish, moved to No. 2 in the standings ...
Sergio Garcia
was trying to become the first player since
Tiger Woods
in 2009 (Buick Open, WGC-Bridgestone Invitational) to win back-to-back events on the PGA Tour. He settled for a tie for third. Garcia is skipping this week's Deutsche Bank Championship but is 10th in the standings and a good bet to return to the Tour Championship (for the top 30) for the first time since 2008, the year he lost two playoff events in playoffs ... Woods has three victories this year, but in 12 tour starts, he's been over par in the final round six times ... This is
Lee Westwood
's first appearance in the FedEx Cup playoffs. He tied for fifth at The Barclays and is now 27th in points ... Inbee Park didn't win the Canadian Open on Sunday, but she sure got a great second-prize consolation: first-place money of $300,000. Because winner Lydia Ko is an amateur, Park collected the top prize, despite being three shots back ...
Colin Montgomerie
's tie for sixth at the Johnnie Walker Championship was his best finish of the year and first top 10 since the 2011 BMW PGA Championship on the European Tour ...
Casey Martin
, the Oregon golf coach and former PGA Tour player who successfully sued to be able to use a cart in competition, has accepted sponsor exemptions to play in the PGA Tour's Justin Timberlake event in Las Vegas as well as a Web.com Tour event in Boise, Idaho. Martin qualified for this year's U.S. Open, where he missed the cut.
Bob Harig covers golf for ESPN.com. He can be reached at BobHarig@gmail.com.
Birdies And Bogeys
BIRDIES

Ko
1. Lydia Ko.
It's one thing for an amateur to win on the LPGA Tour. It's quite another for her to be just 15 and the youngest ever to win an LPGA tour event.
2. Nick Watney. By capturing his fifth PGA Tour title at The Barclays, Watney is suddenly in the Ryder Cup discussion as well.
3. Brandt Snedeker. A second-place finish at The Barclays, his strong play at the Open Championship and his overall strong putting put him in the mix of at-large contenders for U.S. Ryder Cup team captain Davis Love.
BOGEYS

Woods
1. Tiger Woods. A bad back, a balky putter and a final-round 76 did not add up to a very good week at The Barclays, where Woods faltered to a tie for 38th.
2. Phil Mickelson. Lefty didn't have it any better at The Barclays, where he, too, shot a final-round 76 to tie for 38th.
3. The LPGA Tour. As well as Lydia Ko played at the Canadian Open, wonder if anybody on the tour is upset they were beaten by a 15-year-old.
With one event left for U.S. captain Davis Love III to get a look at his potential at-large selections, his job in choosing is not getting any easier. Hunter Mahan and Jim Furyk, considered by some to be locks, missed the cut at The Barclays. Meanwhile, Brandt Snedeker and Dustin Johnson, two players who probably needed to show something, did just that.
With Love set to make his picks Sept. 4, here is a rundown of the players considered in the mix, with their pros and cons.
Hunter Mahan
Pros: He's won twice this year, including the WGC-Match Play, and finished ninth in points, dropping out the week prior to the deadline. Cons: Despite those two wins, he was unable to finish among the top eight. He missed cuts at the PGA and Barclays and his best finish since winning in Houston the week prior to the Masters is a tie for eighth.
Steve Stricker
Pros: A great putter, and an obvious partner for Tiger Woods. Cons: There really aren't any when you are picking four players. Stricker is the only player on this list who appears to be a lock.
Jim Furyk
Pros: His experience and leadership. Furyk has been a member of every U.S. Ryder Cup and Presidents Cup dating to 1997. He went 5-0 at last year's Presidents Cup. Cons: Experience can be overrated, especially when you consider Furyk has a losing Ryder Cup record. His tough finishes at the U.S. Open and Bridgestone do not help.
Rickie Fowler
Pros: Who can forget his clutch comeback in Wales against Edoardo Molinari to earn the U.S. a half-point? He won his first PGA Tour event at Quail Hollow earlier this year, and is generally considered a good putter. Cons: Despite his victory, he was again unable to earn a place on the team. He didn't make last year's Presidents Cup team, either. Since a T5 at Colonial, he has not finished in the top 20.
Brandt Snedeker
Pros: An excellent putter, which is typically a U.S. shortcoming. Contended at Open Championship and just tied for second at The Barclays. Cons: Has never played in a Presidents or Ryder Cup, and the team already has three Ryder Cup rookies.
Bo Van Pelt
Pros: Has played a lot, and has played well, with eight top-10 finishes. Cons: He has no victories, plus no Ryder or Presidents Cup experience to fall back on.
Dustin Johnson
Pros: Since returning from injury at The Memorial, Johnson has three top-10s, including a victory and a tie for third at The Barclays. His length off the tee is clearly an intriguing possibility. Were it not for injury, he very well might have made the team on his own. Cons: Johnson has not been particularly strong in either of the Ryder or Presidents cups in which he has played.
Nick Watney
Pros: He just won The Barclays, and if having hot players is important, Watney is an intriguing pick. Cons: He hadn't been better than a tie for eighth all year prior to The Barclays, and was 31st in the points standings.
"To break another record, or be in the history (books). it's amazing. And it's always awesome to be able to play with the pros.'' -- Lydia Ko, 15, who became the first amateur since JoAnne Carner in 1969 and the youngest player ever to win on the LPGA Tour with her victory on Sunday at the Canadian Open.