Mahan 'empty' after missing out on Ryder Cup

By Bob Harig
Archive
CARMEL, Ind. -- The frequent replays of his ill-fated chip shot on the 17th hole at Celtic Manor do not help, seeing as Hunter Mahan's match with Graeme McDowell was the only one left on the course at the 2010 Ryder Cup.
Mahan's stubbed chip is a painful memory for American fans, many of whom simply assume that Mahan lost the Ryder Cup that day because he hit an ugly shot.
What is often forgotten is that Mahan was 2 down with two holes to play against McDowell. He had made just one birdie in his round but battled to get the match 1 down as it became apparent it was going to mean something.
But at the 16th hole, McDowell drained a sliding 20-footer for birdie that shook the Wales countryside and will long be the highlight of the Northern Irishman's career, even with a U.S. Open trophy sitting on his mantel. The putt put McDowell 2 up with two to play. All Mahan was being asked to do was win the last two holes.
[+] Enlarge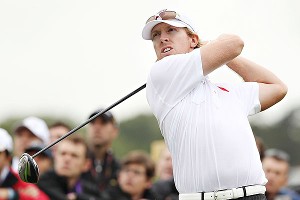 Ross Kinnaird/Getty ImagesHad Hunter Mahan made the U.S. Ryder Cup team, he would have been the only player on the American squad with a career winning record (3-2-3) in the biennial matches.
At the 17th, McDowell was already on the green when Mahan attempted his chip shot. He pretty much had to hole it or knock it close and hope that McDowell three-putted. Anything less and the match was over.
Is that choking?
Certainly Mahan didn't play well that day to put himself in that position. Had he been able to keep the match closer, those last two holes might not have been fraught with so much angst. It was nearly impossible to think he'd beat McDowell on two straight holes when he'd won just three in the previous 16.
And yet there is still a feeling that Mahan lost that Ryder Cup. (In truth, the Americans made a remarkable comeback to put Mahan in that position, winning six matches and halving two; they had gone 0-5-1 the day prior in the rain-plagued third session.)
Still, that disappointment had Mahan wanting back on this year's team. He went 4-1 at last year's Presidents Cup and was looking for a chance at redemption.
But it didn't happen. Despite winning twice this year, including a WGC-Match Play title in the final over Rory McIlroy, Mahan was not picked by U.S. captain Davis Love III on Tuesday. A run of average golf over the past few months doomed Mahan, who chose the wrong time to go through a cold spell. At one point in the process, Mahan was No. 1 in Ryder Cup points.
Mahan said he felt "empty" in the aftermath. He finished ninth in an eight-man automatic team race on points, then was passed over for veterans Jim Furyk and Steve Stricker, bomber Dustin Johnson and Ryder Cup rookie Brandt Snedeker.
"To not be a part of it ... it feels empty right now," Mahan said at Crooked Stick Country Club, site of this week's BMW Championship. "It feels more empty being at the course. It didn't feel that bad when Davis told me because ... it ended up being a two-week trial, kind of a sprint to the finish, who was going to play the best, because I think he stated he wanted Stricker and Furyk, so there was really only two spots left, and Brandt and Dustin just outplayed me at the end of the day. I just didn't play good enough. And that's OK. It's OK to get beat by somebody. That's part of golf, and that's part of the game.
FedEx Cup Profile

ESPN.com Topics has you covered on the history, format and news about the FedEx Cup, the PGA Tour's annual playoff. FedEx Cup » Tour Championship »
"But like I say, it just feels empty right now."
To Mahan's credit, he took the high road. He understood that Stricker and Furyk appeared to be locks for Love, who wanted their experience on the team. Then it came down to finding a couple of hot players, and he lost out to Johnson and Snedeker, both of whom have played well of late while Mahan did not.
Still, in the modern era there is not a U.S. player who won twice and did not compete in that year's Ryder Cup. You'd probably have to go back to Jack Nicklaus, who despite winning majors in 1963, 1965 and 1967 did not play in the Ryder Cup due to PGA of America rules at the time. (He didn't have five years as a PGA pro.)
"It's a tough one," said Tiger Woods, who was a captain's pick for the Ryder Cup two years ago as well as for last year's Presidents Cup. "It's tough for Davis and it's tough for Hunter. Anytime you're in that one spot out of the guaranteed spots, it's a tough one. And unfortunately it just didn't go Hunter's way. I know that he's pretty down about it, but he's got two big events to play in, and I'm sure he's got some overseas stuff to play in the rest of the year. He'll turn around and he'll just start playing well."
Mahan said there is a part of him that really wanted to play in the Ryder Cup because of what happened in Wales.
"I felt like I wanted to redeem myself somewhat because you feel somewhat responsible," he said. "It hurt at the moment. It was one of those things where it's an emotional week. It's probably the most emotional week you'll have as a player, just because of the energy the crowd brings, from a positive and negative perspective. It's one of those things that seems to last longer inside of you than just one tournament, because the week is so fun.
"It's so emotional because you're just having such a great time all week, and then there's an outcome, and that's an emotional thing whether you win or lose.
"All the rookies and stuff are going to get there to Chicago and it's going to be really exciting for them because there's nothing like it. There's really no tournament like it. There's nothing I've ever seen like it because it's such a cool experience, unlike anything in golf. It's so much fun.
"It just sucks to miss out on all the fun."
Mahan, with a 3-2-3 mark in his two Ryder Cup appearances, would have been the only player on the American side with a winning record.
Scheduling woes
For the fifth time in the FedEx Cup's six years of existence, the BMW Championship follows the Deutsche Bank's Monday finish. What's good for the Deutsche Bank tournament -- which has a Labor Day ending written into its contract -- is not so good for the third playoff event.
Tournament officials have publicly taken the high road, but it is clearly a poor situation for them. By this point of the season, with the top players in the FedEx Cup having competed at big tournaments in at least four of the last five weeks and in some cases six of the last eight, it's a tough turnaround.
Sure, it's "only" golf, but it can be a bit of a grind, especially when this is a short week at a venue most players have never seen. For those not in Wednesday's pro-am, they had to get here Tuesday after playing a tournament round Monday simply to get a look at the course.
Last year the PGA Tour set up the schedule so that the playoff off week would follow the Deutsche Bank Championship. That allowed for the Monday finish, a week off, then a two-week run with the BMW and Tour Championship.
But with the Ryder Cup following the Tour Championship, the schedule was set up to go back to the old way. Next year it is expected that the break will again follow the Deutsche Bank.
Bob Harig covers golf for ESPN.com. He can be reached at BobHarig@gmail.com.
Birdies And Bogeys
BIRDIES

McIlroy
1. Rory McIlroy. A playoff victory at the Deutsche Bank Championship solidified his hold on No. 1 in the world and sent him to the top of the FedEx Cup standings.
2. Phil Mickelson. He played his best tournament in months, with four rounds in the 60s and a top-10 finish.
3. The Deutsche Bank Championship. What a leaderboard: Rory, Louis, Tiger, Phil. ... just to mention a few.
BOGEYS

Mahan
1. Hunter Mahan. It was a tough blow to miss out on the U.S. Ryder Cup team after winning twice in 2012 and being just outside in points.
2. Graeme McDowell. After a strong summer at the majors, McDowell has hit a rough patch in the playoffs and, at 41st in the standings, needs a good week to advance to Atlanta.
3. Jonas Blixt. The Swedish golfer missed the top 70 by the length of a lipped out birdie putt on the 18th at the Deutsche Bank Championship. He had missed most of the summer because of a rib injury.
Often forgotten in the fine print of major championship qualifications and invitations is the one that gives a spot in the fields of the Masters, U.S. Open and Open Championship to any player who qualifies for the PGA Tour's Tour Championship.
That seems simple enough -- for years, the various majors have exempted players from PGA and European Tour money lists.
But without a lot of fanfare, those majors exempting players who make it to Atlanta for the Tour Championship gave the FedEx Cup a nice boost.
That's because every year there are likely a few players who make the top 30 in FedEx Cup points simply by having one good tournament in the playoffs and jumping way up in the standings. It doesn't take a victory -- which would get a player in the Masters by itself, for example -- but simply a good, solid week.
So the BMW is more than just getting to play for the big prize in Atlanta. It assures a spot in the first three majors next year. That's no problem for Rory McIlroy, Tiger Woods, Phil Mickelson and a slew of others. But it means a lot to guys such as Kevin Stadler, Bud Cauley, William McGirt and Jeff Overton -- just to name a few. They are all in the top 40 in points and not necessarily assured of a spot in any of the majors next year.
With his victory at the Deutsche Bank Championship, Rory McIlroy joined Tiger Woods as the only players this year with three victories on the PGA Tour. Over the past three seasons, they join Jim Furyk (2010) as the only players to win at least three times. ... Louis Oosthuizen became the 25th 54-hole leader or co-leader to fail to go on to win in 38 PGA Tour events this season. The 2010 Open champion had a three-shot advantage starting the final round. ... Ooshuizen moved to fifth in the FedEx Cup standings. Last year, in his first season as a member of the PGA Tour, he did not qualify for the playoffs. ... Nine players advanced from the Deutsche Bank Championship from outside of the top 70 into the BMW Championship. Dicky Pride had the farthest to go, jumping from 96th to 70th. ... Four players have posted top-10s in each of the first two playoffs events: Brandt Snedeker, Dustin Johnson, Oosthuizen and Stadler. ... Mickelson, who is ninth in the FedEx Cup standings, is the only player to finish among the top 15 in each of the first five years of the competition. His best was second in 2009 after winning the Tour Championship. ... Mickelson, Hunter Mahan and Steve Stricker are the only players to make it to the Tour Championship in each of the first five years of the FedEx Cup and all are in good shape to do so again. Mickelson is ninth, Mahan 14th and Stricker 16th. ... The BMW has all 12 members of the U.S. Ryder Cup team and seven of the 12 Europeans, four of whom are not PGA Tour members. Only Europe's Peter Hanson did not qualify.
"I didn't finish it off the way I wanted, but I'm happy to get my third victory of the year." -- Rory McIlroy, after winning the Deutsche Bank Championship and taking the FedEx Cup lead