How does Rory McIlroy like FedEx Cup now?

By Bob Harig
Archive
CARMEL, Ind. -- Call it the vagaries of youth, the unrelenting demands of stardom, or simple homesickness. But two years ago, Rory McIlroy wanted nothing to do with the PGA Tour's FedEx Cup playoffs.
McIlroy, then 21 years old, was so disillusioned that he would forgo his PGA Tour membership in 2011. McIlroy thought the demands of his schedule -- he also competes on the European Tour -- were too much. His then-agent, Chubby Chandler, also felt it was better for McIlroy to concentrate on just one tour, making limited appearances in the United States.
McIlroy talked of how he turned on a televised European Tour event in Switzerland while playing the FedEx Cup and longed to be there instead. And he was burned-out from a long season that gives virtually no break between the PGA Championship and the four FedEx Cup events.
[+] Enlarge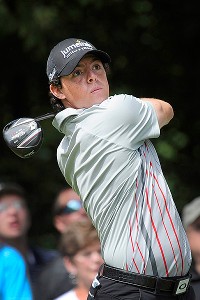 Stan Badz/PGA TourFedEx Cup leader Rory McIlroy is the first player to win back-to-back tournaments on the PGA Tour since Tiger Woods did it in 2009.
"The FedEx Cup is only about money, and you shouldn't be going over to play thinking about how much you can make," McIlroy said in 2010. "I needed a break after the PGA, but only had one week. There is no flexibility in your schedule as the FedEx Cup forces you to appear at those events. I didn't like that."
How does he like it now that he's in great position to win the whole thing?
McIlroy, 23, can certainly be excused for trying to figure out what is best for him in his young career. And perhaps getting away and sizing things up in 2011 is the reason he's in the spot he finds himself now, a four-time winner on the PGA Tour and leading the FedEx Cup standings.
Many questioned the move two years ago and wondered if Chandler was orchestrating a slap at the PGA Tour -- another high-profile client, Lee Westwood, also was not a tour member at the time. But whether it was prudent then or not, it has worked out beautifully for McIlroy.
McIlroy won the 2011 U.S. Open and rejoined the PGA Tour for 2012. The Northern Irishman has made a U.S. base in Florida and won the nearby Honda Classic in Palm Beach Gardens. Now he's added another major at the PGA and two playoff events, the Deutsche Bank Championship and the BMW Championship.
McIlroy has won nearly $3 million in prize money in the past three weeks, with another $8 million purse on the line next week at the Tour Championship in Atlanta, where the FedEx Cup will be decided. If he ends up on top, that'll bring a $10 million bonus. Even if he finishes second, it's an extra $3 million.
Some perspective helps McIlroy now. And so does playing better.
"It is a grind," he said. "It's not just these playoffs, it's everything that's comes before it. You've got the British Open, then you had one week, and then it was Akron [WGC-Bridgestone Invitational], PGA, and then some guys might have played the Wyndham, and then straight into Barclays, Deutsche Bank, BMW. It's a lot of golf in a row. I think a lot of guys will be looking forward to that week off [now].
"But I think it's a lot easier when you're in contention and you do have a chance to win the tournaments or you're up there in the FedEx Cup rankings. I mean, I was grinding just to try and make the Tour Championship the last time I was in these playoffs, and ended up not doing that. So of course it's easier trying to win tournaments than it is grinding your butt off trying to finish 20th."
McIlroy will play in the Tour Championship for the first time next week.
The reset
For those who follow it closely, the FedEx Cup points structure has been fairly simple to this point. During the regular season, winners got 500 points for a victory, with 550 awarded for World Golf Championships and 600 for majors. Once the playoff events started, the points carried over, except winners now receive 2,500 points for a victory.
The big difference occurs when the playoffs get to the final event, the Tour Championship. While the winner still gets 2,500 points, the total is reset for each golfer heading into that last playoff event, based on the rankings.
"It's interesting; you can go and win the first three playoff events, finish second in the last one and not win it," Tiger Woods said last week. "So it's a different type of format, but it's what we have, and the whole idea is if the guys who are near the top five or just outside the top five win the last two events, you know you're going to win it, so the idea is to go out there and get W's."
Woods said that prior to the BMW Championship, and while it hasn't worked exactly that way, it is close. Rory McIlroy won the past two playoff events and has more than a 3,000-point lead on Woods. The FedEx Cup would already be clinched if the points were not reset.
But when the golfers get to Atlanta, they are assigned a points value based on their ranking from 1-30. McIlroy will have 2,500 points. Woods will have 2,250 for being in second place. The others in the top five -- Nick Watney, Phil Mickelson and Brandt Snedeker -- are all mathematically assured of winning the FedEx Cup if they win the Tour Championship.
And everyone else in the field has a mathematical chance of winning the FedEx Cup -- even No. 30 Scott Piercy, who is given just 210 points. If he wins the Tour Championship, his total would be 2,710 -- which under some extreme scenarios could get him the FedEx Cup, provided McIlroy, Woods and others finish far down the leaderboard.
Still, Woods' scenario could come true. McIlroy could finish second next week to Woods, Watney, Mickelson or Snedeker and not win the $10 million bonus -- even though he's built up a huge lead to this point.
Bob Harig covers golf for ESPN.com. He can be reached at BobHarig@gmail.com.
Birdies And Bogeys
BIRDIES

McIlroy
1. Rory McIlroy.
He has won three of his past four tournaments and has four victories this year on the PGA Tour.
2. Phil Mickelson. Back-to-back top-4s in playoff events after a lackluster summer give Lefty a chance to win the FedEx Cup next week in Atlanta.
3. Tiger Woods. It's tough to find a lot wrong with his game right now when he was 35 under par for his past two tournaments.
BOGEYS

Mahan
1. Hunter Mahan. An 80-77 weekend at the BMW Championship capped a hugely disappointing week after he was left off the U.S. Ryder Cup team.
2. Bill Haas. A year ago, Haas won the Tour Championship in a playoff and the $10 million FedEx Cup bonus. This year, needing only a 76 to advance to Atlanta, he shot 78 on Sunday at the BMW.
3. Paula Creamer. After losing in a nine-hole, sudden-death playoff when she 3-putted at Kingsmill, Creamer has failed to win since her 2010 U.S. Women's Open victory.
The matches in two weeks at Medinah are setting up to be quite a contest. That's because just about everyone on both teams is in reasonably good playing form.
The European side, especially, has seen team members Rory McIlroy, Sergio Garcia, Paul Lawrie and Peter Hanson win in recent weeks.
But U.S. team members Phil Mickelson, Tiger Woods, Dustin Johnson and Jim Furyk were all in the top 10 at the BMW Championship.
Next week's Tour Championship offers an example of the strength of both teams. All 12 members of the U.S. team made the 30-player field at East Lake. Meanwhile, five Europeans are in the Tour Championship. Only two players who were eligible, Graeme McDowell and Ian Poulter, did not make it.
Two years ago, the sides were not nearly as strong as it relates to the Tour Championship and the Ryder Cup. The Americans had nine of their 12 players in the Tour Championship, the Europeans just one, Luke Donald.
The Ryder Cup field is so strong that all 24 players are ranked among the top 35 in the world.
Lee Westwood, who like Rory McIlroy was not a member of the PGA Tour last year, will be making his first appearance in the Tour Championship as part of the FedEx Cup. His second-place finish at the BMW Championship was his sixth top-5 or better this year on the PGA Tour. ... Phil Mickelson also posted his sixth top-5 of the year and now has a fourth and a second in his past two tournaments after a stretch this summer when he was no better than 36th. ... If not otherwise exempt, all of the players who qualified for the Tour Championship also will get invited to each of the year's first three major championships in 2013. Among those who it is most likely to affect are Robert Garrigus (20th), rookie John Huh (26th), Ryan Moore (28th), John Senden (29th) and Scott Piercy (30th). None of those players was assured of each of the first three majors next year. ... Peter Hanson joined Rory McIlroy, Sergio Garcia and Paul Lawrie as European Ryder players who have won in the past month. Hanson, who will be a full member of the PGA Tour next year, won the KLM Open in the Netherlands on Sunday on the European Tour. ... McIlroy is the first player to win back-to-back tournaments on the PGA Tour since Tiger Woods won the Buick Open and WGC-Bridgestone (and then finished second at the PGA Championship) in 2009. Jonathan Byrd was the last to win consecutive starts, winning at Las Vegas in 2010, his last event, and then capturing his first event of the 2011 season, the Hyundai Tournament of Champions.
"I'm on a good run at the moment and want to keep it going as long as I can." -- Rory McIlroy after winning the BMW Championship, his third victory in four tournaments and his second consecutive FedEx Cup playoff win