Poulter dominates Ryder Cup

By Bob Harig
Archive
Ian Poulter was all over the airways Tuesday, including a visit to ESPN, talking Ryder Cup. The backbone of the European team, who once again showed his match-play moxie at Medinah, is understandably reveling in the most improbable of victories, his stamp on the competition unquestioned.
And to think: Poulter didn't even make the European team.
The Englishman was one of two at-large picks by captain Jose Maria Olazabal (along with Nicolas Colsaerts), and while there wasn't a moment's debate about the choice, it is incredible to think that Poulter even needed it.
Poulter is ranked 26th in the world and his rags-to-riches story has been told often. He wasn't an amateur hot shot or prodigy and wasn't offered a scholarship to a U.S. university. Poulter wasn't even a scratch golfer when he turned pro, spending his early days in a golf shop working behind a counter while trying to find time to work on his game.
He's been an accomplished player now for years, was on his first Ryder Cup team in 2004, but Poulter hasn't exactly been beating up on everyone in stroke play events, certainly not in 2012.
Poulter's last victory came nearly a year ago in Australia, and since then he's been wildly consistent, if not terrific. He has not missed a cut all year and was top-10 in two major championships but hasn't added to his lone PGA Tour victory or his 11 European Tour titles.
But at the Ryder Cup? Incredible.
"It's a passion I have. It's a passion I've seen at the Ryder cup for years and years as a kid growing up, and it's something that comes from within," Poulter said Sunday night after the Europeans staged their huge comeback to win 14½ to 13½. "I don't know. I just love it. I love the whole fact that I've got 11 great teammates, a fantastic captain and vice captains and I love the team atmosphere."
[+] Enlarge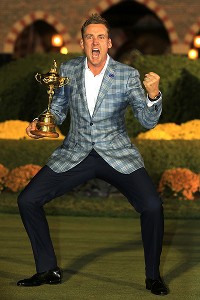 David Cannon/Getty ImagesIan Poulter was the only player to record a perfect 4-0-0 record during the 2012 Ryder Cup.
Clearly it brings out the best in Poulter. The match-play aspect, the one-on-one dynamic that is part of the Ryder Cup, the fact each hole is victory or defeat. It is all part of what makes Poulter tick, and it is impressive.
When things looked their bleakest for the Europeans on Saturday afternoon, Poulter came through with a clutch putt on the 18th green that salvaged a 1 up victory with Rory McIlroy over Jason Dufner and Zach Johnson. That half point difference proved to be huge.
And it gave the Europeans a boost they took into Sunday.
"There was something in that team room which ignited everybody, and it was inspirational, just to see everybody's personalities change and the atmosphere change in that room," Poulter said. "And I knew there was a glimmer of hope."
That hope continued on Sunday when the Europeans won the first five singles matches. Poulter was out second and defeated U.S. Open champion Webb Simpson 2 up.
On the American side, there's been plenty of finger-pointing and second-guessing, but the Ryder Cup is just so close, so incredibly tight, that how do you place blame?
It could be as simple as Justin Rose holing that 35-foot birdie putt on the 17th green against Phil Mickelson. At the time, he was 1 down. Mickelson had just missed a birdie chip that would have, at the least, made the match dormie. Instead Rose made an incredible putt, but one nobody would ever expect him to make. He then birdied the 18th to beat Mickelson 1 up.
With nothing else changing, that result alone changed the Ryder Cup for Europe.
Still, it was Poulter who got it going. He went 4-0 and has all wondering why he didn't play five matches.
As Lee Westwood said Sunday night in a state of deliriousness: "We have actually revised the qualifying for next time. It's nine spots, two picks and Poults."
They might as well write it into the rules right now.
Next Up
In the coming months, the European and American powers will announce their captains for the 2014 Ryder Cup at Gleneagles in Scotland.
The European choice appears to be between Ireland's Paul McGinley and Northern Ireland's Darren Clarke -- who might be a better pick for when the matches return to the United States at Hazeltine in 2016 because of his popularity in the United States. But it appears whoever doesn't get it in 2014 will get it in 2016.
The wrinkle, of course, is Colin Montgomerie, whose name keeps coming up to get another chance in his home country. Montgomerie never quite totally squelches such discussion, which is why it lives on -- even though it's unlikely.
For the Americans, David Toms is the easy choice for the PGA of America. He's won a PGA Championship and 13 PGA Tour titles and played on three U.S. Ryder Cup teams. He'll be 47, which is the age PGA officials like, because he can still play on tour and keep in touch with his potential team -- for whatever that is worth.
The way the PGA of America has always done its business, Toms deserves a shot.
But if they want to think outside the box, Toms would still make a good captain when he's 49. Any kind of wild thinking here allows them to go with some combination again of Davis Love or Fred Couples, who will captain the U.S. Presidents Cup team for the third time in 2013. He has two victories as captain there, although the PGA has never viewed the Presidents Cup captaincy as any kind of stepping-stone.
Love seemed to do everything right as captain -- again we can quibble but it's hard to argue with a 10-6 lead heading into Sunday -- and perhaps should be given another chance. But the U.S. has not had a repeat captain since Jack Nicklaus captained the team in 1983 and 1987.
And if you really want outside the box, how about Larry Nelson? For some reason, the three-time major champion -- and PGA winner -- was passed over. Why not right a wrong? He'll be 67 in 2014, but so what?
Bob Harig covers golf for ESPN.com. He can be reached at BobHarig@gmail.com.
Birdies And Bogeys
BIRDIES

Kaymer
1. Martin Kaymer. The fact he thought about countryman Bernhard Langer as he stood over that 6-footer for par on the 18th makes his success even more remarkable. So does sitting out all of Saturday. A great moment for one of the game's good guys.
2. Ian Poulter. He is now 12-3 in his Ryder Cup matches, and went 4-0 at Medinah.
3. The Ryder Cup. Regardless of your allegiance, the atmosphere, the competition, the enormity of it all proved again the specialness of the event.
BOGEYS

Furyk
1. Jim Furyk. It's been a tough summer for a class guy who let the U.S. Open and Bridgestone Invitational get away from him. He had a 1 up lead on Sergio Garcia and bogeyed the last two holes -- including a 3-putt on 18 -- that handed the match to the Spaniard. That point proved crucial.
2. Steve Stricker. Another of Davis Love's at-large picks, Stricker went 0-4 and lacked the putting prowess for which he is known.
3. Tiger Woods. America's best player and Ryder Cup qualifying points leader went 0-3-1. You can argue that he would have won the last match against Francesco Molinari had it mattered, but Woods getting up on Molinari would have been a big boost to the rest of the team during the day -- and he couldn't do it.
For the last time in its current format, the Fall Series begins this week in Las Vegas and runs through the Children's Miracle Network Classic at Disney next month. There are four official events on the schedule that will count on the PGA Tour money list and determine top 125 status, among other things, for 2013.
Next year it all changes when these events become part of a wraparound schedule that will start just after the Presidents Cup with the Frys.com Open. The WGC event in China as well as the tournament in Malaysia will also count toward the PGA Tour money list. All of the fall tournaments will get FedEx Cup points.
Justin Timberlake's tournament in Las Vegas kicks off the Fall Series on the PGA Tour, the first event since the Wyndham Championship for players not eligible for the FedEx Cup -- although any exempt player can enter. Kevin Na is the defending champion. U.S. Ryder Cup captain Davis Love III was a surprise last-minute entrant. ... Five of the top 30 in the final FedEx cup standings are entered, including Nick Watney, Ryan Moore and Robert Garrigus. ... John Huh, the only rookie to get to the Tour Championship, is also playing. ... Casey Martin, the University of Oregon golf coach who qualified for the U.S. Open, is playing this week on a sponsor's exemption. ... David Mathis is 125th on the PGA Tour money list entering the Vegas tournament. The top 150 in the rankings are also important, as it allows for conditional status and saves a trip to the second stage of the PGA Tour's qualifying tournament. ... The European Tour also resumes this week with the Dunhill Links Championship. The event is a pro-am format in Scotland played at St. Andrews, Carnoustie and Kingsbarns. European Ryder Cup members Martin Kaymer and Lee Westwood are among those competing.
"I think it will give me a huge push, a huge confidence for the next, and definitely for next year. If you know you can make those important putts ... then pretty much you can do anything." -- Martin Kaymer on his 6-foot par putt that clinched the Ryder Cup for Europe.