Masters could have a major predicament

By Bob Harig
ESPN.com
Archive
Judging by his euphoric celebration with family afterward,
Jonas Blixt
didn't seem too concerned that his victory at the Frys.Com Open came without the usual perk that goes to nearly all other PGA Tour winners -- an invitation to the Masters.
A PGA Tour rookie from Sweden via Florida State, Blixt earned a two-year PGA Tour exemption, a spot in the season-opening Hyundai Tournament of Champions and the joy of victory, not to mention the $900,000 in prize money. But he still has more work to do if he is to earn a Masters invite -- a fate shared by the winners of just seven official tournaments on the PGA Tour schedule.
[+] Enlarge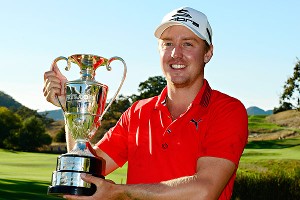 Robert Laberge/Getty ImagesJonas Blixt won the Frys.com Open on Sunday, but didn't get an automatic invite to the Masters per current rules. Might that change some time soon?
That is because while the Masters offers a spot to all PGA Tour winners, it does so with the caveat that the tournament offer "full points allocation for the season-ending Tour Championship."
The four official Fall Series events, as well as three opposite-field events, do not offer full FedEx Cup points. In fact, the Timberlake Shriners event in Las Vegas, the Frys.com, this week's McGladrey Classic and next month's Children's Miracle Network Classic do not offer any FedEx points.
That will change a year from now, when the Frys.com becomes the first event of the new wraparound PGA Tour schedule. The fall events, plus overseas tournaments in Malaysia and China, will become official tournaments on the PGA Tour schedule, with full FedEx Cup points allotted.
But will a victory earn a Masters invitation?
That is something to be determined, and will cause for some awkwardness if Augusta National alters its invitation criteria in such a way that it denies a spot to these tournament winners.
The problem for Masters officials is the size of their field, one that they very much would like to limit. This year, there were 97 players in the starting field, very close to what Masters chairman Billy Payne has said would alter the Masters "experience.''
"It's borderline to be able to present the kind of competition we want to," Payne said prior to the 2011 Masters, when the field was at 99. "It is more than we normally have -- the most we have had in 40-something years. . . . There is a maximum number of competitors for which we can give the experience that we want them to have and in a way that's manageable. The 100 pushes that limit quite significantly."
Since the Masters reinstated the win-and-you're-in invitation in 2008, there have been five Masters. If the tournament had extended an invite to the Fall Series event winners, the field size would have grown to 101 in 2009 and 2011. Only three times in Masters history has the field topped 100, most recently in 1966, when 103 teed off.
So what's another couple of tee times?
The Masters understandably does not want to go to a two-tee start, but in order to accommodate every player beginning at the first hole, tee times stretched from 7:50 a.m. to 1:53 p.m. ET in 2012. With rounds well in excess of five hours, daylight becomes a concern. There isn't room for many more players.
But how do you deny tournament winners in the new season format? Last year, only one of the six tournaments that will become eligible next year had a player win who was not otherwise eligible for the Masters. This year, while Blixt is not eligible, Las Vegas winner Ryan Moore already had qualified by being one of the 30 players who made it to the Tour Championship.
Next year, the CIMB Classic in Malaysia and the HSBC Champions in China are added to the official schedule, but those are tournaments filled with players who already have qualified for the Masters in some way.
And yet, you still have to allow for the possibility of four or five players qualifying for the Masters.
Perhaps the Masters will decide to limit some of its other invitation criteria. For example, the tournament offers an invite to anyone who finished among the top 16 at the prior year's Masters. Maybe it changes that to just 10 players. It also gives an exemption to those who finish among the top 30 in FedEx Cup points as well as the top 30 on the money list. Maybe it rescinds the money list criteria. Or it could revoke the win-and-you're-in stipulation, which remains one of the greatest perks for a victory.
"We understand that whatever happens is not going to take place until the fall of 2013, so it would not affect the Masters until 2014," Fred Ridley, chairman of the Masters' competition committee, said at this year's event. "But it is certainly something we will be considering along with a general review of the qualification criteria, which we do every year."
The PGA Tour understandably wanted to make all of its events equal, hence deciding to grant full FedEx status to the tournaments that will begin the new season. But it would be a shame if that resulted in a drastic change to the Masters qualification criteria.
Michael Campbell surfaces
Since winning the U.S. Open in 2005, Michael Campbell has missed 14 cuts in the 23 majors in which he played, with his best finish a tie for fifth at the very next one -- the Open at St. Andrews. He also tied for sixth that year at the PGA Championship, giving him a 1-T5-T6 run. His best since, however, is a tie for 36th at the 2006 Open.
That's why his third-place finish on Sunday at the Portugal Masters was hailed as a breakthrough.
Campbell, from New Zealand, has been in a years-long slump, battling injuries, lack of confidence, swing changes, you name it. It was his first top-10 finish on any tour in four years and his fourth made cut in his last seven starts.
He moved from 607th in the world to 361. Two years ago, when Campbell missed the cut at the Portugal Masters, he had dropped to 1,325 in the world.
"Just delighted,'' said Campbell, 43, who finished two strokes behind winner Shane Lowry. "If someone had said to me at the start of the week, look, Michael, you'll finish third or fourth after this week, I'd be very happy indeed. I'm happy to be up there now and just in contention. I felt very calm out there once again.
"It's surprising. I haven't been amongst it for such a long time. Felt like yesterday. It's incredible. I felt very much in control of my emotions and very much in control of my golf swing, so it's a nice feeling.''
Campbell won the U.S. Open at Pinehurst in 2005, finishing ahead of Tiger Woods by two strokes. It is one of six majors in which Woods finished runner-up and in four of them, the winner has not gone on to win again on a major tour.
Bob Harig covers golf for ESPN.com. He can be reached at BobHarig@gmail.com.
Birdies And Bogeys
BIRDIES

Blixt
1. Jonas Blixt.
The PGA Tour rookie has been playing well of late, and broke through Sunday to win his first tour title at the Frys.com Open.
2. Shane Lowry. The Irishman was hailed when he won his country's national open as an amateur. Now he has his first European Tour victory as a pro at the Portugal Masters.
3. Justin Rose. It was only an exhibition, but the Turkish Airlines World Golf Final was a lucrative one, and Rose did not lose a match on his way to victory.
BOGEYS

Singh
1. Vijay Singh. Nearing 50, Singh is having difficulty closing tournaments, and Sunday at the Frys.com Open was another example as two back-nine bogeys saw him finish two strokes back in his bid for a 35th career win.
2. Padraig Harrington. After a strong start in Portugal, Harrington faded to a tie for 16th on the weekend, continuing his four-year victory drought on the PGA and European tours.
3. Rory McIlroy. Again, it was only an exhibition in Turkey, but McIlroy played three matches and lost all three.
It didn't take long for the issue of the next European Ryder Cup captain to heat up. Reports last week among several U.K. newspapers had Northern Ireland's Darren Clarke already being offered the job for the 2014 Ryder Cup in Scotland. Clarke took to Twitter to deny the reports.
Ireland's Paul McGinley had long been viewed as the choice for the next Ryder Cup, with Clarke to take the post in 2016 when the event is played in Minnesota. The view was that Clarke would be a better fit for an U.S.-based Ryder Cup. And he'll be 47 at the time.
But Clarke has said he would take the position if offered for 2014 and he has plenty of support.
"Paul makes a great vice-captain," said Lee Westwood. "Paul has played three Ryder Cups, Darren has played five, won a major championship and a lot of other tournaments worldwide. You have to have a criteria somewhere and he edges it for me."
Westwood, of course, is one of Clarke's best friends, so that endorsement is not surprising, if not a bit harsh on McGinley, who has long been respected as a potential captain. He's served as a vice captain for the past two Ryder Cups and played on three winning teams and was also twice the winning captain for Great Britain & Ireland in the Seve Trophy.
Rory McIlroy has made known he feels McGinley should get the job first, followed by Clarke in 2016. The official announcement is not expected until January at the European Tour event in Abu Dhabi. The Americans are expected to name their next captain before the end of the year.
Jonas Blixt became the seventh first-time winner this year on the PGA Tour and third rookie to triumph, joining John Huh and Ted Potter Jr. ... Blixt is leading the tour in putting and has gone 243 holes without a three-putt, the longest such streak. It dates to the third round of the Barclays. ... Blixt still has work to do to get in the Masters, but he's guaranteed a spot in next year's PGA Championship. He has yet to play in a major. ... John Mallinger joined a long line of failed third-round leaders this year. Only 15 off 42 have gone on to win in 2012 on the PGA Tour. ... Vijay Singh, 49, who finished two shots back, would have been the oldest winner on the PGA Tour since Fred Funk won the Mayakoba Golf Classic at age 50 in 2007. Funk won on the Champions Tour on Sunday. ... After this week's McGladrey Classic, the PGA Tour goes on a two-week international swing to Malaysia and China for two tournaments that will not count on the money list. The final official event is in three weeks at the Children's Miracle Network Classic. ... The European Tour bounces all over the world in coming weeks. This week's tournament is in Perth, Australia and Charl Schwartzel and Jason Dufner are in the field. Next week it's the BMW Masters in Shanghai, now an official event, followed by the WGC-HSBC Champions, which counts for the European Tour's Race to Dubai. The tour then finishes up going to Singapore, Hong Kong, South Africa and Dubai.
"It's unbelievable. I have no words right now. This is the biggest dream I've ever had.'' -- Sweden's Jonas Blixt after winning his first PGA Tour event at the Frys.com Open.