Should Rory McIlroy mess with success?

By Bob Harig
ESPN.com
Archive
Until he shows up with a swoosh on his hat and Nike clubs in his bag, Rory McIlroy's much-rumored switch in golf equipment and apparel will remain the subject of discussion, confirmed or not. But such a scenario took on more credence Tuesday morning when Acushnet Co., which owns Titleist, announced in a joint statement with McIlroy that it would be parting ways with the No. 1-ranked golfer at the end of the year.
Rovell: Challenges ahead for Rory

No matter where Rory McIlroy turns for his next golf club deal, one thing is certain: The pressure will be heavy on both parties, writes ESPN.com's Darren Rovell. Story
That clears the way for McIlroy to sign an endorsement deal with Nike, which various reports have cited could be worth $250 million over 10 years. And given Tiger Woods' place in the story -- willing or otherwise -- it can't help but be of interest.
McIlroy tried to downplay the talk last week at the BMW Masters, where he finished second to Peter Hanson, saying that he wanted to concentrate on his golf and that these rumors seem to arise at this time of year.
Apparently, these have more than a little merit. And given that he is just 23 years old, has won two major championships and is now the No. 1-ranked player in the world & well, he's in line for a big endorsement payday, if he so chooses.
McIlroy certainly wouldn't be the first player to cash in by switching equipment companies and won't be the last.
But the Nike involvement and Woods' longtime association with the company make the thought of such a move all the more intriguing.
First, there is the notion of changing the tools of your trade when there seems to be no competitive reason to do so. McIlroy, despite a mini-slump in the summer of 2012, has played excellent golf the past two years, rising to the top spot in the world rankings and strengthening his hold on the position in the past two months.
After winning the PGA Championship in August, he won twice more in the FedEx Cup playoffs and came up a stroke short on Sunday at the BMW Masters. With a strong finish to the season, he can win the Race to Dubai and capture the money titles of the European and PGA tours. Does he want to mess with that kind of success?
Surely the Nike designers would make clubs as near as possible to the specifications that suit McIlroy, but there is a long list of players who suffered through adjustment periods after switching to another manufacturer.
Then there is the Woods dynamic. He has been the face of Nike golf ever since the company got into the golf business more than a decade ago. It is sometimes forgotten that when Woods signed his first deal with Nike in 1996, the company did not even make golf clubs or balls.
But Woods put Nike on the map when he won three majors after switching to the Nike golf ball in 2000. And he did it again when he won two majors in 2002 after switching to the Nike driver. And it happened one more time after he won the WGC-American Express Championship after switching to the company's irons late in 2002.
[+] Enlarge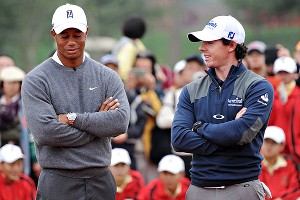 Goh Chai Hin/AFP/Getty ImagesEven the idea of Tiger Woods and Rory McIlroy battling on the back nine of a major -- both with swooshes splashed on TV screens and Internet sites -- has to make Nike officials salivate.
It was fortuitous timing for Nike but also incredible faith showed by Woods, who, although being paid a large sum of money (at one point, Golf Digest put the number at more than $30 million per year), wasn't going to risk his game if he didn't feel confident in the equipment.
And that confidence translated into sales for Nike, which took advantage of Woods' huge popularity and the fact that he was winning with the company's clubs and balls. It doesn't get much better.
It has always been somewhat of an oddity that such relationships translate into profits. Nobody among us is playing golf clubs the exact way they are built for Woods -- nor McIlroy -- and his specific brand of golf ball probably would not work for the average player.
But his association with the Nike brand validates the equipment, just as Phil Mickelson does for Callaway or Bubba Watson for Ping or with dozens of other players. Not to pick on Carl Pettersson, but it is hard to believe he sells a single club for Nike even though he represents the company. But when you add him to a stable of players such as Charl Schwartzel, Stewart Cink, Lucas Glover, Francesco Molinari and Paul Casey, there is strength in numbers.
McIlroy certainly would further that agenda. Just the fact that he is being discussed here and in so many places is exactly the kind of publicity Nike can't buy. So it is genius if this eventually will happen, the game's No. 1 player joining the game's No. 1 draw, both getting boatloads of cash for the privilege.
If it does happen, subsequent conjecture will benefit Nike even more.
The only thing better? The duo battling in the same group for a major championship, their swooshes plastered all over the airwaves. That would provide the true payoff.
The Tiger-Rory exhibition
McIlroy defeated Woods by a single stroke Monday at an exhibition in China, the first time the two went head-to-head in such a setting. They had met in medal-match play at the Turkish Airlines World Final a few weeks ago, with Woods prevailing by 6 strokes, but this time it was just the two of them, with swarms of spectators fighting to get a glimpse of the top two players in the world rankings.
Aside from their hefty appearance fees, reported to be $2 million for Woods and $1 million for McIlroy, the outcome was of little consequence.
But the competition did produce some interesting banter between Woods and McIlroy, both of whom wore microphones -- although it is unclear whether they realized their conversation could be heard over the air.

Get all of ESPN.com's latest news, highlights and commentary about the world's most talked-about golfer. Tiger Tracker
Although there was no U.S. television of the event, the exhibition was streamed online. Throughout their round, you could pick up bits and pieces of the conversation between the two golfers.
At one point, McIlroy teased Woods about his final-round 62 at the Honda Classic, where he finished second to McIlroy, who went to No. 1 in the world for the first time with the victory. "All that fist-pumping for nothing,'' McIlroy quipped.
But what was particularly interesting was Woods' discussion about the work on his golf swing with swing coach Sean Foley.
Woods said he was "struggling with Sean. I've been hitting my short irons so [expletive] far.'' He also said he rarely took a divot with his short clubs when he worked with former swing coach Hank Haney. But now "all of a sudden, I'm taking divots.''
It is no secret that, despite the progress Woods has made in the past year, the short irons have yet to come around. He often hits his approach shots just as close to the hole with his long irons as he does with the short ones.
For example, Woods ranks second on the PGA Tour this year in proximity to the pin from 175 to 200 yards, averaging roughly 30 feet from the pin. Yet, from 125 to 150 yards, he ranks 69th at roughly 22 feet.
Another way to look at it: He is first in greens in regulation percentage (65.13 percent) from 175 to 200 yards, but is only 115th (70 percent) from 125 to 150 yards.
Bottom line: Woods isn't hitting it close enough to the hole from close range. He never led in the match despite outdriving McIlroy on nearly every occasion.
For the record, McIlroy has defeated Woods just three times in 11 tries in head-to-head play, although the past two matchups have come in exhibitions.
Bob Harig covers golf for ESPN.com. He can be reached at BobHarig@gmail.com.
Birdies And Bogeys
BIRDIES

Hanson
1. Peter Hanson.
The Swede's victory over
Rory McIlroy
at the BMW Masters moved him to second in the European Tour's Race to Dubai, giving him a chance to win the money title.
2. Nick Watney. He flirted with 59 before settling for a final-round 61 in Malaysia and a victory at the CIMB Classic, a tournament that becomes official on the PGA Tour next year.
3. Justin Bolli. Not only did his final-round 65 at the Web.com Tour Championship help him win the tournament but he also moved from 44th to ninth on the money list to earn his PGA Tour card.
BOGEYS

Els
1. Ernie Els.
In nine events since winning the Open Championship, Ernie Els has just one top-20 finish, a tie for 16th. And he had to miss last week's PGA Grand Slam of Golf due to an ankle injury, although he's playing in this week's WGC-HSBC Champions.
2. Luke Donald. He had a third-place finish at the BMW Masters, but won't able to defend his Children's Miracle Network Classic title next week because of a planned medical procedure for one of his children. Donald won the tournament a year ago to claim the PGA Tour money title.
3. Justin Rose. Hard to complain about a sixth-place finish, but he fell to third in the Race to Dubai behind McIlroy and Hanson.
The end of the Fall Series
The reality came into focus this week when the PGA Tour announced its 2013 schedule, one that will end with the Tour Championship in late September. The Fall Series will not be part of it because events after the Tour Championship will now be part of the tour's new wraparound schedule.
But if the events of the past few weeks are any indication, perhaps that won't be such a bad thing.
The tour's new setup has had its detractors, certainly as it relates to Q-school, which will no longer feed players directly to the PGA Tour, a casualty of the new system, which doesn't allow for such a qualifying process.
Yet there has been some good golf played this fall that deserves more than being part of an uninteresting end to the season or -- in the case of the international tournaments -- not even sanctioned.
Ryan Moore won in Las Vegas; rookie Jonas Blixt won at the Frys.com; and Tommy "Two Gloves'' Gainey came out of nowhere to win his first PGA Tour title at the McGladrey Classic, flirting with 59 in the process. A week later in Malaysia, Tiger Woods brought great attention to the CIMB Classic and tied his personal best for birdies in a tournament -- 28 -- but could do no better than a tie for fourth as Nick Watney also flirted with 59 before a final-round 61 helped him to victory.
That, along with this week's WGC-HSBC Champions in China, offers the opportunity for some night-owl viewing among golf fans in the U.S., and the tournaments will have more meaning next year as they become part of the FedEx Cup schedule.
Notable
Tiger Woods made 28 birdies in Malaysia, the third time in his career he has made that many in a PGA Tour-sponsored event. The previous times, at the 2006 Buick Open and the 2007 Tour Championship, he won the tournament. ... Chad Reynolds, the caddie for CIMB Classic winner Nick Watney, succumbed to the heat in Malaysia in the first round, meaning Watney's wife, Amber, carried the bag. Watney used a local caddie in the second round before Reynolds returned. ... This is the fourth year the HSBC Champions is designated as a World Golf Championship event, although Rory McIlroy and Woods are skipping it. ... The event has moved from Shanghai to Mission Hills, a huge complex with 12 courses. The event is being played on the course designed by European Ryder Cup captain
Jose Maria Olazabal
. ... There are 16 players from the Ryder Cup in the field, including six Americans:
Keegan Bradley
,
Jason Dufner
,
Dustin Johnson
,
Phil Mickelson
,
Brandt Snedeker
and
Bubba Watson
. ...The fourth edition of the Asia-Pacific Amateur Championship begins Thursday in Thailand. The winner receives a spot in the 2013 Masters. ... The Champions Tour concludes its season this week with the Charles Schwab Cup Championship.
Quotable
"To go head-to-head with the world No. 1 is nice, but to come out on top, it feels great.'' -- Sweden's Peter Hanson after his 1-stroke win over No. 1 Rory McIlroy at the BMW Masters.