Rory McIlroy set to switch equipment

By Bob Harig
ESPN.com
Archive
One of the worst-kept secrets in golf will finally become reality on Monday when Nike puts on a show in Abu Dhabi to announce Rory McIlroy as the latest to put its golf clubs in his bag.
How many of the new tools he ends up using and how much of the company's garb he is required to wear will be unveiled a few days before McIlroy makes his season debut at the Abu Dhabi HSBC Championship.
[+] Enlarge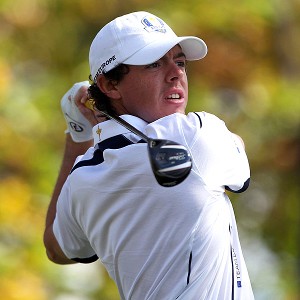 Brian Spurlock/USA TODAY SportsRory McIlroy's first test with his new golf equipment under tournament conditions comes next week at the Abu Dhabi Golf Championship in his 2013 season debut.
But make no mistake, McIlroy is going to be paid handsomely to do so. Various reports have pegged that number at $20 million a year over 10 years, although the estimates are apparently inflated and the terms of the deal shorter. Still, what if it is "only" $10 million a year?
The No. 1-ranked golfer in the world, McIlroy, 23, is cashing in on his ability to hit a golf ball and was reportedly seen with Nike clubs in his bag in Dubai, but not the putter. Ironically, he could be putting that in peril with such a switch. Equipment changes happen all the time with much less fanfare, but there is enough evidence out there to suggest that going from one brand to another is not always a smooth transition.
"It's a big move, no doubt about it," said McIlroy's friend Graeme McDowell. "I think 20 years ago it would have been a monster move and perhaps a mistake. I think as we sit here, there's about six, eight, 10 golf manufacturers on the planet that are making incredibly good equipment, and I don't think there's such a thing as inferior equipment nowadays.
"I think as long as Rory can find a driver and a golf ball that do what his driver and golf ball do right now, which is pretty amazing, to me that's the key stepping stone for him. If he can remain as good a driver of the golf ball as he is right now, I think the rest will fall into place, and I think he'll be okay."
McDowell knows something about this. He switched from Callaway to Srixon/Cleveland golf in 2010 following his U.S. Open victory and a season that saw him clinch the Ryder Cup for Europe.
Players are reluctant to blame equipment companies for their woes -- after all, they are being paid by said company -- but it is interesting to note that McDowell struggled in 2011 and has not won on the PGA Tour since capturing the Open at Pebble Beach.
Then again, those struggles could have been inevitable. And golfers experiment with equipment, whether it be drivers, shafts, wedges, golf balls. ... with amazing frequency.
After winning three times in 2010 and capturing PGA Tour player of the year honors, Jim Furyk also made some equipment moves, among other things switching to a TaylorMade golf ball. He had a poor season in 2011 that saw him fail to make the Tour Championship.
"I hate to sit here and blame it on equipment because I don't really think that's the major thought. I definitely tried to go a little bit different route in my game and maybe tried to address some of my weaknesses and trying to get a little longer off the tee, trying to hit the ball a bit farther," said Furyk, who in 2012 had several heartbreaking defeats.
"I like the ball that I was playing. It was spinning a little bit less than the products that I had played in the past. The driver was spinning a little less than the products I had played in the past, so there was an adjustment period to that.
"And I'll say that I didn't do a very good job adjusting at times either. In hindsight if I had it to do over again, I may have done things a little bit differently. I may have addressed my equipment a little bit different, but I think I learned a lot in the process."
If McIlroy needs any advice, perhaps he could simply ask Tiger Woods. The flag bearer for Nike equipment, Woods made the move to the company when its track record was nowhere near what it is today.
"I think that any time you make a change in equipment, it's certainly a big deal," Woods said. "I think it's about how you go at it. Going through the testing process, trying to get the right shaft and the club head, plus ball ... it's a challenge, and there's a lot of hitting of golf balls or a lot of testing, a lot of days out there spending by yourself testing.
"But when you get it right, it's pretty good. I remember for me in 2000 it turned out pretty good with that ball change. But I went through just a huge process to get to that point. It was very time-consuming, but when things go right and you test properly and you find equipment that's better than what you were playing, then you can do some pretty neat things on the golf course."
It was a gradual process for Woods, probably much slower than the one McIlroy will put in place.
Although Woods signed with Nike upon turning pro in 1996 and wore the company's apparel, he used no golf product until putting a Nike ball in play in 2000 -- the year he won three majors. He added the driver and irons in 2002, wedges in 2003, fairways woods in 2005 and finally the putter in 2010.
"For me, it's knowing that that club or that ball is better than what I was playing with, and it's going to help me in the end while I'm out there," Woods said.
Labor Woes
Unlike the major team sports, golf, particularly the PGA Tour, doesn't have to worry about work stoppages because players are independent contractors.
But those who officiate PGA Tour events are part of a union (Professional Association of Golf Officials) and their contract expired -- at the end of 2011. Rules officials worked last year under the terms of the old deal and continue to do so as negotiations with the PGA Tour are ongoing.
"The basics are the guys are going to work unless they are told otherwise," said Christian Dennie, an attorney representing the officials. "They hold the game of golf in high esteem and they don't want to see it hurt."
As for the issues, it is pretty simple: "There is no hidden agenda," Dennie said. "Compensation is one of the major issues."
The contract involves 27 rules officials who work the PGA Tour, Web.com Tour and Champions Tour.
Bob Harig covers golf for ESPN.com. He can be reached at BobHarig@gmail.com.
Birdies And Bogeys
BIRDIES

Johnson
1. Dustin Johnson. His victory at the Hyundai was the seventh of his career and gives him at least one in every year he's been on the PGA Tour.
2. Steve Stricker. He was clearly hurting with a pinched nerve but managed a second-place finish in defense of his Tournament of Champions title, a nice start to what he said will be a limited schedule.
3. Brandt Snedeker. The reigning FedEx Cup champion finished third and moved to No. 8 in the world, his highest ranking.
BOGEYS
1. Kapalua. It was nobody's fault, just a spate of bad luck, but three days of delays due to wind was a tough way to start the 2013 season.

Stanley
2. Kyle Stanley. Armed with a new equipment deal, Stanley got off to a rough start, finishing 30th out of 30 at Kapalua, shooting a second-round 80.
3. Tournament of Champions. The venue is fantastic, but for years the tournament has struggled to get the top names. This year, the top four in the world were all eligible, and all skipped.
The European Tour's Ryder Cup committee is scheduled to meet Tuesday in Abu Dhabi and decide on Europe's next Ryder Cup captain, expected to be between Ireland's Paul McGinley and Northern Ireland's Darren Clarke. But it was Clarke last month who suggested there might be a case made to bring back Colin Montogmerie in the wake of the Americans appointing Tom Watson.
"It's a big statement and brilliant for the event -- there are few more iconic figures in golf, he's adored in Scotland and it sends out a statement that they are very serious about winning the trophy back. Maybe we have to consider other people as well," Clarke said. "Whoever it is standing on that stage opposite Tom Watson needs a huge presence. We seriously need the right man for the job. We do have an unwritten rule where we don't ask anybody to do it again, but we might have to look at that."
The fact that Clarke is in the running -- and on the committee -- would seem to carry considerable weight. He could then take on the task in 2016 when the competition is played in Minnesota.
Then again, McGinley has twice been an assistant captain and given high marks for his work as captain in the Seve Trophy, a Ryder Cup style competition between Great Britain & Ireland and continental Europe.
Thomas Bjorn is the committee chairman and told Sky Sports, "If you sit down in a 15-man committee and 12 think Monty should be captain then you've got to go with him," he said. "I don't have a strong view against appointing somebody twice, but there a lot of other people I think could do a very good job."
The PGA Tour's first full-field event of 2013 gets underway Thursday at the Sony Open, with 23 of the 30 rookies in the field. ... All 25 of the Web.com Tour graduates are in the field. ... There are also 20 of the 30 participants from the Hyundai Tournament of Champions competing, making for a fast turnaround after a Tuesday finish on Maui. ... Dustin Johnson is the first player since Tiger Woods to win in each of his first six years since leaving college. ... Johnson will attempt to become the first since Ernie Els in 2003 to win the Tournament of Champions followed by the Sony. ... Branden Grace defends his title in South Africa starting Thursday at the Volvo Champions, where he won for the first of four times on the European Tour in 2012. ... The limited field Volvo event also includes Els, Louis Oosthuizen, Retief Goosen, Paul Casey, Padraig Harrington, Jose Maria Olazabal, Henrik Stenson, Francesco Molinari and Thomas Bjorn, among others. ... Gary Player is part of the inaugural IGATE CEO Cup this weekend at TPC Sawgrass. CEOs have been invited to participate in the two-day tournament, with a $100,000 purse, all the money going to charity.
"I still don't think I've lived up to my potential. I played really well, but still made some mistakes. But you're always going to make some mistakes. Just limiting those will definitely help, and then for me, just making some better decisions. If I keep playing golf like I'm playing right now, then obviously there is no limit." -- Dustin Johnson after his victory at the Hyundai Tournament of Champions