Rory McIlroy gets glimpse of Tiger Woods' world

By Bob Harig
ESPN.com
Archive
ABU DHABI, United Arab Emirates -- He never once let on that it bothered him and seemed to have no problem with the subject. Perhaps it is because he'd rather talk about Rory McIlroy than himself.
Or maybe it is because Tiger Woods has been around long enough to know that questions about McIlroy are inevitable.
If nothing else, Woods might get a sense of how others have felt, as for years they have answered questions about him, regardless of what they may or may not have accomplished.
Woods, ranked No. 2 in the world and making his season debut this week at the Abu Dhabi HSBC Golf Championship, found himself discussing McIlroy more than himself Tuesday morning in a news conference at Abu Dhabi Golf Club.
From McIlroy's Nike deal to their budding friendship over the past year to having homes near each other in South Florida and to the inevitable queries about the potential for a rivalry, Woods heard it all, most of it Rory related. In fact, no fewer than 14 questions in less than 30 minutes had some sort of Rory angle.
[+] Enlarge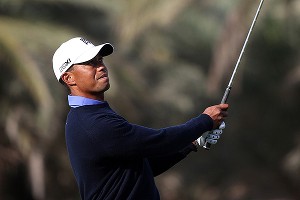 Andrew Redington/Getty ImagesAfter playing this week in Abu Dhabi on the European Tour, Tiger Woods is traveling from the Middle East all the way to Southern California to tee it up at the Farmers Insurance Open at Torrey Pines on the PGA Tour.
"A lot of things are certainly changing in his life, and I think he wants & well, I've kind of been there and understand it," Woods said. "And it's nice when that's all said and done to get out there and compete and play. I'm sure that he's looking forward to Thursday, just like I think everyone else is in this field."
There are 124 players in the Abu Dhabi lineup, including the likes of Justin Rose, Ernie Els, Jason Dufner and Martin Kaymer.
But clearly most eyes will be on Woods and McIlroy, who, just like a year ago in this tournament, will be grouped together -- this time along with three-time Abu Dhabi winner Kaymer -- for the first two rounds. The threesome tees off at 10:40 p.m. ET Wednesday night for Round 1 and at 3:05 a.m. ET Friday for the second round.
They had never played together in an official tournament before last year's event, which saw them compete together for three rounds. Woods held a share of the lead heading into the final round and eventually finished tied for third behind winner Robert Rock and a stroke behind McIlroy.
They would go on to play a total of eight official rounds together in 2012, then go head-to-head twice in exhibitions.
Now they've filmed a commercial for Nike and are linked as endorsers. Woods said he played no role in bringing McIlroy to the company that first signed him in 1996. "He's a big boy," Woods said. "He can figure it out on his own."
But there are indications that McIlroy has sought advice from Woods, picked his brain about things such as proper practice routines or handling the demands of fame. The Northern Irishman has said that he grew up admiring Woods and his game, and that has not changed, even though they are now on-course adversaries.
ESPN GOLFCENTER
From golf instruction that will help you play the game better to all sorts of equipment that can help you lower your scores, our new ESPN GolfCenter page brings it all together.
Check out ESPN GolfCenter
"You can really see, he's just a really good pro," McIlroy said of what he has noticed while observing Woods up close. "He gets his way around the golf course, and he hits really solid shots. He doesn't take too much on when he doesn't have to, but when he needs to, he can. He can look like he plays average and still shoot 67, which is a sign of a really good player.
"He's really experienced and knows how to get his ball around the golf course, and he still hits some unbelievably impressive shots. He's still got it."
There's been plenty of fanfare, plenty of buzz, surrounding McIlroy of late, his multimillion-dollar endorsement deal that puts him alongside Woods just one of many examples.
But if there is any angst, any extra determination, any more motivation from all of this, Woods is not showing it.
"I just want to get off to a good start," he said. "I think it's important that I get off to a good, solid start. I'm playing two weeks in a row, and I had a nice break and have geared up for these two weeks [next week, Woods is playing the Farmers Insurance Open on the PGA Tour] and have tried to get mentally and physically ready for these two tournaments."
Golf Hall of Fame: Take note
The debate that raged last week on the merits of baseball players who used or were suspecting of using performance-enhancing drugs meant that nobody qualified for the baseball Hall of Fame. The rules require entrants to be on 75 percent of the ballots; short of that, nobody gets in. And so this summer, the Hall will have a ceremony in which nobody is inducted.
And what's wrong with that?
Certainly it is unusual and, for the Hall itself, a disappointment. There will be nobody to celebrate in Cooperstown, and yet, if nobody is deemed worthy, then nobody should go in.
Which brings us to the World Golf Hall of Fame, which, in the past several months, has seen not one but two players get chosen for induction later this year despite shaky credentials and a vote total that suggests they don't deserve inclusion, at least not yet.
Golf's Hall has a dubious rule that says if no one achieves a 65 percent threshold, the next-highest vote-getter who has at least 50 percent will be enshrined. Fred Couples (on the PGA Tour ballot) and Colin Montgomerie (through the international category) were on 51 percent of the ballots.
That is hardly overwhelming support, yet Couples and Montgomerie will be honored in St. Augustine, Fla., in May. Why? Well, the Hall obviously wants to put on a show each year, but to do so lowers the standards to assure entrants.
Couples won 15 PGA Tour events, including a major championship, and Montgomerie never won a major but did capture eight European Tour money titles while producing a fine Ryder Cup record. We can debate their Hall merits, but it's hard to feel good about their induction when so few felt they were worthy -- at least not yet.
Golf might learn something from baseball's Hall of Fame.
Bob Harig covers golf for ESPN.com. He can be reached at BobHarig@gmail.com.
Birdies And Bogeys
BIRDIES
1. Russell Henley. He had 33 one-putt greens in his first start as a PGA Tour member. That's a pretty nice way to start your career.

Oosthuizen
2. Louis Oosthuizen. The former Open champion moved to No. 4 in the world with his victory at the Volvo Champions in his native South Africa.
3. Rory McIlroy. The Nike deal is finally official, and now the Northern Irishman can get on with pursuing more glory on the course.
BOGEYS

Love III
1. Davis Love III. The U.S. Ryder Cup captain was looking forward to getting back to just golf. But in his initial 2013 tournament, Love failed to make a single birdie in missing the cut at the Sony Open.
2. Euro captain intrigue. What a mess the picking of a new European captain has been, with politicking occurring at its best -- or worst.
3. The Masters. The year's first major, at the least, set itself up for some second-guessing by giving Japan's Ryo Ishikawa -- who has missed the Masters cut in three of four tries -- another special invitation.
There were understandably a few raised eyebrows last week when the Masters announced its special exemptions for this year's tournament, especially in the case of Japan's Ryo Ishikawa, who received a spot in the field along with Thailand's Thaworn Wiratchant.
The Masters traditionally has offered spots to international players otherwise not qualified, but this is the third one for Ishikawa, who will be making his fifth straight start in the year's first major championship.
Ishikawa has missed three cuts in his four appearances, with a tie for 20th in 2011 his best finish. Last year, he missed the cut in the first three majors of the year, and there is a legitimate argument to be made that he is not deserving.
Although Ishikawa won for the 10th time in his career on the Japan Tour this past November, he had a poor year and nearly fell out of the top 100 in the world after qualifying for the Masters on his own. His exemption raises further questions when it is noted that Ernie Els failed to get one last year; Els later went on to win the Open Championship.
In fairness, the Masters typically gives these invites to players who don't have as many avenues to the tournament as those who play regularly on the PGA Tour. Els could have gotten into last year's Masters through numerous criteria. Ishikawa, however, will play the PGA Tour this year as a member for the first time.
Wiratchant, 46, will be making his first appearance in the Masters. He won the Asian Tour's money title last year and has 15 career victories on that circuit.
With his victory at the Sony Open, Russell Henley became the first rookie to win in his first start as a PGA Tour member since Garrett Willis in 2001. … Henley led all players with 26 birdies. … Two weeks and a pair of top-10 finishes for Matt Kuchar, the only player to do so. He was tied for ninth at the Hyundai and tied for fourth at the Sony. … Pat Perez finished tied for ninth at the Sony Open, equaling his number of top-10 finishes for all of 2012. … Charles Howell III had his seventh top-5 finish at the Sony Open. Howell was tied for third. … Including winner Henley, the University of Georgia had three players finish among the top 10 at the Sony Open. Chris Kirk and Harris English were the others. … Phil Mickelson is making his season debut this week at the Humana Challenge, where he tied for 49th last year. Mickelson is expected to play at Torrey Pines next week, followed by Phoenix and Pebble Beach. … Without hitting an official shot in 2013, Tiger Woods has moved back to No. 2 in the world behind Rory McIlroy and ahead of Luke Donald. … Woods and McIlroy are joined in the Abu Dhabi field by Justin Rose, Ernie Els, Jason Dufner, Martin Kaymer, Padraig Harrington, Thomas Bjorn, Paul Lawrie, Jose Maria Olazabal and Colin Montgomerie, among others. The field is 124 players with a $2.7 million purse. … The Champions Tour season begins this week in Hawaii.
"It's been my goal to make it to the Masters my whole life. I'm just speechless right now." -- Russell Henley, after winning the Sony Open for his first PGA Tour title -- which means a first trip to the Masters.