Titles are still about execution, even for Tiger

By Bob Harig
ESPN.com
Archive
The victories have come at places he likes, on venues with which he is familiar. Tiger Woods has four wins on the PGA Tour in 10 months, all at tournaments he had won previously, all at courses he seemingly owns.
Bay Hill. Muirfield Village. Congressional. And now Torrey Pines, again. Seven times Woods has won the PGA Tour event now known as the Farmers Insurance Open, played at the San Diego muni he first teed up at as a junior golfer. Throw in the 2008 U.S. Open and it's a whopping eight victories at Torrey.
Does that make it easier to win?
[+] Enlarge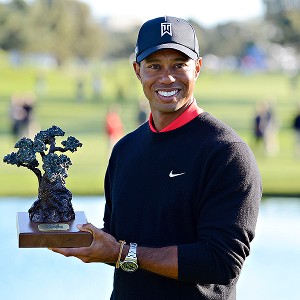 Jake Roth/USA TODAY SportsOf Tiger Woods' 75 career PGA Tour titles, 22 have come on three courses: Torrey Pines, Bay Hill and Firestone.
It certainly doesn't hurt to have familiarity and comfort on a golf course. Woods has proved that time and again with his triumphs at places such as Augusta National, the Old Course at St. Andrews, Medinah and tour stops such as Firestone and Doral.
Yet Woods provides the best example of it being far from automatic, that we take for granted his wins at these venues, that playing well, far above all else, is the key.
Otherwise he wouldn't be going on eight years without a green jacket at the Masters. Or would have easily won at St. Andrews in 2010 (tied for 23rd). Or continued his winning ways in recent years at Firestone, home of the WGC-Bridgestone Invitational (finished 30 strokes behind winner Hunter Mahan in 2010).
Woods has won the Arnold Palmer Invitational at Bay Hill seven times but also has six occasions where he finished 20th or worse. He has those seven wins at Firestone, but in two of the past three years he has been 37th or worse.
Two years ago, in his first appearance at Torrey Pines since winning the 2008 U.S. Open, Woods tied for 44th -- the first time he had ever been out of the top 10 in the event.
Previous success is nice, but it really means nothing if your game is in disarray.
"I drove the ball beautifully all week," Woods said Monday after a 4-stroke win, his fourth victory in 18 tournaments dating to his win at the Arnold Palmer Invitational last year. "My short game has been coming around. It came around at the end of last season, and you're not going to hit every par5 in two, but you need to get upanddown, and I did that this week.
"My short game was back to how I know it can be. My shots that I hit, especially out of these nasty little lies, I hit some really good ones this week. And that allowed me to save some pars, save some birdies and move my way up the board, and basically that's what I did."

Get all of ESPN.com's latest news, highlights and commentary about the world's most talked-about golfer. Tiger Tracker
Woods' assessment of his driving might be questioned -- he had plenty of wayward tee shots -- and his inability to get the ball in the fairway on command with some sort of go-to shot remains a place where he will want to improve.
But Woods did hit 32 of 56 fairways, and you don't play the par-5s in 12-under par if you are not getting the ball in at least decent position off the tee.
So much goes into scoring -- driving, wedge play, short game, putting -- but Woods' success on the par-5s will always be a key to winning, and all manner of getting there has thwarted him in recent years. Whether it was wayward drives or poor approaches, he wasn't dominating those scoring holes like in years past.
At Torrey, Woods made two eagles, getting halfway to his total of four for all of 2012. That is another trend to be watched.
So yes, Woods has won 22 of his 75 PGA Tour events at three tournament venues -- Torrey Pines, Bay Hill and Firestone. That fact is sometimes stated as if it is a negative. Instead, it should be considered impressive. Woods himself is proof that nothing is assured.
World Traveler
Before his recent run of success,
Jason Dufner
had virtually no worldwide golf experience. That changed after his runner-up finish at the 2011 PGA Championship and his first two PGA Tour victories in 2012.
Dufner headed to Australia late last year for a European Tour event played in Perth, where he tied for second. After beginning this season at the PGA Tour's Hyundai Tournament of Champions, Dufner headed to the Middle East for tournaments in the United Arab Emirates and Qatar, finishing tied for ninth at each stop.
Now he is headed to the Waste Management Phoenix Open this week.
"It's been nice to have some exemptions and have some tournaments want me to come and play their events," Dufner said. "It's just a good thing, I think, to compete around the world and see where you stack up and maybe show the world what type of golf game you have where they might not be able to see you in person.
"We're pretty spoiled in the U.S. People are pretty focused on the U.S. PGA Tour, but there's a lot of other tours and a lot of other great events around the world that are going on."
Dufner did not rule out the possibility of taking up European Tour membership in the future.
"We thought about possibly doing it this year," he said. "I'm not sure how much I'm going to be playing later in the quarter, fourth quarter, after the [PGA Tour] playoffs. So that's kind of the reason why I didn't do it this year. But it could be a possibility in the future with the majors and the World Golf Championships counting [toward European Tour and PGA Tour membership]."
Bob Harig covers golf for ESPN.com. He can be reached at BobHarig@gmail.com.
Birdies And Bogeys
BIRDIES

Woods
1.
Tiger Woods
. After a shaky start to his year in Abu Dhabi, Woods bounced back to claim his 75th PGA Tour title and his eighth win at Torrey Pines.
2. Rickie Fowler. He showed some moxie by coming back from that opening-round 77 to make the cut on the number and finish tied for sixth.
3. Chris Wood. The Englishman, who has contended in two Open Championships -- including one as an amateur -- got his first European Tour title when he eagled the final hole to win the Qatar Masters by a stroke.
BOGEYS

Mickelson
1.
Phil Mickelson
. It was a tough week for Lefty at Torrey Pines, where he found himself apologizing for remarks he made about his taxes and then finished 14 shots behind Tiger Woods.
2. Slow play. Circumstances due to the restart contributed, but that was one brutal march to the finish Monday at Torrey Pines.
3. Torrey planning. If the PGA Tour was going to have a late start on Monday anyway, why not cut the field after 54 holes and repair for the final round?
For those not in the Masters field, getting into the two World Golf Championship events prior to the year's first major is an important step in gaining an invite. Short of victory, the only other way in is to be among the top 50 in the world ranking the week before the Masters. Getting into those WGC fields can help that cause.
A couple of prominent players are going in opposite directions in that regard. With a third straight top-10 finish, a tie for ninth at Torrey Pines, Charles Howell III has moved from outside of the top 100 in the world to 63rd. He is barely inside the number for the top 64 who qualify for the WGC-Accenture Match Play, the cutoff coming in two weeks. Howell would love to crack the top 50 in order to get into the WGC-Cadillac Championship as well.
Then there is 2006 U.S. Open champion Geoff Ogilvy. The Aussie barely missed qualifying for the Masters at the end of 2012, as he fell to 51st in the world despite a tie for fourth in his final event of the year at the Australian PGA. After two starts on the PGA Tour, including a missed cut at Torrey Pines, Ogilvy has dropped to 67th, which would put him outside of the Match Play -- a tournament he has won twice.
Tiger Woods' win at Torrey Pines was his 14th in California, moving him one ahead of his victory total in Florida. He has won in 16 states. ... Woods has won three tour events seven times each: The Farmers, the Arnold Palmer Invitational and WGC-Bridgestone. ... Woods' outright 36-hole lead was his first since the 2011 Australian Open, where he finished third. ... Josh Teater's tie at Torrey for second was his career best. ... By birdieing the final hole, Canada's Brad Fritsch moved into the top 10 to secure a spot in the field at this week's Waste Management Phoenix Open. ... Mike Weir made his first cut in 18 months at the Farmers Insurance Open. He had gone 17 straight tournaments, back to the 2011 AT&T National, without qualifying for the final 36, due mostly to issues related to elbow surgery. ... Jordan Spieth, who left the University of Texas in December, made his pro debut at Torrey Pines but missed the cut. ... Nicolas Colsaerts made his first start on the PGA Tour and made the cut on the number to finish T-44. Colsaerts almost single-handedly defeated Woods and Steve Stricker on the first day at the Ryder Cup. ... Sergio Garcia made his season debut in Qatar, birdied the final two holes for a 66 and was edged by Chris Wood. ... For the first time, Padraig Harrington is playing in Phoenix. "I'm interested in Phoenix because of the 16th," he said, referring to the party atmosphere around the par-3. "And I really want to go play it. I don't believe events should all be the same. I really think we should seek out events that establish themselves in a different way." ... The European Tour's Middle East swing continues this week in Dubai, where Lee Westwood makes his season debut.
"That happens through a product of winning golf tournaments. That's how I got there in the first place. That's how he got there. It's winning golf tournaments, being consistent. Your bad weeks are going to be top-10s, and when you win, you win. And you've got to be consistently winning. That's how I got there. As I said, and in order for me to get back there, that's what I have to do, and this is a nice start." -- Tiger Woods on whether he thinks about trying to catch
Rory McIlroy
for No. 1 in the world.