Singh's situation remains up in the air
When Vijay Singh withdrew on the eve of the Waste Management Phoenix Open, a logical leap of conjecture took place. While his back might have been bothering him, his mental state was clearly more in play.
Why deal with the fallout of a possible doping scandal in order to play in a golf tournament?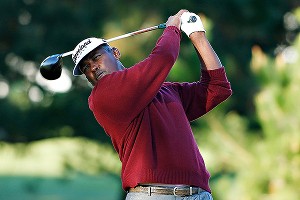 Scott Halleran/Getty ImagesDepending on the outcome of the PGA Tour's investigation, Vijay Singh faces the possibility that any official earnings or world ranking points could be rescinded.
Or perhaps would being the subject of such an investigation preclude him from playing?
As it turns out, neither is the case.
Singh returned last week to the AT&T Pebble Beach National Pro-Am, where he tied for 50th. As of this writing, he is in the field for this week's Northern Trust Open at Riviera.
How is it that Singh is even playing?
Two weeks ago he admitted in a statement that he had been using deer-antler spray after a Sports Illustrated article quoted him on the subject. The spray is believed to contain a banned substance known as IGF-1, or Insulin-like Growth Factor. It is banned by the PGA Tour as well as other sports.
In his statement, while admitting to taking the deer spray, Singh stopped short of saying he took IGF-1. He said he was unaware that the deer spray contained a banned substance, and there is conjecture that it doesn't.
Singh and PGA Tour commissioner Tim Finchem met last week at Pebble Beach, and there have been no statements forthcoming from the tour, other than the original acknowledgement that Singh admitted to taking the deer spray.
Now what?
Unlike the only other time when a PGA Tour player was involved in a possible doping violation, the public is aware of the circumstances. In 2009, Doug Barron's situation -- in which he failed a drug test, having used testosterone and beta blockers -- was never brought to the public until the tour announced a suspension. A review process that took weeks played out with only Barron and the tour aware.
Singh's situation is far different. He is a highly decorated player, a 34-time PGA Tour winner who is in the Hall of Fame and looking to regain his form at age 50. The Champions Tour can wait, Singh said, as he very much looked forward to an injury-free season and earning his first victory since 2008.
Because his status is under review, Singh is permitted to play, although there is a possibility that any official earnings or world ranking points could be rescinded, depending on the outcome of Finchem's investigation.
And for now, there is no information forthcoming. The tour will not comment as the situation plays out. How long that will take is the subject of some guessing. Golfweek magazine, citing the tour's own procedures, puts the time frame at late April/early May to allow for an appeal, the possibility of an arbitrator being involved and the tour's own requirement that written notice be given of any violation.
This much is clear: If Singh took a banned substance, knowingly or not, he has to be penalized by the tour's own rules. Ignorance is not a defense, nor is the argument that deer spray or IGF-1 is ineffective; it has been on the tour's banned substance list since the drug testing program began in 2008. Players were warned in 2011 about deer-antler spray in literature and emails widely circulated.
A fine of $500,000 and up to a one-year suspension could be forthcoming, but there are so many mitigating circumstances here that it is unclear what, if any, penalty will be invoked. You can bet that the tour is testing the deer spray, and while it clearly warned players about the substance, it would seem difficult to invoke a severe penalty if it were found that it did not contain a banned substance.
Meanwhile, Singh will play on under this very strange cloud.
RIP, U.S. Amateur Public Links
The USGA's announcement Monday that the U.S. Amateur Public Links Championship is being scuttled has been met with sadness and scorn. It is the fourth-oldest USGA event dating to 1922, and since 1988, the Masters has awarded the winner a spot in the field of the year's first major.
ESPN GOLFCENTER
From golf instruction that will help you play the game better to all sorts of equipment that can help you lower your scores, our new ESPN GolfCenter page brings it all together.
Check out ESPN GolfCenter
That's a lot of history to kick to the curb, but then again, how many people even know who won the tournament last year? Or where it was played? For the record, T.J. Vogel posted a 12 & 10 victory at Soldier Hollow Golf Club in Utah, earning a place in this year's Masters field.
But the USGA felt that the tournament no longer served its purpose. It was instituted originally to offer a place for golfers who were not members of USGA clubs to compete. Until 1979, the U.S. Amateur allowed entrants only from members clubs.
"We feel that because of the mission of what they were perpetuated and started to serve is no longer there, that it's time we move on," said Tom O' Tootle Jr., a USGA vice president. "Again, these are hard decisions, but we think they're the right ones for the USGA in 2013. That doesn't mean that this doesn't impact some people in a different way, but moving forward, this is the right thing from our perspective."
Players who have competed in the tournament have expressed regret that it is going away. Michelle Wie achieved her only significant amateur victory as a 13-year-old in 2003 in the women's version, which is also being retired. Brandt Snedeker and Trevor Immelman are among PGA Tour players who won the tournament -- although all were eligible to compete in the U.S. Amateur, which is the USGA's point.
Both the men's and women's Public Links events will be played for the last time in 2014, to be replaced on the 2015 USGA schedule by men's and women's four-ball events.
Birdies
v class="mod-inline headshot floatright">
Snedeker
1. Brandt Snedeker.
After runner-up finishes to
Tiger Woods
and
Phil Mickelson
, Snedeker finished on top at Pebble Beach and is off to a strong start in 2013 as reigning FedEx Cup champion.
2. Rocco Mediate. He shot 61 on Saturday and won his first Champions Tour event in his first attempt. Mediate should be a boon to senior golf.
3. Lydia Ko. Her victory at the New Zealand Women's Open gave her three pro victories in just over a year. She is a 15-year-old amateur who maintains she will not turn pro any time soon.
Bogeys
Ogilvy
1. Geoff Ogilvy.
The 2006 U.S. Open champion and two-time Match Play winner barely missed the Masters at the end of 2012 when he was 51st in the world rankings. Now he's slipped to 75th after three straight missed cuts and is not in the Match Play field.
2. Phil Mickelson. A strange week for Lefty at Pebble Beach, where the defending champion was unable to build on his big win in Phoenix and barely made the cut, twice hitting two balls in the water at Pebble's 18th hole.
3. Dustin Johnson. Considered a pre-tournament contender at a place where he's won twice, Johnson made eight bogeys and two doubles to miss the cut.
Masters watch
Richard Sterne's victory at the Joburg Open put him in sight of an unlikely Masters invitation. Unlikely? Just two months ago, Sterne was ranked 177th in the world. The South African is now 55th after a second-place finish in Dubai and his win in South Africa. It was his first victory in four years after a promising start to a career that was derailed by injury.
Sterne, who now has six European Tour titles, rose to 29th in the world after winning three times in South Africa in 2008. But soon after that he began experiencing back issues that took months to properly diagnose. He played just 10 events from 2010 through 2011.
"At one point the pain was so bad that I even wondered if I'd ever play again," Sterne said. "But now I know I can."
Sterne's victory helped him get into next week's WGC-Accenture Match Play, as he rose from 77th in the world. Now the hope is to get inside the top 50 by March 31, the cutoff for a Masters invite.
Notables
Brandt Snedeker's Pebble Beach victory moved him to a career-best No. 4 in the world behind Rory McIlroy, Tiger Woods and Luke Donald. … Snedeker has now shot 33 of his last 37 rounds under par on the PGA Tour. … Since the start of 2011, Snedeker trails only McIlroy in PGA Tour victories. McIlroy has five, with Snedeker tied with Woods at four. … James Hahn is attempting to make his sixth straight cut this year at the Northern Trust Open, having posted two top-five finishes in his rookie season. … Two-time U.S. Open champion Retief Goosen finished tied for ninth at Pebble Beach and won enough money to secure his playing privileges for the rest of 2013 after beginning the year on a medical exemption due to back surgery. It was his first top-10 since Memphis in 2011. … Last week, Rocco Mediate became the 16th player to win in his Champions Tour debut. … The LPGA Tour begins its official season this week with the Women's Australian Open. … Luke Donald, Graeme McDowell, Ernie Els, Sergio Garcia, Charl Schwartzel and Adam Scott are making their PGA Tour debuts this week. … The European Tour heads to the Africa Open. … Next week's WGC-Accenture Match Play Championship matches will be determined based on the world rankings that are published Sunday night.
Quotable
"You just can't make this kind of stuff up. It's too perfect." -- Brandt Snedeker after his 2-shot victory at Pebble Beach. It was the fifth win of his PGA Tour career.