Breaking down Tiger Woods' controversial drop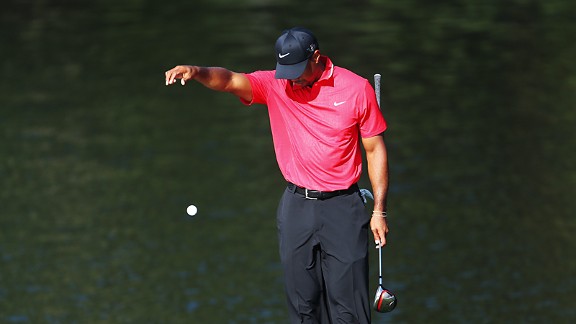 Andy Lyons/Getty ImagesTiger Woods' drop at The Players drew some debate. It's now his most recent drop controversy.
Perhaps we have come to the point where the various entities that run professional golf tournaments need to put a rules official with Tiger Woods' group for every minute of every round.
The notion is preposterous, of course, but Woods is a special case whose recent brushes with the rulebook have caused so much consternation among the masses that such an arrangement might at least serve to quiet the chatter.
The latest ongoing debate centers around Woods' penalty drop at the 14th hole Sunday during the final round of The Players Championship. The issue is whether he dropped in the proper spot after hooking his tee shot into a lateral hazard.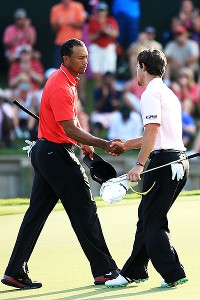 Richard Heathcote/Getty ImagesCasey Wittenberg was alongside Tiger Woods and was the key witness to whether Tiger Woods dropped in the right place on the 14th hole of Sunday's final round.
All kinds of video sleuths and rules gurus are analyzing the flight of Woods' tee shot, the words of the NBC announcers, and coming to the conclusion that he was in error to drop where he did -- that he should have dropped much farther back, arguably making the hole more difficult.
We can certainly debate the point about the difficulty of the shot Woods played -- the lie was not good, he had to take a baseball swing at the ball, and he still ended up making a double-bogey.
There is also plenty of evidence to suggest doubt as to where Woods dropped the ball. But his playing partner, Casey Wittenberg, signed off on it.
That should really be the end of the story.
But because it is Woods, and because he is such a polarizing figure, and because there was the rules mess at the Masters that still lingers, here we are again.
A YouTube video dissecting the shot and the words of on-the-ground reporter Mark Rolfing and analyst Johnny Miller certainly raise doubt as to the location of where the ball crossed into the hazard -- the key point in where it needed to be dropped. Rolfing later amended his stance after seeing where the ball was dropped and apparently hearing Wittenberg's explanation.
There is also the matter that six other players during the week hit tee shots in the water at No. 14. None of them dropped as far up as Woods. That, in itself, does not prove anything, as the shots had different angles and some were from tees placed differently. Still, it suggests that a ball headed toward that hazard is unlikely to travel over much land.
But watching Woods' reaction, it is clear he didn't see the ball come to rest in the water. After realizing where it was headed, he turned his head in disgust. So he had to ask Wittenberg, who was asked three questions about it afterward.
Q. Tiger's drop on 14, was there any concern at all as to whether he dropped too far forward?
WITTENBERG: No, not at all. I saw it perfectly off the tee. I told him exactly where I thought it crossed, and we all agreed, so he's definitely great on that.
Q. Crossed land?
WITTENBERG: No, we talked to each other. He asked me exactly where it crossed. I told him I thought it crossed on the corner of the bunker right where he took his drop, and it's all good.
Q. So the ball was hooking?
WITTENBERG: Yes, for sure. There is no doubt, guys. The ball crossed where he dropped.
There has been some speculation that Wittenberg was intimidated by Woods and would not challenge him on the spot of the drop, but there is no evidence to suggest such a scenario. Both players said they discussed it, and Wittenberg had every reason to question it if he felt differently.
Although the matter was barely discussed by NBC in the aftermath -- with no questions asked by TV reporters following play -- Golf Channel caught up with Wittenberg on Tuesday in Dallas, where he is playing in the Byron Nelson Championship. He again did not waver.
It is his job, after all, to protect the field. And Wittenberg stood to gain from Woods' penalty strokes; he, conceivably, was back in the tournament if Woods were to falter.
Why wasn't video used after the fact? As Mark Russell, the PGA Tour's vice president of competition, explained, they would be issuing penalty strokes numerous times throughout a tournament if they reviewed every drop. It is understood that drops involving lateral hazards are not always exact. The rules officials -- who did not see the ball flight -- simply had no choice but to go by the other player in the group.
Perhaps most telling was Golf Channel's paraphrased discussion Tuesday with Rolfing, the NBC on-course reporter. He said he heard Woods ask Wittenberg if he should drop back as they were walking off the tee. Wittenberg said no, the drop should occur ahead near the hazard stake.
That is an interesting exchange, one that deserves airing and suggests Woods was not trying to negotiate a better drop with Wittenberg.
Then there is this: Woods has no history of skirting the rules, bending them to his benefit or even pushing the boundaries. It is quite the knock on his inside-the-ropes integrity to suggest he was cheating.
Earlier this year in Abu Dhabi, he did not argue the penalty he received for an improper drop and the two-shot penalty that caused him to miss the cut. At the Masters, he did not argue with officials who determined his words about a drop on the 15th hole suggested he did not do so in the proper place. The controversy there was that he wasn't disqualified, which was more an issue about how the situation was handled by Augusta National than anything Woods did.
On Sunday, Woods hit a bad tee shot and then asked a guy trying to beat him where it crossed into the hazard. He went with Wittenberg's opinion, and while it ultimately might have been wrong, it was the only way for him to proceed.
Now, of course, the story lingers. Woods is accused of everything from getting a break to downright cheating -- all of which seems extreme.
So put a rules official with his group. It's outrageous, impractical and perhaps not even fair. But neither is this long-winded discussion.
The Texas Swing
Two tournaments with immense history are about to take place as the PGA Tour returns to Texas for the HP Byron Nelson Championship and the Crowne Plaza Invitational at Colonial.
Both tournaments are associated with two of the game's icons: Byron Nelson and Ben Hogan.
The Nelson began in 1944 -- and was won by Nelson in the first year -- taking his name in 1968. The Colonial dates to 1946 -- and was won by Hogan in the first year and a total of five times.
But both are now caught up in the plethora of good golf tournaments, on the PGA Tour and around the world.
This week, the European Tour's Volvo World Match Play Championship takes place and has a good number of PGA Tour players in the field, including defending champion Ian Poulter, Graeme McDowell, Peter Hanson, Henrik Stenson, Thorbjorn Olesen, Geoff Ogilvy, Carl Pettersson and lone American Bo Van Pelt.
Next week, up against the Colonial, is the European Tour's flagship event, the BMW PGA Championship at Wentworth, where Luke Donald is the defending champion and a significant number of PGA Tour players who have membership on both tours will be competing, including Lee Westwood.
Take away Tiger Woods, Phil Mickelson and Adam Scott and the next two weeks can be a bit of a struggle for some longtime events that are now sandwiched between the Players Championship and the Memorial. The highest-ranked player in this week's field is No. 7 Louis Oosthuizen.
Birdies
Woods
1. Tiger Woods. The victory at The Players Championship was big for many reasons, not the least of which was that it came at a place that has given him fits over the years.
2. David Lingmerth. The PGA Tour rookie was playing in just his 13th event and set a record for best finish by a first-timer with his tie for second.
3. Jeff Maggert. He had but one top-three finish in the past seven years and was tied for the lead with two holes to go.
Bogeys
Garcia
1. Sergio Garcia. Forget the he said/she said dispute with Woods. He made a poor decision on the 17th by going for the flag. Had he hit to the middle of the green and made par, who knows what would have happened.
2. Vijay Singh. The tour let him off the hook on its drug policy, and he is suing them anyway. Looks bad, and now the story won't go away.
3. Phil Mickelson. Lefty had a poor finish at Quail Hollow and a rare missed cut at The Players Championship.
U.S. Open watch
We are a month away from the 113th U.S. Open, to be played at historic Merion Golf Club for the first time since 1981. David Graham won that year, and the prevailing thought 32 years ago was that the venue was past its time as a championship layout.
But the United States Golf Association was determined to go back to a place where Bobby Jones won the U.S. Open on his way to the 1930 Grand Slam, where Ben Hogan came back from serious injury to win the Open in 1950, where Lee Trevino defeated Jack Nicklaus in an 18-hole playoff in 1971.
The course will be short by modern standards, measuring fewer than 7,000 yards. The par-70 will see both of its par-5s in the first four holes. But the last five holes are considered brutes, and it will be interesting to see how it is set up.
It is believed that the course will require few drivers for the big hitters, leading to a question of Tiger Woods and his strategy at Merion after just playing TPC Sawgrass with a single driver on Sunday.
"I've never played Merion," Woods said. "It sounds good in theory, but I don't know."
Woods is expected to visit the course sometime before U.S. Open week.
Notables
Tiger Woods leads the PGA Tour in its strokes gained putting category, but he was 34th in that statistic during The Players Championship. ... Jeff Maggert, at age 49, would have been the oldest Players Championship winner had he prevailed. Fred Funk was 48 in 2005 when he won. ... The earliest Woods had won four PGA Tour events in a season prior to Sunday's fourth win of the year was in 2000 (May 28) and 2001 (June 3), both at the Memorial. ... With Billy Horschel's cut streak of 23 coming to an end at The Players, Jimmy Walker now holds the mark with 22 in a row. ... Sergio Garcia has four top-10s in eight PGA Tour starts this year, and other than his withdrawal from the Arnold Palmer Invitational, he has been in the top 20 in all of them. ... Brandt Snedeker has a tour-leading six top-10 finishes in 2013. ... Not a single male member of the World Golf Hall of Fame attended last week's ceremony in St. Augustine, Fla. PGA Tour commissioner Tim Finchem said changes to the date, the ballot and other things concerning the Hall would be studied and considered. ... Woods has played 300 PGA Tour events in his career, 286 as a pro. With 78 victories, he has won at a 27 percent rate as a professional. ... He also has 16 wins in Florida, the most of any state.
Quotable
"I hadn't played really well here since 2000, 2001. This golf course has been a little tricky over the years, and I'm not the only one who's struggled with it. It's a tough course. Fortunately, I think this year I've been playing really well, and the last tournament [the Masters] I played really well. So coming here, I was pretty confident in what I was doing. I was hitting the golf ball well. I was shaping the ball both ways and controlling my trajectory, and it ended up being one of the key factors." -- Tiger Woods on his second victory at The Players Championship