Should PGA Tour impose anchor ban early?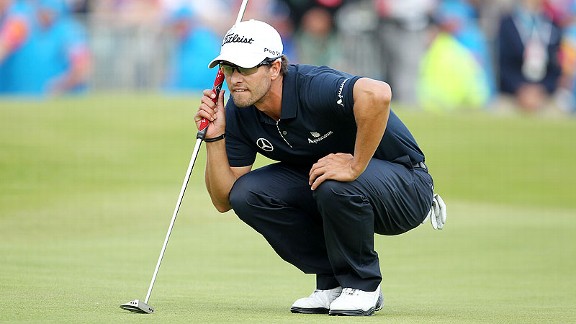 Press Association via AP ImagesThe anchor ban doesn't take effect until 2016. Should the PGA Tour start early?
Tim Finchem stated his case back in February, and the PGA Tour commissioner made it clear he believed that anchoring was not a big enough issue to warrant change. Fair enough.
But now it IS going to change. Golf's rules-making bodies on Tuesday made official their proposal to ban anchored putting strokes, effective Jan. 1, 2016. Not only does the PGA Tour need to go along, but the tour should stipulate that it will enact the ban earlier to avoid any stigma that those who use that style are sure to face.
The tour released a statement saying it will study the matter, meet with the players, get with the Policy Board … everything but throw grass in the air to see which direction the wind is blowing.
But really, this is pretty simple.
To do anything but go along with the United States Golf Association and the R&A would, in essence, be going against the Rules of Golf.
And that is what Webb Simpson just suggested the tour do. In an interview with SiriusXM radio, the reigning U.S. Open champion said that while he respects the USGA and R&A, he believes the tour should stand apart. "I want them to go against it," said Simpson, who uses a belly putter.
Certainly as a professional sports entity, the PGA Tour has every right to write its own rules. Other sports leagues do. That's why we see different rules for college and pro football and basketball and numerous other sports.
Golf has always been different in that way. The various pro tours have always abided by the rules set forth by the governing bodies. It makes for one set of rules for all -- and it makes things simpler when players from around the world convene at the major championships or even travel among the various world tours.
Imagine if the PGA Tour allowed players to anchor while the European Tour did not? Or you could anchor at the FedEx St. Jude in Memphis, but the following week at Merion for the U.S. Open, you could not? I suppose that a player who chooses to flip-flop like that would bring any difficulties on himself, and yet it still makes for a messy scenario.
And it will undoubtedly come with a stain.
The rules makers now deem anchoring -- as of Jan. 1, 2016 -- to be illegal, against the rules. So those who continue to do it will be branded, fairly or not.
As of now, anchoring is legal, and should be treated as such. If the rule doesn't go into effect for 2 ½ more years, so be it. Masters champion Adam Scott and Open Championship winner Ernie Els should be free to do as they please. Rules change all the time in sports, and there should be no stigma.
Of course, that is easy to say.
Ask Keegan Bradley, who said he's heard it in the gallery and gotten plenty of abuse on Twitter because he uses an anchored stroke with a belly putter. Wouldn't it simply be cleaner, easier, to move on?
You can bet that some players who use anchored strokes will quickly try to transition. Others may not. So why doesn't the PGA Tour make it a condition of competition sometime between now and the official implementations of the new rule?
This would be a good point of conversation among the players and the tour hierarchy. With a wraparound season commencing later this year, something will have to occur before Jan. 1, 2016. But it's tricky, as enacting the ban earlier would, in essence, also be going against the Rules of Golf. But in this case, it might be perfectly understandable.
Is October of this year too early? Perhaps. But clearly the players knew this was coming. It's been discussed for more than a year. Golfers, especially professional golfers, are resilient. They'll adapt. Scott has already said he will simply move the end of the putter away from his chest. You know he'll work hard at it, just as will every other player who has to go to a conventional method.
The last thing the tour needs to do, however, is go against the Rules of Golf by ignoring the USGA/R&A. The best thing it could do is to get this issue in the past -- otherwise it will not go away for the next three years.
The Rory Story
There is still no official word that Rory McIlroy is leaving his management agency, Horizon Sports, despite numerous media reports last week that said the Northern Irishman would be forming his own company.
Clearly, something is amiss, as several in the industry have known for weeks that something was up, and McIlroy's countryman, Graeme McDowell -- who is also represented by Horizon -- confirmed the breakup.
Perhaps legal matters are in play, but the entire scenario is odd. Two weeks ago at The Players Championship, two U.K. writers approached McIlroy to discuss what they had been hearing: that he was going on his own. McIlroy, always an honest sort, denied it several times over.
So what to make of all of this?
It probably wouldn't be a big deal if it were a player of smaller stature, but McIlroy is one of the game's rising talents, now ranked second in the world and a two-major winner at age 24. Horizon helped him sign lucrative endorsement deals with Nike, Omega and Bose, and yet McIlroy has struggled with his form so far this year, with no victories.
Undoubtedly, there is more to come.
Birdies
Bae
1. Sang-Moon Bae. The South Korean, who at age 26 has been a pro for nine years and has won several times in Asia, captured his first PGA Tour title, overcoming Keegan Bradley at the Byron Nelson Championship.
2. Graeme McDowell. His victory at the Volvo Match Play Championship was his second this year (he won the PGA Tour's RBC Heritage) and has moved to the top of the European Tour's Race to Dubai.
3. Keegan Bradley. He was disappointed not to win, but that first-round 60 at the Nelson was impressive. He was the first in PGA Tour history to shoot that score when making two bogeys.
Bogeys
Garcia
1. Sergio Garcia. His overall honesty concerning Tiger Woods is appreciated, but the original basis for this story is petty and the fact he perpetuated it Tuesday night with potentially racist remarks is stunning.
2. Guan Tianlang. The Chinese amateur was a nice story at the Masters, and again in New Orleans, where he made the cut at both PGA Tour events. Then the 14-year-old missed the cut at the Nelson, and it should be back to school. Nope, Guan is now taking a sponsor exemption at next week's Memorial, a limited-field event.
3. The PGA Tour. Is it really considering going against the Rules of Golf by not adhering to the anchoring ban? If not, what is there to study?
U.S. Open watch
A key date for U.S. Open participation occurs this Sunday, as it is one of two cutoffs for qualification via the Official World Golf Ranking. Anyone ranked among the top 60 in the world who is not otherwise exempt will earn a place in the field at Merion in three weeks. It also spares them the hassle of enduring sectional qualifying.
There are 13 sectional sites to determine a majority of the field. Two of them will take place internationally on Monday, one in Japan and the other outside of London at Walton Heath.
The 11 sectional sites in the U.S. will be contested on June 3, with the biggest number of players coming from two places in Columbus, Ohio, and Memphis -- where a majority of PGA Tour players will convene because of nearby tour events at the Memorial and the FedEx St. Jude.
Failing there, another avenue exists. The top 60 in the world rankings as of June 9 also get a last-minute invite.
Sang-Moon Bae is among the players who can get in via this avenue. With his victory at the Byron Nelson Championship, Bae moved up to No. 64 in the world. England's Chris Wood is on the bubble at No. 60.
Although there are several other ways remaining to get into the field, Sunday's world ranking is also a cutoff for the Open Championship at Muirfield. The top 50 as of that ranking not otherwise exempt will get a spot in the field.
Notables
Sang-Moon Bae's victory at the HP Byron Nelson Championship was the eighth this year by a first-time winner on the PGA Tour ... Bae seeks to join Ben Hogan (1946) as the only players to win the Nelson and Colonial in the same year ... Keegan Bradley now has six top-10s this year after his runner-up at the Nelson. He tied Brandt Snedeker for the most on the PGA Tour ... Bradley became the 28th player in PGA Tour history to shoot 60, but only 10 have gone on to win. The last to do so was Phil Mickelson earlier this year at the Waste Management Phoenix Open ... All 12 members of the victorious European Ryder Cup team are entered in this week's flagship event of the European Tour, the BMW PGA Championship at Wentworth. Luke Donald is the defending champion ... Graeme McDowell has moved up to No. 7 in the world following his victory at the Volvo Match Play Championship ... European Ryder Cup captain Paul McGinley has elected to go with three at-large selections for next year's matches in Scotland. Jose Maria Olazabal had just two last year at Medinah. U.S. captain Tom Watson will also have three, down one from a year ago ... The Champions Tour plays its first major championship of the year this week at the Senior PGA Championship. It is being played at Bellerive Country Club near St. Louis, where Gary Player completed a career Grand Slam by winning the 1965 U.S. Open.
Quotable
"I feel like I'm a substantially better player than I was three years ago, all-around really. I feel like I've learned a lot from this process that I've gone through the last 2 1/2 years, winning the U.S. Open, getting comfortable with deserving that U.S. Open, getting comfortable with the player that I was trying to become and was at that point ... I really felt like I've solidified my place in the Top 20 in the world with some good play, some good learning experiences with my short game which I'm continuing to trying to improve.'' -- Graeme McDowell, after his victory at the Volvo Match Play Championship.