Kuchar set for U.S. Open, with help from Nicklaus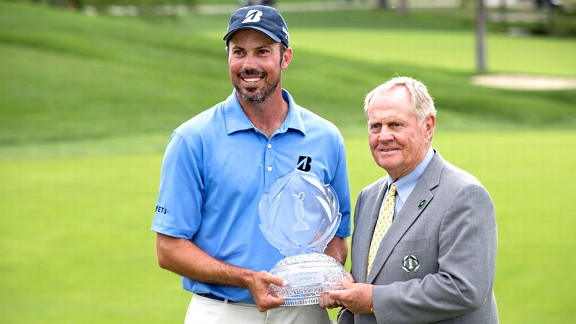 Allan Henry/USA TODAY SportsMatt Kuchar got a win at the Memorial and some wisdom from host Jack Nicklaus.
Among the cool perks associated with winning the Memorial Tournament is not only getting a congratulatory handshake from founder and golf legend Jack Nicklaus, but also sitting next to the Golden Bear during the winner's news conference.
Now perhaps this might bother somebody who doesn't get it, but to sit alongside Nicklaus in such a situation would have to rank pretty high. And it never hurts that the game's greatest winner undoubtedly will offer some wisdom.
So there was Nicklaus on Sunday at Muirfield Village Golf, first listening to winner Matt Kuchar, then waxing on the virtues of getting in plenty of practice rounds prior to a major championship at the tournament venue. It seemed to serve Nicklaus, winner of 18 majors, quite well, and he was making his point when he turned to Kuchar.
"I don't know what you're doing [this] week," Nicklaus said to laughter.
"I'll be going to Merion," Kuchar said.
And that is exactly what Kuchar, who has won three times in the past 13 months, was scheduled to do this week in preparation for next week's U.S. Open.
Even before his victory at the Memorial, Kuchar figured to be a good bet on a historic course with tight fairways but one that is not overly long, measuring less than 7,000 yards. Kuchar has not missed a cut this year, and has six top-10 finishes, including two victories, the first time in his career he's won twice in the same season.
And while he might not be doing any one thing particularly well, Kuchar seems to not have a weakness. He played beautifully last weekend at Muirfield Village, especially on Saturday, when swirling winds made things difficult, and made solid ballstriking imperative.
"I do like to take pride in myself in that I don't feel like there's any real weakness in my game," he said. "I love the fact that the game gives you so many avenues to improve on. I love the quest to try to get better. I love the quest to try to become a better driver of the ball, better wedge play, better putter. I love that about the game of golf."
Among his goals for the year, Kuchar said he wanted multiple victories and a spot on the U.S. team for the Presidents Cup, which will be played at Muirfield Village in October. And the next logical step is a major.
"Golf's a fickle thing," Kuchar said. "You can only control what you do. I can't control what the other guys do. I certainly feel like I'm ready to show up and play some really good golf. I'd love it if I could show up and play good enough to win a major. It's something that is up there, No. 1 on the list. I want to do it and feel like I'm ready to do it. But I can only control so much of that equation."
One thing Kuchar can control is his preparation, which is why Nicklaus' advice seemed so timely.
"I would go there [early] to get rid of my nervousness," Nicklaus, 73, said of heading to major championship venues in advance. "Worrying about the rough or about the narrowness of fairways, worrying about the speed of the greens, firmness of the greens, and just being the U.S. Open.
"I'd go there and spend a few days until I was comfortable with the golf course and comfortable with what I was doing ... Everybody else is coming in on the week of the tournament, I had all those problems out of the way and all I had to do was go play golf."
Listening to Nicklaus, Kuchar could only reply: "I'll be there Tuesday until an unknown time. Until I get used to it."
An idea for shorter rounds
The LPGA Tour had to scramble a few weeks ago in the Bahamas when weather made parts of the course for the Pure Silk event unplayable. Officials got creative, coming up with a 12-hole layout to be played in three days for a total of 36 holes. The tour made the most of a tough situation.
Which got us to thinking ... why don't the tours consider doing something similar -- on purpose -- every year?
The USGA, PGA of America and Golf Digest are all behind a grow-the-game initiative to promote shorter rounds, especially nine holes, as a way of getting people to play more -- the notion being that nine holes is better than none. And that there is nothing wrong with playing shorter rounds if it gets you playing.
What better way to do it than to have an annual event that is played with fewer holes? In the case of the PGA Tour, the key would be to have the event count for the FedEx Cup standings, have a full purse and a full field. You could not keep scoring records, but every other statistic would still be in play.
At most courses, a 12-hole route could be configured. In theory, you might be able to add players to the field, which allows for more playing opportunities. And who wouldn't want to have a shorter workday, and still get paid the same?
It should be noted that the first 12 Open Championships were played on a 12-hole layout at Prestwick in Scotland. Competitors played the course three times for a total of 36 holes. Prestwick didn't expand to 18 holes until 1884.
The Open also was played six times at Musselburgh Links, which had just nine holes and was played twice.
So there is a long-ago precedent for shorter rounds, one that might be met with a lot of interest.
Birdies
Kuchar
1. Matt Kuchar. With his second victory this year, Kuchar joined Tiger Woods as the only players with multiple wins this season, and set himself as a player to watch at next week's U.S. Open.
2. Kevin Chappell. He made it interesting at the end at the Memorial, and managed the only bogey-free round of the week, shooting 68 to finish second.
3. Karrie Webb. The Hall of Famer from Australia notched her 39th career LPGA Tour victory at the Shoprite LPGA Classic.
Bogeys
Woods
1. Tiger Woods. A 44 for nine holes, 119 putts for the week, 20 strokes behind winner Matt Kuchar: It was a week to forget at the Memorial.
2. Rory McIlroy. After missing the cut at the BMW PGA Championship, McIlroy opened the Memorial with a 78 and did well to make the cut.
3. Guan Tianlang. Guan was a great story at the Masters and again when he made the cut in New Orleans. But few were thinking the 14-year-old would be taking four sponsor exemptions, as he's playing again this week in Memphis.
U.S. Open watch
After a grueling day of qualifying on Monday, there are now only two ways to earn a place in next week's U.S. Open field. One is for a player not otherwise exempt to be among the top 60 in the world as of Sunday night.
Kyle Stanley is hoping to make it in that way. His tie for third at the Memorial moved him to 59th in the world. He tried to qualify on Monday but came up short, and is not playing this week's event in Memphis. So he waits -- and could get bumped out.
Charles Howell III and Jimmy Walker are on the outside of the top 60 and could move in with high finishes in Memphis. On the European Tour, Bernd Wiesberger is playing the Austrian Open, where a top-10 would move him into the top 60 in the world.
Another way in is if a current player in the field withdraws. The USGA has not announced its alternate list, but if a player who went through qualifying withdraws, he is replaced by someone from that sectional. If an exempt player withdraws, the USGA is likely to take an alternate from one of the strongest sectionals. Scott Stallings made it into the field as an alternate out of the Memphis sectional after U.S. Senior Open champion Roger Chapman withdrew from next week's Open with an injury.
That also would bode well for former Masters champion Mike Weir, who is the first alternate from the Columbus sectional, the one that saw all 15 qualifiers have some sort of PGA Tour status.
Notables
Phil Mickelson decided to add this week's St. Jude Classic in Memphis to his schedule, typically liking to play the week prior to major championships. In each of Mickelson's four major wins, he played the week before ... Brandt Snedeker, who lives in Nashville, is playing the Memphis event for the seventh time. He is one of four players who has six top-10 finishes this year ... Paul Goydos, who has been out since February 2012 because of wrist surgery, returns for the first time this week. Goydos is one of five players in PGA Tour history to shoot 59 ... In winning the Memorial, Matt Kuchar led the field in greens in regulation, hitting 29 of 36 during the weekend ... Muirfield Village played to an average of 73.256, making it the third-toughest venue this year on the PGA Tour, behind Augusta National and PGA National's Champion course for the Honda Classic ... Michelle Wie's tie for ninth at the Shoprite LPGA was her best of the year ... Tiger Woods' 72-hole score of 296 was two less than the 298 he shot at the 2010 WGC-Bridgestone Invitational, where he tied for 78th. His worst finish after making the cut in a 72-hole event was a tie for 82nd at the 1996 U.S. Open, when he was an amateur ... June 16, the final round of the U.S. Open, marks the five-year anniversary of Woods' last major title, which also was the U.S. Open.
Quotable
"To have Jack Nicklaus congratulate me is a real treat. This is as special as it gets." -- Matt Kuchar, after winning Nicklaus' Memorial Tournament.