Muirfield poses prediction quandary for Open
>
The art of prognostication related to golf tournaments has always been an exercise in futility. With dozens of players capable of winning, the ability of lesser lights to come out of nowhere, and because current and past form is not always a strong indicator, picking names out of a hat might be just as prudent.
Which brings us to next week's Open Championship at Muirfield.
Good luck determining who is going to claim the Claret Jug.
Tiger Woods, of course, is the current betting favorite, and will continue to be simply because that is how gambling works. It's more about whom you will put your money on than it is who is actually in the best form to win.
That said, the No. 1-ranked Woods has not hit a competitive shot since the final round of the U.S. Open on June 16 because of an elbow injury that was clearly bothering him during the tournament. He is coming off of two poor performances after winning four times earlier this year and his form going into the Open is really going to be in question. Can you pick him?
Then there is No. 2 Rory McIlroy, who said he felt "lost'' on his way to a missed cut at the Irish Open. In his past four starts, he has two missed cuts and not finished among the top 40. Can you pick him?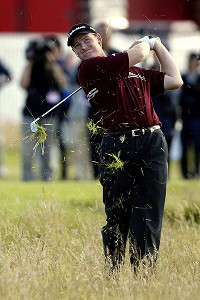 Andrew Redington/Getty ImagesThe last time the Open Championship came to Muirfield, Ernie Els took home the Claret Jug in a playoff. The venue has produced many champions who have gone on to be among the greatest the game has ever seen, including Jack Nicklaus and Tom Watson.
No. 3 Justin Rose is coming off a victory at the U.S. Open, his first major triumph, and clearly he takes good feelings about his game to Murifield. He will be the pick of many, but winning the U.S. Open and Open Championship back-to-back is rare. The last to do it was Woods in 2000. Before that it was Tom Watson in 1982. Rose is having a great year, with six worldwide top-10s. Can you pick him?
No. 4 Adam Scott won the Masters and now has the confidence to win majors. Even his collapse last year at Royal Lytham has not deterred him. But Scott has only three top-10s this year, none since winning the Masters. Can you pick him?
No. 5 Matt Kuchar was a popular choice heading into the U.S. Open after his Memorial victory, but has cooled off in two starts since. He tied for ninth last year at the Open, yet that was his first top-10 in the championship and he has missed six cuts. Can you pick him?
How about last weekend's winners? Jonas Blixt won the Greenbrier Classic for his second PGA Tour victory, but his appearance at the Open will be ... his first in a major championship. Perhaps he can talk to Ben Curtis and Keegan Bradley, who won majors in their first starts -- the only two players to do so going back 100 years.
Graeme McDowell's victory at the French Open was his third of the year and moved him to No. 6 in the world. He's having a great season but … in his past eight starts, he has three wins and five missed cuts, including getting the weekend off at the Masters and U.S. Open. Can you pick him?
"It's been a funny season, inconsistent,'' McDowell said.
No doubt.
So how do you pick a winner?
Brandt Snedeker? Phil Mickelson? Luke Donald? Louis Oosthuizen? They are all top-10 players.
Defending champion Ernie Els? Woods and Padraig Harrington have defended Open titles of late, so it's possible. And Els is coming off a victory in Germany recently.
One thing to keep in mind about Muirfield: It has produced nothing but Hall of Fame champions since World War II -- Henry Cotton (1948), Gary Player (1959), Jack Nicklaus (1966), Lee Trevino (1972), Tom Watson (1980), Nick Faldo (1987, 92) and Els (2002).
That suggests a pretty strong player will come through next week. Figuring out which one is the issue.
Weather Woes
It is no secret that the PGA Tour has been plagued by weather woes in 2013. No fewer than 15 tournaments have been affected in some way, the latest being the Greenbrier Classic, which saw a three-hour delay Sunday, the tournament almost miraculously finishing in near darkness.
Jonas Blixt won, but did anybody else? Only one hour of the broadcast was seen on network television as it was switched to the Golf Channel for the conclusion. And players were heard grumbling about the late start and race to finish.
The PGA Tour knew the forecast was poor and could have elected to tee off earlier. That is exactly what happened one week earlier at the AT&T National, where players were grouped in threesomes and sent off the first and 10th tees instead of twosomes off of No. 1. It is not an ideal situation, to be sure, as it meant a tape-delayed broadcast.
But the tournament concluded in proper fashion, without any weather worries. And ultimately, if that scenario can play out, isn't that better than playing in darkness or having to come back for a few holes Monday?
So why didn't the tour go earlier Sunday? Apparently Greenbrier owner Jim Justice stepped in and said no. He didn't want an early start, and given that he spends a lot of money with the tour and is a valued sponsor, his opinion carried the day.
Now it should be noted that early starts are not great for fans, who have less golf to see over a shorter time window. Tape delay does not help the tournament or its advertisers. Justice was looking out for his interests, and people spending the money should have a say.
But once the competition starts, it should be up to the field staff, the officials on site who run the event from an operational standpoint. Perhaps that is not prudent in a sports world with big-money implications, but what could be more important than the competition itself?
Johnson Wagner, who was in contention, complained afterward about the tee times not being moved up. He tried to make clear that, ultimately, he was responsible for his own poor play on the final day. But he nonetheless wasn't pleased.
"It was dark, it was really dark,'' said Wagner, who was the 54-hole leader but tied for second after a final-round 73. "We should have played threesomes early [Sunday] morning. Not that [it] would have made any difference with my round, but the last few holes I felt like we were just trying to finish.''
It seems the tour takes its chances with weather dilemmas haphazardly. Sometimes they move up the tee times; sometimes they don't. At the Arnold Palmer Invitational earlier this year, the weather forecast was clearly bad, and yet the tee times were not changed, and sure enough, a brutal storm passed through, necessitating a Monday finish.
Two weeks ago, it moved up the tee times and got done before the weather came in.
It's always a tough call. Nobody wants a full day of golf completed by early afternoon. But sometimes the situation calls for it.