Presidents Cup picks: Who gets the nod?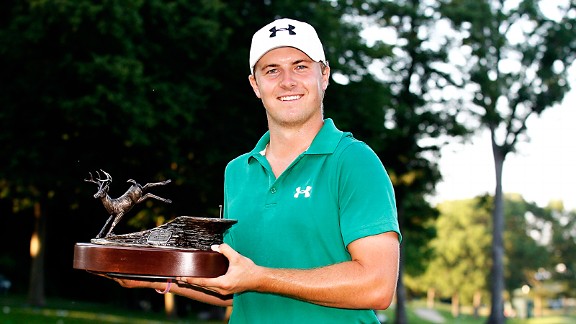 Michael Cohen/Getty ImagesIn 2013, Jordan Spieth, 20, has a PGA Tour victory and is well on his way to the Tour Championship.
This has been a dream season for Jordan Spieth, who won a PGA Tour event at age 19 and became the first player since Tiger Woods in 1996 to turn pro, hold no status on any tour and make it to the Tour Championship.
It promises to get even better, as Spieth is 10th in the FedEx Cup standings and will play for a shot at a 5-year-exemption and a $10 million bonus.
And then there's the matter of the Presidents Cup. After Spieth finished birdie-birdie-birdie-eagle at the Deutsche Bank Championship on Monday to shoot 62 and tie for fourth, it is easy to see why so many are clamoring for Fred Couples to pick him.
If he does get one of Couples' two at-large selections for the U.S. Presidents Cup team that will take on the International team at Muirfield Village starting on Oct. 3, there will be cheers all around.
There's nothing wrong with giving a young player who appears destined to play on numerous American teams some experience on the big stage -- especially when the American squad has no rookies.
But picking Spieth is not the slam dunk it appears for Couples who, along with International captain Nick Price, will make his at-large picks on Wednesday.
Webb Simpson, who won the 2012 U.S. Open and has played on a Presidents Cup and a Ryder Cup team, got bounced out of the last spot by a 25-foot birdie putt from Zach Johnson, who also birdied his 71st hole to push Simpson out. Simpson has been in the top 10 all year.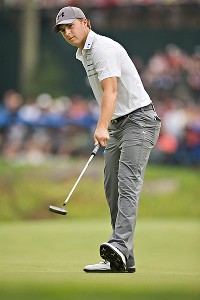 Matthew J. Lee/The Boston Globe/Getty ImagesJordan Spieth is 10th in FedEx Cup points but 22nd in Presidents Cup points.
Dustin Johnson figures to be on these teams for years, and his long ball is a particular asset in the best-ball competition. He won the Tournament of Champions in January but missed some points-earning time due to injury.
Jim Furyk has been a staple on U.S. teams dating to 1997, his first Ryder Cup. He's not missed a Presidents Cup or a Ryder Cup since and his game has been on the rise of late. Plus he went 5-0 in Australia two years ago.
Those three players, along with Spieth, were identified by Couples on Monday as the foursome he is considering for his two picks. That means Bubba Watson, who has not won this year, is out. So is Rickie Fowler, who three years ago was a captain's pick by Corey Pavin at the Ryder Cup but who has failed to make any team since.
Given the fact neither player has won this year and both are farther down in the standings, they are easy to rule out.
The others ... not so much.
You can make a case for or against each of the four players Couples identified, and for various reasons there is no right or wrong answer. But a decision is imminent, and this is the time to make the tough call and tell Furyk he won't be part of the team.
For some, perhaps that isn't such a tough call at all, especially given his brutal performance in singles a year ago at the Ryder Cup, where a bogey-bogey finish against Sergio Garcia was a crucial defeat for the Americans in the epic 14 1/2 to 13 1/2 defeat. Furyk went 1-2 as a captain's pick, and many pointed to that match -- and for that matter Steve Stricker's against Martin Kaymer -- as big reasons for the U.S. loss.
Given his experience, you could look to Furyk for leadership, but really, the American team has plenty of that with Tiger Woods, Phil Mickelson, Stricker and Zach Johnson. Each of the 10 players who made the team on points has competed in at least one Ryder Cup or Presidents Cup.
If you rule out Furyk, it's still a tough call between Dustin Johnson, Simpson and Spieth for the two spots.
Remember, at the Presidents Cup, there is no hiding any perceived weak links. On the first two days, everyone plays, and only two players sit out each session on Saturday.
So how do you choose? Simpson was on the team until being bumped by one shot Monday. Then again, had he played better, he would have secured his own position, and Simpson has not won since capturing the 2012 U.S. Open. Dustin Johnson didn't help himself by missing a cut at the Deutsche Bank in the last qualifying event, but he figures to be on U.S. teams for years to come and he remains one of America's best young players. Spieth is hot, but he didn't finish in the top 20 in points. Is that more deserving than, say, Simpson, who just got bumped out?
To his credit, Spieth did not lobby for a spot on Couples' team. He talked about being honored to be in the discussion and is simply happy to give the captain a tough choice. He has certainly done that.
Given his strong play of late and the fact the team has no other Cup competition rookies, the call here is to go with Spieth. Couples terms his chances "50-50" and acknowledged "He's shown a lot of character and he's had a great year."
Perhaps it would make life easier for Couples to not choose Spieth. Then he simply goes with Simpson and Johnson -- assuming he's ruled out Furyk.
But if Spieth gets the nod, then it comes down to Simpson and Johnson. The easy way is to pick Simpson, who is 11th in points and didn't get bumped until the very end of the process. It would be tough to quibble with that. But the nod here would go to Johnson, who has gotten better in team competition -- this would be his fourth U.S. team -- and gives the Americans a nice advantage in the best-ball competition.
So Spieth and Johnson it is -- a far from easy call.
The off week
For the first time since the PGA Tour schedule began at Kapalua in early January, there is a break in the schedule. By design the PGA Tour has scheduled an open week during the FedEx Cup playoffs, and even Henrik Stenson -- who is hotter than any player in the world -- clearly welcomes the break.
The late-season schedule is incredibly intense, especially for those who compete in the majors, the WGC and the playoffs. Starting with the Open Championship on July 18, it has been practically non-stop. The Canadian Open followed, then the WGC-Bridgestone, PGA Championship, Wyndham Championship, the Barclays and the Deutsche Bank Championship.
FOLLOW GOLF ON ESPN
Stay up-to-date with the latest news, stories and analysis.
Follow ESPNGolf on Twitter
Brandt Snedeker, for example, played in every tournament. Stenson skipped two but also played the week prior to the Open at the Scottish Open -- as did Phil Mickelson.
Now comes a much-needed break before the final two FedEx events at the BMW Championship and Tour Championship.
But the players should enjoy it while they can.
Next year, in a concession to the PGA of America, the PGA Tour will schedule all four FedEx events in a row in order for there to be a week off following the Tour Championship and prior to the Ryder Cup in Scotland.
That's an understandable move for the Ryder Cup and for those players who compete in the Tour Championship. They'll get a week off before heading to that pressure cooker. But it's horrible for just about everyone else who makes it to the BMW Championship.
This year's tournament is at Conway Farms outside of Chicago, but next year it moves to Cherry Hills in Denver with no off week following the Deutsche Bank. Even more problematic is the Deutsche Bank's finish, contractually scheduled to end on Monday -- and likely meaning next year we'll see a bunch of tired, grumpy players in Denver.
Birdies
>1. Henrik Stenson. The Swede has been on quite a roll, going back to the Scottish Open, where he began a stretch of five top-3 finishes in six events, capped by his victory Monday at the Deutsche Bank Championship.
2. Jordan Spieth What a summer it has been for the 20-year-old from Texas, who earned his card, won a tournament and shot 62 on Monday at the Deutsche Bank for his seventh top-10 and strong consideration for the U.S. Presidents Cup team.
3. Steve Stricker. The semi-retired golfer managed another strong tournament and earned himself a spot on the U.S. Presidents Cup team.
Bogeys
1. Sergio Garcia. The Spaniard's difficult year got more so even after a great start to the Deutsche Bank, where his two-shot 54-hole lead was gone on the front nine Monday. Garcia ended up tied for fourth, five strokes back after a final-round 73.
2. Rory McIlroy. Another uneven tournament will have McIlroy fighting to get to the Tour Championship. He is 41st in FedEx Cup points.
3. K.J. Choi. A late double-bogey cost Choi a spot at the BMW Championship, as he fell out of the top 70 in FedEx points.
Notables
Henrik Stenson now has three PGA Tour victories, but they are big ones: the 2007 WGC-Match Play, the 2009 Players and the Deutsche Bank. Now sixth in the world, Stenson had dropped to 239th in February of 2012. He had been as high as No. 4 in 2009. ... Steve Stricker now has three runner-up finishes this year and is one of just three players -- including Phil Mickelson and Hunter Mahan -- who has qualified for the Tour Championship in all seven years of the FedEx Cup. ... Canada's Graham DeLaet is now fifth in the FedEx Cup standings and qualified for the International Presidents Cup team. ... Ernie Els advanced to the BMW Championship in the 70th spot by less than a point over Ryan Palmer. ... Mickelson, who is sixth in the FedEx Cup standings, is the only player to finish among the top 15 in each of the first six years of the competition. ... When Sophie Gustafson tweeted that she was stepping away from the LPGA Tour, many believed it meant the five-time LPGA winner was retiring. Apparently not. Gustafson later clarified, saying she will concentrate on the Ladies European Tour (LET), where she has 14 victories. ... This week's Web.com Tour event outside of Charlotte is the second of four Finals events to determine 25 PGA Tour cards for the 2013-14 season. Trevor Immelman won in Fort Wayne, Ind., on Sunday for his first victory since the 2008 Masters and the first-place check assures he will be among the 25 players to earn their cards. Immelman's five-year exemption for winning the Masters expired this year. ... Nick Faldo, who has a full-time television career, said he will play in next month's SAS Championship on the Champions Tour. Faldo, 56, has competed in just two senior events, the 2007 and 2009 Senior Open Championship. This year he played the Open Championship at Muirfield, where he missed the cut.
Quotable
"I played great and so many guys have played better. And today was my turn. I was up there once again, putting myself in the mix." -- Henrik Stenson, on a run of top-3 finishes that went back to the Scottish Open prior to his victory Monday at the Deutsche Bank Championship.