Adam Scott still soaking it all in
While trying to wrap our arms around the idea of Dustin Johnson winning a season-opening event twice in the same year -- think about it -- we head down Down Under.
Front Nine
Adam Scott has made his first trip home to Australia since becoming the country's first Masters champion, and while the popular winner of the green jacket typically does his best to avoid the limelight, there will be no ducking it during the next several weeks.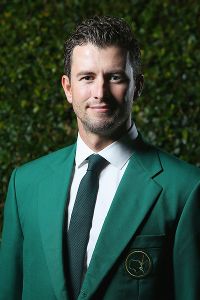 Chris Hyde/Getty ImagesAustralian Adam Scott could have reaped hefty appearance fees this time of year playing tournaments in Asia. Instead, his country's first Masters champion decided it's not about the money and took time off to be fresh for a stretch of golf Down Under.
Scott, 33, who won the Masters this year in a playoff over Angel Cabrera, is playing all three of Australia's big summer events, as well as the World Cup, in a bit of a victory lap that will undoubtedly be popular in a sport-loving nation.
It has been billed as Scott's gift to the country, as he could have parlayed his Masters win into lucrative appearance fees this time of year, specifically in Asia, where he skipped playing in order to gear up for the coming month.
"Yeah, I could have made lots of money playing in Asia, but I really want to play in Australia," Scott said in an interview with Australia's Daily Telegraph. "One of the insights into why I've done well recently is because I've taken money out of every decision I make. I'm back playing for the love of the game."
Say what you want about a multimillion-dollar athlete turning down big money, but the fact is Scott could have cashed in around the world. Tiger Woods will make in the range of $3 million for showing up in Turkey this week. Rory McIlroy has played for appearance fees in South Korea and China and will do so later this month in Australia, with some estimates putting his haul -- aside from prize money -- at about $5 million to $6 million.
Meanwhile, as an Aussie, Scott is expected to play his home country's events for a pittance, starting this week at the Australian PGA Championship. The event is being played in his native Queensland.
Next week it is on to Royal Melbourne for the Talisker Masters, a tournament he won a year ago. He will remain there for the World Cup, where he will partner with Jason Day. And the big month of golf concludes with the Emirates Australian Open at Royal Sydney.
On Wednesday, Scott was scheduled to receive the keys to the city in a Gold Coast ceremony, where for the first time, the green jacket was to be on display in Australia. Friday spectators have been asked to wear green in celebration of the Masters.
"I love the reaction people get when they see it," Scott said. "I might just put it on after the rounds and sign away, it'd be a fun surprise.
"I'll certainly take more time than normal to sign and interact with the fans. Phil Mickelson does it for hours back in America and they love him. I want to make sure I get to share it with as many people as possible."
Because of his hectic schedule now, Scott will -- in keeping with his less-is-more approach -- look to take time off after the start of the year. He is expected to play the Hyundai Tournament of Champions, followed by the Sony Open, as his first two PGA Tour events of the season, then perhaps not again until March -- meaning he would skip the WGC-Accenture Match Play.
All of that is a long way off. As for the folks Down Under who get to see Scott in person in the coming days and weeks, they will undoubtedly appreciate the gesture.
At The Turn
Ernie Els made some strong comments in Shanghai at the WGC-HSBC Champions, blasting the European Tour for requiring players to compete in at least two of the three Final Series events to be eligible for the Race To Dubai -- the BMW Masters, the WGC event and the Turkish Airlines Open.
"Why would they make a decision like that and expect guys to play? It's farcical. In my view it's an absolute joke," said Els, who said he would skip next week's season-ending event in Dubai out of protest.
Els has played both the PGA and European Tours for 20 years and understands the desire to try and get more players to compete in the season-ending Asian events. He just doesn't believe it should be mandatory.
"I'm going to have to look at my schedule," he said. "I was there for the growth of this tour and now they're making it almost impossible for me to remain playing the tour."
Els has played the past three weeks, competing in an Asian Tour event in Macau, followed by the PGA Tour's CIMB Classic in Malaysia and then the WGC-HSBC Champions in China.
Only the WGC event counted toward the Dubai qualification; he needed to either play the BMW Masters two weeks ago (up against Malaysia) or in this week's Turkish Airlines Open to be eligible.
Back Nine
Now that the PGA Tour has completed its first official points-earning swing through Asia, the idea of expanding surely will be broached -- if it hasn't been kicked around a good bit already.
FOLLOW GOLF ON ESPN
Stay up-to-date with the latest news, stories and analysis.
Follow ESPNGolf on Twitter
And if so, why not Australia?
A swing of Malaysia, China and Australia is not so far-fetched, as the Australian summer is now beginning with a stretch of three tournaments in four weeks, starting with this week's Australian PGA.
That is followed by the Talisker Masters, the World Cup (both played at Royal Melbourne) and the Australian Open at Royal Sydney.
If you cede this time of year to football, why not have another overseas event, offering up some late-night television possibilities? The folks in Australia almost assuredly would welcome such a move, given their difficulty in securing sponsorships. As much as Australians love their sports, the country of 25 million has struggled in supporting its big tournaments.
None of the purses for the three events tops $1.5 million -- which isn't much more than first-place prize money at most PGA Tour events and only fractionally more than what Web.com Tour events pay out. An infusion of PGA Tour sponsorship and marketing might help.
The Australian Masters, which is run by IMG -- last year, it was played at Kingston Heath and won by Adam Scott -- would appear to be the tournament that makes the most sense. (The other two are co-sponsored by the OneAsia Tour, making such an arrangement problematic.)
The Malaysia and China events proved to be quite popular this year with a good number of PGA Tour players. Why not add another tournament in an interesting locale? The idea has some merit.
Birdies
1. Dustin Johnson. After his WGC victory in China, he now has eight PGA Tour victories, more than any other player under the age of 30.
2. Graeme McDowell. His high finish in China has helped make for a tight battle in the Race to Dubai, although Gmac is skipping this week's event in Turkey.
3. Ian Poulter. After a relatively disappointing year, the Englishman got in the mix in China and still has a shot at the overall Race to Dubai title.
Bogeys
1. Simon Dyson. The Englishman withdrew from this week's tournament in Turkey due to an on-going investigation on his breach of the rules at the BMW Masters in China.
2. Henrik Stenson. Two lackluster finishes in China -- due mostly to a lingering wrist injury -- have left the Swede vulnerable in the Race to Dubai.
3. Luke Donald. The Englishman has dropped to 16th in the world -- after starting this year at No. 2 -- and has barely qualified for the European Tour's season-ending event in Dubai.
19th Hole
It's a long way from Shanghai to Sea Island, Ga. -- long enough to keep most from making the journey. But Boo Weekley, Scott Piercy and Brian Gay aren't letting a little jet lag get the best of them. All three are playing in this week's McGladrey Classic after having competed in the WGC-HSBC Champions in China last week. Weekley led the trio with a tie for 11th. But Jimmy Walker's streak will end after a tie for 46th in China. He was the only player to this point to compete in all four PGA Tour events of the new season. He is not in the McGladrey field.
Notable
With his victory at the WGC-HSBC Champions, Dustin Johnson has won in seven consecutive seasons on the PGA Tour. Only Phil Mickelson has a longer streak (10 straight seasons). ... With the announcement that Mickelson will begin his 2014 season in Abu Dhabi -- thus skipping the Humana Challenge -- it will be interesting to see what he decides to do after saying he is likely to cut back next year. In 2013, Mickelson started his season by playing five straight weeks: Humana, Farmers, Phoenix, Pebble Beach and Riviera. Something seemingly will get left out. ... Johnson's victory capped the first time that all four of the WGC events were won by Americans since the China tournament became a WGC in 2009. Matt Kuchar (Match Play) and Tiger Woods (Cadillac, Bridgestone) won the others in 2013. ... Kuchar, Zach Johnson and Webb Simpson give the McGladrey Classic three of the top-16 ranked players in the world. ... The event is the fifth of six tournaments to start the 2013-14 season, with next week's event in Mexico the final official tournament before the Hyundai Tournament of Champions in January.
Quotable
"It's the biggest win of my career so far. Those guys put a lot of pressure on me. I'm really proud of myself." -- Dustin Johnson, after holding off Ian Poulter and Graeme McDowell to win the WGC-HSBC Champions, the eighth victory of his PGA Tour career