Tiger Woods, Hank Haney sharing subtle jabs
What better way to get over the collective football hangover than to see the pretty pictures from the Monterey Peninsula, as the PGA Tour heads to Pebble Beach. Of course, Broncos fans can't get away; they'll see plenty of shots of Peyton Manning playing in the pro-am.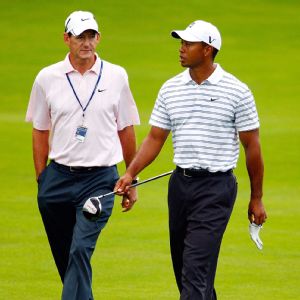 Scott Halleran/Getty ImagesHank Haney, left, the former swing coach of Tiger Woods, has questioned the world No. 1's physique to start 2014, saying that Woods has "overdone" it when it comes to working out in the gym.
Front nine
An addendum to Tiger Woods' worst two-tournament start as a professional was the interesting little back-and-forth between the golfer and his former instructor, Hank Haney.
Woods was a bit more subtle than Haney, who now hosts a radio show on Sirius XM and would obviously be inclined to comment on his former pupil in his new role.
It seemed to start when Haney responded to a caller question about Woods' gym activity in the offseason and said, "My opinion is he overdoes that," on Jan. 26, the day after Woods missed the 54-hole secondary cut at the Farmers Insurance Open.
Haney went on to say that when Woods "was thinner and younger, he was actually faster then. The strength maybe helps you get out of the rough, but I'd argue he's overdone it. But he loves to work out."
When Woods struggled to hit fairways during the opening round in Dubai last week, the world's No. 1 explained: "It's my old pattern again. With my last coach, it was a push-block. We tried to get out of that and go to a cut [a ball that curves from left to right]. It's harder to aim [more to the] right knowing that I've got to cut it.
"Last year all my misses were in the left rough. But they were all straight balls. It was dead straight because I aimed it there. Trying to aim down the right side of the fairway is a little harder. When I get it [correct], I hit these bullet cuts that go forever. And I started getting that toward the end [of the round]. At the beginning of the round, I was in that old pattern. Aim left and hit it. None of them overhooked. It just started left and stayed there."
And then Friday after Woods drove it even worse: "I've been hitting hot pulls and every one of those things has some serious heat on it, which is nice, but I just need to get it online. I would rather hit the hot pull than the big flame-out, crop duster to the right. The hot pull is fine because it's easy to fix; it's getting down there and just have to aim it a little bit more."
Haney has since made several references to the "hot pull" and "crop duster" comments on Twitter as he is a prolific user of the social media site and often answers fans' questions about their golf swings (commenting on photos) as well as Woods.
Bottom line: Haney has long felt, going back to their days together, that Woods had gravitated to too little practice, too much time in the gym. He has been especially critical of Woods' work on the greens, feeling that putting has cost him several majors.
As for Woods, perhaps it was said in moments of frustration, but it is strange that he would go back to the Haney excuse. He has been working with Sean Foley for 3½ years and has won eight times, more than any other player in the world, in the past two seasons.
Woods, of course, doesn't like Haney commenting on his game from afar. And he's never going to forgive the instructor for writing his 2012 book "The Big Miss" which highlighted their six-year run together.

Get all of ESPN.com's latest news, highlights and commentary about the world's most talked-about golfer. Tiger Tracker
So both have their reasons for being sensitive, even if it is a bit amusing at this point.
For what it's worth, Haney has said often that he expects Woods to win more majors. And he always has his amazing record as a teacher with Woods to fall back on: six majors and 31 PGA Tour titles.
As for Woods, he's on the third swing change of his professional career (he made one after winning the 1997 Masters with Butch Harmon, started working in earnest with Haney in 2004, and switched to Foley in 2010), and he has won tournaments and been No. 1 in the world in every instance.
But never has he started a season by finishing outside of the top 20 in each of his first two starts. In fact, he's been outside of the top 40 at both Torrey Pines and Dubai. That makes his next start, expected to be the Honda Classic in late February, all the more interesting.
At the turn
After a three-tournament run through the Middle East that included a slew of big names from around the world, the European Tour will now, for the most part, go under the radar, until spring. Aside from the two World Golf Championship events and the Masters, which are played in the U.S. and count on both tours, the events to be staged over the next two months do not promise to offer many highly ranked players.
The tour this week returns to South Africa for the Joburg Open. It will then play two more events in South Africa, followed by one in Morocco and then head to Asia for tournaments in Malaysia, China and South Korea.
The tour will not play its first event in Europe until May 8-11 -- the week of the PGA Tour's Players Championship -- for the Madeira Islands Open in Portugal, followed by a tournament in Spain, and then the BMW PGA Championship, the tour's flagship event.
Back nine
The long golf year and its ramifications have been among the storylines in the early part of 2014. While this is just the sixth week of the calendar year, it is the 12th of the new wraparound schedule, as the PGA Tour has gone to a format that began in the fall of 2013.
FOLLOW GOLF ON ESPN
Stay up-to-date with the latest news, stories and analysis.
Follow ESPNGolf on Twitter
That is not the only factor in players looking for places to take time off. Some of it has to do with those who also play on the European Tour and had a heavy schedule toward the end of 2013.
Hence, we're seeing Graeme McDowell make his 2014 debut this week. The 2010 U.S. Open champion is returning to Pebble Beach for the first time since that victory and playing the pro-am portion of the event with his father.
"Coming off the back of some nice time off," said McDowell, who has not competed since the World Challenge in early December. "Really wanted to come and start my year here. Kind of ease into the season, if you like. And come somewhere which obviously has great memories and great emotions and lucky enough to be able to play here with my dad this week."
Jim Furyk, as has often been his custom, is also making his debut at Pebble Beach after a long break. That leaves Steve Stricker as the only top-50 player in the world not to make his 2014 debut as of yet. He is scheduled to play the WGC-Match Play in mid-February.
And then there is Henrik Stenson. The reigning FedEx Cup and Race to Dubai champ is off to a slow start, and you can look at his heavy schedule as a culprit. Stenson won twice during the FedEx playoffs, including the Tour Championship, then captured the season-ending European event in Dubai.
But he also played late-season tournaments in South Africa and Thailand and already has played in Abu Dhabi, Qatar and Dubai this year, with a missed cut and finishes of 28th and 29th.
His coach, Pete Cowen, said in Dubai last week that Stenson "just needs a rest." He's taking one now, not planning to play until the Match Play -- although you wonder if that is enough.
Birdies
>1. Kevin Stadler. The son of Craig Stadler will join his dad, the 1982 Masters champion, at Augusta National after the younger Stadler's victory at the Waste Management Phoenix Open.
2. Stephen Gallacher. The Scotsman is on the verge of his own Masters invite following his victory at the Omega Dubai Desert Classic, which vaulted him to 37th in the world.
3. TPC Scottsdale. A record crowd showed up for the Waste Management Phoenix Open and there is no doubt that a massive amount of people watched -- or at least said they did -- a golf tournament.
Bogeys
1. Tiger Woods. The worst two-tournament start to a year in his 18 seasons as a pro says it all after a tie for 41st in Dubai.
2. Rory McIlroy. He had his first European Tour title in more than a year firmly in sight with seven holes to go but couldn't finish in Dubai.
3. Bubba Watson. After squandering a 54-hole lead and failing to make a 5-footer on the last, the 2012 Masters champ is still searching for his first victory since that major triumph.
19th Hole
This week's Joburg Open is the second of the Open Championship's Qualifying Series, a new format for players to gain entry to the tournament at Royal Liverpool. The first was held at the Australian Open in November. The top three finishers in the field who are among the top 10 and not already exempt for the Open will earn a spot in the field.
The Open Qualifying Series comprises 14 events. Upcoming ones are in Thailand and Japan as well as PGA Tour stops for the AT&T National, Greenbrier and John Deere Classic. Elsewhere on the European Tour, the Irish Open, French Open and Scottish Open also will provide spots in the Open.
Notable
At 6,816 yards, Pebble Beach -- one of the three venues for the AT&T Pebble Beach National Pro-Am -- is the shortest course on the PGA Tour. ... This week is the last opportunity to qualify for the WGC-Accenture Match Play by virtue of the Official World Golf Ranking. And it appears the number will go to 67, perhaps 68. Adam Scott and Phil Mickelson are not playing, Tiger Woods is unlikely to play. Justin Rose is attempting to return from a shoulder issue so his participation is unclear. ... Japan's Hideki Matsuyama continues to impress. He tied for fourth in Phoenix and has risen to a career-best 22nd in the world. ... Stephen Gallacher clearly covets a European Ryder Cup team spot. He lives just 35 miles from Gleneagles in Scotland and has a chance to make his first team. ... The golf schedule gets even busier: The Volvo World Match Play will be played in England at the London Club in October, two weeks after the Ryder Cup. The European Tour event had been held in the spring in recent years.
Quotable
"It wasn't pretty. I'll take it any way I can get it." -- Kevin Stadler, on his first PGA Tour victory, the Waste Management Phoenix Open, which earned him an invitation to the Masters.