Tiger Woods headlines top-notch field at Honda
>PALM BEACH GARDENS, Fla. -- As the PGA Tour heads to Florida, Tiger Woods has one FedEx Cup point -- 1,829 behind leader Jimmy Walker.
Front nine
We're 15 weeks into the PGA Tour season, but for many, it really doesn't begin until now. The traveling circus of golfers has set up shop in South Florida, and that can only mean the Masters is not too far away.
HONDA CLASSIC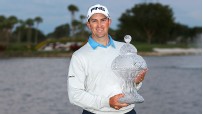 • Defending champion: Michael Thompson
• Tee times, leaderboard | Experts' picks
• Venue: PGA National Resort and Spa (Champion); par-70, 7,241 yards
• Location: Palm Beach Gardens, Fla.
• TV coverage: Thu-Fri, 2-6 p.m. ET, Golf Channel; Sat., 1-3 p.m. ET, Golf Channel and 3-6 p.m. ET, NBC; Sun., 1-3 p.m. ET, Golf Channel and 3-6 p.m. ET, NBC
• Monday qualifiers: Troy Merritt, Jason Millard, Derek Fathauer, Mark Silvers
• Field changes: Justin Rose (OUT) -- Ricky Barnes (IN); Scott Verplank (OUT) -- Billy Hurley III (IN); Scott Piercy (OUT) -- Hudson Swafford (IN)
• Payout: 144-man field with winner taking $1,080,000 of $6 million purse
• Format: 72-hole stroke play with 36-hole cut to low 70 and ties.
• Money leaders | Schedule | Rankings
• Follow @ESPNGolf on Twitter
For years, that is how it always played out. Greg Norman and the gang showed up at Doral, and unofficially it was on. Then Woods and Phil Mickelson came along and made the West Coast cool. Torrey Pines, Phoenix, Pebble Beach and Riviera -- some of the best locations on tour -- became prominent again.
Now, not as much.
Blame the wraparound schedule, the growing number of lucrative choices for professional golfers, or perhaps the ebb and flow of player habits.
There are so many good tournaments, so many events that offer huge prize money and a guaranteed payday, that the regular old tour stops have trouble attracting a top-heavy field. The four majors, the four WGCs, the Players Championship and four FedEx Cup playoff events leave room for only a handful of other tournaments, if that.
And so here we are at the Honda Classic, the rare regular tour event that attracts an all-star cast.
The Honda at PGA National is the beneficiary of a premium spot on the schedule. It is sandwiched between two World Golf Championship events, the first of which loses half the field before a usual tournament even begins. It makes for a logical place for the stars to show up.
The Honda has -- until next week's WGC-Cadillac Championship at Doral -- the best field of the year to date. Yes, last week's WGC-Accenture Match Play Championship attracted top talent, but three of the stars -- Woods, Mickelson and Adam Scott -- were missing. All three are here at the Honda, and the field has seven of the top nine in the world. (It was eight until Justin Rose withdrew due to a shoulder injury.)
Before last week's Match Play, no tournament on the PGA Tour did better than fielding three of the top 10.
Woods has not played on the PGA Tour since Torrey Pines in January. Scott hasn't played since Hawaii, two weeks prior to Woods' last start in the U.S. Mickelson took the past two weeks off after playing three times on the West Coast, the most of any player among the top six entered here.
Woods and Rory McIlroy live nearby, which certainly helps. So does Lee Westwood. Henrik Stenson and Graeme McDowell aren't far away in Orlando. And yet, Mickelson is playing this tournament for the first time since 2002.
The field is loaded, and there are all sorts of reasons. Some of them are not good, some lead to the age-old arguments about field strength, what works and what doesn't.
FOLLOW GOLF ON ESPN
Stay up-to-date with the latest news, stories and analysis.
Follow ESPNGolf on Twitter
This week, all is right with the golf world. And given the proper circumstances, we could be in for an entertaining month of golf leading up to the year's first major championship.
At the turn
With the start of the Honda Classic on Thursday, it will be just six weeks or 42 days until the first round of the Masters, the first major championship of 2014. Play begins at Augusta National on April 10.
Back nine
He made it to the semifinals of the WGC-Accenture Match Play Championship, then lost in disappointing fashion when he made a 3-putt bogey from 7 feet on the 16th hole Sunday, falling to Jason Day. But Rickie Fowler hardly left Arizona unhappy.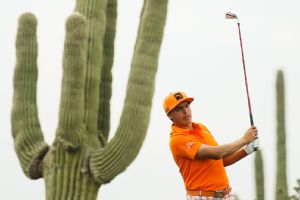 AP Photo/Matt YorkPrior to his third-place finish at the WGC-Match Play Championship on Sunday, Rickie Fowler's best result in 2014 was a T-33 at the Humana Challenge in mid-January.
Few gave the 25-year-old Fowler a chance of even staying until Thursday when he was going up against match-play stalwart Ian Poulter on Day 1. But Fowler prevailed there, then defeated Walker, Sergio Garcia and Jim Furyk to get to the final day. After losing to Day, Fowler defeated Ernie Els in the consolation match.
And considering the young American had missed three consecutive cuts and was outside of the top 50 in the world coming into the Match Play, it was an excellent week. Fowler began working with Butch Harmon in November, and the changes to his golf swing are already taking hold.
"It's been huge," said Fowler, who is in this week's Honda Classic field. "I've been swinging really well. I've been telling people tee to green I've been awesome. The things with Butch that we've been working on have been paying off. Just haven't really been making any putts and getting the balls up and down when we need to.
"I was able to accomplish a few things with the putter and the short game. Finally the things are starting to click, and I think the miscues I had were not because of ball striking."
With his strong showing at the Match Play, Fowler moved from 56th in the world to 38th to earn himself a spot in the WGC-Cadillac Championship at Doral, an important development, because playing in the WGCs helps your place in the rankings. Fowler had already qualified for the Masters by virtue of his top-50 showing at the end of 2013, but he now has a much clearer path to get into the U.S. Open.
Birdies
video1>
1. Jason Day. A hard-earned WGC-Accenture Match Play Championship victory moved him to his highest ranking at No. 4 in the world.
2. Victor Dubuisson. The Frenchman had never played on the PGA Tour before last month. With a second-place finish at the Match Play, he earned temporary member status.
3. Sergio Garcia. It seems odd that he would do so, but his conceded putt to Rickie Fowler on Friday at the Match Play Championship was in the proper spirit. Good for him.
Bogeys
1. Steve Elkington. Seems like the 1995 PGA champ never learns. His latest insensitive comments on Twitter were about football player Michael Sam, made under the guise of complaining about media coverage.
2. The PGA Tour. It would be nice if the tour, specifically commissioner Tim Finchem, would join other sports leagues and publicly announce penalties or sanctions re: Elkington. You think NFL commissioner Roger Goodell would have stayed silent on something like that?
3. Henrik Stenson. He became the sixth straight No. 1 overall seed to fail to advance past the second round of the Match Play. The reigning FedEx Cup and Race to Dubai champ is off to a slow start in 2014.
19th Hole
The PGA Tour has come up with a unique idea to help continue the event that started the senior tour (now known as the Champions Tour). The Legends of Golf, which began in 1978, will now be known as the Big Cedar Lodge Legends of Golf presented by Bass Pro Shops.
And in order to help promote alternative forms of golf, two of the three rounds in the 54-hole team event will be played over a par-3 course. The event will be June 6-8, with two divisions, for players ages 50 to 65, and 65 and older.
The Top of the Rock Course that will be used for two of the three rounds measures approximately 1,500 yards and will have some holes as short as 70 yards.
"The tournament will educate people and encourage people to use par-3 golf," said PGA Tour commissioner Tim Finchem, who attended the announcement on Tuesday in Ridgedale, Mo. "It will help tell the story why alternative facilities can be used to bring more people into the game of golf. It will play a prominent role in growing the game of golf."
Notable
Phil Mickelson has never played at PGA National and will be making his first appearance at the Honda Classic since 2002, when it was played at TPC Heron Bay ... Brooks Koepka and Peter Uihlein, South Florida roommates who are playing the European Tour, were given sponsor exemptions to the Honda, as was Dubai Desert Classic winner Stephen Gallacher ... Tiger Woods tied for 37th last year following two lost-ball penalties in the final round. He was second in 2012 in his only other pro appearance ... France's Victor Dubuisson didn't win the Match Play final against Jason Day, but at 23rd in the world, he has set himself up nicely for the rest of the year. He'll play in his first WGC-Cadillac Championship next week, as well as the Masters. He has earned temporary member status on the PGA Tour and is all but assured of being a member next season ... The Honda Classic offers a final opportunity to qualify for next week's WGC event. Anyone who moves into the top 50 in the world or the top 10 in FedEx Cup points will qualify ... The European Tour has yet to confirm the news, but the BBC reported last week that the 2015 Irish Open is going to Royal County Down in Northern Ireland. The storied links has not hosted the Irish Open since 1939.
Quotable
"Hopefully from here on, as long as I keep working hard and I want it as much as this, hopefully the floodgates will open and I'll win a lot more. But it's totally up to me if I want to win one more or 10 more or 20 more. It's just how much I want it." -- Jason Day after his WGC-Accenture Match Play Championship victory