Strokes, not fines, the way to end slow play
>ORLANDO, Fla. -- Arnold Palmer began hosting his own golf tournament at Bay Hill in 1979, making this week's rendition the 36th. Tiger Woods' eight victories mark 22 percent of the event's overall winners. He has played it 16 times as a pro, and won half. Without Woods, the rest of this year's field has combined to win the tournament seven times.
Front nine
The issue of slow play plagued professional golf again, this time at the Valspar Championship, where chronic slow-poke Kevin Na got put on the clock during the third round at Innisbrook and along with Robert Garrigus finished nearly 20 minutes behind the group in front.
Of course, no penalty strokes were levied.
ARNOLD PALMER INVITATIONAL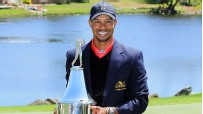 • Defending champion: Tiger Woods
• Tee times, leaderboard | Experts' picks
• FOREcaster
• Venue: Bay Hill Club and Lodge (par-72, 7,400 yards)
• Location: Orlando, Fla.
• TV coverage: Thu., Fri., 3-6 p.m. ET, Golf Channel; Sat., Sun., 12:30-2 p.m. ET, Golf Channel, and 2-6 p.m. ET, NBC
• Field changes: Tiger Woods (out), Brice Garnett (in); James Driscoll (out), Charlie Beljan (in); Spencer Levin (out), Morgan Hoffmann (in); Jason Day (out), Jhonattan Vegas (in); John Huh (out), David Lingmerth (in); Charl Schwartzel (out), Hudson Swafford (in)
• Payout: A 120-man field with winner taking $1,152,000 of a $6.4 million purse
• Format: 72-hole stroke play with 36-hole cut to low 70 and ties.
• Money leaders | Schedule | Rankings
• Follow @ESPNGolf on Twitter

Sigh.
This age-old story never seems to go away, despite television viewers and especially spectators on site suffering with such gaps in the action. For whatever reasons, PGA Tour commissioner Tim Finchem doesn't view this as a major concern, hence his rules officials are not vigilant in assessing penalties.
So here we are again, wondering what to do and how to do it.
It is important to note that slow play as it relates to professional golf does not offer easy answers. Field sizes often make it difficult to get players moving around a course. And to say that professional golfers should traverse a course in 4 hours because everyday players do misses the point.
Tour courses are set up severely, and these guys are playing for big money. It's their job, and they are going to take time to ponder shots, read greens. While it is easy to say they should get around faster than they do, reality suggests otherwise.
Still, there is an eye test here that can't be missed. It often appears that players can be faster. The pre-shot routines have become laborious. The lack of readiness when it is a player's turn is shameful. And in the case of Na, he simply can be painfully slow, as he was again Saturday.
But Na has improved significantly in this area, and it is obvious he is sensitive to the criticism. Garrigus, one of the game's faster players, even acknowledged this. "He is a lot faster now," Garrigus said.
Na had his famous issues at the Players Championship two years ago where he had difficulty pulling the trigger and several times swung over the top of the ball because he was not ready to hit. He was fidgety to the point of uneasiness.
"I try my best to not affect the guys I play with," said Na, who has one PGA Tour title and finished second to John Senden at Innisbrook. "I've improved 90 percent. I'm very conscious of the guys in front of me and behind me always looking. I've gotten a lot of compliments, which I appreciate."
Good for Na, but still not good enough. And this is certainly not meant to pick on him, as there are plenty of dawdlers in professional golf.
There is a fine structure in place for slow-play issues, based on the number of warnings a player gets. But it has been said many times, nothing will really change unless players get penalized strokes for their slowness.
And it's simple: Once a group is out of position, as deemed by the rules official, any slow time results in a one-stroke penalty. Players are given 60 seconds to hit if they are first and 40 seconds if they are playing second. While it might throw them out of their rhythm, the fear of a penalty will clearly get them moving.
Most of the time, however, it never comes to that. Players can be slow and never get out of position. Field sizes, course setups and weather conditions can all play a role in slow play, and sometimes it is justified.
But if you really want to get them playing faster, make the threat of stroke penalties real. Tournaments can be won or lost in such instances, and the discussion over such penalties would serve as a very real threat.
At the turn
Steve Elkington has not posted on his Twitter account @elkpga since Feb. 25, the day he tweeted out a homophobic slur about former Missouri defensive end Michael Sam, who could become the first NFL player who is openly gay. Several tweets by Elkington were in response to media coverage of the player, and he has caused consternation with other Twitter issues.
Elkington, the 1995 PGA Championship winner who now plays on the Champions Tour, did not play in last week's Toshiba Classic and is not in the field for this week's event in Mississippi, both of which he originally entered.
Now a player can certainly change his mind, but this would appear to be the tour's means of punishment. They won't announce it, of course; the PGA Tour never discusses any player discipline, which is unfortunate, especially in this case. What good is a suspension if nobody knows about it?
Nonetheless, it appears that Elkington has been put on a Twitter hiatus as well as suspended for at least two Champions Tour events.
Back nine
Henrik Stenson, the reigning FedEx Cup and Race To Dubai champion, admits he is off to a slow start in 2014. And he's hoping the Arnold Palmer Invitational -- where a big 2013 run began -- can get him going again.
FOLLOW GOLF ON ESPN
Stay up-to-date with the latest news, stories and analysis.
Follow ESPNGolf on Twitter
Stenson played a heavy schedule through the end of 2013, playing events in South Africa and Thailand after the run to the FedEx Cup and the European Tour's Race to Dubai. Along the way there were rewards to receive, as well as getting situated with new homes in his native Sweden and in his adopted hometown of Orlando.
All of it added up to some lackluster golf so far: two missed cuts and his best finish is a tie for 16th at the WGC-Cadillac Championship.
"It's been very busy off the golf course," Stenson said. "Certainly I wasn't mentally where I want to be or needed to be to play my absolute best for these early tournaments that I've played in. And the results kind of showed it as well. If you're tired mentally your patience is going to be a little bit off. And then you get a bit more upset with bad shots or the odd, funky course design and all the rest of it.
"So it's harder to keep your mind where you want it to be if you're a little tired and a little slow. Hopefully we can turn that around. And as we know, this is a big week and then we've got a lot of big weeks coming up as well. I'm just trying to keep going. I'm not too worried. I'll wake up at some point, I hope."
Birdies
>1. John Senden. The nice-guy Australian finally broke through for his first PGA Tour title in nearly eight years by capturing the Valspar Championship.
2. Florida Swing. It hasn't always produced great golf, but the winning scores (-8, -4, -7) have meant some nervous Sunday finishes.
3. Juli Inkster. The Hall of Famer was always a lock to be a Solheim Cup captain and now it's official.
Bogeys
1. John Daly. His 90 at Innisbrook included a 12 on the 16th hole and a case of the yips.
2. Jason Day. Coming off his biggest victory at the WGC-Match Play, the Aussie has now withdrawn from a second tournament due to a thumb injury.
3. Robert Garrigus. In position to win his second PGA Tour title, his chances were doomed Sunday with two front-nine double bogeys. He ended up 3 strokes back.
19th Hole
John Daly is no stranger to big numbers. His 12 last week on the 16th hole of the Copperhead course during the Valspar Championship was the 16th time Daly has made at least a 10 on a hole on the PGA Tour. He has made at least a 10 in every major except the Masters, the most notable coming at the 1999 U.S. Open at Pinehurst, where he swiped at a moving ball on the eighth hole of the final round on his way to an 11. His highest score was an 18 on the sixth hole at Bay Hill in 1998, although he was on his way to something worse at the 2011 Australian Open. On the 11th hole, Daly hit several balls into the water when he walked off the course because he had run out of balls. Had he continued, he would have been playing his 16th shot without having crossed the hazard.
Notable
With Tiger Woods out, the field at the Arnold Palmer Invitational is led by world No. 2 and reigning Masters champion Adam Scott. There are now 10 of the top 19 in the world playing in Orlando this week. ... Phil Mickelson is skipping Bay Hill for the first time since 2009. ... Jason Day is missing his second tournament since winning the Match Play with a thumb injury ... Patrick Reed, winner of the WGC-Cadillac two weeks ago, is also in the field. ... Japan's Hideki Matsuyama had planned to play at Bay Hill, but college graduation got in the way. The ceremony at Tohoku Fukushi University is Thursday. ... John Senden's victory at the Valspar Championship came in his 11th appearance in the event. He previously had two runner-up finishes. ... The win got Senden a spot in the Masters, as well as the WGC-Bridgestone Invitational, PGA Championship and the 2015 Hyundai Tournament of Champions. ... Senden's 277 winning total was not the highest in event history. Sean O'Hair shot 280, 4 under par, in 2008. ... Kevin Na's runner-up finish at the Valspar was his best on the PGA Tour since he won the 2011 Shriners Hospitals for Children Open. ... The LPGA Tour makes its domestic debut this week in Phoenix at the Founders Cup. ... The European Tour has changed qualifying criteria for its four-tournament final series that is the Race to Dubai. Players are no longer required to play two of the three events preceding the Dubai final -- two events are in Shanghai and the other is in Turkey. Also, the Dubai field will feature the top 60 available players, instead of cutting off at the top 60. The bonus pool also has been increased to $5 million.
Quotable
"As you know, Augusta is one of the greatest tournaments ever and to get back there again this year will be fantastic. It's amazing. It's just a dream come true to get back there again." -- John Senden after his Valspar Championship victory, which earned him an invitation to the Masters.