Hall tweaks include some curious decisions
This week's Valero Texas Open celebrates its 92nd playing and is the third-oldest event on the PGA Tour schedule behind the U.S. Open and BMW Championship (formerly the Western Open).
Front nine
When he was inducted into the World Golf Hall of Fame two years ago, Phil Mickelson was a bit of a reluctant honoree, pleased to be acknowledged for his career achievements but poised to add to them.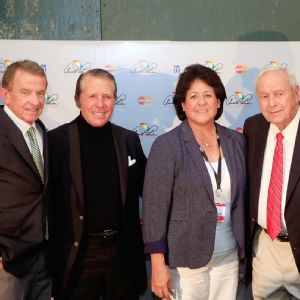 Michael Cohen/Getty ImagesPGA Tour commissioner Tim Finchem -- along with World Golf Hall of Fame members Gary Player, Nancy Lopez and Arnold Palmer -- announced significant changes to the process on how golf will bestow its highest honor.
"I'm still in the stage where I'm looking forward at my career, looking ahead to other opportunities and other tournaments," Mickelson said at the time. "I would like it to be more a reflection, but it's still a great honor."
The same could be said for Ernie Els a year prior. There he was at the St. Augustine, Fla., ceremony hearing about all of his career accolades, thinking about teeing off in one of the game's biggest tournaments a few days later at the Players Championship.
There is no lack of irony in the fact that both players went on to win the Open Championship the year following their inductions.
And so it remains a curious decision that the powers that be, who announced Sunday a new -- and mostly positive -- set of criteria for Hall entry, didn't change the minimum age requirement from 40 to, say, 50.
Golf is unlike the team sports in that its players don't typically "retire." They can remain active into their late 40s and 50s, still adding achievements to their career résumés. Why not wait until a more reflective age, when players might appreciate the honor more?
"I don't want to be recognized for the Hall of Fame when I'm dead and gone," said Gary Player, who was named as one of the four Hall of Famers -- along with Arnold Palmer, Nancy Lopez and Annika Sorenstam -- who will vote on the prospective candidates. "I want to do it when I'm here. So I think that's a great idea."
With respect to the Black Knight, the idea would be to still honor players while they are living, simply delaying the process.
FOLLOW GOLF ON ESPN
Stay up-to-date with the latest news, stories and analysis.
Follow ESPNGolf on Twitter
That said, the World Golf Foundation mostly got it right, save for a few curious decisions.
While it smartly reduced the number of voters from an unwieldy 300-plus, it put nine executives on its 16-member Selection Commission, including the likes of PGA Tour commissioner Tim Finchem and European Tour CEO George O'Grady. That's far too many.
Not to pick on them, but do you really see those executives pouring over the merits of, say, Macdonald Smith, a prolific winner in the 1920s and 1930s who has been left out despite repeatedly being on the ballot? (Smith won 24 PGA Tour events, including three Western Opens, then on par with a major; he has the most wins of any player not in the Hall.)
For that matter, will Palmer, Lopez and Sorenstam give him -- or others -- their proper due?
I'm biased, but it would be nice to see more representation from the golf media. Yes, 300-plus -- nobody knew exactly who the voters were -- was far too many. But media members, especially experienced ones around the game for years (the Baseball Writers' Association of America requires 10 years of membership before granting a Hall of Fame vote), can offer a far more analytical and unbiased view, with far less conflicts of interest.
Instead, there are just three media members on the selection panel, and the votes are unlikely to be made public. Why not? What's to hide? If Finchem gets a vote, let's see whom he backs.
Regardless of the voters, it will be much harder for male candidates to get in now, and that's a good thing. No more Vijay Singh, Fred Couples and Colin Montgomerie getting in with just more than 50 percent of the vote. All might be worthy, but the standard should be higher. Now it is. It will require 75 percent, meaning 12 of the 16 on the commission must approve.
Players are required to win a minimum of 15 times on approved tours or two majors and the Players Championship, and while that is making it tougher on the men, the women get a break from the stringent LPGA Hall of Fame criteria that had been used. The LPGA will continue to have its Hall but is supporting the new World Golf Hall of Fame rules, meaning players such as Laura Davies, Dottie Pepper and Meg Mallon will now be eligible.
Another good change: A maximum of two players per category -- men, women, veterans and lifetime achievement -- can go in each year, with no more than five total. With induction now being held every other year, it means the seemingly endless parade of inductees will stop.
"There isn't any right or wrong in these things," Finchem said. "It's just that we're looking for the system that creates the most interest. The Hall of Famers are much more directly involved in that process, and we think that will translate to more interest in the results of the process as we go forward."
At the turn
Kevin Na might be too slow, but he doesn't deserve to be heckled. That happened to him during the first two rounds of the Arnold Palmer Invitational, prompting the tournament to send security along with him for Saturday's third round. Na was more concerned about the impact the noise would have on his playing partners.
VALERO TEXAS OPEN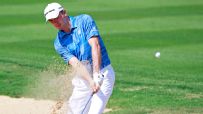 • Defending champion: Martin Laird
• Tee times, leaderboard | Experts' picks
• Venue: TPC San Antonio, par-72, 7,522 yards
• Location: San Antonio
• TV coverage: Thu., Fri., 3-6 p.m. ET, Golf Channel; Sat., Sun., 1-3 p.m. ET, Golf Channel, 3-6 p.m. ET, NBC
• Monday qualifiers: Hunter Brown, Derek Lamely, Jay McLuen, Robert Streb
• Field changes: Patrick Reed (WD)/Matt Bettencourt (in); Ryan Moore (WD)/Miguel Angel Carballo (in); Matt Every (WD)/Alex Aragon (in); Charles Howell III (WD)/Edward Loar (in); Troy Merritt (sponsor exemption); Benjamin Alvarado (sponsor exemption)
• Payout: A 144-man field with winner taking $1,116,000 of a $6.2 million purse
• Format: 72-hole stroke play with 36-hole cut to low 70 and ties.
• Money leaders | Schedule | Rankings
• Follow @ESPNGolf on Twitter

In a nice touch, a couple of fans on Saturday showed up wearing T-shirts that said "Kevin Na: Worth The Wait." Na appreciated the gesture.
"I couldn't stop laughing," he said. "It was nice to get some support."
Na has developed a reputation as one of the game's slowest players, a view that wasn't enhanced two years ago at the Players Championship when he had serious issues pulling the club back. He has improved since then but has his moments, such as the third round of the recent Valspar Championship, where his group was put on the clock.
Back nine
In three of the past four weeks, the winner of the PGA Tour event was not in the Masters field -- thus earning an invitation with the victory. It is hard to believe Augusta National actually took away one of the coolest winning perks for a time last decade, but it remains among the top things players mention after winning.
Matt Every's victory Sunday gets him to the Masters for the first time.
"I've never played there," he said of Augusta National. "And I know that experience is a big thing there. I'm going to try my hardest. ... I'm very excited, and I'm going to go there and try and play my best and see where it gets me."
Every is one of 21 first-timers in the field, with two more weeks for additions. Those in the top 50 in the Official World Golf Ranking as of Monday will be invited if not already in the field, as will the winners of this week's Valero Texas Open and the Shell Houston Open.
Birdies
>1. Matt Every. His final-round 70 at Bay Hill was enough to hold off Keegan Bradley and surpass a faltering Adam Scott to secure his first PGA Tour title and a trip to the Masters.
2. Henrik Stenson. The reigning FedEx Cup and Race to Dubai winner finally showed some form with a late charge to tie for fifth at the Arnold Palmer Invitational. It is possible he could go to No. 1 in the world with a victory next week in Houston, depending on the strength of the field.
3. Karrie Webb. The Aussie shot a final-round 63 then watched as nobody could catch her, winning for the second time this year.
Bogeys
>1. Adam Scott. That was a disappointing defeat for the reigning Masters champion at Bay Hill, a 76 in the final round when a 74 would have meant a playoff.
2. Bubba Watson. After a good run of late, including a victory at Riviera, Watson made an 11 at the sixth hole Thursday at Bay Hill and shot 83. Then he withdrew, citing allergies.
3. Tiger Woods. The back issues do not appear to be healing quickly. And the Masters is in doubt.
19th Hole
With the Masters approaching, a good number of top players have yet to win in 2014, including Tiger Woods, Adam Scott, Henrik Stenson, Phil Mickelson, Justin Rose and Jason Dufner.
That might be some cause for concern, although top-10 players Jason Day, Zach Johnson and Dustin Johnson do have victories this year.
Not to worry. The recent trend has shown that winners of the Masters are winning for the first time in that season. Since Mickelson won in 2006, every winner since -- Zach Johnson, Trevor Immelman, Angel Cabrera, Mickelson, Charl Schwartzel, Bubba Watson and Scott -- had not already won in the year of their victory.
Notable
This week's Valero Texas Open field features eight of the top 50 players in the world, with two of the top 10: Phil Mickelson and Zach Johnson. ... Mickelson is also playing next week in Houston leading up to the Masters. ... Valero has flipped spots with Houston on the schedule; last year the tournament was played the week prior to the Masters. ... Matt Every became the first player to make the Arnold Palmer Invitational his first victory since Paul Goydos in 1996. ... The victory was Every's fifth top-10 in 11 starts of the 2013-14 season. ... Adam Scott has been in the top 10 in three of his five starts this year and has a tour-best streak of 31 consecutive cuts made. ... Erik Compton's tie for fifth at Bay Hill was the second top-5 finish of his career. He tied for fourth last year at the Honda Classic. ... Brandt Snedeker's tie for eighth was his first top 10 of the season. ... Padraig Harrington's final-round 80 at Bay Hill matched his highest score on the PGA Tour.
Quotable
"I can't believe I won. Being close to winning out here, it can be kind of discouraging because if you don't win, you just wonder if it's ever going to happen. Sometimes you tell yourself maybe it's meant to be somewhere else, somewhere better. I don't see how it could get much better than this, being so close to where I grew up and all the fans out there that were cheering me on." -- Matt Every, who grew up in Daytona Beach and played at the University of Florida, after his victory in Orlando at the Arnold Palmer Invitational.