Mickelson getting game closer to major-ready
video1>
Front nine
PONTE VEDRA BEACH, Fla. -- This is the longest Phil Mickelson has gone into any season as a pro without finishing in the top 10. That is, of course, if you ignore his tie for second at the Abu Dhabi Championship in January.
All of which makes things a bit more perplexing -- but also somewhat understandable.
He started the year by tying for second at the European Tour event. The result included a triple-bogey on the back nine of the final round. He still nearly caught winner Pablo Larrazabal.
The Players Championship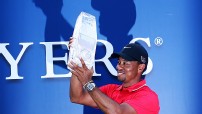 • Defending champion: Tiger Woods
• Leaderboard | Experts' picks
• FOREcaster
• Venue: TPC Sawgrass; par-72; 7,215 yards
• Location: Ponte Vedra Beach, Fla.
• TV coverage: Sun., 12:30-2, Golf Channel, 2-7, NBC
• Payout: A 144-man field with winner taking $1.8 million of a $10 million purse
• Format: 72-hole stroke play with 36-hole cut to low 70 and ties.
• Money leaders | Schedule | Rankings
• Follow @ESPNGolf on Twitter
Since then, Mickelson has withdrawn twice from tournaments and missed the cut at the Masters.
After a 63 on Saturday at Quail Hollow, Mickelson had a chance to win for the first time since the Open Championship at Muirfield in July. Instead, he couldn't make a putt, shot 76 and ended up in a tie for 11th.
"I've got to cut myself a little slack," said Mickelson, who will try for his second Players Championship victory this week. "Because for a long time early on, I wasn't healthy, wasn't able to go at the ball with the right amount of speed, which is going to not just affect my driving, but also affect my distance control, because I don't know exactly what speed I'm going through impact.
"But I've been feeling great since a few weeks prior to the Masters and I feel like last week was a good week for me to try to help put all things together."
Mickelson met with putting guru Dave Stockton on Monday to try to find some consistency in a stroke that has let him down. Some of it had to do with a tweak in his grip, and Mickelson said he's excited about moving forward, especially with the U.S. Open looming in five weeks.
"For me, I need to get in contention to kind of build my confidence, because the early part of the year I haven't had that experience, and it showed in my performance on Sunday," Mickelson said. "So I want to get in contention here, which is why I'll play Memorial and Memphis as well leading into the U.S. Open."
Mickelson won the Players in 2007 but has not finished among the top 10 since.
At the turn
The Players Championship is now in its eighth year being played in May after a move from March, and that six-week difference is proving how difficult the agronomy can be between those two periods.
When the tournament was played in March, the course was overseeded with rye grass, frequently used in Florida in the winter months in order to give a course a green look while other grass goes dormant.
With the move to May and warmer temperatures, overseeding is no longer necessary, but there have still been challenges to the point that several greens on the TPC Sawgrass course have been problematic.
The fourth, 11th and 12th greens were not open to practice until Wednesday, and prior to that there were also issues with the ninth and 14th greens. Part of it was due to a harsh winter as well as a misapplication of a substance meant to combat those problems.
All of the greens are scheduled to be replaced following the 2015 tournament.
"We have the expertise, we have the people in place," PGA Tour commissioner Tim Finchem said. "It's just a few things that need to be adjusted, and I think we're going to be fine."
Back nine
In his blog post this week on his website, Tiger Woods covered a lot of ground, the biggest news being that his rehab from back surgery has been a "slow process" and that he remains unclear when he'll be able to compete again.
But there were several gems, including his revelation that he didn't miss the Masters as much as many would have thought -- he has missed majors before and knew he couldn't play. And that he was watching because Fred Couples got into contention.
FOLLOW GOLF ON ESPN
Stay up-to-date with the latest news, stories and analysis.
Follow ESPNGolf on Twitter
"I actually watched quite a bit of it because Freddie was in contention," Woods said. "As soon as his name went up on the leaderboard, I started watching what he was doing. Once he got off to that bad start Sunday, it wasn't as much fun."
Woods also congratulated Bubba Watson on his second Masters, but then offered up somewhat of a backhanded compliment.
"The golf course sets up great for a long fader who is left-handed," Woods said. "It sets up perfectly because it's so much easier to cut the ball than it is to turn it over on No. 10. On No. 13, it is much easier to cut it and carry it [for a lefty]. If you try to carry it with a draw [for a righty], it's not going to stay in the air as much as it would with a cut. Same thing with No. 14. I think that's one of the reasons Phil [Mickelson] and Bubba have done so well there is because they both fade the ball really well for lefties."
Birdies
video1>
1. J.B. Holmes. After two brain operations, elbow surgery and an ankle issue, Holmes captured his first PGA Tour title in six years at the Wells Fargo Championship to make for a pretty good comeback player of the year.
2. Jim Furyk. A final-round 65 at Quail Hollow gave Furyk a chance at victory, but he came up just one shot short.
3. Stacy Lewis. After numerous close calls in the past several months, Lewis took care of business and ran away from the field at the LPGA event in Texas.
Bogeys
1. Phil Mickelson. In perfect position to claim his first win since the Open Championship, Lefty shot a final-round 76 to drop out of the top 10.
2. Rory McIlroy. He's been a top-10 machine this year, but a second-round 75 at Quail Hollow hurt his chances at victory.
3. Padraig Harrington. The three-time major champion missed the cut at Quail Hollow and has dropped out of the top 200 in the world.
19th Hole
Bubba Watson has signed his first endorsement deal since winning the Masters, and it is with a Japanese company that makes a bedding topper called the Airweave. Watson was first introduced to the product at the 2012 Thailand Championship and has been using it since. Now he will be paid to sleep on a mattress pad that he can take with him. Watson is a "global ambassador" and will be featured in advertising and marketing initiatives for the company, which is also a sponsor of the U.S. Olympic Committee.
Notable
With Tiger Woods on an extended leave due to back surgery, his perch atop the world rankings is in danger. Adam Scott, Henrik Stenson, Bubba Watson and Matt Kuchar all could go to the top spot, with Scott needing as little as a top-16 finish, based on other factors. Kuchar would need to win ... This is the 26th event of the 2013-14 season, with 15 more to qualify for the four-tournament FedEx Cup playoffs ... There are 16 first-time participants at the Players Championship, led by 20-year-old Jordan Spieth, who at least has some experience at TPC Sawgrass. He played in a junior event here four years ago ... Scott is playing for the 13th time and is celebrating the 10-year anniversary of his victory here ... Phil Mickelson has the longest active streak on the PGA Tour, having won every year since 2004 ... Rory McIlroy tied for eighth last year after missing the cut in his first three attempts at the Players.
Quotable
"Nobody is trying harder because they can be No. 1. It's still a golf course, they're trying to win it. If they're 800th in the world, they're trying to win the golf tournament. They don't care what place they're going to move to, we're trying to win a golf tournament." -- Bubba Watson, one of four players with a chance to go to No. 1 in the world this week