How will Tiger put his swing back together?
video1>
Front nine

Looking for encouraging signs while waiting for the doctors to say it is OK to begin swinging a golf club again, Tiger Woods noted Monday in his first public remarks since back surgery that at least his short game should be sharp whenever he returns.
There was a hint of humor in his comment, but truth too.
"If I start spraying it all over the lot and not hitting it that great, at least my short game is solid," he said at media day for the Quicken Loans National tournament. "That's one of the positives to it."
But once he does return, how will he go about putting back together the golf swing that gave him fits in the few tournaments he played in 2014?
It is reasonable to suggest that some of the woes Woods was having in his game were attributable to his back problems. Try as he might to avoid the subject, the back problems never really went away.
Woods was dealing with back issues in August but managed to patch together a game in and around rest and treatment for the rest of 2013.
He began 2014 trying to manage those issues, not wanting to overdo it with practice. He was unable to work on his game as much as is probably necessary, but he had no choice. The results were a very un-Woods-like start at Torrey Pines and Dubai.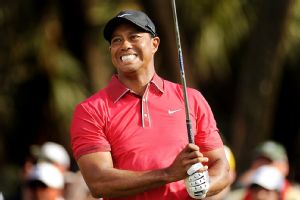 Robert Duyos/Sun Sentinel/MCT/Getty ImagesTiger Woods was in visible discomfort during the final round of the WGC-Cadillac Championship in March, a few weeks before he had back surgery.
Three tournaments later, it blew up. It became obvious in March at the Honda Classic and the WGC-Cadillac Championship that something wasn't right. He was so bad off that he wondered about his future in the game.
"Prior to the surgery, I didn't think I would have much of a playing career if I felt like this because, as I said, I couldn't get out of bed," Woods said.
That's why the forced layoff -- now seven weeks past his March 31 surgery -- is not as agonizing to him as you might expect. Woods knew he couldn't play golf then, and he knows he can't play golf now. But he fully expects to be able to do so when the healing is complete and the doctors give the green light.
Then what?
At some point, Woods will be able to do more than just hit all the clubs in his bag. He will want to start hitting shots, the ones that a professional golfer needs to compete at the highest level. And it might take some time to figure out what a repaired back means for his golf game.
"I think there will be some adjustments made, but I don't know what they're going to be," Woods said. "A lot of that is going to depend on how I feel. I know going in my swing was pretty solid, but eventually I got to a point where I just couldn't do it much playingwise.
"But as far as making any adjustments, we're always making adjustments, always tinkering. That's what we do as golfers. But as far as any major adjustments or major changes, no, we're not going to do that. But I would like to -- obviously when I get back and get my feel for things, I'll see where I am and how things are."
There is also a good chance that Woods will modify his workout routine. He has never been one to disclose his training regimen in great detail, but it is quite clear that weightlifting is part of the program.
"We're going to make some changes with that; I've made adaptations over the years," said Woods, explaining that he used to run often and has cut that back. "We've made adjustments, and I see the same thing here. But I still want to feel explosive. I still want to feel strong and mobile."
Those are some of the technical issues Woods faces when he comes back, whenever that might be.
At the turn

When Miguel Angel Jimenez won the Spanish Open on Sunday, he won his country's national championship for the first time and also became the first player age 50 or older to win on the European Tour. Jimenez already held the record for oldest European Tour champion when he won the Hong Kong Open in December before turning 50.
He also displaced Arnold Palmer from the record book.
Palmer held the distinction of being the oldest player to win the Spanish Open. He was 45 when he captured the title in 1975, his second-to-last victory on a major tour. Palmer also won the Penfold PGA Championship that year.
That tournament, now known as the BMW PGA Championship, is the European Tour's flagship event. When Palmer won, the tournament was played at Royal St. George's in Sandwich, England. It's now anchored at European Tour headquarters at Wentworth.
Palmer's final PGA Tour victory came in 1973 at the Bob Hope Classic.
Back nine

Among the many highlights of PGA Tour commissioner Tim Finchem's 20-year tenure has been his ability to renew title sponsors or find new ones for those departing. This was especially impressive during the economic downturn in 2008-09. Not only did Finchem and his team renew sponsorships and find new title sponsors, but purses continued to escalate as well.
All of that makes the fate of the WGC-Match Play Championship surprising. There is a good chance the event will not be played next year, and if it isn't, the tour faces a hole in its regular-season schedule -- something that has not happened in years.
FOLLOW GOLF ON ESPN
Stay up-to-date with the latest news, stories and analysis.
Follow ESPNGolf on Twitter
At this year's Match Play in February, Finchem ruled out nothing, including returning to the Dove Mountain venue in Arizona or renewing Accenture as title sponsor. He said an announcement on the event's future would likely come in the spring. But at the Players Championship two weeks ago, Finchem acknowledged to The Associated Press that "This has been taking longer than we thought. We'll see. We probably won't have anything to say for at least a few weeks."
Title sponsorship is the huge issue. Accenture has sponsored the event since its inception in 1999, but it was clear heading into this year that the company would not be renewing. So Finchem's marketing team has likely been working on this for the better part of 18 months, with no resolution.
When the Valero Texas Open made it known recently that it would enact its right to play prior to the Masters in late March, it left no date for the Match Play on next year's schedule. The 2015 schedule begins a week later on Jan. 8.
These changes would leave a one-week hole in the schedule between the Players Championship and the HP Byron Nelson Championship. Could the Match Play go there? Does a regular tournament take its place? Could there actually be an off week during the regular-season schedule? The latter seems unlikely, but sponsors willing to put up $10-million plus for a WGC event are not in ample supply.
Regardless of how this goes -- and you can bet the tour is doing everything it can to salvage something -- it is likely we will see a change from the traditional 64-man straight match play format so the tournament might be more appealing.
Birdies
1. Brendon Todd. He had never finished in the top five in a PGA Tour event and ends up going bogey-free at the Nelson to post his first career victory.
2. Miguel Angel Jimenez. The most interesting golfer is now playing some of the best golf anywhere. His win in Spain put the 50-year-old on the cusp of qualifying for Europe's Ryder Cup team.
3. Mike Weir. There has been a lot of tough times for the former Masters winner, but he registered his first top 10 in more than four years with a runner-up finish at the Nelson.
Bogeys
1. Louis Oosthuizen. A 64 on Saturday put him in position for his first victory on U.S. soil. But the 2010 Open champ shot 74 on Sunday to drop to 11th.
2. Padraig Harrington. The Irishman made a rare push, getting within two of the lead heading into the final round at the Byron Nelson, only to slump on Sunday.
3. David Duval. Still trying to find the magic that saw him win 13 times, but the last more than 12 years ago, Duval opened the Byron Nelson with a 66. Then he shot 76 to miss the cut.
19th Hole
The next two weeks are big for players not exempt for the U.S. Open. Any player among the top 60 in the world rankings as of Sunday and June 2 will get to bypass sectional qualifying for the U.S. Open at Pinehurst.
Nick Watney (58) and Boo Weekley (67) are the only players ranked between 55th and 70th who are in the field. Both have exemptions as they made the Tour Championship last year.
Chesson Hadley, who won the Puerto Rico Open earlier this year, is ranked 60th. He had a chance to make the Masters via the top 50 in March but fell short. Now he has slipped a bit more and needs to stay at No. 60 this week or move back in after the Memorial Tournament.
Charles Howell III, who is coming off a third-place finish at the Byron Nelson Championship, is not playing at Colonial this week. He is 66th in the world.
The winner of this week's BMW PGA Championship on the European Tour also receives a spot in the U.S. Open if not already eligible.
Notable
Brendon Todd led the field in strokes gained putting at the Nelson, also led in driving accuracy and tied for the lead in fewest putts. ... Adam Scott went to No. 1 in the world this week and is playing at the Colonial. He became the first Australian to hold the No. 1 spot since Greg Norman in January 1998. ... Mike Weir, who is playing this year on a one-time exemption for those who are among the top 50 in career earnings, just about wrapped up his PGA Tour card for 2014-15 with his second-place finish at the Nelson. He is 87th in FedEx Cup points, with the top 125 advancing to the FedEx playoffs while also being exempt for next season. ... Four-time PGA Tour winner Stephen Ames makes his Champions Tour debut this week at the Senior PGA Championship. ... Patrick Cantlay, battling back issues, made his debut as a PGA Tour member at the Nelson, where he tied for 71st.
Quotable
"I'm excited about the relief, like I finally have a chance to play the PGA Tour for multiple years. Going to Augusta for the Masters is a dream come true." -- Brendon Todd, after winning the HP Byron Nelson Championship, which gets him a two-year PGA Tour exemption along with an invitation to the 2015 Masters