Can big names find game at Memorial?
video1>
Front nine
DUBLIN, Ohio -- An ordinary, sometimes mundane golf season suddenly on Sunday got the spark it so desperately needed. Adam Scott, current No. 1 in the world, won for the first time this year. So did former No. 1 Rory McIlroy.
Their victories came on the same day roughly six months after they dueled at the Australian Open, McIlroy denying Scott the Aussie Slam while getting his own career on track, but Scott squarely in position to make a run at No. 1.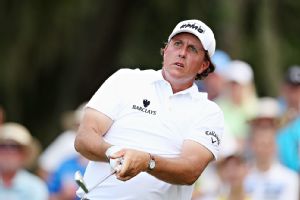 Richard Heathcote/Getty ImagesEight of the top 12 ranked players in the world -- including Phil Mickelson -- will be playing this week at the Memorial Tournament, hosted by Jack Nicklaus at Muirfield Village Golf Club.
That happened last week, and then Scott followed up with a victory at the Colonial, his first on the PGA Tour since capturing the Barclays in August and one that will keep him atop the rankings for at least another week.
Scott did so despite an opening nine that seemed to suggest he would be on his way to missing the cut.
"It's another learning experience on how golf is, to get off to such a poor start on Thursday and kind of claw my away back into [the] tournament," said Scott, who bogeyed four of his first nine holes. "It's so satisfying in so many ways to get it done."
Like Scott, McIlroy had seen some success without winning and had grown frustrated. And it seemed to be the story of the year. Upstarts, no-names, first-timers ... aside from Bubba Watson's victory at the Masters (which followed a win at Riviera), the storylines were more about guys trying to make a name for themselves as opposed to those who already had.
McIlroy had seven top-10s in 11 official starts since his last victory and gave himself excellent chances to win in Abu Dhabi, Dubai and at the Honda Classic. Strong weekends put him in the top 10 at the Wells Fargo Championship and Players Championship, the latter a tournament where he has traditionally struggled.
But McIlroy wasn't pleased with "backdoor top-10s," as he said. And the BMW PGA Championship last week at Wentworth didn't seem the place to do it. McIlroy had missed the cut in each of the past two years there, and then announced on the eve of the tournament that he had broken off his engagement to tennis star Caroline Wozniacki.
Another poor performance would have been easily dismissed. Instead, McIlroy rallied from 7 strokes back on Sunday to win his first professional title on European soil.
"It does my confidence a world of good," McIlroy said. "I know that I'm playing well, but being able to get the job done under pressure and when I need to ... I think that's the most pleasing thing about [the] week.
The Memorial Tournament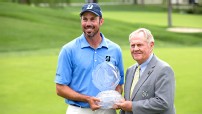 • Defending champion: Matt Kuchar
• Tee times, leaderboard | Experts' picks
• FOREcaster
• Venue: Muirfield Village Golf Club; par-72, 7,392 yards
• Location: Dublin, Ohio
• TV coverage: Thu., Fri. 2:30-6:30 p.m. ET on Golf Channel; Sat. 12:30-2:30 p.m. ET on Golf Channel, 3-6 p.m. ET, CBS; Sun., noon-2 p.m. ET, Golf Channel, 2:30-6 p.m. ET, CBS
• Field changes: Jeff Overton (out)/Brice Garnett (in); Patrick Reed (out)/Aaron Baddeley (in); Graham DeLaet (out)/Kevin Kisner (in)
• Payout: A 120-man field with winner taking $1,116,000 of a $6.2 million purse
• Format: 72-hole stroke play with 36-hole cut to low 70 and ties.
• Money leaders | Schedule | Rankings
• Follow @ESPNGolf on Twitter
"I think it's the start of something ... There's still three majors to play this year, a lot of golf left, a lot of big tournaments to try and win. So even though we're nearly halfway through the season, I feel like mine's just beginning."
Golf, for whatever reason, is a game that celebrates its superstars far more than its underdogs.
That's why this season seemed to inch along. The No. 1 draw, Tiger Woods, has been out with injury. Phil Mickelson has been surprisingly off. None of last year's major champions had won until Scott's victory Sunday. Meanwhile, eight players were ranked outside the top 100 at the time of their wins.
It was only one week, but the Memorial Tournament that starts Thursday seems a perfect place to continue the trend. Eight of the top 12 players in the world are assembled with the U.S. Open just around the corner.
And it doesn't hurt that Scott and McIlroy, along with Jason Day, will be grouped together for the first two rounds at Muirfield Village.
At the turn
The United States Golf Association announced this week that 25 players, including Miguel Angel Jimenez, had qualified for the U.S. Open based on being among the top 60 in the world as of Sunday. That brings the number of fully exempt players to 75.
That number could change June 9, when any new players in the top 60 as of that date also can qualify.
Six players gained entry to the Open through a sectional qualifier in Japan on Monday, as did 14 at another qualifier in England, which brings the number in the field to 95.
That means approximately 60 spots will be available at the 10 sectional qualifiers that will be played around the country June 2.
Back nine
It has been a rather quiet year to date for Jason Dufner, the reigning PGA Championship winner. He missed the cut at the Masters and tied for 48th at the Players Championship before getting into contention at the Colonial -- a tournament he probably should have won were it not for some short putting woes.
FOLLOW GOLF ON ESPN
Stay up-to-date with the latest news, stories and analysis.
Follow ESPNGolf on Twitter
He did go 69-66 over the weekend to post his best finish since winning the PGA, losing to Adam Scott in a sudden-death playoff. But he had three lip-outs on the back nine as well as a missed 3-footer for par at the 11th. It wasn't until the final hole where he drained a 25-footer to get to 9 under par, a score later matched by Scott.
"I was pretty happy with how I played," Dufner said. "I had some really good putts, I thought, that had a real good chance to go in. Usually I had some sloppy putts out there that didn't look like they'd go in. I'm glad I hung in there and finally got one to fall inside on 18."
Dufner appeared poised to win on the second extra hole when he stuck his approach to five feet, but Scott made a longer birdie putt to extend it to a third hole.
Still, in defeat, Dufner might have offered up the best quote of the year.
"He's a great player," Dufner said of Scott. "Obviously No. 1 in the world. It's tough to concentrate, he's so good looking, too."
Birdies
video1>
1. Rory McIlroy. Not only did he come from 7 strokes back at the BMW PGA to win for the first time this year, he did it on a course that has given him fits and in the week he endured personal turmoil.
2. Adam Scott. The Aussie backed up his rise to No. 1 with a come-from-behind victory at the Colonial, his 11th win on the PGA Tour.
3. Colin Montgomerie. A first major -- although of the senior variety -- came Monty's way at the Senior PGA Championship, his first victory on the Champions Tour.
Bogeys
1.Thomas Bjorn. The Dane squandered a 5-stroke, 54-hole lead at the BMW PGA Championship with a final-round 75. But he did strengthen his hold on a European Ryder Cup team spot.
2. Jason Dufner. A solid final round put him in a playoff, but Dufner could have won the tournament outright were it not for several missed short putts that were painful to watch.
3. Chad Campbell. In position to win for the first time since 2007, Campbell fell down the leaderboard at Colonial with a final-round 74, finishing tied for 30th.
19th Hole
Josh Beckett had just thrown a no-hitter for the Dodgers on Sunday, blanking the Phillies in Philadelphia, when he discussed the feat with the media and was thinking about ... golf?
"I played Pine Valley [located not too far away in Southern New Jersey] two days ago," Beckett said. "That's what Paul Maholm and I were talking about. I wonder if I'm the first guy to play the No. 1 course in the country and then throw a no-hitter? I probably am."
Notable
David Lingmerth, who finished second to Tiger Woods at the Players Championship last year, made the cut on the number at Colonial, then shot 66-66 over the weekend to tie for fifth after having missed five straight cuts. ... Tom Watson hit 17 of 18 greens in the final round of the Senior PGA Championship to shoot 65, one more than his age, and finished second to Colin Montgomerie. It was Watson's best finish on the Champions Tour since he won the 2011 Senior PGA ... Adam Scott became the first player to win all four of the Texas-based PGA Tour events. He made his PGA Tour-leading 34th consecutive cut. ... Scott needed to finish tied for 13th or better at the Colonial to retain his No. 1 ranking after Henrik Stenson had tied for seventh at the BMW Championship. Stenson is playing in his home country of Sweden this week at the Nordea Masters. ... Jimmy Walker, the FedEx Cup leader who has won three times this season, made a threat to win a fourth before settling for a tie for 10th. ... Watson was at Muirfield Village this week in his duties at Ryder Cup captain along with assistant Andy North, meeting with players and get them fitted for team uniforms. ... Luke Donald's wife, Diane, gave birth to the couple's third child last week -- while he was playing the BMW PGA Championship in England. Diane Donald went into labor about a month early, and Donald had no way to get back to the U.S. in time. He went home immediately after the tournament before arriving for the Memorial.
Quotable
"Maybe added a little pressure for myself, trying to play like a No. 1. But I think the important thing was I realized that didn't mean playing perfect, and I certainly didn't play perfect all week. But the way you come back and get it done, and I felt like I certainly played like one of the best players in the world out there on the back nine." -- Adam Scott after rallying to win the Crowne Plaza Invitational at Colonial, his first tournament playing as the No. 1 player in the world.