Pinehurst's beauty in the eye of the beholder
Front nine
PINEHURST, N.C. -- A lush, pristine golf course it is not.
Pinehurst No. 2 was a shock to many who tuned into the U.S. Open last week -- and it might be again to those who check out the U.S. Women's Open this week at the same venue.
It was rough around the edges, with patches of brown, dried-out looking fairway grass and sandy, weedy areas instead of rough.
And that was exactly the intention of the resort and the USGA when they made the decision several years ago to return the venerable course to the way Donald Ross designed it when No. 2 opened more than 100 years ago.
To USGA executive director Mike Davis, Pinehurst was and is beautiful.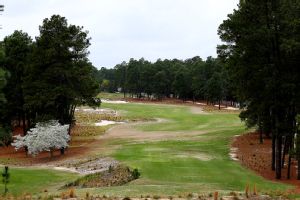 Streeter Lecka/Getty ImagesThe renovation of Pinehurst No. 2 returned the course to the look designer Donald Ross intended.
"Brown is the new green," said Davis, who lauded the course and how it stood up to the best players in the world. "But we have to be very careful and clarify what we mean. What we are really after is a couple of things.
"One is less water used on golf courses, firmer conditions. That doesn't mean we're looking for brown golf courses. Some types of grass, if they get brown, they are going to die.
"The other thing is just trying for less manicured golf courses when you get off the fairway ... to reduce some of the [maintenance] costs. I contend and many other people would contend that it makes for more interesting golf when you do that."
Donald Trump would not be one of those people. The real estate magnate and golf lover took to Twitter to express his displeasure. He said Pinehurst "look[ed] terrible [and is] bad for golf," and also tweeted: "My position on Pinehurst is correct. Bad for the game, dried out cow pasture."
Donald Trump, point misser.
Make no mistake, Trump has been great for golf in many ways. He has invested in the game at a time when many have fled. He did an overhaul at Doral, bought the Turnberry Resort in Scotland and his Trump National Golf Club in New Jersey will host the 2022 PGA Championship. And as he'll tell you, he is an excellent player.
But take Doral, for instance. The home of the WGC-Cadillac Championship got a major makeover prior to this year's tournament, but the huge, ornate waterfall near the first tee is a bit over the top. And the course costs approximately $450 per round to play during high-season winter months.
Is that what we want in golf? It works at some places, but unless you are a high-flying country club member, golf is too expensive. And one of the reasons for that is it costs a lot of money to maintain a pristine golf course.
That is the message the USGA and Davis were trying to send. Not every course has to be perfect. It's OK to let Mother Nature take care of green grass -- or let it be brown grass. Trump will find that out if his Turnberry digs -- newly named Trump Turnberry, where Stewart Cink defeated Tom Watson in a playoff in 2009 -- gets a future Open Championship. The R&A isn't going to water the place just to make it look nice.
And there are some who did get it. Phil Mickelson praised Pinehurst, despite his disappointing finish. So did Ernie Els, who tweeted, "Can't praise Pinehurst highly enough. It was unbelievably good."
Keep that in mind as you check out the U.S. Women's Open this week. The temperature is supposed to be in the upper 90s every day. It will likely appear even more dried out. And that is not a bad thing.
At the turn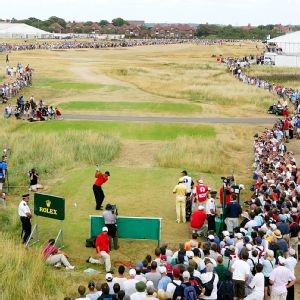 Stuart Franklin/Getty ImagesThe last time Royal Liverpool hosted the Open Championship was 2006, when Tiger Woods won.
With the announcement this week that Royal Portrush in Northern Ireland has been invited to join the Open Championship rotation, it is fair to wonder if some of the existing venues are in danger of losing their place. With Portrush, that would bring to 10 the number of venues the R&A is using, with the Old Course at St. Andrews seemingly entrenched as an every-fifth-year location (that has been the case since 1990), while the others typically come around once a decade, give or take a year or two.
This year's venue, Royal Liverpool, for example, is back after eight years -- but prior to Tiger Woods' 2006 victory, it was last used for an Open in 1967. Turnberry returned in 2009 after not hosting the Open since 1994. Carnoustie has had Opens in 1999 and 2007, but prior to that, 1975 was the last time.
And there is the possibility that another course could be in mix for consideration. Royal Porthcawl in Wales will host the Senior Open Championship this summer, and R&A chief executive Peter Dawson admitted there have been talks. "We're going to be very interested to see how the Open is conducted there this year," Dawson said.
Among the weaker venues are Royal St. George's and Royal Lytham in England -- not from a golf standpoint, but due to logistical issues that have become more prominent of late. They hosted back-to-back Opens in 2011 and 2012. In Scotland, while Turnberry is beautiful, it is also remote, and brings a smaller spectator turnout, which can be a concern to a bottom-line business.
Then there is the issue of male-only membership. Could the R&A be quietly moving to force that issue? Muirfield (which seems to be a lock to host future Opens regardless), Royal Troon (the site of next year's Open) and Royal St. George's presently have male-only membership.
Back nine
With his tie for second at the U.S. Open, Rickie Fowler moved into contention in the points race for one of nine automatic qualifier spots on the U.S. Ryder Cup team. There are just eight more weeks to go in the points race, including a major championship and a World Golf Championship event.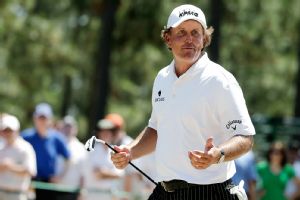 AP Photo/Chuck BurtonIf the Ryder Cup team were chosen today, Phil Mickelson would need a captain's pick to make the roster.
Dropping out of automatic qualifying to 10th was Phil Mickelson, who has yet to score a top-10 finish on the PGA Tour this year.
Could captain Tom Watson be faced with picking Mickelson and Tiger Woods among his three at-large selections?
To even discuss Woods at this point is premature, given the lack of intricate knowledge about his health. But with reports surfacing this week that Woods is hitting all of the clubs in his bag, it is fair to at least wonder about when he might return and if he can prove he's good enough to go for the U.S. team at Gleneagles, Scotland.
If he is able to play, at say the Open Championship next month, being able to make the FedEx Cup playoffs would greatly enhance his chances of being picked. Woods has just 43 points this year, but the 125th spot at the moment, James Driscoll, has just 310. Paul Casey, at No. 100, has 398.
It would be asking a lot to get to those numbers, but it's not out of the question if Woods were to be able to play three or four tournaments and have a high finish or two. That is impossible to predict at this point.
Mickelson is a far more pertinent question. Would Watson dare not pick him if he fails to qualify?
Lefty has played on every U.S. Ryder Cup and Presidents Cup team dating to 1994, an incredible run of 19 straight teams. For all but one -- his first Presidents Cup team in 1994, when captain Hale Irwin picked him -- Mickelson made the team on points.
Birdies
1. Martin Kaymer. He broke the U.S. Open 36-hole scoring record, and nobody ever got closer than 4 shots over the final 36 holes. It was a dominating performance by a guy who now has two major titles before the age of 30.
2. Erik Compton. Kaymer was the winner, but Compton was the story. He's had two heart transplants, the most recent just six years ago at age 28. He's been trying to find his way in the game ever since, and now has a runner-up finish in a major and a spot in next year's Masters. You can't make this stuff up.
3. Pinehurst No. 2. Kaymer was 9 under par, but give it up to him. Just three players finished under par, and nobody else was better than 1-under. And while the new look might take some getting used to, it was great to have a U.S. Open without the boring hack-out rough.
Bogeys
1. Phil Mickelson. Lefty talked a good game going into the U.S. Open, but he still doesn't have a game to speak of so far this year. His quest for a first U.S. Open title will have to wait until Chambers Bay.
2. Bubba Watson. The Masters champ missed the cut at Pinehurst after seemingly talking himself out of playing well. He missed by one.
3. Drama. Specifically, the lack of it. There is no one to blame but Kaymer, who couldn't care less. But it would have been nice to see someone challenge him over the closing 36 holes. Nobody did.
19th Hole
Phil Mickelson passed Tiger Woods on Fortune's Fortunate 50 list of highest-earning athletes. Mickelson is sixth behind Floyd Mayweather, LeBron James, Kobe Bryant, Aaron Rodgers and Peyton Manning. Woods is next at seventh.
Fortune had Mickelson earning $37.2 million last year, with $33 million in endorsements. Woods was at $35.5 million, with $31 million in endorsements.
The numbers seem flawed, as Fortune has Woods with $4,500,778 in salary and Mickelson with $4,221,975. It is hard to determine where those salary figures were derived. Both earned more than that in official prize money last year on the PGA Tour.
For what it's worth, Golf Digest had both players well above those figures in its annual list of top-earning golfers. Their list breaks down a player to on-course and off-course income, with Woods totaling more than $83 million last year and $77 million off the course. It had Mickelson, the No. 2 earner in golf, with more than $52 million total and $45 million off the course.
Notable
Six players who finished in the top 10 at the U.S. Open are in this week's Travelers Championship field, led by Erik Compton, who tied for second. The others are Keegan Bradley, Dustin Johnson, Brooks Koepka and Jason Day -- who tied for fourth -- and Brandt Snedeker, who tied for ninth. ... Koepka, with his tie for fourth, not only earned a spot in the 2015 Masters but earned enough FedEx Cup points to secure his PGA Tour card for the 2014-15 season. He had been playing as a special temporary member and also has status on the European Tour, which he plans to keep. ... Jimmy Walker and Rickie Fowler are the only players to finish among the top 10 at both the Masters and U.S. Open. ... Martin Kaymer became the first player to win the Players Championship and the U.S. Open in the same year and just the fourth to win the Players along with a major in the same season. The others were Tiger Woods (2001 Masters ), Hal Sutton (1983 PGA Championship) and Jack Nicklaus (1978 Open Championship). ... Adam Scott's tie for ninth was his best in 13 U.S. Open appearances. ... With a tie for fourth, Dustin Johnson now has gone six straight years with a top-10 in a major.
Quotable
"It shouldn't sound cocky or arrogant, but I knew it would come. I knew that I would play good golf again. There was enough belief there. I just didn't think it would take me that much time to get back where I was or actually not where I was, I think I play better golf now, I'm more of a complete player, it was just a matter of time. So it's not a huge surprise to me that I played good golf, it's just a surprise that I won such big tournaments. That's a surprise. But I'll take it.''
-- U.S. Open champion Martin Kaymer, whose game suffered through swing changes after going to No. 1 in the world in 2011. He's now won the Players Championship and the U.S. Open in a month.