Tiger not the only Ryder Cup question
Front nine

You can expect there will be plenty of chatter over the coming weeks about whether Tom Watson should make Tiger Woods one of his captain's picks to play on the U.S. Ryder Cup team in September.
Woods did nothing to quiet the debate, saying Sunday after finishing 69th at the Open Championship, "I hope I'm on the team." Watson -- while stressing that nobody is a lock -- said, "If he's playing well, how can you not [pick him]?"
Hank Haney, when presented the options by a follower on Twitter, said succinctly: "Because he's Tiger."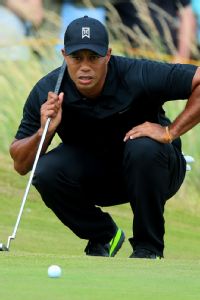 Andrew Redington/Getty ImagesTiger Woods has been an asset in international play for the U.S. But his play at the Open Championship didn't inspire confidence.
Woods' former coach has a point.
While Woods looks nothing like his former self at the moment, the Ryder Cup is still nine weeks away. That's a lot of time for his game to come around, assuming his recovery from back surgery less than four months ago continues to proceed well, as he says it is.
Then there are the others currently outside the top nine automatic qualifiers. How many of them truly inspire?
Phil Mickelson is 11th and Keegan Bradley is 16th, and that duo played quite well together at Medinah in 2012. Both would appear to be locks for picks -- Mickelson has been on every U.S. team dating to 1995 -- and you can bet that Watson is hoping that one or both make it on their own over the last two qualifying weeks at the WGC-Bridgestone Invitational and the PGA Championship.
After that? Patrick Reed (10th) has done little since his victory at Doral. Among the next players on the list of qualifiers -- Brendon Todd (12th), Chris Kirk (13th) and Ryan Moore (14th) -- none has played in a Presidents Cup or Ryder Cup or authored any standout performances of late.
Webb Simpson? The 2012 U.S. Open champion did finish third recently at the Greenbrier Classic but missed the cut at the Open.
Mickelson said Sunday you need "hot" players, but who among that group is hot? Nobody, really. Perhaps these next two weeks will allow someone to poke ahead, and of course there are also the first two FedEx Cup playoff events in which to impress Watson.
Which brings us back to Woods, who is unlikely to qualify for the playoffs. That would put the captain in the unenviable position of choosing Woods even though he would possibly be off for a month leading up to the Ryder Cup. Would Woods play in Europe perhaps as a condition of being picked? (Switzerland, the Netherlands and Wales would all be possibilities before the Ryder Cup.) Woods wouldn't touch that question, saying he believes he can still qualify for the playoffs.
And he cited his own history with captain's picks.
"I got picked by Corey [Pavin] back in whenever it was when we played in Wales," Woods said. "I was coming off an injury as well there with my Achilles, and I sat out for most of the summer. And I felt like I was able to contribute to the team. And that's all you want as a pick, you want someone who can contribute to the team, whether it's in support or it's in play. I did it then, and hopefully I can actually earn my way on to this team."
Woods got his years mixed up. Yes, he was one of Pavin's captain's picks for the 2010 Ryder Cup in Wales. But Woods was not injured; he simply had a poor summer after changing swing coaches and enduring personal issues. He qualified for the FedEx Cup playoffs but did not make it to the Tour Championship. Woods went 3-1, including a singles victory, in the defeat to Europe (14½ to 13½).
It was a year later, for the 2011 Presidents Cup, when Woods was coming off the Achilles injury. He played poorly at the WGC-Bridgestone, missed the cut at the PGA, and did not qualify for the playoffs. Captain Fred Couples made him a pick early, and Woods played a fall event at the Frys.com Open and the week prior to the Presidents Cup at the Australian Open. He went 2-3 but won his Sunday singles match, which happened to be the clinching point for the United States.
That year, Couples basically said he picked Woods because, well ... he's Woods. He was confident that Woods would improve as the matches approached, and he did.
Will Watson have that same faith? Some decent results over the next two weeks would make that call a lot easier -- but nonetheless controversial.
At the turn

The International Golf Federation announced plans last week at the Open Championship to publish a weekly world golf ranking that will only count events played in the qualifying window for the Olympic Games in 2016. The Open was the first tournament in the two-year qualifying period. Here's how it would look as of this week.
FOLLOW GOLF ON ESPN
Stay up-to-date with the latest news, stories and analysis.
Follow ESPNGolf on Twitter
The new ranking goes to only 60 players -- the number who will compete in the Olympics for both men and women -- and only includes those players who would qualify for the Games if they were played that week.
The top 15 in the rankings earn a spot, but no more than four players will qualify from any one country.
For slots 16 through 60, the maximum will be two per country until the field is filled. The host country, Brazil, is guaranteed to get one player in each tournament regardless of qualifying.
The ranking on July 11, 2016 will determine who gets into the Games, which will be scored as 72-hole stroke individual play.
If the Olympics were held now, Bubba Watson, Matt Kuchar, Jim Furyk and Tiger Woods would qualify for the United States.
Back nine

One of the perks of attending the Open Championship is the opportunity to sample some of the finest links courses in the world. Near each of the Open courses in the rotation, there are several other well-known links layouts, some of them just as good as the Open site, perhaps just not conducive to staging a major championship. Others are quirky, fun and challenging. And given the abundance of daylight in a United Kingdom summer, you can tee off after work and easily finish 18 holes before it gets dark.
Since this year's journey began with a trip to the Scottish Open in Aberdeen, the opportunity arose to play a bucket-list course, Cruden Bay, which dates to 1899. A course with Old Tom Morris' name attached can't be bad, and it wasn't. Cruden Bay is about as good as it gets for any links golf fan.
Once in England for the Open, we ventured to Caldy Golf Club, which is not a links course but is still a very nice course on the River Dee, with a great view of Wales across the water from every hole. The round ended prematurely, as word came that Tiger Woods had arrived at Hoylake just down the road. Oh well.
A late-day round at Formby might have been the highlight. Among those involved in the course's design were former Open champions Willie Park and James Braid. Formby member Christopher Ramsey could not have been a better host, as he guided us around the place (always good to know where you're going) and shared his British humor, as well.
Wallasey Golf Club was the toughest. There was lots of wind and lost golf balls in waist-high rough. But it's a great course, with a link to Bobby Jones from his Grand Slam year, as well as the place where the Stableford (points) scoring system was devised. Thanks to colleague Derek Lawrenson of the UK's Daily Mail, who is a member, for steering us in that direction.
After the Open ended, we ventured to Hesketh Golf Club. It's a combination links and parkland course, with pot bunkers and hard greens and plenty of quirky, fun holes. It was a perfect way to end the trip.
Birdies
p>1. Rory McIlroy. He overcame his Friday blues, held off a strong final-day challenge and now has three majors at age 25.
2. Sergio Garcia. He made the final day interesting with a late charge and a final-round 67. Perhaps Garcia is finally on the path to that elusive major.
3. Rickie Fowler. He said he was gearing his game toward the majors, and he was right. With a tie for second at the Open, Fowler has been top 5 in all three so far this year.
Bogeys
1. Tiger Woods. You have to give him a pass given his relatively quick return from back surgery, but Woods appears to have a way to go to return to form.
2. Dustin Johnson. His finish at the Open - out of bounds on the last two holes - sort of sums up his plight in the majors of late.
3. Bubba Watson. After winning the Masters, Watson has missed the cut at the last two majors -- then went off on a tangent about negative media coverage?
Notable
Among golfers presently active, only Tiger Woods at age 22 beat Rory McIlroy, 25, to PGA Tour victory number 7. Phil Mickelson was also 25 when he got to seven wins. Sergio Garcia was 28 and Adam Scott 29 ... Rickie Fowler is the first player to post top-10 finishes in the year's first three majors since Robert Karlsson did it in 2008. Fowler was tied for fifth and the Masters and tied for second at both the U.S. Open and the Open ... The last players to have top-10 finishes in all four majors were Tiger Woods and Vijay Singh in 2005 ... This week marks the 105th playing of the Canadian Open, making it the second-oldest non-major stop on the PGA Championship behind the BWM Championship, formerly the Western Open ... Canadian Mike Weir is making his 24th appearance in the tournament, with his best finish a playoff loss to Vijay Singh in 2004 ... A year ago, Hunter Mahan left the Canadian Open with the 36-hole lead due to the pending birth of his daughter, who was born the following day ... The tournament is being played at Royal Montreal, site of the 2007 Presidents Cup ... This week's Senior Open Championship is at Royal Porthcawl in Wales, a venue that is hoping to get a look for a future Open Championship.
Quotable
"Great play, especially your finish on Saturday. Take it easy on us at the Ryder Cup, OK? Enjoy the moment." -- Five-time Open champion and U.S. Ryder Cup captain Tom Watson, on Twitter, congratulating Rory McIlroy on his Open victory.