Tiger's decision will help him down the road
>Front nine

The case for Tiger Woods and the Ryder Cup was one beyond the reach of even the most high-priced attorneys. And that's if a court would even hear it.
Woods played just eight times worldwide in 2014, missed two cuts, withdrew from two other tournaments, and just hobbled off the course at the PGA Championship with an aching back and an uncertain immediate future.
But U.S. Ryder Cup captain Tom Watson actually showed a great deal of respect toward Woods on Monday when he all but said: Tiger, it's up to you.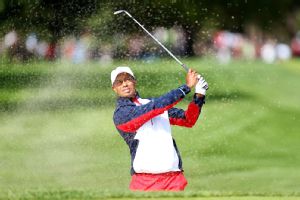 Andy Lyons/Getty ImagesIn his career, Tiger Woods has played on seven Ryder Cup teams for the United States, only winning with Team USA in 1999.
And Wednesday night, Woods said he couldn't do it.
While it would have been interesting to see how this all would have played out -- there was certainly a possibility that Woods could have been healthy and playing better in six weeks, when the Ryder Cup starts at Gleneagles -- it simply didn't look good for Woods to prolong this, especially if he might run the risk of facing more problems.
So he came to the conclusion that it is better for the U.S. team, better for himself, to forgo any thought of playing at Gleneagles.
"It was a big decision for him to place a call to Tom and take himself out of consideration," Woods' agent, Mark Steinberg, said. "Often times people have questioned Tiger's commitment to the Ryder Cup, to team events. Nobody should question his integrity when it comes to play for his country. I think this says a lot about his feelings toward the event and team competition."
Woods isn't as bad off as he was after Doral, when he lamented his inability to get out of bed. But his doctors are telling him to not play golf, and that suggests there are some issues to address.
His game has been out of sorts all year. His earlier-than-expected return from back surgery led to optimism, followed by more questions when he had more back spasms at the WGC-Bridgestone Invitational. Woods got treatment and thought he could play at the PGA Championship, but it became apparent it wasn't working there, either.
He can play this start and stop game if he wants, try to patch together a golf swing and game, hold his breath and hope for the best.
Or he can do what he said he will on Wednesday, which is to get better, get stronger.
"I've been told by my doctors and trainer that my back muscles need to be rehabilitated and healed," he said. "They've advised me not to play or practice now."
And so the golf clubs go away for the time being, and Woods works on getting healthy. He'll miss the Ryder Cup, and some appearance fee opportunities he had scheduled in Argentina and Asia. He said on his website that he will not return to competition until the World Challenge in December.

Get all of ESPN.com's latest news, highlights and commentary about the world's most talked-about golfer. Tiger Tracker
"Then we will take it from there," Steinberg said.
This ought to put an end to the inane chatter that Woods has conveniently come up with injuries to avoid posting a bad score.
He has now withdrawn from five tournaments since 2010, leading to smirks that he came up lame because he was playing poorly. The other side: He played poorly because he was injured.
In three of those instances, a long layoff soon followed. In 2011, he returned too soon from Achilles and knee injuries at the Players Championship, playing just nine holes and then missing three months of competition, including two major championships.
The following spring, when those Achilles symptoms showed up during the final round of the WGC-Cadillac Championship, rather than risk further damage, Woods withdrew and went on to win three times that year.
Earlier this year, he withdrew from the final round of the Honda Classic, played the following week at Doral, then had back surgery a few weeks later, missing three months.
And now after withdrawing from the Bridgestone, Woods managed to play two rounds at the PGA -- somehow shooting 35 on the back nine on Friday -- while realizing that another break is important, meaning another three months away from competition.
As tough as things looked for Woods in recent weeks, he actually showed some good signs before suffering the setback in Akron. While he had difficulty driving the ball, a problem that will need considerable attention, he was hitting his irons, for the most part, quite well.
It showed, even briefly, that parts of his game had come back.
This is another setback, but he was never going to be close to the player he was without time to work out the issues in his game. Now he needs more time and is apparently willing to take it.
At the turn
The end of the golf season leaves everyone trying to catch their breath. After playing two major championships and a World Golf Championship event in four weeks, we've now arrived at the final regular-season event on the PGA Tour schedule with this week's Wyndham Championship.
FOLLOW GOLF ON ESPN
Stay up-to-date with the latest news, stories and analysis.
Follow ESPNGolf on Twitter
It is the last chance to earn a spot in the FedEx Cup playoffs, which begin next week at the Barclays. Only the top 125 in FedEx points through the Wyndham will qualify.
Last year nobody moved into the top 125 at Wyndham. Among some of the players who are hovering close to the line are Paul Casey (124), Ben Curtis (131), Mike Weir (134) and Trevor Immelman (143), who last year earned his card back through the Web.com Finals.
For those who qualify for the Barclays, only the top 100 will move on to the Deutsche Bank Championship, although the points are worth five times more at playoff events to create volatility.
Back nine
There has been plenty of angst about the way the final hole played out Sunday at Valhalla, and it's always easy to point fingers after the fact. Dealing with weather forecasts is never easy, and trying to accommodate all of the parties involved is a tough task. Tournament officials have to consider televisions rights holders and spectators and how best to accommodate. But what should always come first is the players, most notably the competition.
And it was very nearly compromised on Sunday in near darkness. The PGA of America is fortunate that Rory McIlroy had a 2-shot lead when he teed off, or the events that transpired might have tainted his victory and left a lot of people far more upset.[p?
Phil Mickelson and Rickie Fowler took the high road afterward, Mickelson basically deflecting a question about the situation and Fowler explaining protocol but not making a big deal out of it. But both had plenty of reason to be upset. McIlroy and playing partner Bernd Wiesberger playing their approach shots to the final green while Mickelson and Fowler had yet to play out was the wrong call -- and all done in the name of getting the tournament completed.
Of course the latter could have been avoided had someone had the common sense to recognize that the weather forecast was dicey and leaving tee times for a scheduled 7 p.m. finish after several days of poor weather was a bad idea.
And it left absolutely no margin for error had a three-hole aggregate playoff been necessary.
The result was an untidy conclusion. What if Mickelson or Fowler had holed his third shot for eagle to momentarily tie McIlroy for the lead? You could have argued, quite successfully, that he was spared the pressure of having to react to such a shot, and that his second from a hanging lie -- he missed going in the water off the tee by mere yards -- was played under far less duress.
As it turned out, he needed only a par to win, and perhaps no matter where he had hit that second shot, he could have managed a par. But you never know.
The PGA had excellent TV ratings, and that is one of the reasons for finishing in a later time slot: The later it goes, the more people watch. But is that worth perhaps compromising the competition? We're talking about a major championship, not hurrying up to finish any old tournament. And yet, disaster nearly occurred.
Birdies
P>1. Rory McIlroy. What a month. Two major wins, a WGC victory and going back to No. 1 in the world.
2. Phil Mickelson. A ninth runner-up finish in a major stings, but Lefty provided some great golf at the end of what has been a tough year.
3. Rickie Fowler. The way he played in the majors this year has been impressive. Now it's important for Fowler to start breaking through in all tournaments.
Bogeys
1. Tiger Woods. It was tough to see Woods suffer through another tournament, unable to perform to his abilities, perhaps playing when he should not have been at the PGA, where he missed just his fourth cut as a pro in a major.
2. The U.S. Ryder Cup team. It looks bleak at the moment, in terms of health and performance, while the European Team appears stacked.
3. Martin Kaymer. The Players and U.S. Open champ hasn't done much since Pinehurst and missed the cut at the PGA Championship -- for the third time in four tries since winning the tournament in 2010.
19th Hole
Led by Rickie Fowler, there were 13 players this year who made the cut in all four major championships. Fowler was the only one to finish among the top 5 in each, with runner-up finishes at the U.S. Open and Open Championship, a tie for fifth at the Masters and a tie for third at the PGA -- where he had his best chance to win.
Others who made the cut in all the majors were Rory McIlroy, Jason Day, Jim Furyk, Henrik Stenson, Louis Oosthuizen, Bill Haas, Jimmy Walker, Brandt Snedeker, Francesco Molinari, Justin Rose and Adam Scott -- who has made the cut in 14 straight major championships. Steve Stricker hasn't missed the cut in a major dating to the 2009 PGA, but he has skipped the Open Championship the last two years.
Notable
Tom Watson, 64, playing in what was likely his last PGA Championship, missed the cut despite making 31 pars in 36 holes. He could manage just one birdie, however, in the lone championship he failed to win as part of the career Grand Slam ... Jordan Spieth had a tough week, missing his second cut in a row at the PGA after a second-round 77 ... Roberto Castro missed the cut in all four majors this year ... The Wyndham Championship is celebrating its 75th anniversary this week ... Davis Love III is making his 20th start in the event while Rocco Mediate is playing the tournament for the 23rd time ... A player who is outside of the top 125 in FedEx points but inside the top 125 in money will miss the playoffs but will still be considered an exempt player for the 2014-15 season ... Steve Stricker, Phil Mickelson and Hunter Mahan are the only players to compete in every Tour Championship since the FedEx Cup system began in 2007. None are assured of getting back. Stricker is 122nd in points (and could get bumped out of the Barclays), Mickelson is 85th and Mahan is 65th. The top 30 after the BMW Championship advance to the Tour Championship.
Quotable
"You play a major in Louisville, Kentucky, in August and you are going to get wet, aren't you? Humidity is bound to rise and come down as rain. They could have started earlier, three balls off both tees. The forecasting in America is fantastic. They can go back street by back street for goodness sake. They knew it was coming. The last hole was a swimming pool." - Colin Montgomerie on the difficult playing conditions on Sunday at Valhalla and the fact that tee times were not altered despite the threat of poor conditions.