Playoffs set to begin with no end in sight
>Front nine
The tournaments are excellent, with star-studded fields, big markets and lucrative purses. It has been said many times since the FedEx Cup first graced the PGA Tour in 2007 that without these events, you would not see so many of the game's greats come together so often following the last major championship of the year.
And yet, the PGA Tour's playoffs -- as the next four tournaments are billed -- do not create anywhere near the tension, the excitement, as other sports' postseasons.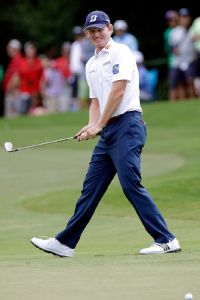 AP Photo/Gerry BroomeIf he is fortunate enough to get picked for the U.S. Ryder Cup team, Brandt Snedeker might have one of the busiest summers of any golfer.
Some of that is due to the nature of the game. Golf's major championships are its World Series and Super Bowl, spaced out throughout the season. Nothing will ever top them for importance, not even a $10 million bonus paid to the winner of the season-long, playoff-altered points series.
And there is the fact that the golf season never really ends. While the Tour Championship will conclude on Sept 14 in Atlanta -- completing the 2013-14 season -- the Ryder Cup begins on Sept. 26. And the 2014-15 season starts anew on Oct. 9. Golf never gives its fans a chance to miss it.
But perhaps the biggest issue with the playoffs is the players themselves and their inability to summon the energy and enthusiasm that would seem natural since the season's finish line is in sight.
Of course, some of that is due to the fact that it is a blurred line, one that has a starting point just on the other side. There is another event to be played, likely soon, with no long offseason to rest and rejuvenate.
More than that, however, is the schedule leading into the playoffs -- and the one those qualified are about to embark on this week at the Barclays.
For those at the top of the FedEx Cup standings, they've likely played three huge tournaments in the last five weeks -- the Open Championship, WGC-Bridgestone Invitational and PGA Championship. Many also played at the Canadian Open or the Wyndham Championship.
A player such as Brandt Snedeker played them all -- and is now looking at four more, in a row. If he manages to get picked for the U.S. Ryder Cup team, that will be 10 events in 11 weeks in four countries.
The Barclays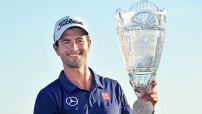 • Defending champion: Adam Scott
• Tee times, leaderboard | Experts' picks
• FOREcaster
• Photos from Barclays, golf tours
• Venue: Ridgewood Country Club; par-71; 7,319 yards
• Location: Paramus, New Jersey
• TV coverage: Thu., Fri, 2-6 p.m. ET, Golf Channel: Sat., 3-6 p.m. ET on CBS; Sun., 2-6 p.m. ET
• Payout: A 122-man field with winner taking $1.44 million of an $8 million purse
• FedEx Cup Playoffs: Top 100 players in FedEx Cup standings after the Barclays earn a spot at the Deutsche Bank Championship. The top 70 players after the DBC earn entry into the BMW Championship. The top 30 players after the BMW earn entry into the playoffs' finale, the Tour Championship.
• Format: 72-hole stroke play with 36-hole cut to low 70 and ties.
• Money leaders | Schedule | Rankings
• Follow @ESPNGolf on Twitter
Last year, the four playoff events were broken up by an off week in the middle. But the PGA Tour made the inane decision to play them all in a row as a nod to the Ryder Cup, placing an off week between the Tour Championship and the biennial event in Scotland. Good for the 13 or so players who will play in Atlanta and get a week off prior to the Ryder Cup. Not so good for the 70 who will (likely) play three in a row and another 30 who qualify for the Tour Championship.
Oh, there are bound to be defections this year. Undoubtedly, there will be a big-name player or two who skips the Deutsche Bank Championship or the BMW Championship. If it's not bad enough that the playoffs consist of four straight weeks, consider that the BMW in Denver starts just three days after the Deutsche Bank ends on Labor Day Monday.
Commissioner Tim Finchem admitted this week that he is not a fan of playing four in a row. "We like the break week," he said. "Regardless of the Ryder Cup."
How frayed do the nerves get this time of year? Following the 2013 BMW Championship, Henrik Stenson trashed a locker in anger. He was holding the Tour Championship and FedEx Cup trophies a week later, $11.4 million richer. But even he admitted fatigue got the best of him.
A year ago, Steve Stricker predicted there would be no-shows during this year's playoffs. (He didn't necessarily mean himself; Stricker, who is eligible, did not enter the Barclays this week.)
"It seems like a lot of lackluster play," said Stricker, who ended up third in the FedEx Cup standings, earning a $2 million bonus. "I think guys are flat. It seems like a lot of guys are tired. You know, it's the end of the year."
Even with $8 million at stake in purses each week plus a $35 million bonus pool that doles out $10 million to the winner, a number of players see their motivation wane.
True, golf is not a contact sport, but the travel, practice, and wear and tear take their toll in a game that is played virtually year round.
Solutions? Well, you could cut out one playoff event, but which one? And the tour does not typically want to shun sponsors who are willing to be involved with an $8 million purse. You could put some air between the PGA Championship and the playoffs, the space allowing for some downtime if desired.
The problem is that this would push the Tour Championship into the Ryder Cup or Presidents Cup, which typically can't go much later than early October.
FOLLOW GOLF ON ESPN
Stay up-to-date with the latest news, stories and analysis.
Follow ESPNGolf on Twitter
Or you can look at the FedEx Cup as being half full -- rather than running on empty. Nearly all the game's best players are assembling at Ridgewood Country Club this week, and a number of them will head to TPC Boston and then to Cherry Hills. Perhaps Rory McIlroy adds to a stunning run of success. Maybe Phil Mickelson gets his first win of the year. Or Rickie Fowler.
One thing is certain, someone is going to earn a $10 million bonus, exhausted or not.
At the turn
Phil Mickelson is disappointed to have not won this year, and not even a close call at the PGA Championship has made him feel much better. But he's looking forward to the offseason, to getting his mind, body and game in shape so he can come out in 2015 and ... make a big run at the Olympics?
Yep, Lefty is keen on qualifying for the Olympic Games in Rio in 2016.
"After the Ryder Cup, I'll probably take the rest of the year off, work on my fitness, work on my golf game, and really focus on 2015 because 2015 is when the points start accumulating really for the Olympics," Mickelson said. "I don't know why that's important to me, but it is. I want to be a 46-year-old Olympian, that's pretty cool. So 2015 and 2016 are years I want to really focus on, and I want to make sure I'm ready again."
Although Mickelson, 44, is correct that next year will play a big part in making the Olympics, anything he plays now could help in that quest. The Olympics are using the Official World Golf Ranking as of July 11, 2016 and since we are within the two-year window under which the rankings revolve, any points earned now are a help.
Mickelson is 10th in the Official World Golf Ranking at the moment -- but more importantly -- he is the fourth-highest ranked American. Anyone in the top 15, with no more than four per country, will qualify, with just two per country beyond the top 15 in the world.
Back nine
There was some skepticism last week when Tiger Woods announced he was taking himself out of consideration for a Ryder Cup captain's pick and not playing again until December. While the Ryder Cup decision made sense, Woods bailing so early on some golf he had planned in the fall seemed curious.

Get all of ESPN.com's latest news, highlights and commentary about the world's most talked-about golfer. Tiger Tracker
He had signed up for a lucrative new team event called the Americas Cup in Argentina at the end of October -- he was going to be teammates with Matt Kuchar -- and his agent, Mark Steinberg, had put together a similar swing through Asia that Woods embarked on the last two years in which he played exhibitions and did outings -- for seven-figure sums.
But Woods said Monday night that he has no intention of hitting golf balls or competing any time soon.
"It's a slow, tedious process," Woods said of dealing with back issues again. "I'm not going to swing a club for at least a month. It's just about getting stronger, getting more stable, getting more dynamic, getting more explosive. Just getting my body more explosive again. You can't just hop in and do it all at once. You've got to take it step by step."
At an outing for Nike with Rory McIlroy, Woods told Golf Channel that his first event back will be the World Challenge in December, and then he'll look toward 2015.
As for the Ryder Cup, Woods told Sky Sports:
"Physically, I just couldn't do it," he said. "I wouldn't be ready, and not being ready for my teammates, for the captain, assistant captains and everyone who's involved in the event, I just wouldn't be ready and I just couldn't help the team. Every time your name's called -- and when you're on that team your name could be called five times, and trust me, I've played all five sessions, some guys have played one -- but when you're name's called, your name's called, and you need to be able to go out there and get a point.
"And I just didn't feel like I could be ready enough where I could get a point, and with that being said, it was time to shut it down, get stronger and get more explosive again, and get back for next year."