Final opportunity for Ryder hopefuls
>Front nine

There is one last chance to impress U.S. Ryder Cup captain Tom Watson, and Keegan Bradley is taking nothing for granted. He would appear to be a pretty obvious pick, given his recent track record in the Ryder Cup and Presidents Cup, but the wait is excruciating.
And the way Bradley is dealing with it sort of resembles his pre-shot routine: fidgety, fretting, looking anything but comfortable.
"It's really tough," Bradley said. "You can't not think about it, to be honest. It's going to be in the back of your mind at all times. It's impossible not to think about it."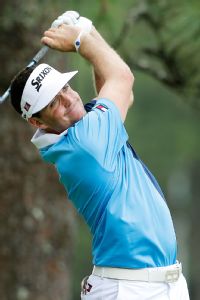 AP Photo/Chuck BurtonKeegan Bradley's hopes of making the U.S. Ryder Cup could hinge upon his performance at the Deutsche Bank Championship.
Bradley, of course, could have taken care of all this angst by earning one of the nine automatic spots that were decided at the PGA Championship. But he missed the cut at Valhalla, dropping from 11th in the Ryder Cup points standings to 13th.
That means he needs to rely on a pick from Watson, who will choose three at-large candidates Tuesday to fill out the 12-man team that will take on the Europeans at Gleneagles.
Among others in the mix for a pick are, in no particular order, Brandt Snedeker, Webb Simpson, Hunter Mahan, Ryan Moore and Brendon Todd.
Snedeker, Simpson and Moore all missed the cut at the Barclays. While Bradley didn't fare much better, he seems a good fit, given the lack of anyone making an absolute case for a spot.
And then there is Bradley's performance in his two U.S. team competitions as a pro. He was 3-1 at Medinah, winning all three matches with Phil Mickelson as his partner. At last year's Presidents Cup at Muirfield Village, Bradley went 2-2-1, including a 2-1-1 record with Mickelson.
Given that Mickelson is playing in the Ryder Cup for the 10th time, it seems pretty clear that getting him a comfortable partner is imperative.
So?
"People say that, but I don't see myself as an automatic pick by any means," Bradley said. "Do I want to get picked? Obviously, yes. Do I think I can help the team a lot? Yeah, I do. But there are such great players. It's not lopsided from top to bottom. There are going to be guys who don't make the team who are so good and deserving of making it."
Bradley can help his cause with a good finish this week at the Deutsche Bank Championship. Not only would it be good for his Ryder Cup chances, but it would enhance his position in the FedEx Cup standings, as he fell to 29th last week at the Barclays after finishing 53rd.
It has been an odd year for Bradley, who is currently ranked 24th in the world. He's had five top-10 finishes, but missed cuts at two major championships and the Players Championship. After a tie for fourth at the WGC-Bridgestone, Bradley was on the verge of qualifying on his own -- then missed the cut at the PGA.
Bradley didn't hurt himself by taking a scouting mission to Gleneagles the weekend before the Open Championship, where he played the course with Watson. He also visited with the captain at both the Open and the PGA.
But ultimately it's more about performance and giving Watson the options he wants.
"It's been tough," Bradley admitted. "I'm going to really be excited for it to be over. I think about it more than I should. That's my own fault. There's no way I can sit back and not think about it. It's impossible."
At the turn

Phil Mickelson decided this week that he will play the Deutsche Bank Championship, but it was not a lock. Managing schedules this time of year has become problematic for the top players, who have been on a grueling run that concludes with four straight $8 million tournaments in the FedEx Cup playoffs. And then, for players such as Mickelson, the Ryder Cup in Scotland follows after a week off.
There are six players who were eligible for this week's event who are skipping it: Dustin Johnson (personal leave), Graeme McDowell (paternity leave), Paul Casey (paternity leave), Jason Dufner (neck injury), Sergio Garcia (rest) and Justin Rose (rest).
Rose summed it up when he said a Ryder Cup year makes it more difficult. So does not having an off week during the playoffs. "I could have powered through, I think, otherwise," he said.
But there are family considerations, too, as Rose's son, Leo, is beginning school. "So if there was one week that has to give, this was it," Rose said. "And I want to play my way into Atlanta [the Tour Championship]. I didn't fancy taking a week off before that. Deutsche Bank is one of the tournaments I love, a significant event to me. It's where I made enough money to get my tour card in '03.
"I think it was the right week for me to miss this year. I'm just trying to back my game up, and I'm trying to give myself enough in the tank to do that."
Back nine

This week's Italian Open is the last qualifying event for the European Ryder Cup team, as captain Paul McGinley will make three at-large selections on Tuesday.
The drama is mostly settled, with one rather large possible exception: Scotland's Stephen Gallacher can make the team outright if he can finish in the top two at the Italian Open. That would bump out Graeme McDowell, who is skipping this week's Deutsche Bank Championship due to the birth of his daughter on Monday.
McDowell could have wrapped up a spot with a higher finish at the Barclays, and now he is hoping to secure a spot through the world points list. But the Northern Irishman did the sporting thing by wishing the best for Gallacher this week.
"I hope Stevie goes to Italy and does the job, as that will throw the cat among the pigeons, but then, he's had a great year," McDowell said before departing Ridgewood Country Club. "And with the Ryder Cup being in Scotland, I certainly would not begrudge him a spot in the team, so whatever happens, happens. I've not put enough world ranking points on the board this week, but it's been a good summer and I've done my part and I'm sure [McGinley] is aware of that, but my Ryder Cup qualifying run is over.
"I will be flying to Colorado for the BMW Championship when Paul announces his three picks and while I'm hoping to be part of a fourth Ryder Cup team, I wish Stephen Gallacher well this week in Italy," McDowell said. "I hope he gives it a shot and he would be a great addition to the team in Scotland."
Gallacher, who won in Dubai earlier this year, lives just 40 miles from Gleneagles and would clearly be a strong pick, even if he doesn't make the team. But McGinley also has Ian Poulter, Luke Donald and Lee Westwood to consider and can only take three. All three of those players have their pluses; given his Ryder Cup success, Poulter would seemingly be a lock. But none of the three have played particularly well this year.
Birdies
1. Hunter Mahan. A strong finish at the Barclays led to his first victory in more than two years, a spot atop the FedEx Cup standings and a good chance to be a captain's pick for the U.S. Ryder Cup team.
2. Stuart Appleby. Almost out of nowhere, Appleby appeared on the leaderboard Sunday and made a run at the Barclays title, shooting a final-round 65 to vault to 19th in the FedEx Cup standings.
3. Carlos Ortiz. The Web.com player won for the third time at the Portland Open, thus meaning an automatic promotion to the PGA Tour. Since the regular season is over, he'll have to wait to start in October -- but will do so with full exempt status.
Bogeys
1. Sean Foley. He helped Tiger Woods rise from a low of 58th in the world to No. 1 and saw him win eight PGA Tour titles along the way. But Woods' game is a mess and player/coach breakups are inevitable.
2. Jim Furyk. Eight times in a row, Furyk has held at least a share of the lead without converting it to a victory, including Sunday at the Barclays.
3. U.S. Ryder Cup hopefuls. Yes, Hunter Mahan won the Barclays, but three players very much in the mix missed the cut: Brandt Snedeker, Webb Simpson and Ryan Moore.
19th Hole
The FedEx Cup started in 2007, meaning 40 events have been played in the lucrative season-ending series. Hunter Mahan is the only one to play in each one. And the winner of the Barclays has assured himself a start in the Tour Championship as well.
"I'm very proud of that," Mahan said. "That's a lot of golf over a lot of years. I think that's basically saying that I haven't really had a bad year in that span and that feels really good. Like I said, there's been a lot of great players who haven't done that. I'm extremely proud of that."
Mahan, Phil Mickelson and Steve Stricker are the only players to have made it to every Tour Championship in that span. Stricker is not in the playoffs and Mickelson needs a good tournament this week or at the BMW Championship to get to Atlanta.
Notable
There are 94 players in this week's Deutsche Bank field, but there will still be a cut to the top 70 and ties. ... The top 70 in FedEx points following the tournament will advance to the BMW Championship. .. Geoff Ogilvy was 100th in points to hang onto the last Deutsche Bank spot. ... Ernie Els moved up 51 spots to 39th in the FedEx standings after a tie for fifth at the Barclays and is now in good shape to make a run at the Tour Championship. Els, 44, has not won on the PGA Tour since his 2012 Open Championship victory. ... Defending Deutsche Bank champion Henrik Stenson is 66th in the FedEx Cup standings and in danger of missing a spot in Denver next week. He needs to move into the top 30 as well to assure a trip to Atlanta in two weeks, where he won the Tour Championship last year as well as the FedEx Cup title. ... Phil Mickelson is the only player to finish among the top 15 in the final FedEx Cup standings each year since its inception in 2007. ... Mickelson's tour-leading streak of 10 straight years with at least one victory is in danger with just three events remaining. ... The Web.com Tour is starting a big four-tournament stretch this week in Fort Wayne, Indiana. It is the first of four Web.com Tour Finals events in which players from the top 75 on the Web.com money list -- along with those who finished 126 to 200 on the PGA Tour money list -- will compete for 25 PGA Tour cards in the 2014-15 season. Players who finished in the top 25 on the Web.com have earned a card, but these tournaments will determine priority ranking.
Quotable
"I'm not going to hang my head. But I chuckle every time I leave the media room, because I'm like, it's almost ... everyone expects me to be depressed. There's a lot worse stuff going on in the world than me shooting 70 on a Sunday. I'm disappointed, I will learn from it, and I feel like I'm getting closer." -- Jim Furyk, after the final round of the Barclays, where he failed to convert a 54-hole lead into victory for the eighth consecutive time.